Top 5 1911 Concealed Carry Holsters 2021 Reviews
More than a century and the 1911 handgun continues to be one of the most produced guns. While popular, one problem with using this firearm is finding the right holster. As it is a heavy gun, you need a holster capable of adequately supporting its weight. What 1911 concealed carry holster will be perfect for your gun? Let's find out in this review article.
The 1911 is a highly popular handgun for all kinds of shooters. It is a powerful and reliable semi-automatic pistol that offers truly high-end performance. Not only that, the 1911 has one of the best designs of handguns ever. With such quality, it only fits that you choose the best concealed 1911 holster.
But since there are many different kinds of holsters in the market, picking one is a big challenge. We're here to help you make a wise decision with a guide and a list of the top 5 1911 concealed carry holsters. Get a quick glimpse of the market's most recommended holsters for 1911 in the comparison table below.
BEST HOLSTER CONCEALED CARRY COMPARISON
WHAT TO CONSIDER WHEN BUYING A HOLSTER FOR 1911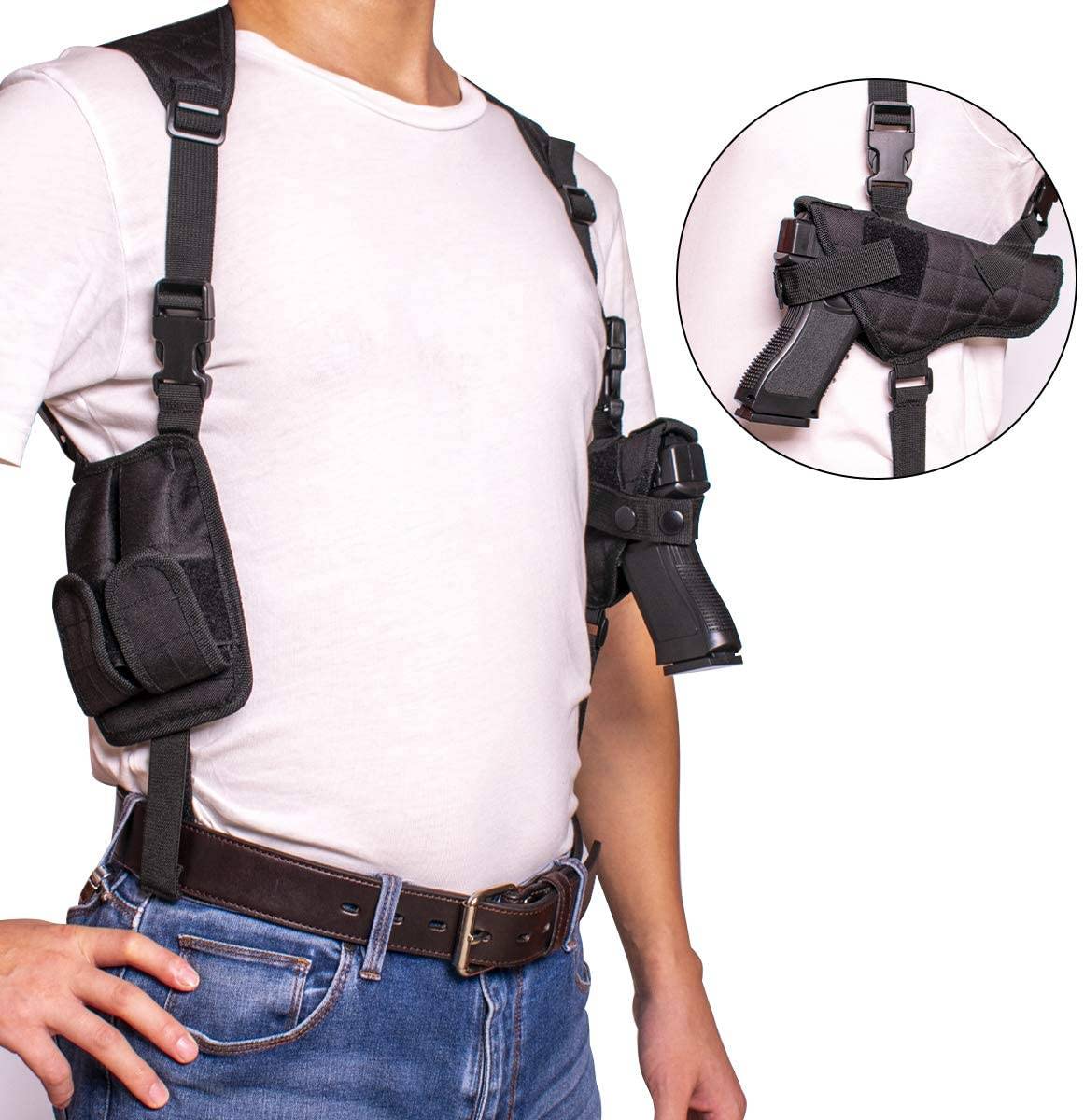 Before we talk about the different holsters for the 1911 handgun, it's a great idea to know the factors you would best consider. They make it easier to identify which 1911 holster would be the perfect buy, thus ensuring you don't waste your money. Below are some of the considerations you will do well to remember.
There are many different types of holsters, such as shoulder, inside the waistband, pancake, drop-leg, and more. What's the best holster type that suits you? It largely depends on you and what you feel is comfortable. It is also based on what you will be using your 1911 handgun the most. In this article, we'll discuss different holster types to help you find the most suitable.
Another trait to consider when looking for 1911 concealed carry is retention. It is a crucial trait that ensures your handgun is safe in the holster during close, physical confrontations. Without excellent retention, it's also hard to withdraw the gun. Try to find a 1911 holster with a good retention level, as seen by the kind of retention tools it has.
Concealment is a matter of your choice or preference. If you like to carry your 1911 handgun more discreetly, then it's a good idea to look for holsters that provide better concealment. It's great because then you have the element of surprise during confrontations, and it's safe for the public. Keep in mind that some types of holsters are better at concealment than others.
Wearing a holster can be pretty uncomfortable if you don't choose the right carry. Consider the materials used to make the holster. It would be best to pick one that's breathable, lightweight, odor-resistant, and skin-friendly. Additionally, a holster that isn't too bulky to wear would be great, so it doesn't feel awkward to wear.
When taking out your 1911 pistol when on the road or while seated, the drawing sped is a vital factor to consider. No doubt you want a holster that provides ease and convenience when drawing your gun, no matter which part of your body you wear the holster. This is crucial to be able to protect yourself against attack.
The quality of the material used to make the holster is, of course, another factor to consider. There are various materials that
1911 conceal holsters
are made from, such as leather, Kydex, nylon, etc. Each of them provides different pros and cons that you may like for your comfort. The final choice is based on your preference, so it's a good idea to learn more about these materials.
When looking for a 1911 concealed carry holster, search for one that's easy to attach and detach. If you find it difficult to add and remove the holster, there's a good chance you will find it a bother altogether. In that case, your holster has become a waste of money. You can make sure that the holster you pick is worth your money by choosing one that is truly easy to use.
The construction of the holster is the biggest feature that tells you of the strength of the holster. It will tell you how functional, durable, and reliable the holster is. With a well-constructed holster, you are sure that you will be able to use it for a long time. Besides the construction, also take a look at the material used in making the 1911 CCW holster.
This factor is about the ability to cover your 1911 handgun's trigger. You want a holster with excellent trigger coverage for safety. It would be great to pick a holster with a trigger guard that can effectively prevent accidental discharge. This way, you can have peace of mind that there will not be accidents.
People have different heights and sizes, making it vital that their pick of 1911 concealedcarry is adjustable to their build. Otherwise, it will be uncomfortable and awkward to use the holster. There is no single fit that will be good for every user. However, you can choose an adjustable 1911 holster that allows you to fine-tune it to fit you perfectly.
Some holsters are heavy, which can get uncomfortable to carry all day. The best 1911 holster does not make your pistol feel heavier. Thus, it is better to look for a holster that will not cause you an issue even when you carry it for a long time. Holsters made of lightweight materials are a good fit for this.
As mentioned before, knowing the different types of holsters is vital information you need when shopping for a 1911 holster. After all, each type comes with a set of advantages and disadvantages that you might be looking for specifically. The general types of holsters include IWB, OWB, Shoulder, Ankle, Pancake, and Drop Leg.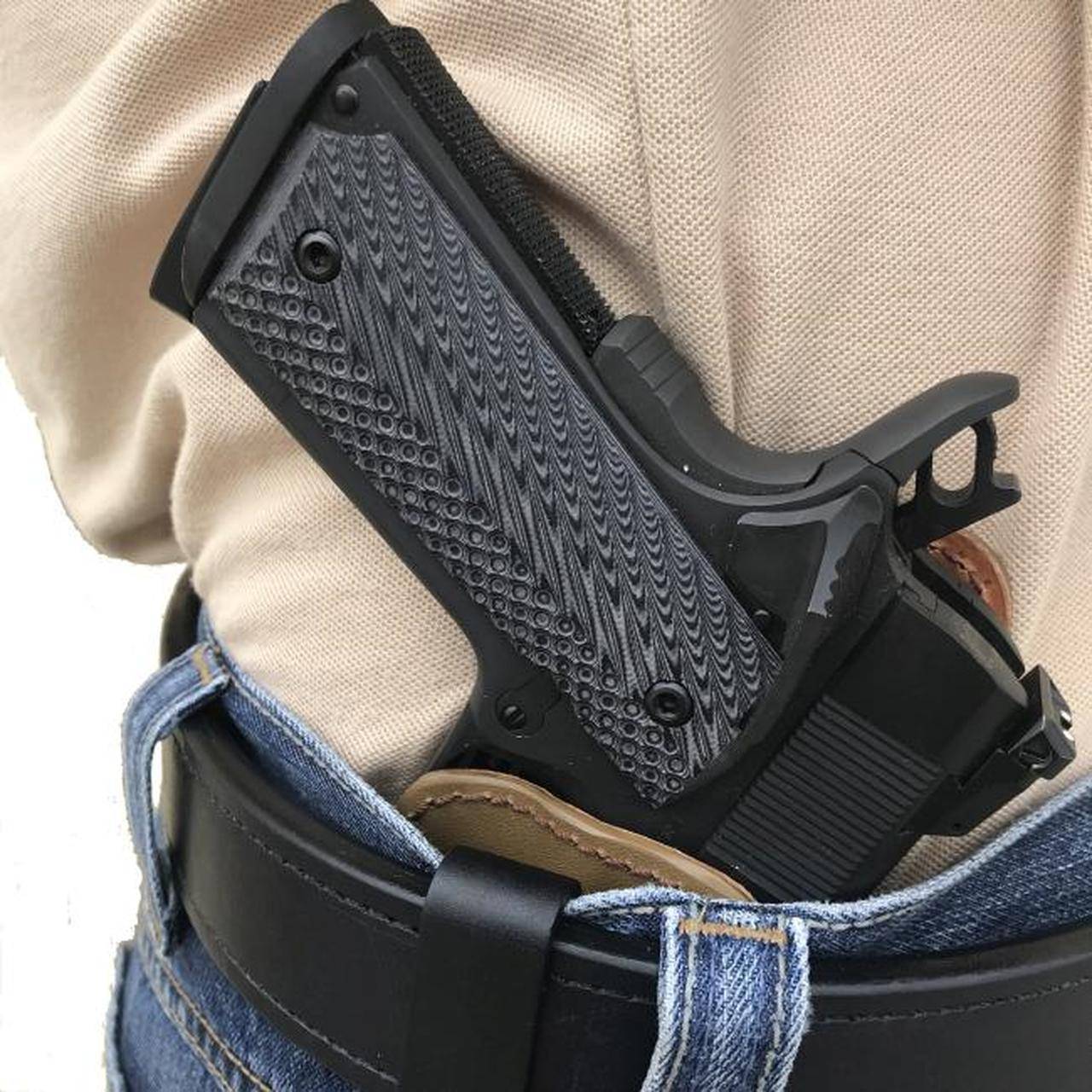 IWB or 'Inside the Waistband' is the most popular type of holster worn inside the pants. It is one of the best concealed carry holsters, making sure you can carry your weapon discreetly. It also makes sure no one can steal your gun. It stays secure by being attached inside your pants. However, an IWB 1911 holster has the drawback of needing pants a size larger to accommodate the holster.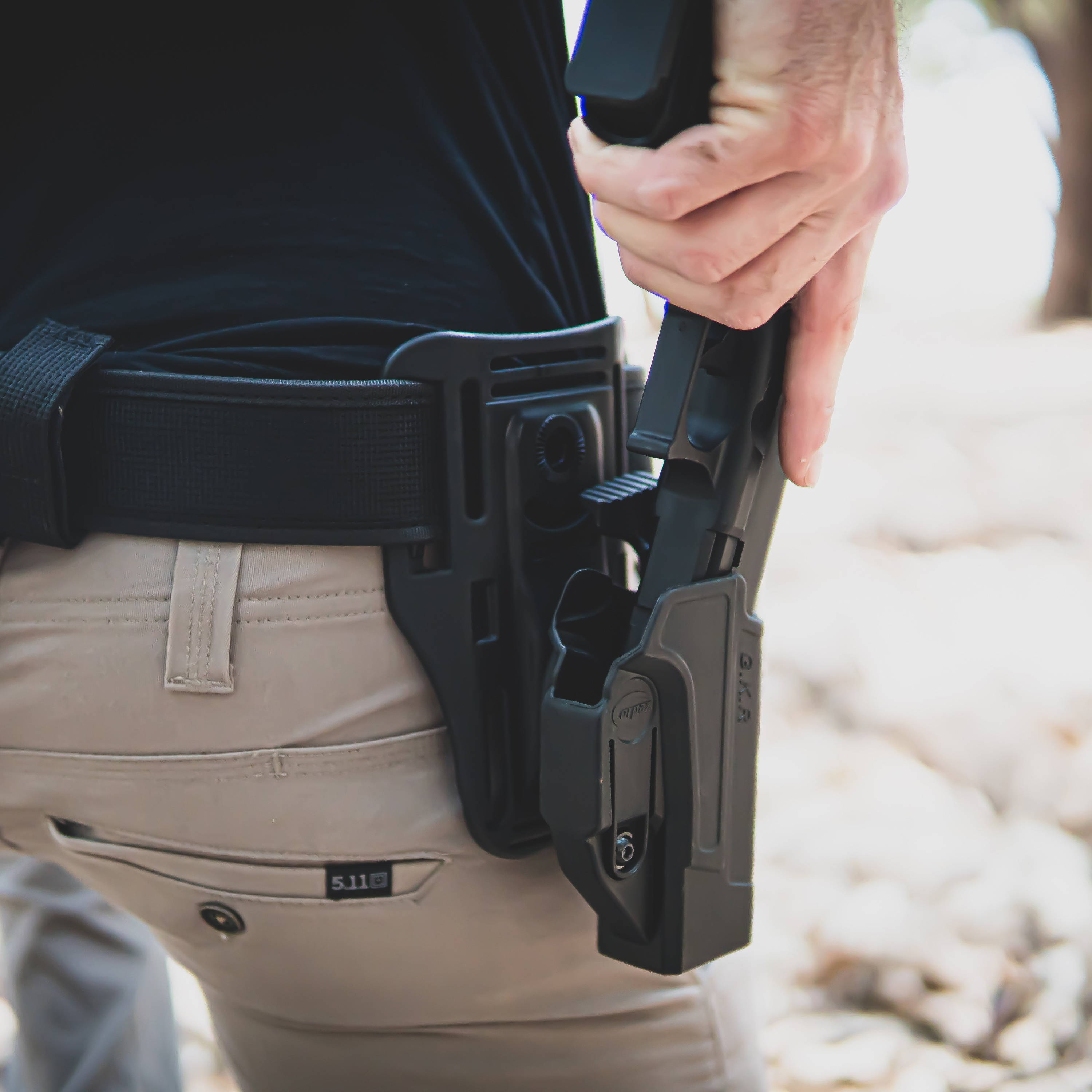 OWB or 'Outside the Waistband' is the opposite of IWB. This one is worn outside of the pants, often attached to the belt. There are also types of OWB holsters, such as the classic pancake and the Avenger or Askins. Looking into each of these types is also a good idea. The biggest disadvantage of OWB holsters is they do not conceal the firearm well.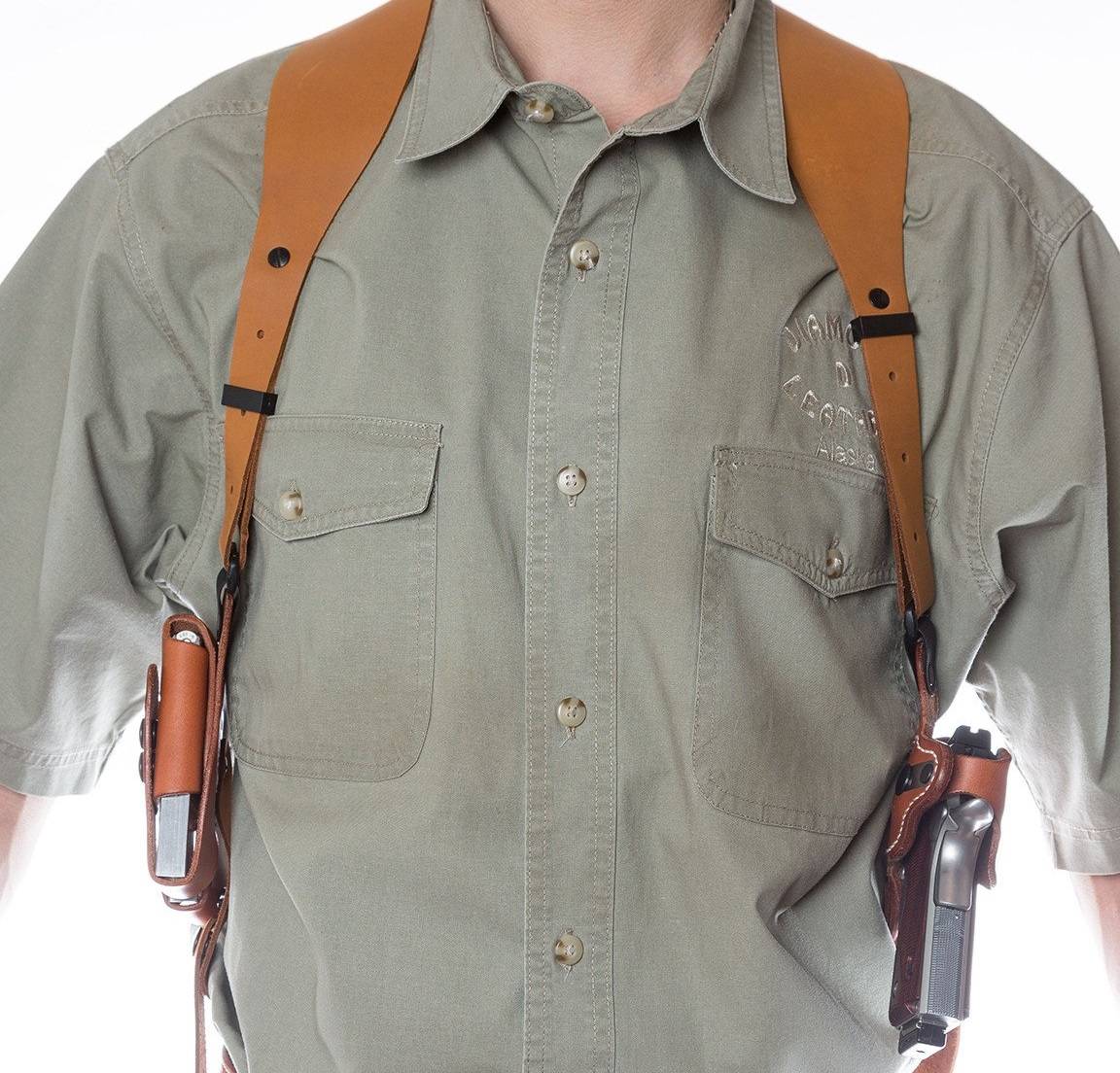 The shoulder holster is the type that distributes the firearm's weight evenly across the upper body. When using this holster, you carry your pistol either vertically or horizontally. Since it allows you to carry your gun vertically, it is an excellent choice for long guns. One of the most significant advantages of this holster is it provides fast draw, although it's a bit difficult to re-holster.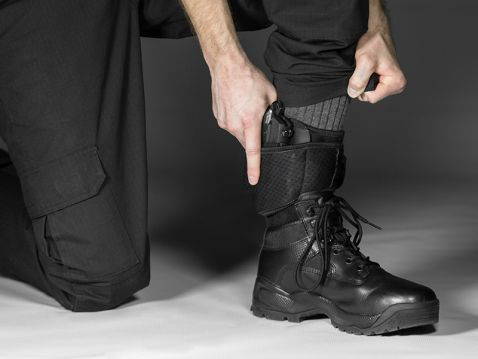 Ankle holsters are the best option for backup weapons, not for your primary. This is because carrying your 1911 handgun on your ankle is a bit inconvenient. However, it does make it difficult to steal your gun. If you need a 1911 concealed carry holster for your backup firearm, then an ankle holster is a good choice.
With leg holsters, the position of your 1911 gun is on the inner thigh. It is one of the types of holsters that offer the best accessibility from different positions. However, it is difficult to conceal a gun on a leg holster. Leg holsters are also a good choice for backup weapons since their position is highly accessible.
Now, you have a good idea of what to look for when shopping for the best 1911 concealed carry holster. On that note, you can start your search with the mentioned specific holsters for the 1911 handgun. They are some of the best and highly recommended holsters in the market that can offer comfort, concealment, retention, and a lot of other excellent features.
Top 5 Specific Holsters for 1911
Let's start your search for the best concealed carry holster for 1911 with the following 5 options:
Dinosaurized Baldman Shoulder Holster
Thanks to its design, the Dinosaurized Baldman Shoulder Holster is a shoulder holster ideal for both fit and heavy people. It is concealed, quick drawing, and has a seated draw, making it a great holster even for drivers. The beauty of this shoulder holster is in its material – high-quality nylon that is skin-friendly, lightweight, and odor-resistant.
It is not only great for seated draws but also for big or long barrel guns, thanks to distributing weight evenly throughout the shoulders. Baldman Shoulder Holster is also highly adjustable with its fully adjustable strap, belt strap, adjustable and reversible thumb brake system, and quick release buckle. All these features make it easy to fine-tune the holster to your body.
Baldman Shoulder Holster is a universal fit and can be used by both right-handed and left-handed users. It is a high-quality 1911 concealed carry holster with high concealability. It is excellent, but the one thing you might not like about it is the high price.
Galco King Tuk is an IWB holster made from natural leather and Kydex material. It's both soft and supple, so comfort is not an issue. It is also a highly stylish holster with its design. According to users, it is easy and smooth to draw your 1911 gun from this holster made of rigid polymer. It has many fantastic features, including adjustable clips for changing height and tilt.
This holster is well-built and conceals easily under your shirt. You can use it and carry your weapon discreetly anywhere, without anyone noticing you have a gun. Thanks to the rigid material it is made of, it makes sure that your 1911 gun does not move in place even once. One issue that users note is the squeak or creaking sound from the leather.
3. Relentless Tactical Pancake Holster
Relentless Tactical Pancake Holster is a holster entirely made of leather. It is built in a perfect OWB holster design that clings to the body tightly. With this, it can conceal a huge 1911 handgun even when OWB isn't made for concealment. The pancake-style of the holster makes it easily one of the best options for 1911 concealed carry.
In terms of retention and adjustment, it is worth mentioning that Relentless comes with three belt slots. Two of them are forward slots for adjusting the holster cant. It is an open-top design, which supposedly makes it easy and quick to draw your 1911 gun. This 1911 concealed carry comes with many excellent features, but a full-size 1911 protrudes from the holster's bottom.
4. Galco Miami Classic II
Classic is what best describes Galco Miami Classic II holster. It is a classic leather holster in shoulder style. It boasts of a shoulder holster with wide leather strips, which should balance the weight of your 1911 weapon. Thus, Galco Miami Classic II promises that you won't have shoulder and back pain.
It is made of high-quality leather that is soft to the skin, so there shouldn't be discomfort with that. Galco Miami Classic II is incredibly adjustable, which is excellent as it means it fits with both women and men. The double magazine pouch included is a fantastic bonus feature. The one thing you might not like about it is pretty pricey.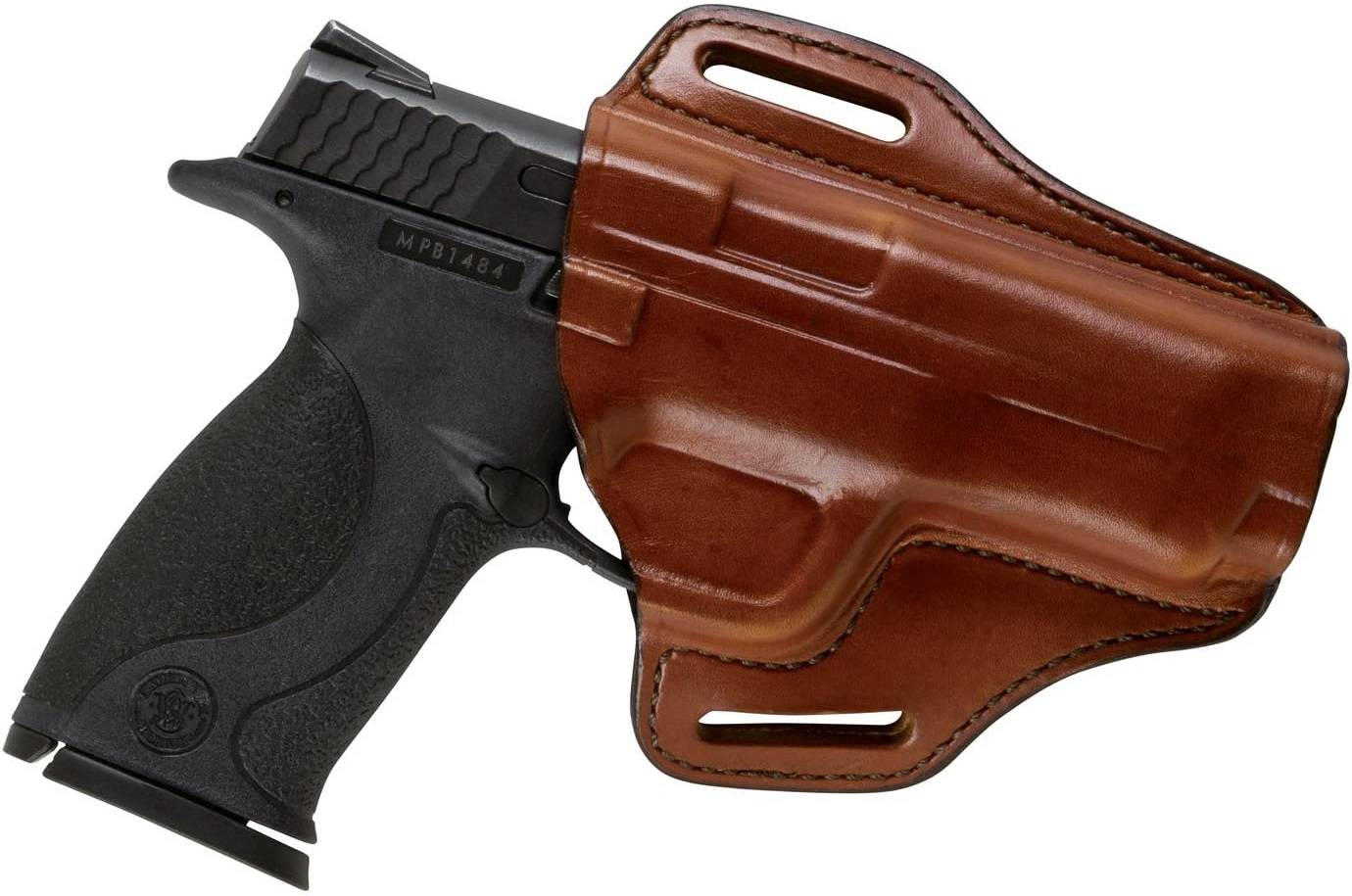 Bianchi Remedy Holster is another 1911 concealed carryholster in classic design but with some modern twists. It features the classic look of a leather holster with added modern features meant to improve the drawing speed. By properly reinforcing the holster's key points, it made it easier to re-holster your 1911 handgun.
Since Bianchi Remedy is a pancake holster, it offers excellent concealability despite being an OWB holster. It also seems to have excellent retention with two loops that ensure the holster stays flat and close to the body. Bianchi Remedy is a comfortable and easy to carry holster, no doubt, but it could be a problem that it doesn't have a sweat shield.
It is a challenge to look for the best 1911 concealed carry holster when there are many confusing options in the market. But with the guide and reviews above, now you know where to start in your search. All the holsters listed above are great, but Baldman Shoulder Holster is incredibly excellent with its universality and comfort.
7 Best Holsters for Older People that Live Alone
---