Have Questions?
Email us
support@dinosaurized.com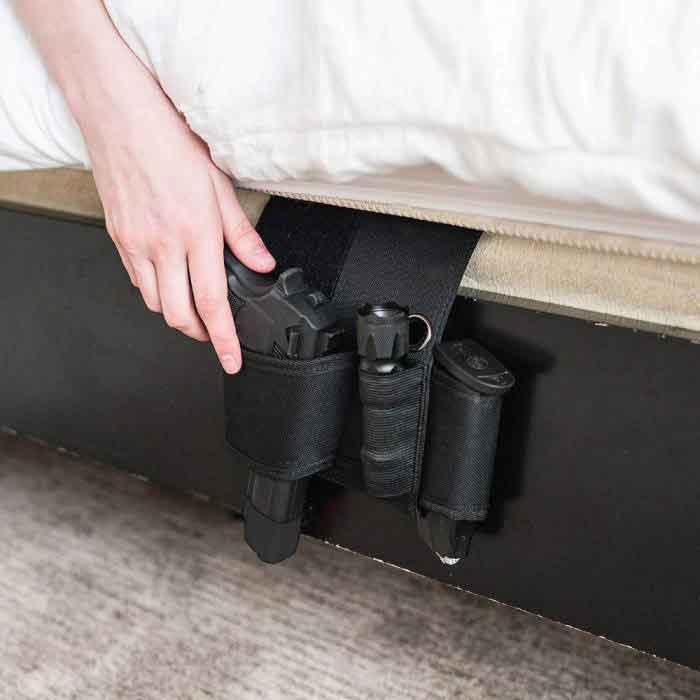 WANT TO SLEEP WELL BUT STILL BE 100% READY TO PROTECT YOUR FAMILY?
Morpheus Bed Holster is the answer for you!
A combination of practicality & comfort: Morpheus Bed Holster allows you to sleep well at night but still be prepared for unexpected situations.
Non-slippable: 3-layer Anti-slip friction strips design secures the holster in place from falls or movement.

Adjustable and Universal: Morpheus Bed Holster works with a lot types of guns or or other tactical gears like knives, mags, phones or flashlights. It can also be used for training.
Versatile: Morpheus Bed Holster can stay securely under mattress, bedside, couch or car seat.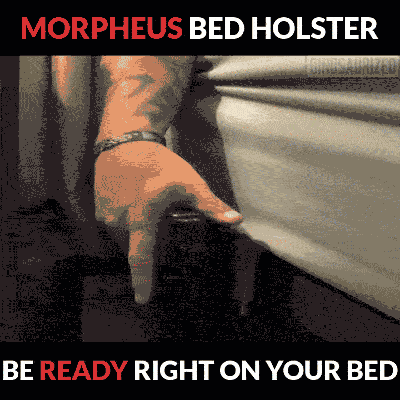 KEEP YOUR FRIENDS CLOSE BUT YOUR GUNS CLOSER
It's 3 o'clock in the morning, your wife shakes you and whispers:"Burglar!" in your ear. You fumble around looking for firearms. Maybe it's in the nightstand drawer, under the bed, sheet or your pillows. In any cases, your firearms are not Ready!
When you have a home invasion, or other emergency, you only have seconds to respond. Morpheus Bed Holster can solve that, as estimated by our local police officers, it can save you 5-10 seconds.
With Morpheus Bed Holster, now you can grab you gun like a banana, right on your bed, and be ready for any situations.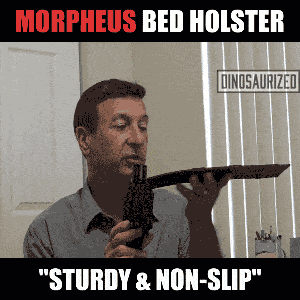 COMMON QUESTION: DOES IT SLIP?
The answer is NO. Being made of High-quality 600D nylon with 3-layer anti-slip friction material strips on top and bottom, Morpheus Bed Holster is physically non-slippable.
Besides, Your gun or any other tactical gears will be tightly hold where they are supposed to be.
You can also adjust its velcro to fit different sizes of guns from sub-compact, compact, standard sized pistol, full size 1911s , Morpheus Bed Holster also works well for M&P Shield, Walther PPS,Glock, S&W, Ruger.
Its adjustability allows itself to hold even tactical flashlights tight, with diameter up to 1.5 inches.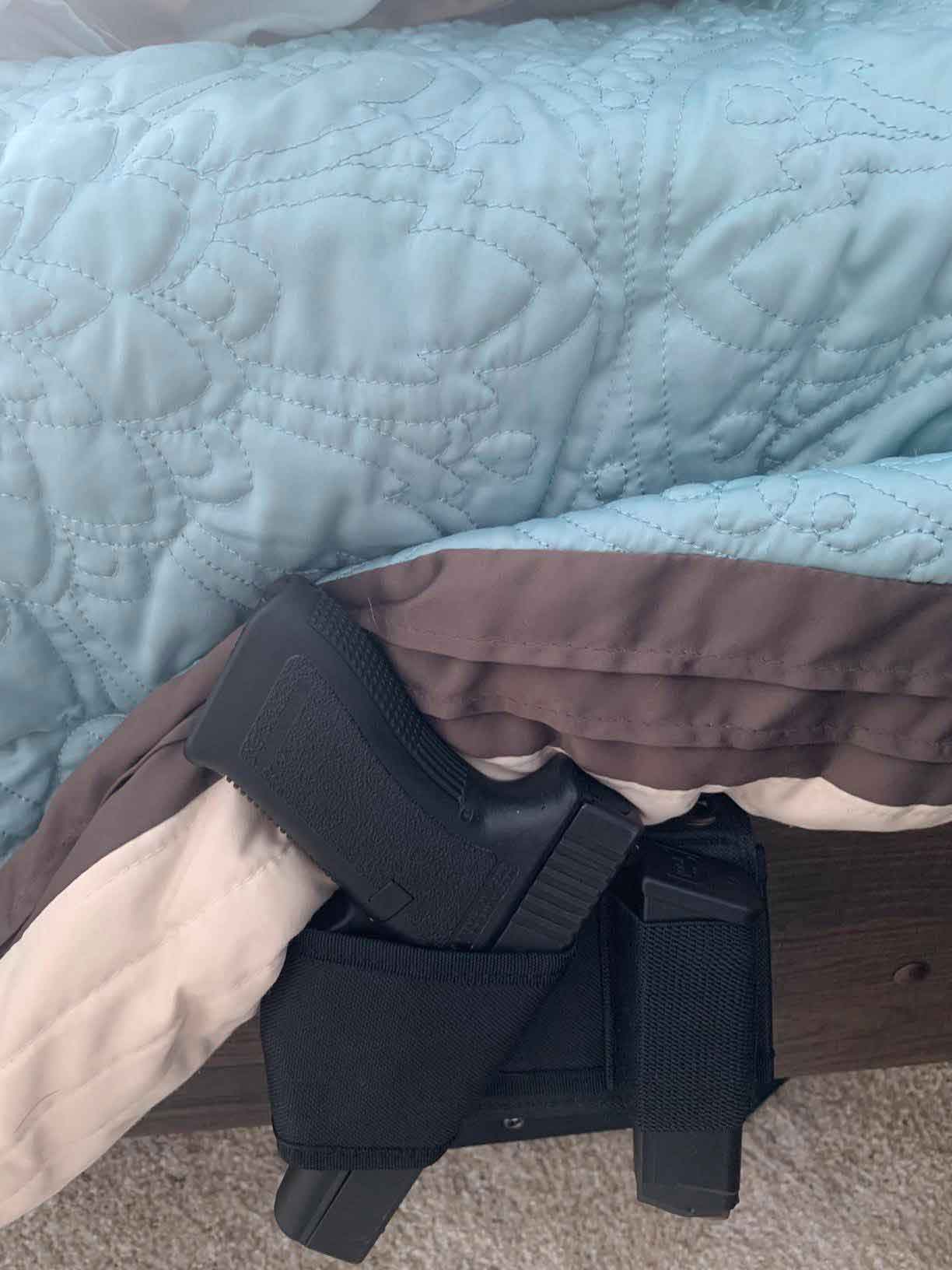 "This bedside holster is adjustable to fit nearly every size pistol. The magazine holster stretches enough to accomodate double stack magazines. The third flashlight holster section wasn't obvious, but after playing with the adjustable section on that side of the holster, I managed to create a loop that I use for a second magazine. The flap that goes under the bed seems shorter than what was pictured, but it seems to stay in place- we do have a heavy mattress, so that helps! For the price, this is a good bedside holster setup."
Miller - Camden, NJ

IT'S NOT JUST A HOLSTER, IT'S SOMETHING THAT KEEPS YOU 1000% PREPARED EVEN WHEN YOU'RE SLEEPING, READING BOOKS, WATCHING TV OR ON THE ROAD.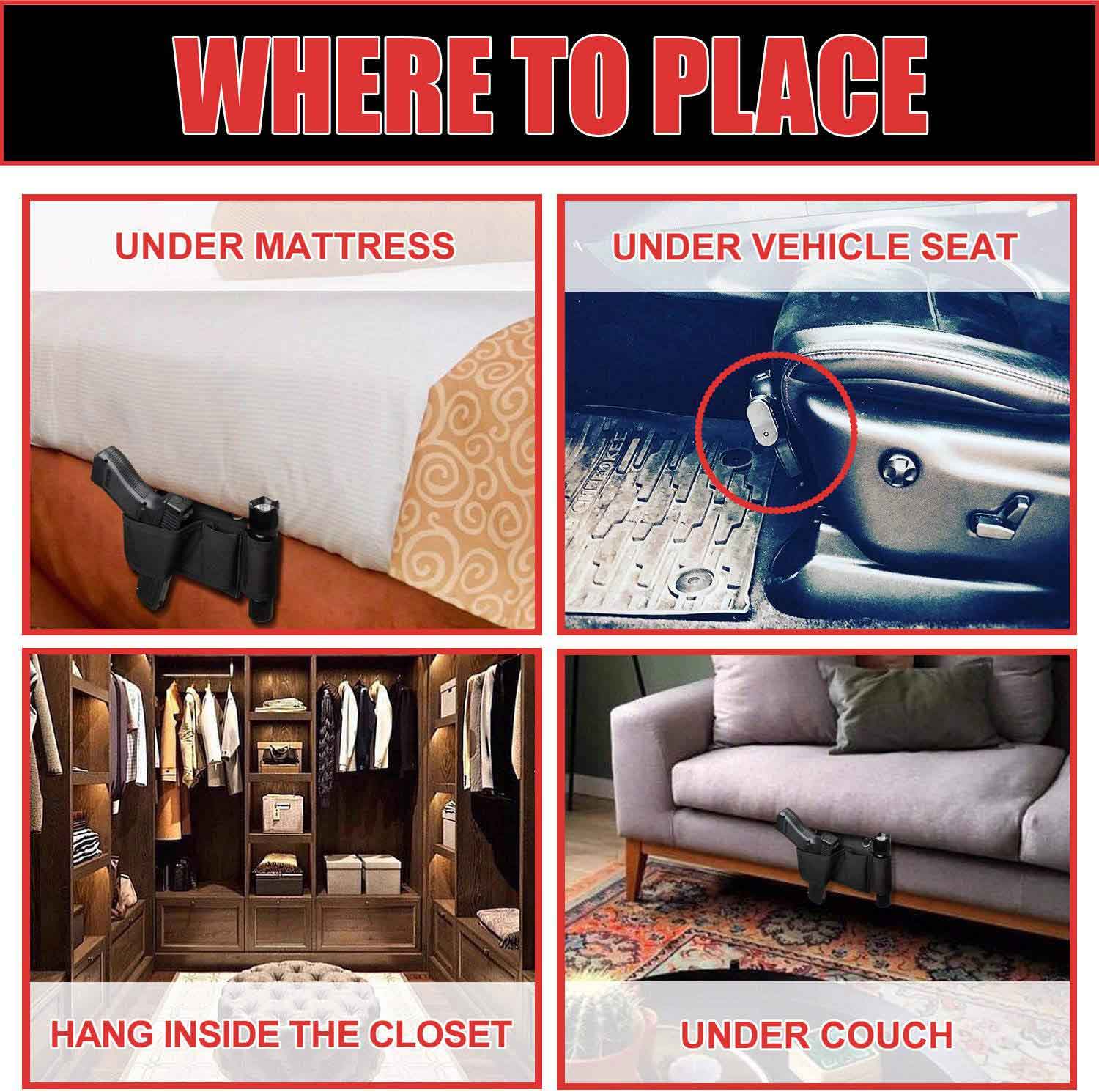 ⭐⭐⭐⭐⭐ 5-star reviews given by




TODAY ONLY: We're giving away 100 MORPHEUS BED HOLSTERS + FREESHIPPING
for the first 100 customers:
Get yours now, first come first get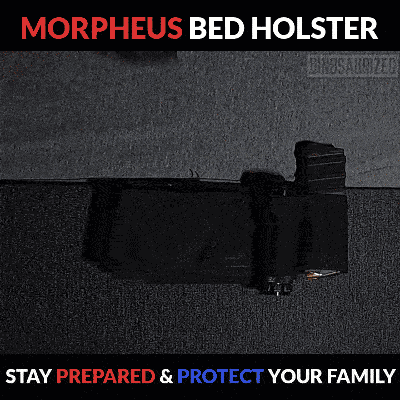 Why buy Morpheus Bed Holster?
✔️Sticky: 100% sticky to any surfaces.

✔️Ready & Prepared : Allows you to get yourself ready for emergency even when you're at home sleeping, reading books, fixing doors, cooking dinner or driving on highway.

✔️Time Saving: Morpheus Bed Holster saves you a lot of time getting your guns, rather than running to your gun vault, pull the key out and grab the gun. Now you can get your gun mounted within a hand's reach.

✔️Premium Quality: With High-quality 600D nylon material and 3-layer anti-slip friction material strips on both top and bottom, Morpheus Bed Holster ensures years of serving you and your family.
✔️Space Saving: Mount your gun bedside can save you a lot of space.
✔️Comfort: Instead of carrying guns all the time at home or while driving, Morpheus Bed Holster gives you 100% comfort, especially for all-day gun carriers.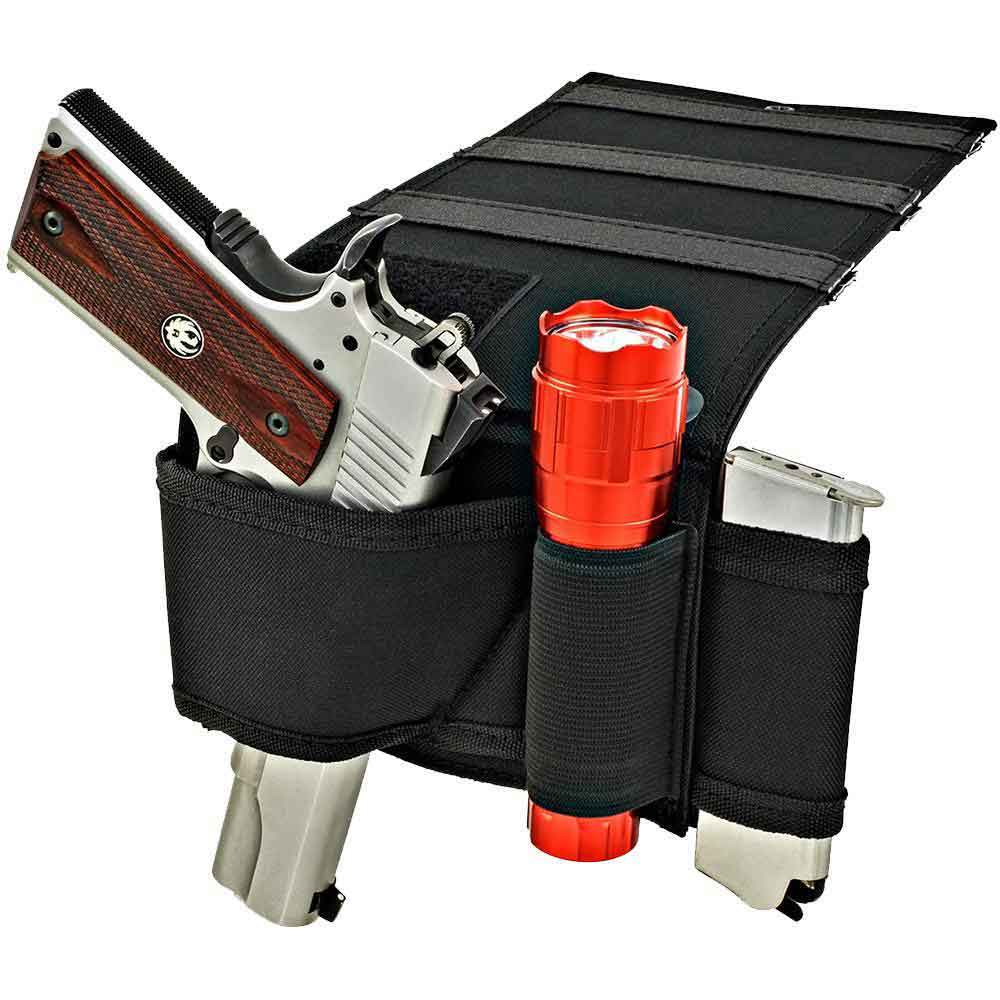 *UPDATED 5/1/2020:
3-POUCH HOLSTER
Morpheus Bed Holster
, once had only 1,
now has 3 pouches, 1 for your gun, 1 for your flashlight and 1 for your magazine. Of course, you can place your glasses, phone, pen or anything you want that fit the pouch.
Morpheus Bed Holster's velcro also allows you to adjust the size of the pouch and keep the gun hold tight.
MORPHEUS BED HOLSTERS ARE PERFECT FOR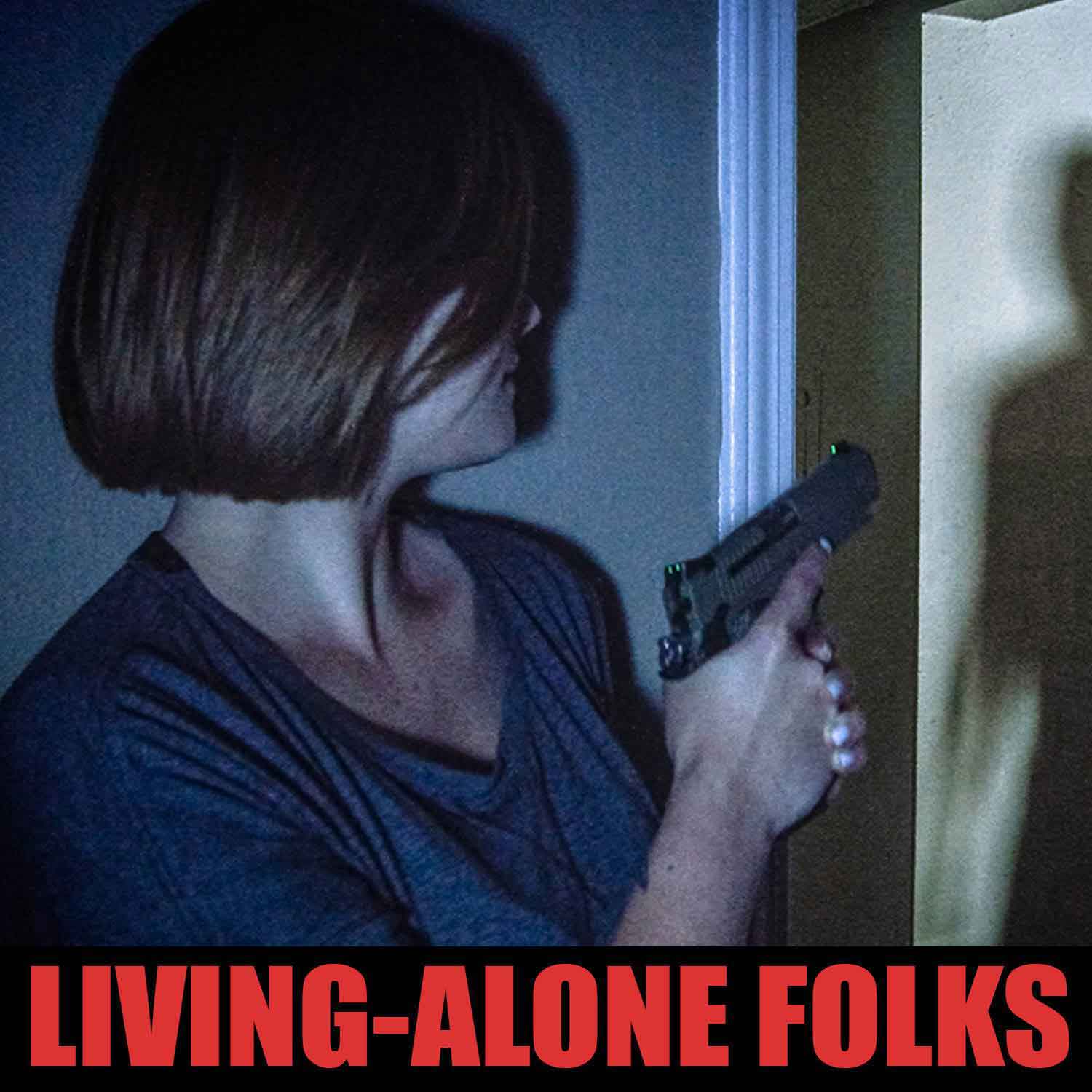 If you live alone, especially when you're a woman, having a gun sticked right to your bed should be a right choice.
Also, If, unfortunately, you have to talk to an intruder, holding a gun in your hand will help you have a much "healthier" conversation.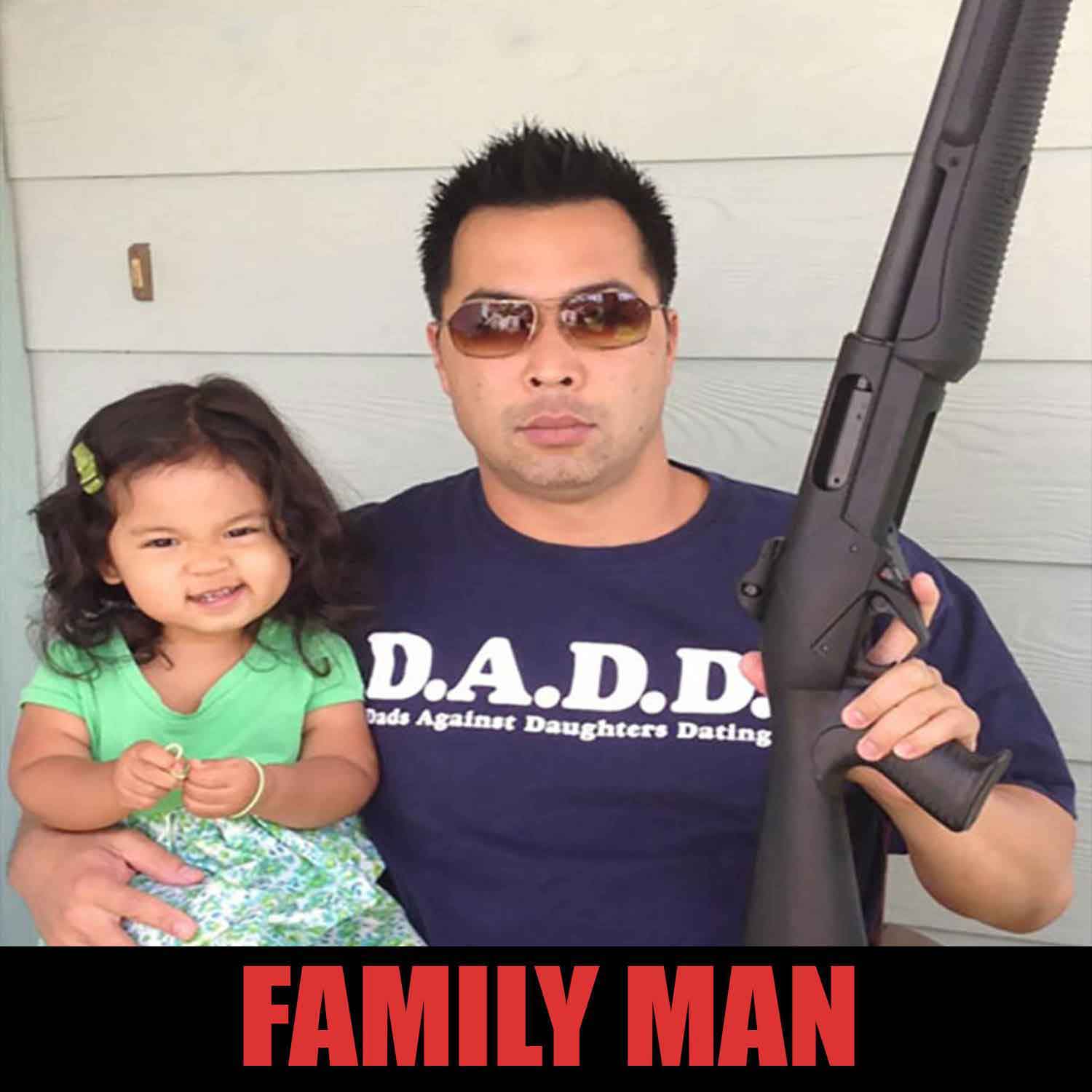 If you're a father/ a husband, of course you want to make sure your family be 100% protected & safe at night. And even if you're not home, they still have something to protect themselves and be 100% ready for any unexpected situations.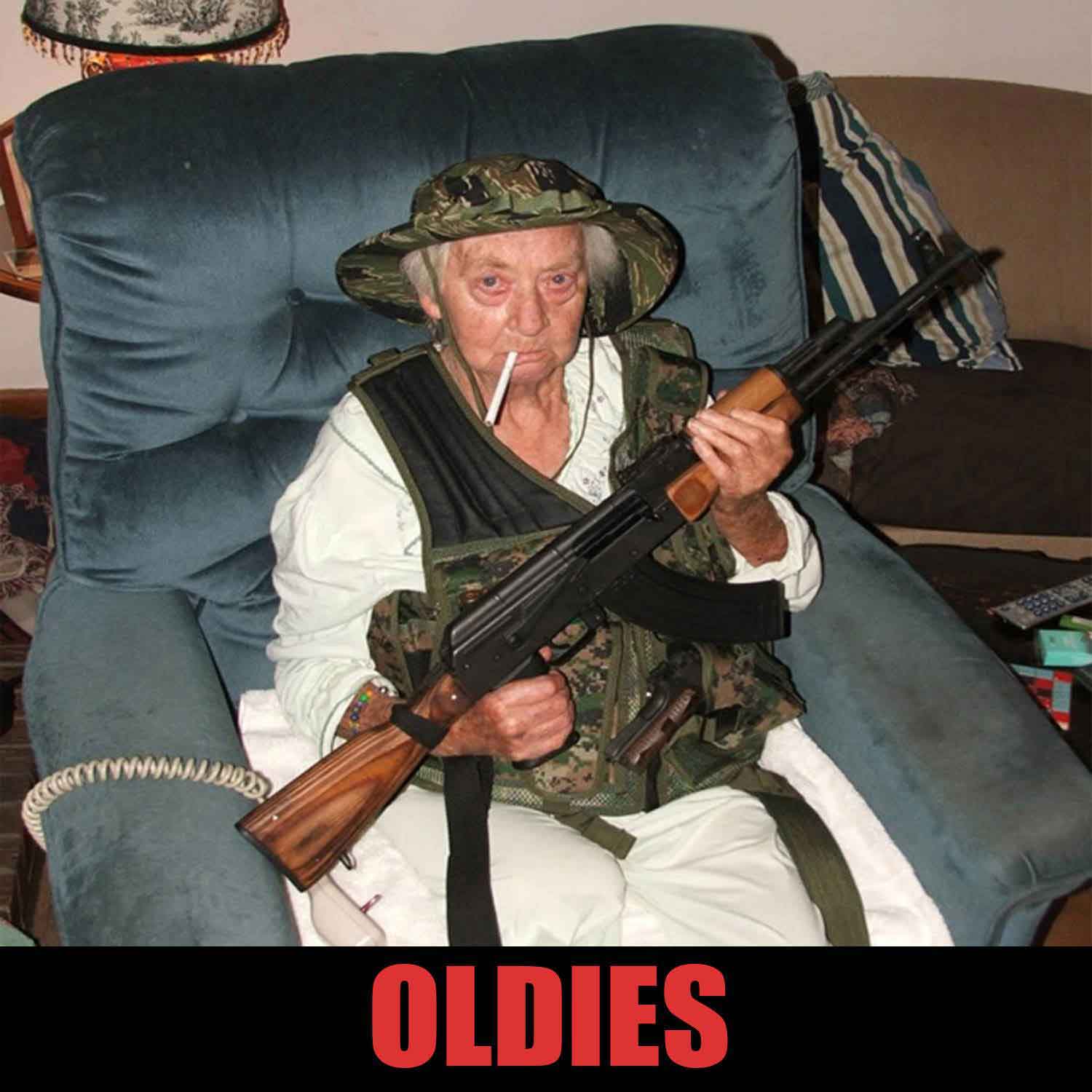 Oldies need good sleeps to keep good health, and a gun within a hand's reach with Morpheus Bed Holster can help old people sleep better.
WHAT OUR CUSTOMERS SAY?
⭐️⭐️⭐️⭐️⭐️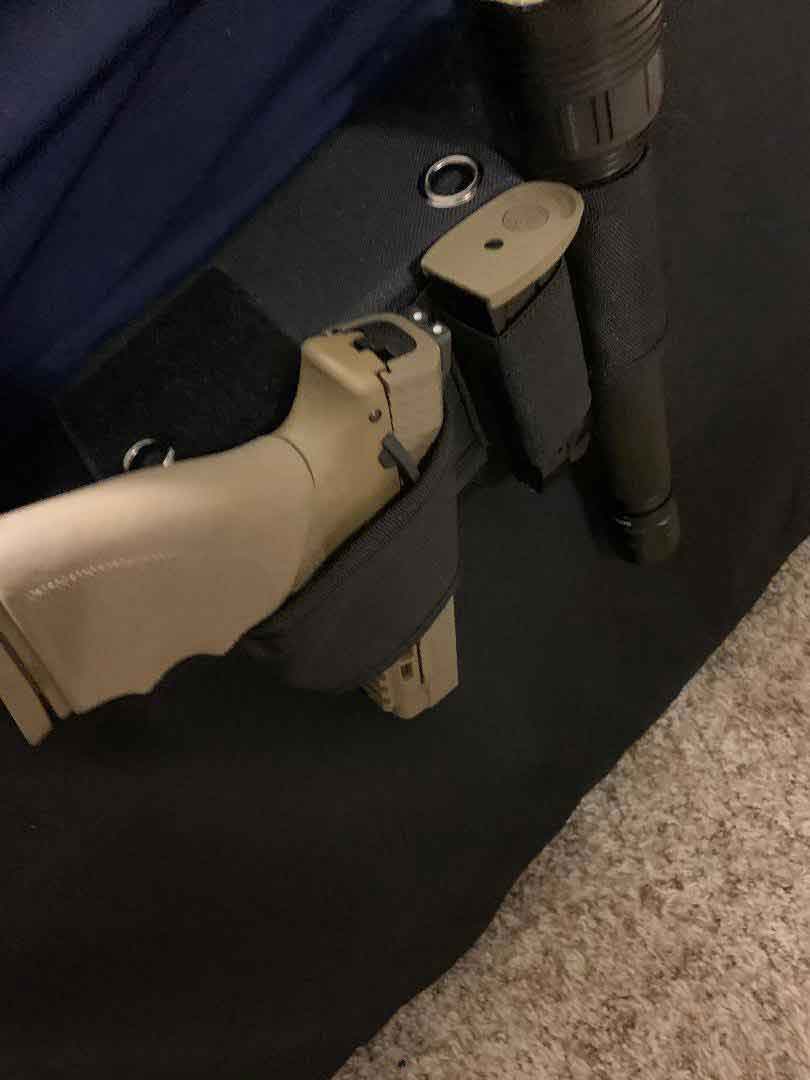 "I was pleasantly surprised by this Morpheus holster. If you are looking for something ridiculously easy to set up for quick bedside access, this is a great option. Right out of the bag I was looking for instructions; however, I quickly found that I didn't need them as it was THAT easy to set up.
Morpheus holster and flashlight loop are totally adjustable to fit whatever make and model sidearm and flashlight you have. It will fit my small 9mm all the way up to my big 44 magnum or larger. When you place the flap under the mattress, it is large enough that I didn't even need the extra velcro to affix it to the mattress. Again, this is a super simple, easy to set up and customize little bedside holster. No complaints on this that I can see!"
- Monica C., Boise Rivers, ID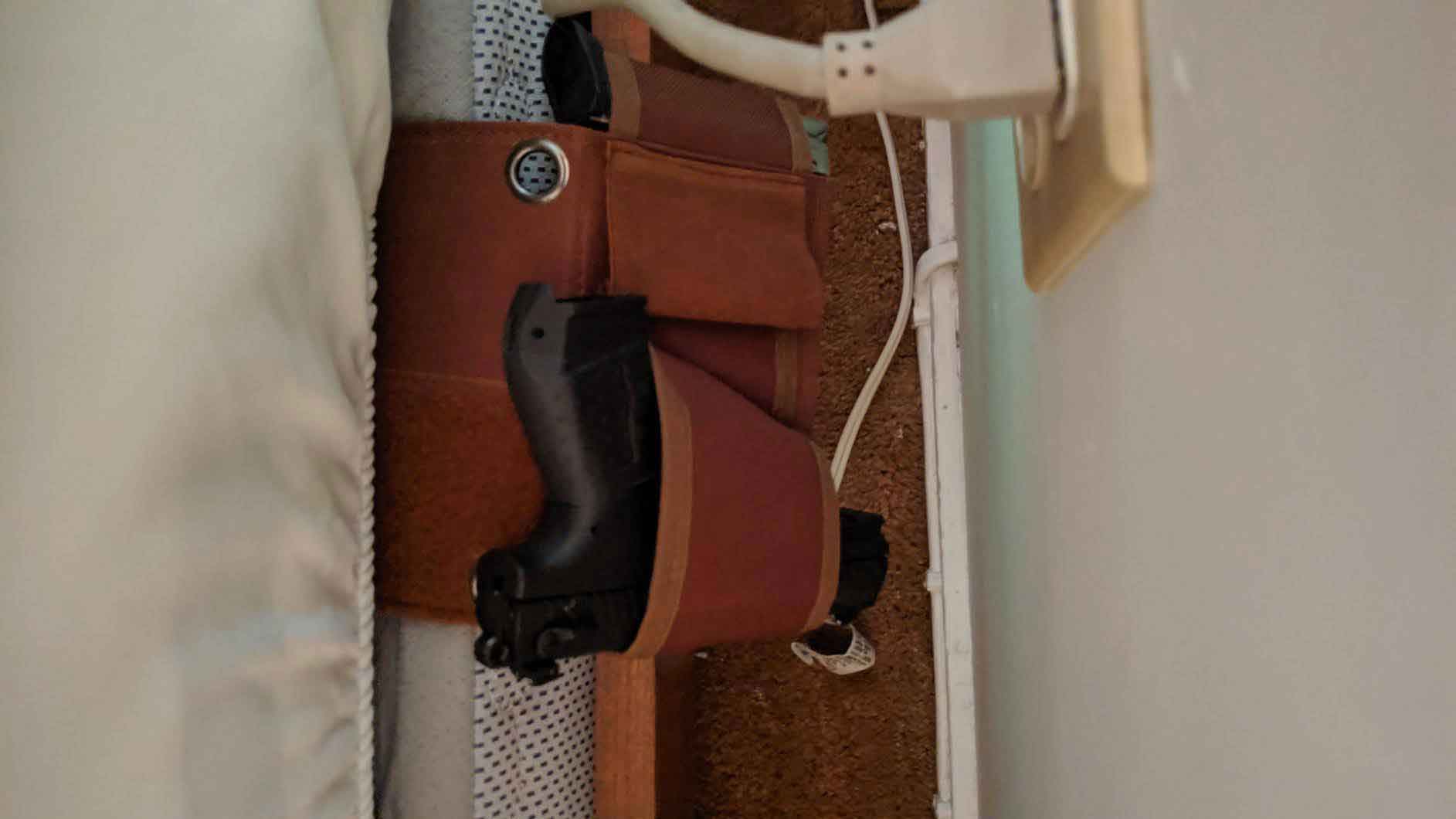 " I like to keep a gun "by" my bed, and now I have one in bed with me; well, not really, but actually the gun fits between the top and bottom parts of the mattress. With the velcro wrap consistant with thisMorpheus holster, it fits rather well. The part going between the mattresses is long enough to sustain the weight of this heavy revolver. I am still old school and still like wheel guns but like semi autos also. This holster doesn't conceal the gun but my side of the bed is up against the wall so it can't bee seen unless you walk up by the wall and look down. Even then you would have to know what you are looking for. The holster holds the gun securly but it is easily drawn. I am sure it will hold just about any large semi auto or revolver. This is for defense of my home and we all have to be careful these days . "

- Jerome, Hudson, ME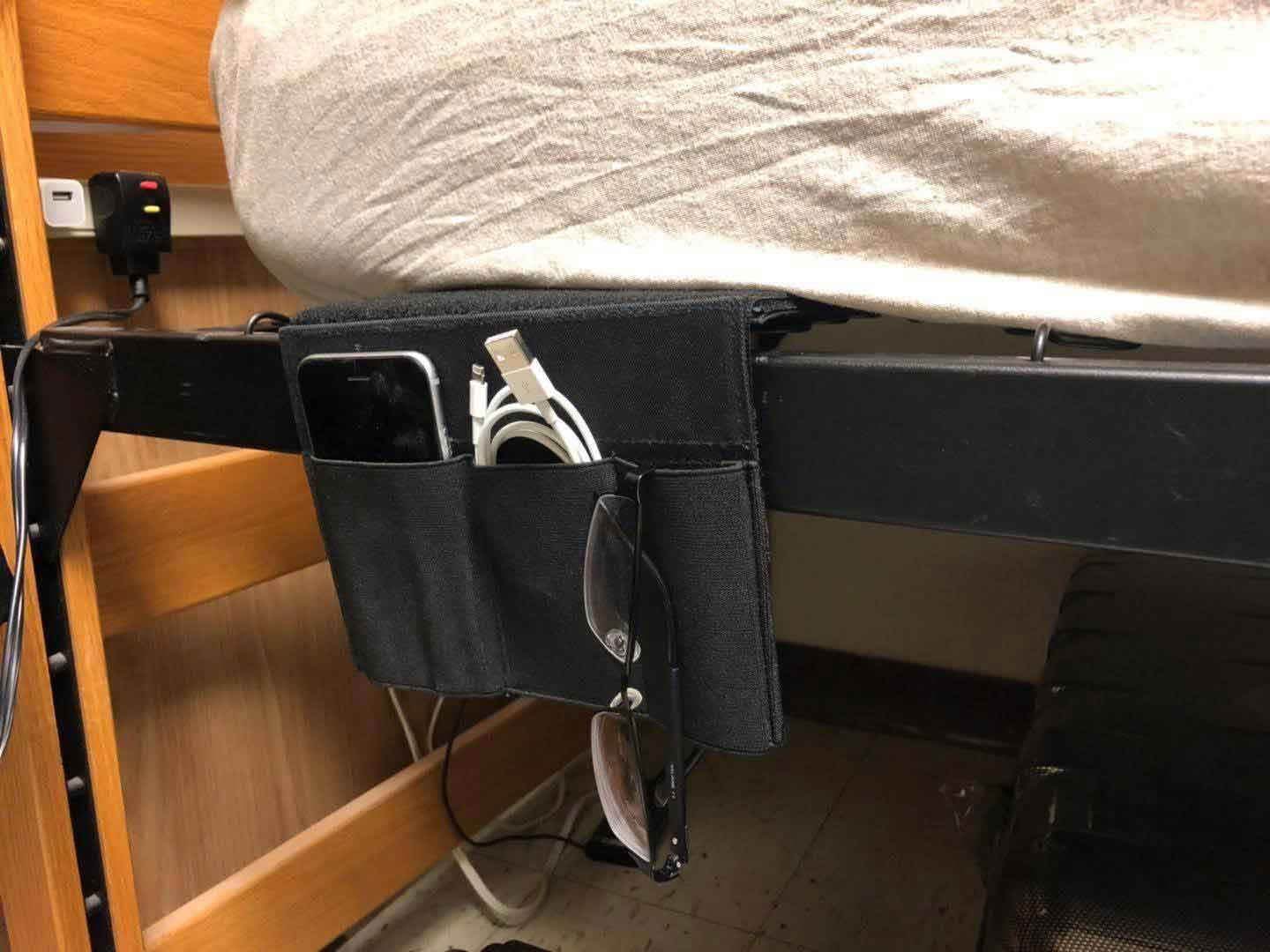 "The installation of Morpheus bed holster is easy, and it is adjustable to fit beds in different sizes. It holds a hand pistol perfectly beside your bed. I could also use it to hold my phone, glasses, and pens. Depend on your demand, it can be a solid holster or a multi-functional holder beside your bed."
Dan B- Columbus, MS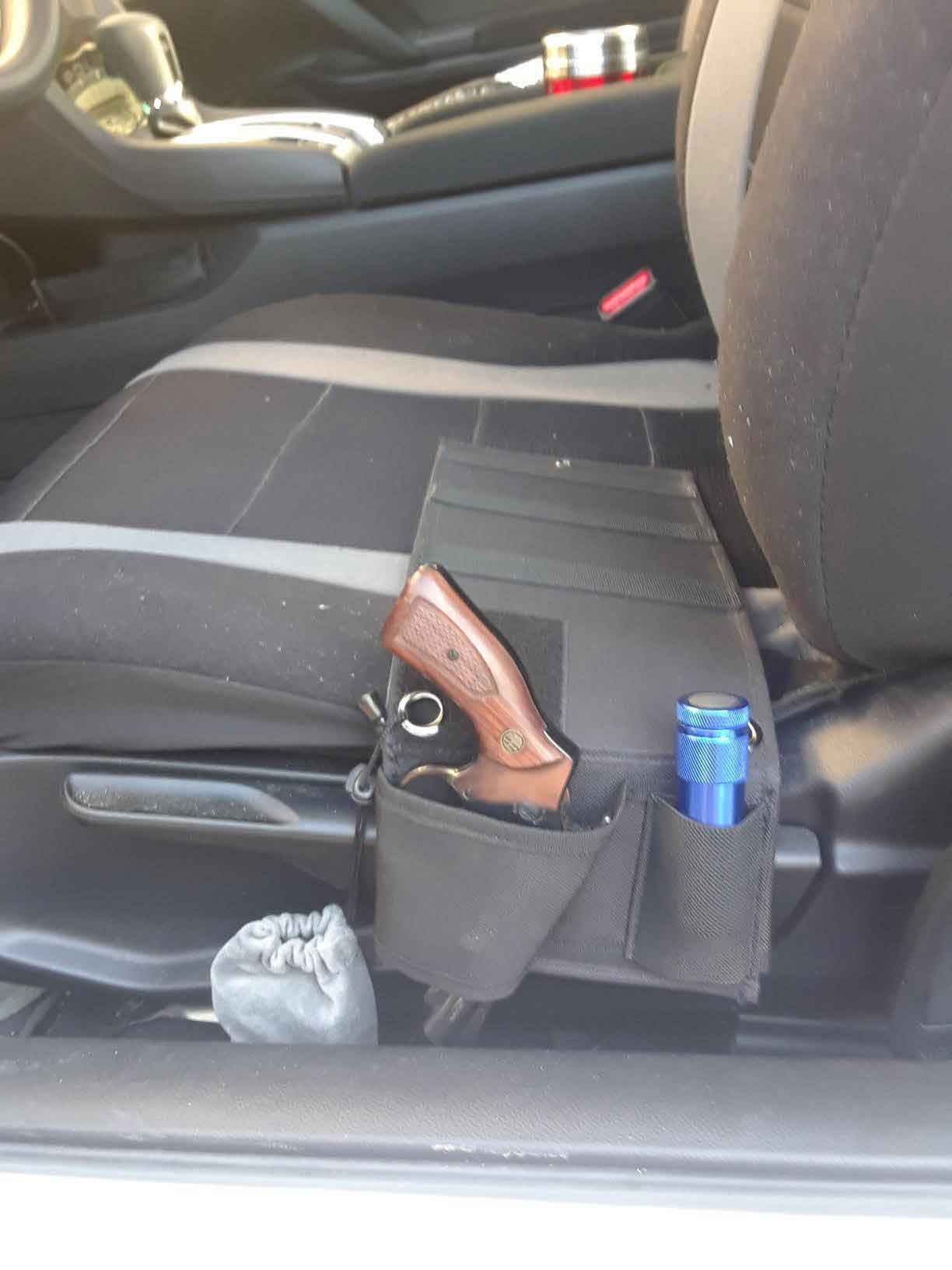 "The Morpheus holster can be used bedside or in vehicle. Since I have a revolver I attached a bag for extra shells along with a flashlight. It's simple to adjust for each with velcro tabs. My car has cloth seats so I attached with a velcro tab,..probably can be used in leather or vinyl seats using the 3M tape. I looked for instructions when first opened package none included but didn't need,..was easy to use without any. Well worth the cost!"
Brent S. - Deltona, FL

UNDERSTAND MORPHEUS A LITTLE MORE WITH FRANK'S INTRODUCTION VIDEO
LIMITED TIME OFFER
50% OFF + EXTRA 10% OFF +FREESHIPPING
If you have any requirements, please email support@dinosaurized.com or send us message on https://www.facebook.com/dinosaurizedstore.

*The gun, magazine & flashlight are not included, we only sell the holsters.
SATISFACTION GUARANTEED, EASY REFUNDS, AND 30 DAYS MONEY BACK GUARANTEE
- At Dinosaurized, we believe our products are truly innovative and have 100% confidence in it. We understand that buying things online can be scary with companies not staying true to their customers so we go the extend to keep you satisfied.
- If you bought it and feel that it is not for you, don't worry. Just shoot us a message at support@dinosaurized.com and we will make it right by offering you a replacement or refund. 100% Simple & Risk-Free process.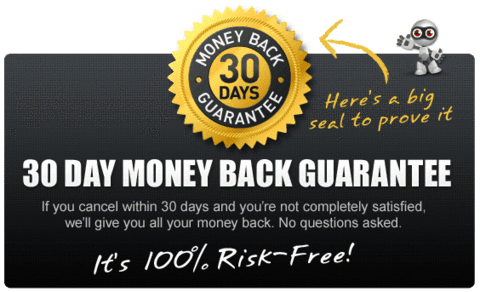 5% OFF code offer: "labor", Labor day is coming, but thousands of Americans (soldiers, doctors, firefighters...) are working this Day. We are grateful for your service. Just apply the code in checkout and claim your 5% OFF.
Shipping

(US customers only) Standard shipping time is 8-14 days to ship and arrive.
All packages are seriously & strictly sterilized before being sent.
For Non-US customers, shipping time may vary from 10-20 Business days.

We'll immediately upload your tracking code to Paypal after the shipment, it may take 3-4 days to be activated.
Wash
You can hand wash your holster in warm soapy water by soaking it and working it with your hands. Then thoroughly rinse under cold water and hang to dry. Do not machine wash or dry. Remember: Do not machine wash or dry.

Refunds
If for whatever reason, you are not satisfied with our products and want to return it/them , you can easily and quickly contact our helpful customer support (support@dinosaurized.com) to get an easy refund. Just make sure you send the product back to our warehouse!
© Dinosaurized. All rights reserved.