Have Questions?
Email us
support@dinosaurized.com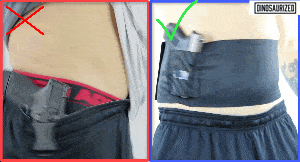 FINDING THE TIGHTEST & SNUGGEST HOLSTER?
One of the thing that most of us gun owners care about is our holsters' stickiness, especially in dangerous, unexpected situations:How I'm gonna draw my gun as quickly and easily as possible when I'm running under a rain of bullets, jumping over obstacles or hiding behind a table? NOT while standing still in the RANGE.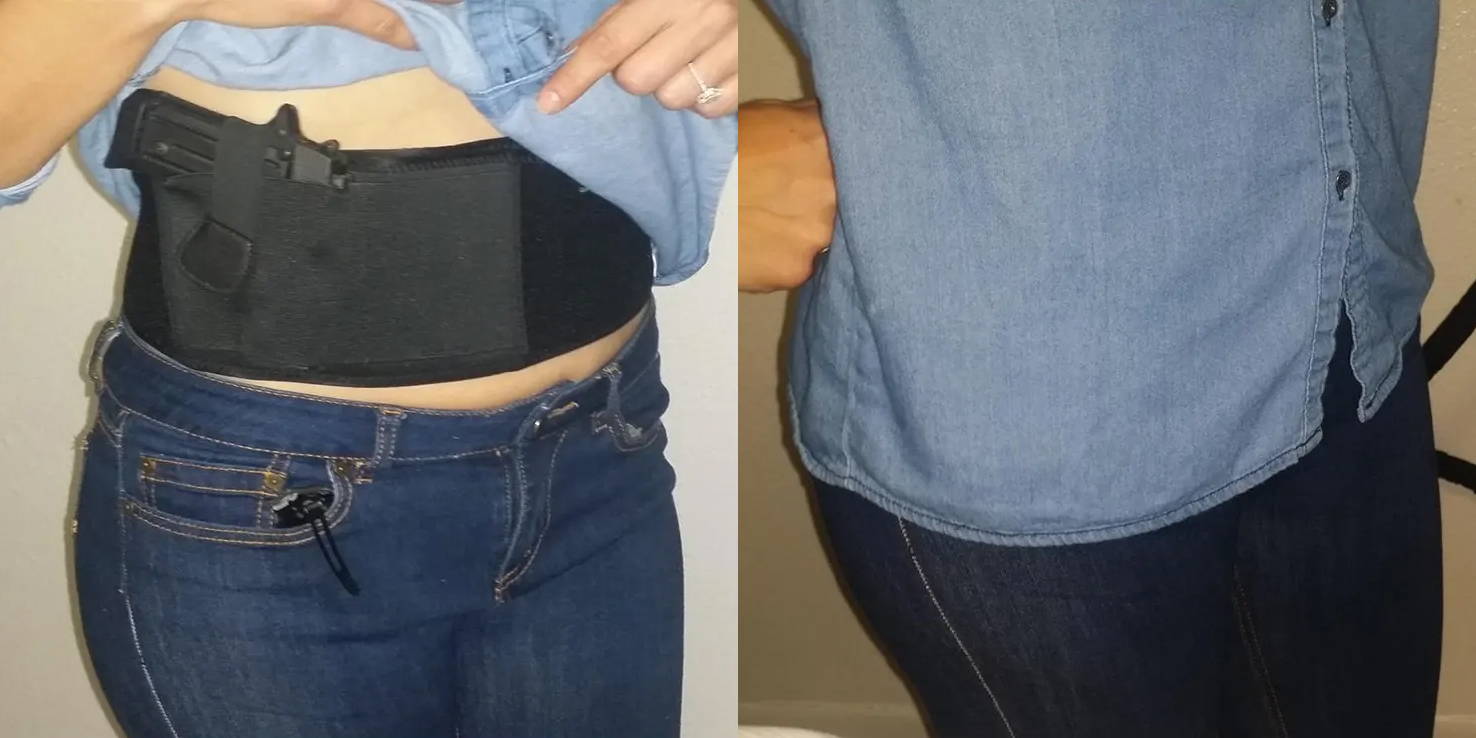 Remember, a bad, sagging holster with a big, visible print can make you criminals' target if they notice you are armed.
Dragon Belly Holster is made of very snug and tight material. It's 100% concealed and print-free, also very very lightweight so ladies can easily carry.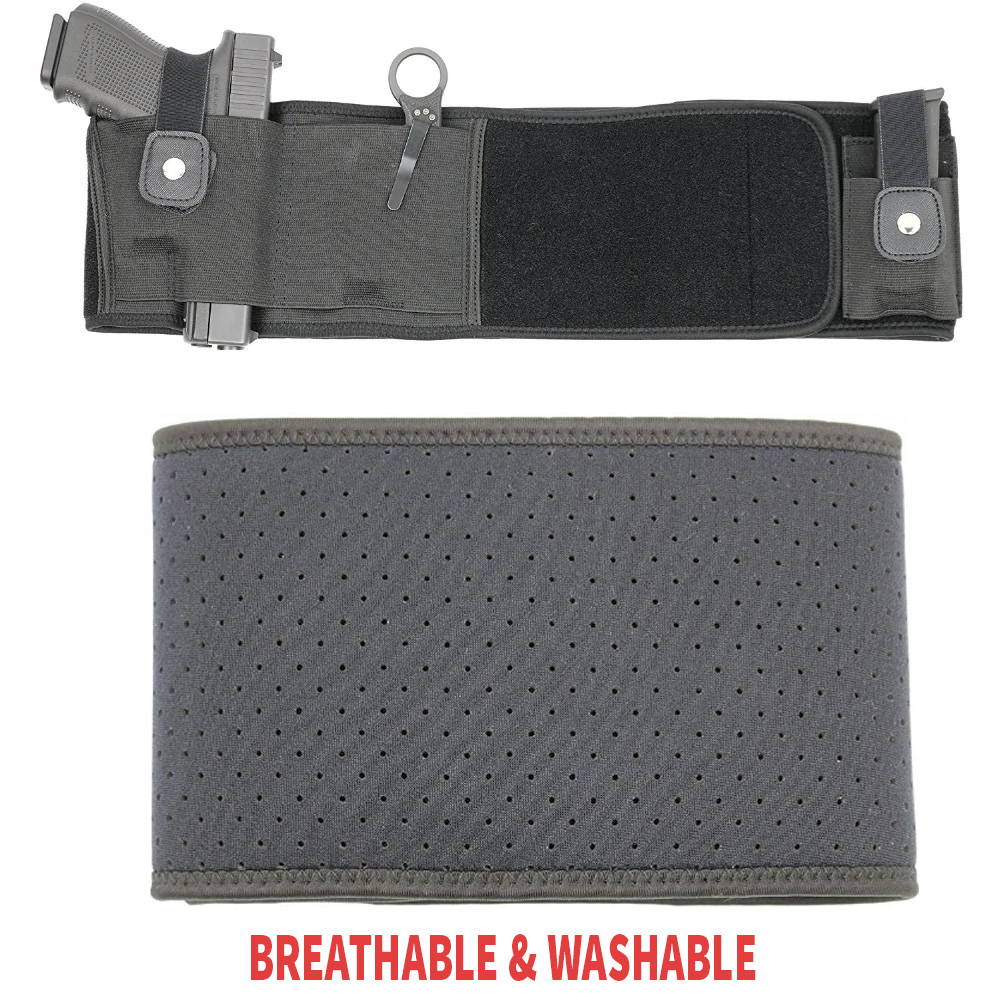 People love leather holsters simply because they "looks great". Yes, but it stinks, expensive and heavy, it's a huge burden especially for folks who have to carry it all day. Leather fully absorbs all of our body scent, road smell, pets', and there's no way you can remove them.
Dragon Belly Holster's high quality Neoprene is 100% smell-resistant, washable & breathable materials, which also allow you to wash and remove all dust & bacteria from it.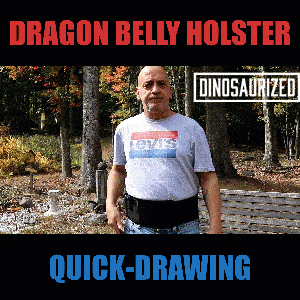 Dragon Belly Holster reduces up to 0.3 seconds compared to other holsters:
*New - Removable Retention Strap (detailed info below): This strap creats no noise, and you can remove it to shorten the draw time.
Flexible: You can place your holster/gun on any parts of your body from which you can draw your gun as fast as you can.
Soft and easy material: Neoprene allows your draw to be completely smooth.

Good for ladies: The Dragon Belly's spreading design helps ladies, especially ones who carry it all day, feel less heavy (in the leg, or chest), giving them more chance to pull the gun out faster.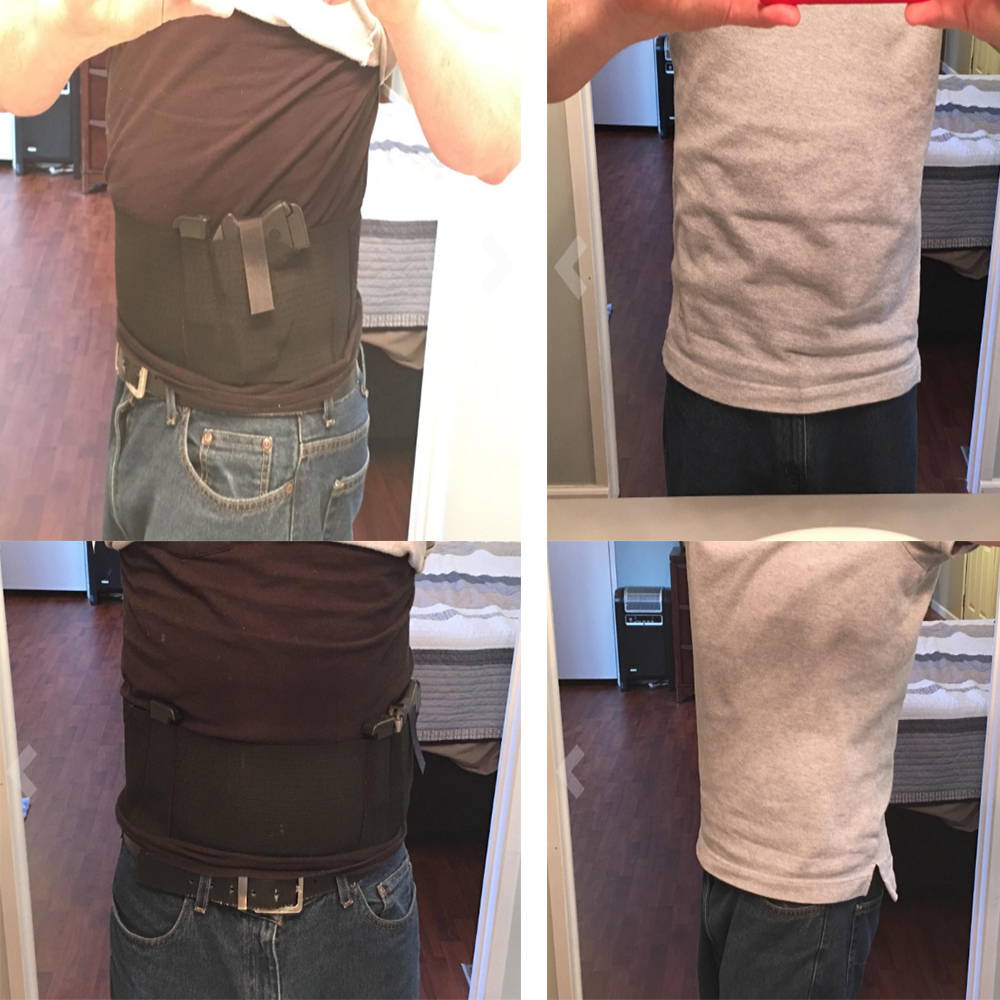 "I didn't need a fancy belly band with a lot of extra compartments on it. I need a simple belly band that can securely hold my gun while I jog outside and this fits the bill perfectly. I have a subcompact Taurus 380 and a Compact Ruger. Both are held very securely. The snap is positioned nicely and ensures that the gun will stay in position. I'm a big dude - 6'1" and 250lbs and I strap this around my hops with no problems at all. I pull my sweatpants/gym shorts over them and my t-shirt covers the rest. There is no imprint at all."

- Joseph , Northbrook, Illinois.

IT'S NOT JUST A HOLSTER, IT'S A UNIVERSAL 5-IN-1 ONE THAT
CAN CARRY DIFFERENT SIZES OF PISTOL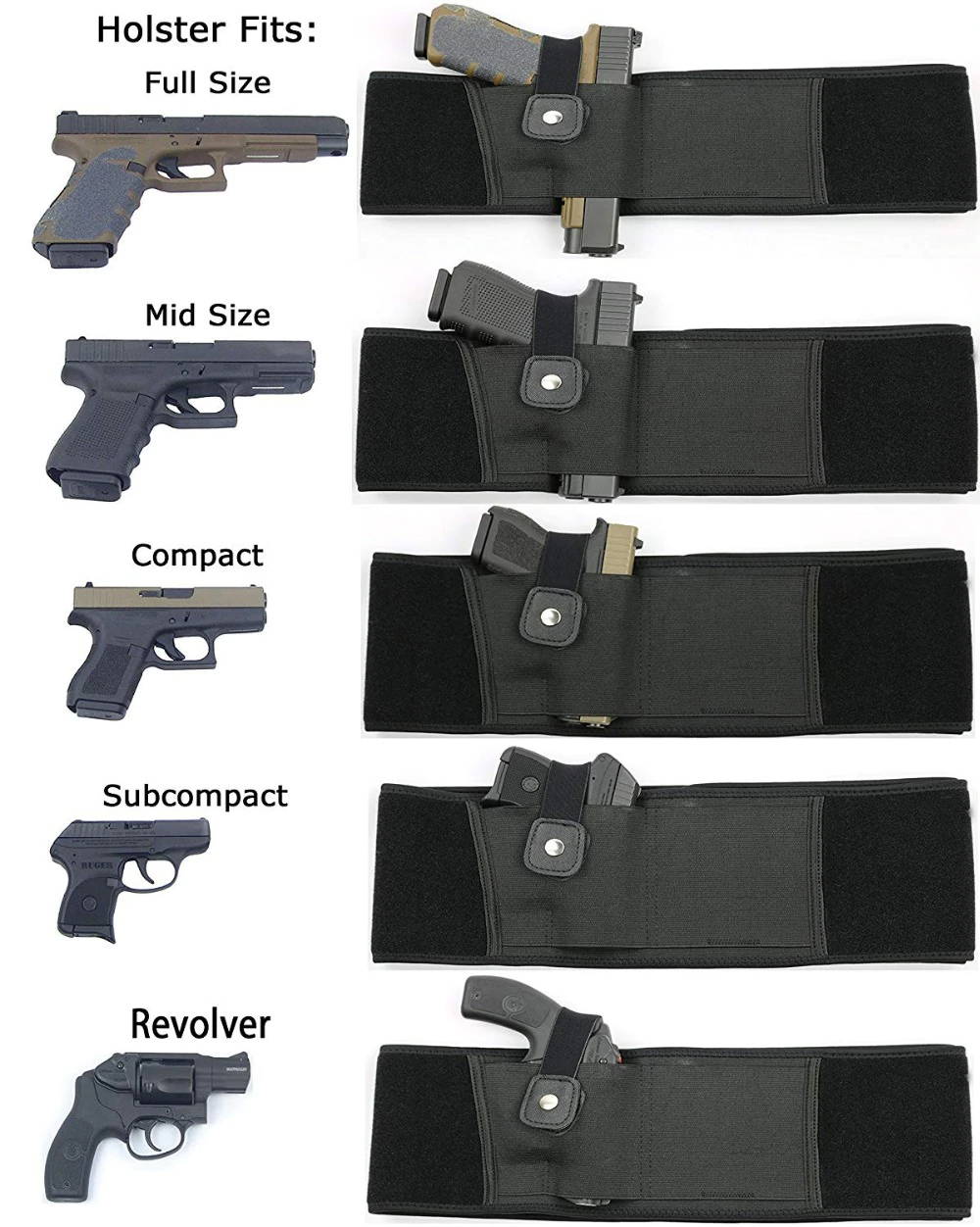 IT WAS ALSO DESIGNED TO HELP YOU CARRY WEAPONS ON DIFFERENT PARTS OF YOUR BODY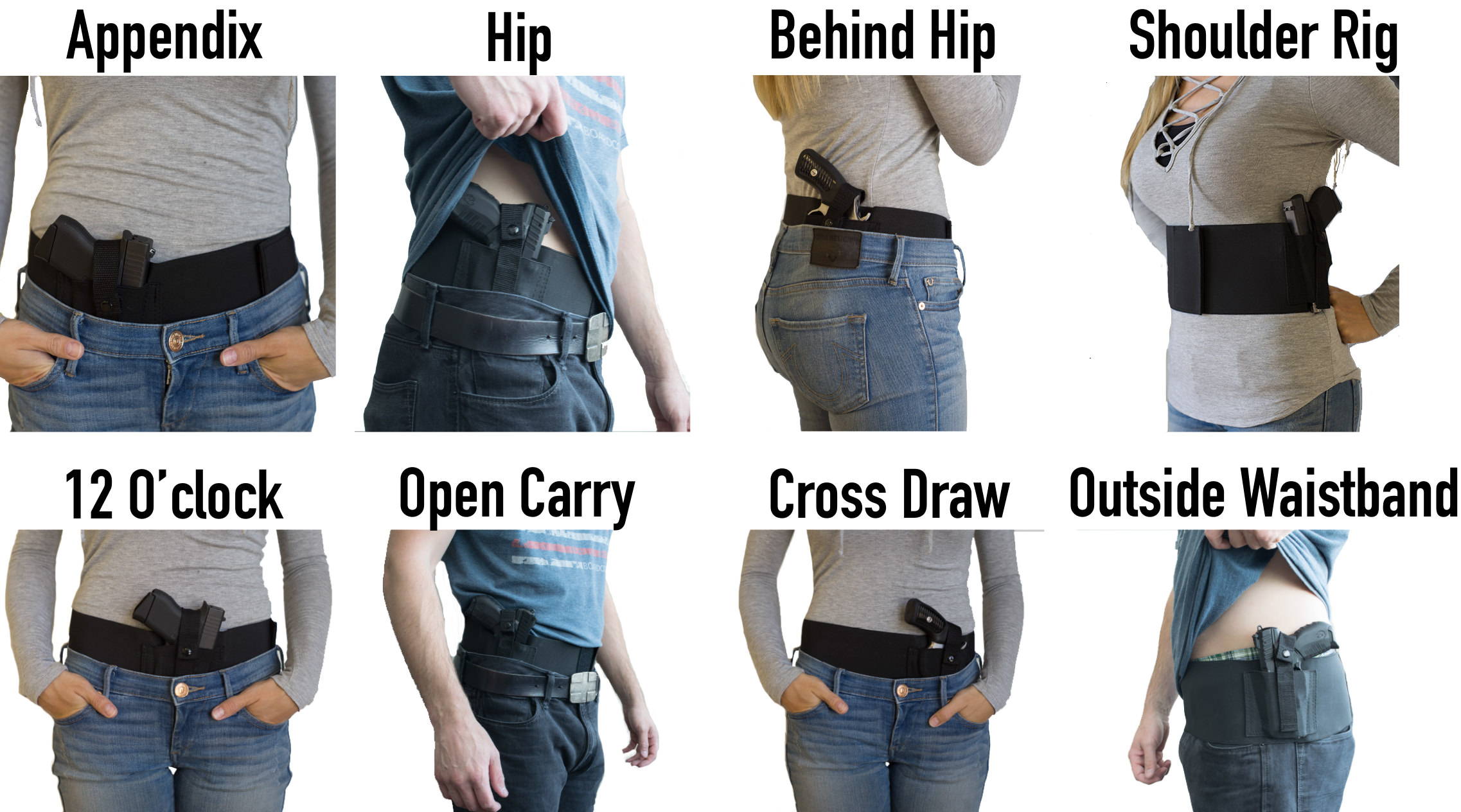 ⭐⭐⭐⭐⭐ 5-star reviews given by




TODAY ONLY: We're giving away 100 DRAGON BELLY HOLSTERS + FREESHIPPING
for the first 100 customers:
Get yours now, first come first get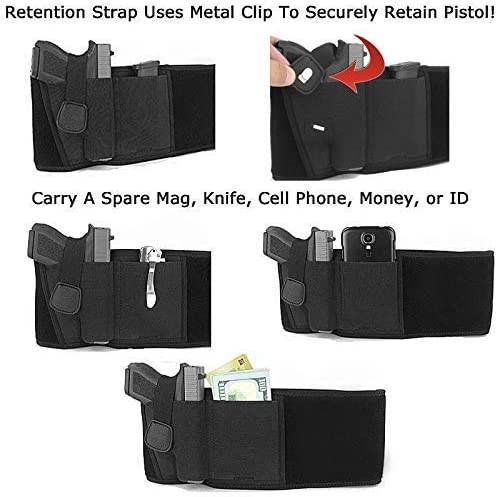 Why buy Dragon Belly Holster?
✔️ Sticky: 100% sticky to your body, 100% concealable.

✔️ Breathable: Give you comfort, especially when you're an all-day gun carrier.

✔️ Unisex: Fits women & man.
✔️ All-clothing-friendly With the Dragon holster you can wear sweat pants, gym shorts, loose fit jeans, under a dress, skirt, yoga pants, etc.
✔️ Works for Right & Left Draws.
✔️Universal Dragon belly holster fits all sizes of handguns.
✔️ Flexible: Can be worn inside the waistband, outside the waistband, cross body, appendix position, 5 O'clock position (behind hip), small of back, and even high up like a shoulder holster.
✔️ Smell-proof: Doesn't absorb smell, and be washable.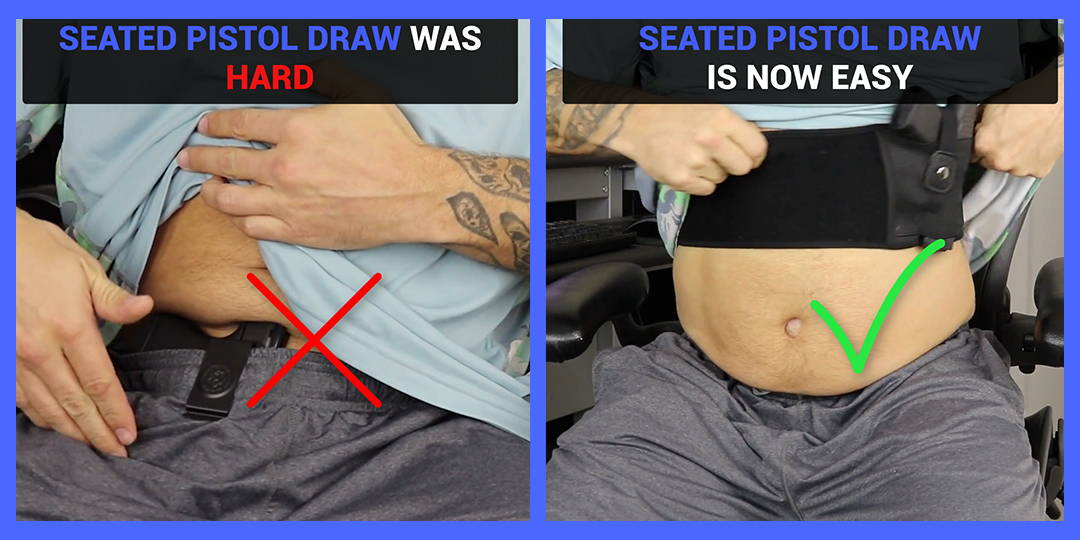 GOOD NEWS: SEATED GUN DRAW
Seated gun drawing (with other holsters) is pretty uncomfortable & awkward, gun owners once had to train a lot to "master" In-Vehicle/ seated draw skill.
Now you can easily draw your weapon with Dragon Holster, just wear it on your chest or your belly, and even when you're sitting in your office or in your car, you're still 100% prepared.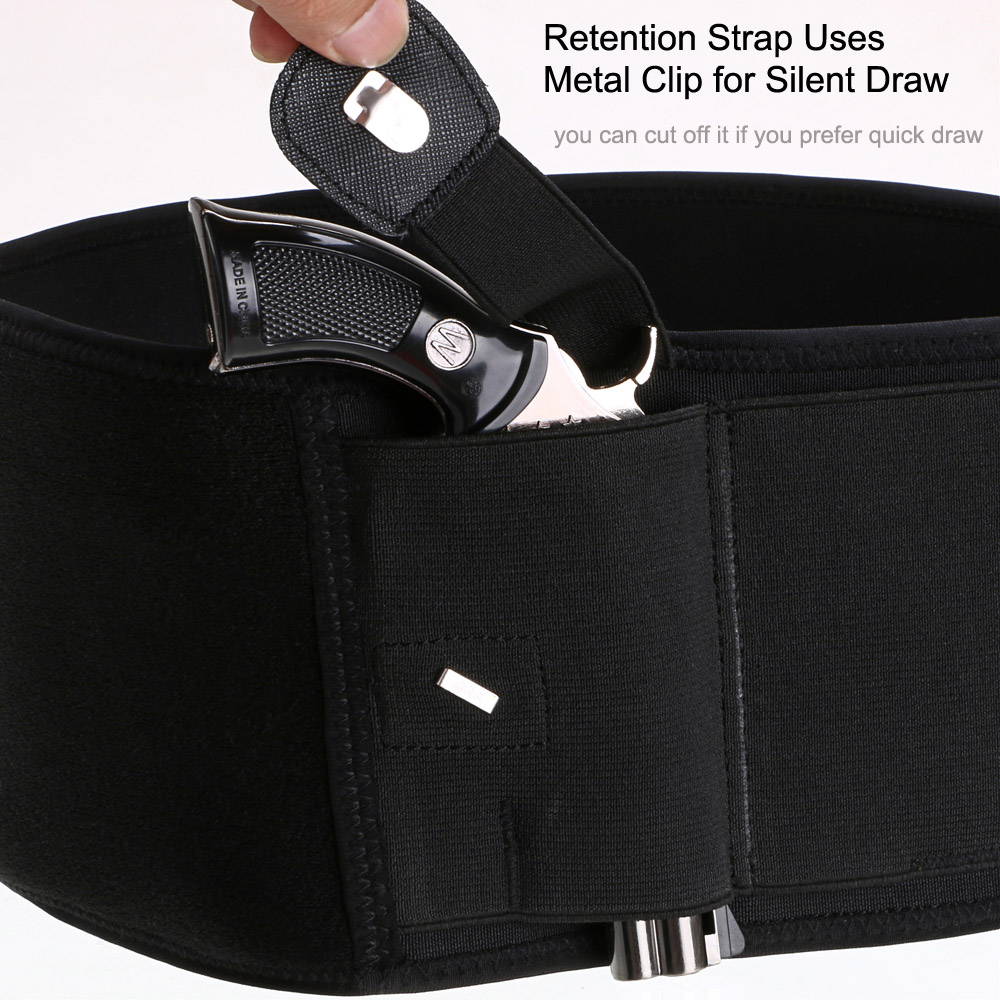 3/2/2020: NEW FEATURE : RETENTION STRAP - LESS
NOISE + MORE TIME
A brilliant idea given by customer Abe Beatty from Pretty Prairie, KS. Many other holster brands (including us, once) usually use metal button or velcro to keep the weapons secured. However, it creats noise when you draw the gun.
This new retention strap, as experimented by ourselves, can give you at least 3 seconds before anyone can notice that you've already drawn your gun. And in emergency, this amount of time is crucial.
You can also cut it off if you want a quicker draw.
DINO BELLY HOLSTERS ARE PERFECT FOR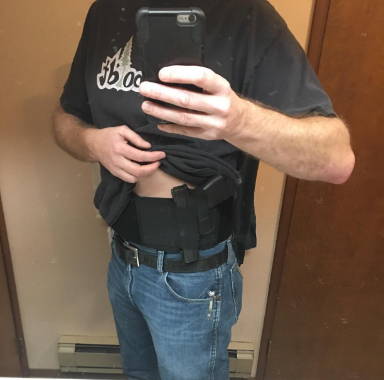 When you're a guy who may have kind of 20 handguns with various sizes, and of course, you don't want to buy one holster for each of yours.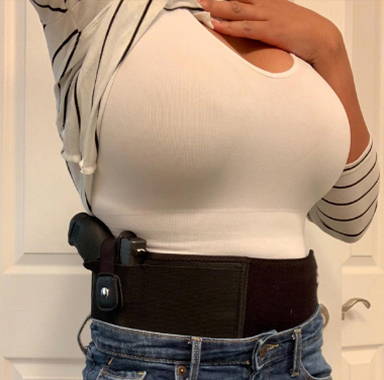 When you're a lady, you have a lot different types of clothes which are mostly not suitable for other holsters.
You want a comfortable & breathable-but-still-working holster.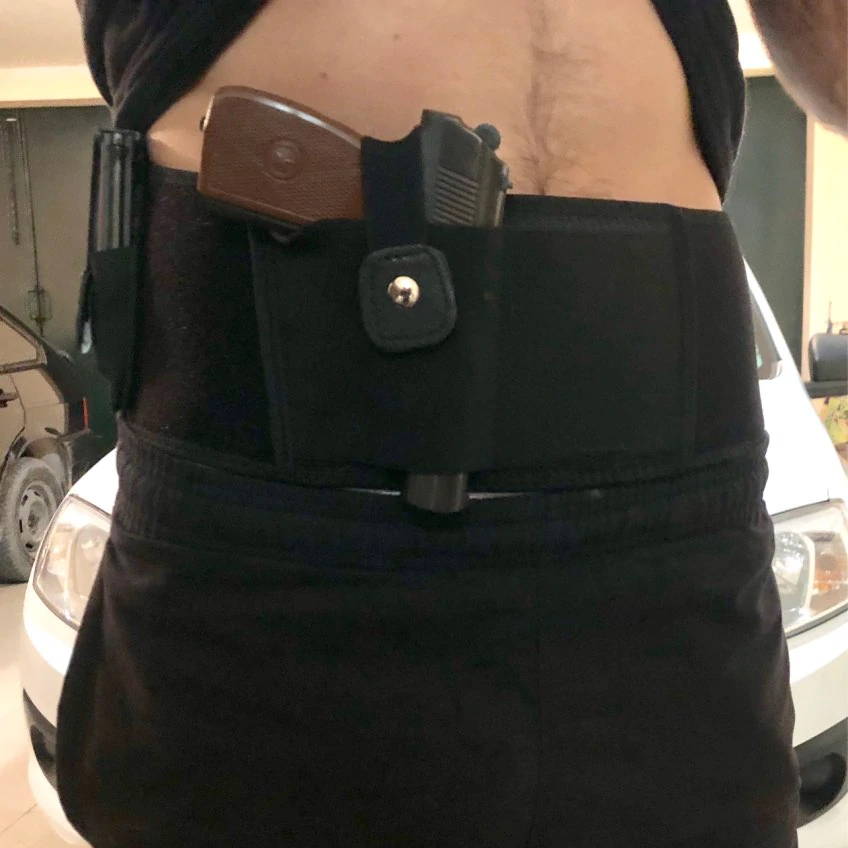 When you're a hard-working folk who's on the road all the time, and you want to stay prepared. At least, when things take place, you don't want to be noticed that you're already armed.
WHAT OUR CUSTOMERS SAY?
⭐️⭐️⭐️⭐️⭐️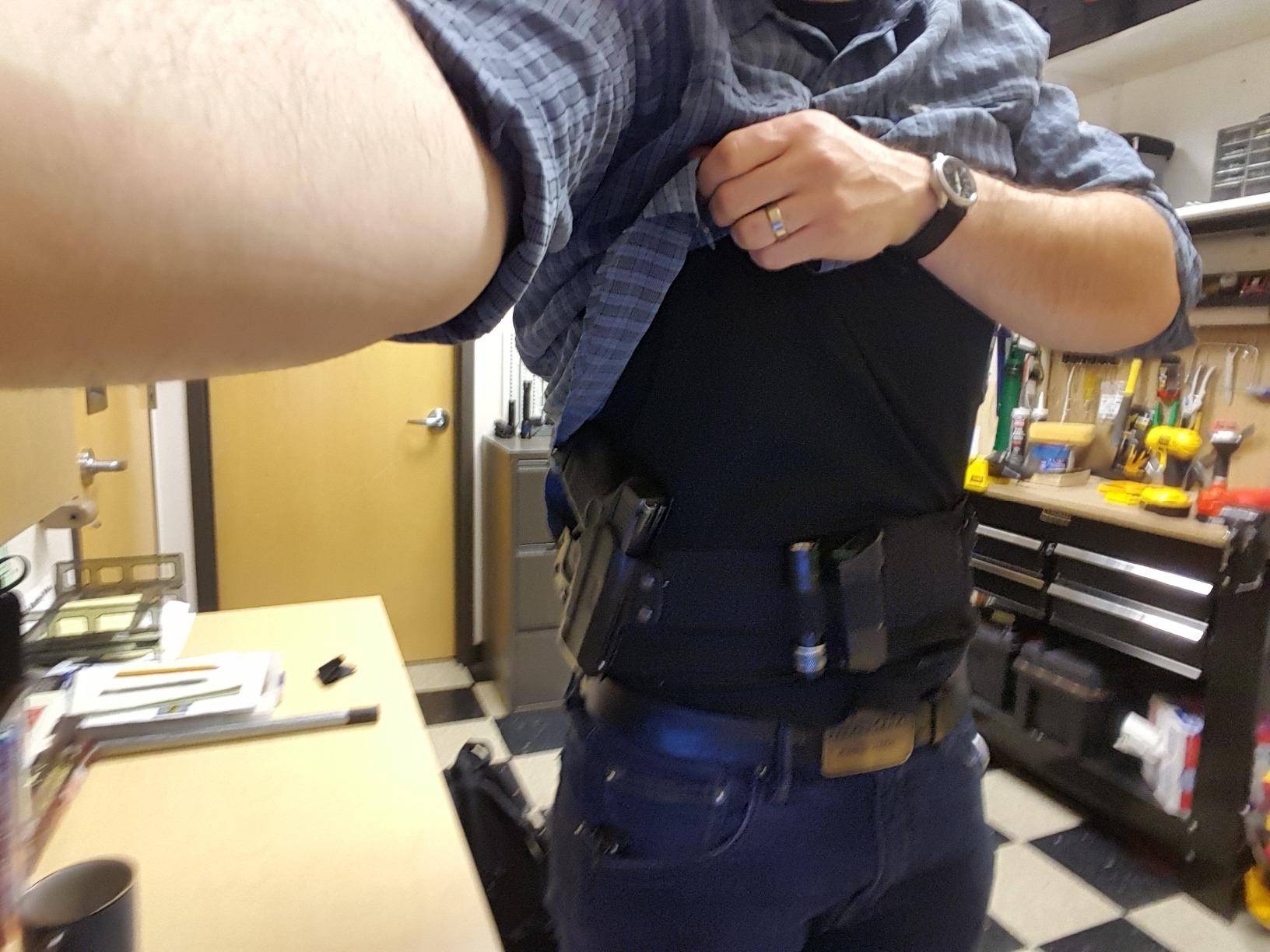 "Thebelly band is made extremely well made. I used it for my Kahr PM9 and two extramags. It's very concealable and comfortable (must wear an undershirt). I workin a professional office environment and have to wear slacks, a belt and atucked in shirt every day. Great concealed carry option for formal businessattire, as well as casual attire. Highly recommended!"
- Ron Swanson, El Toro, California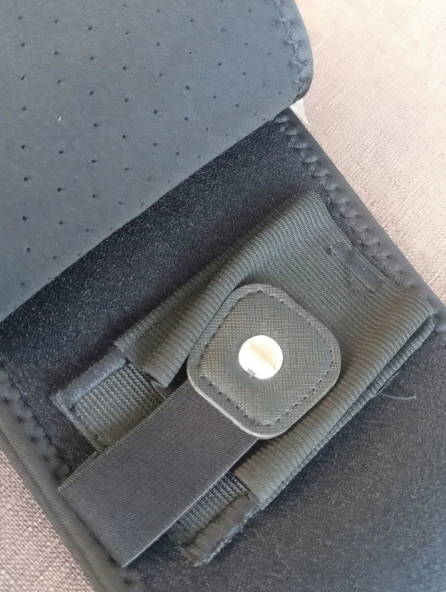 "I have concealment holsters for all my guns and most of the time they suit the requirements of the day, but living in Florida, I often find myself relaxing in a pair of gym shorts and light t-shirt. It's 85 degrees out side and the dog needs a walk. Time to change into a pair of cargo shorts, belt, and loose button down shirt, clip the kydex holster on, because I never leave the house without my CW, and out the door we go. Thought I'd try this belly band and I wish I had years ago. Very simple. Just two pockets, one for your firearm with elastic retention band and snap and one for whatever. I find myself carrying an extra mag now. The quality is excellent and the material is extremely light and super soft to wear against your skin. I carry a Ruger LCP and it disappears under that t-shirt with gym shorts now. No printing whatsoever. I have a 35" waist and the ends overlap about 10 inches so there's lots of room for bigger belly's. I am very pleased with this new carry option and you can't beat the price or the comfort of this holster"
- Kevin Henrichsen, Northampton, Pennsylvania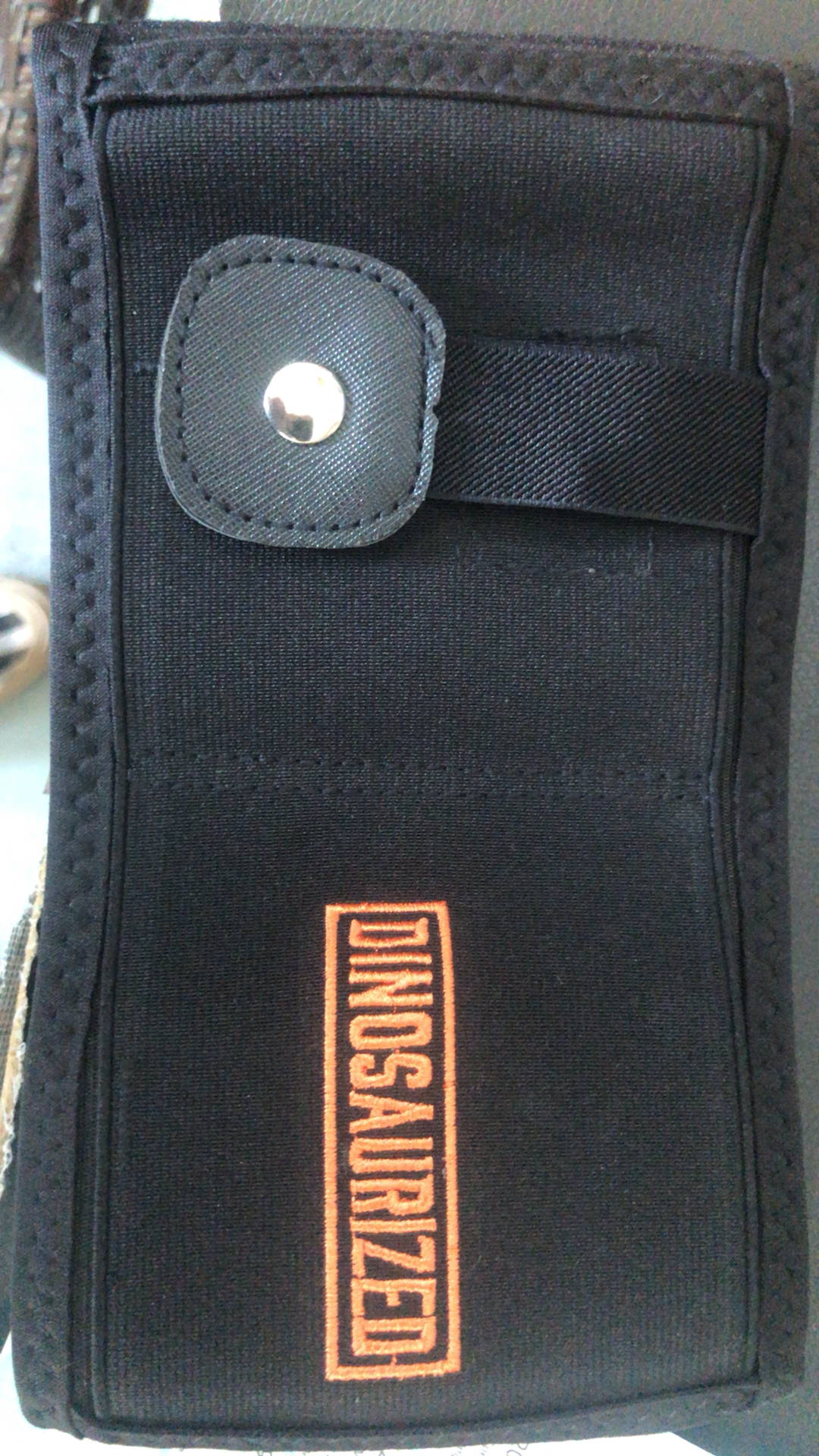 "I've been running 2 miles every morning with this since last February. I carry my Ruger LCP, a spare mag and flashlight, an ID holder, and my phone. Nothings ever fallen out even without the strap which I never use, It conceals well and is comfortable enough if you wear it over a light undershirt. Excellent product for active conceal carriers. "
Yara P Camp- Tulsa, Oklahoma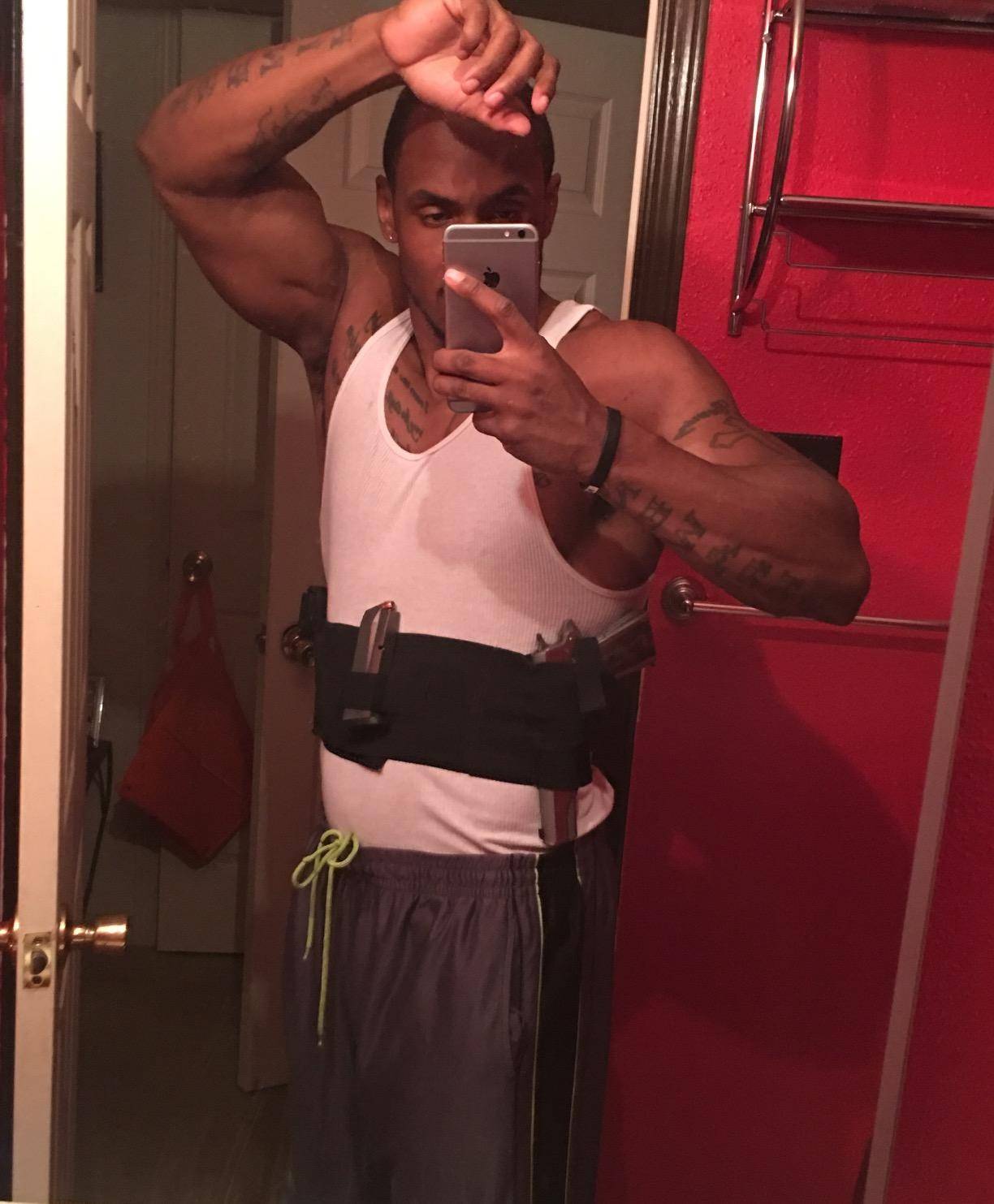 "I bought 2 of these (one for me and one for the wife) and will have to say that I was very impressed by the comfort and how secured my firearm was. It was so comfortable for my wife that out of the 3 other holster she has, she prefers the belly band.
If you are looking for comfort, concealment, and feel secure about your firearm, this is definitely a product you need to look in to. "
Dave P.- Bridgeview, Illinois
ONE SIZE FITS MOST: Made of stretching & adjustable neoprene, the Dragon Belly Holster fits up-to-44" circumference . If you want larger than 44", just order one and email us your waistline or leave it at the "order note" section in cart, we can easily customize it.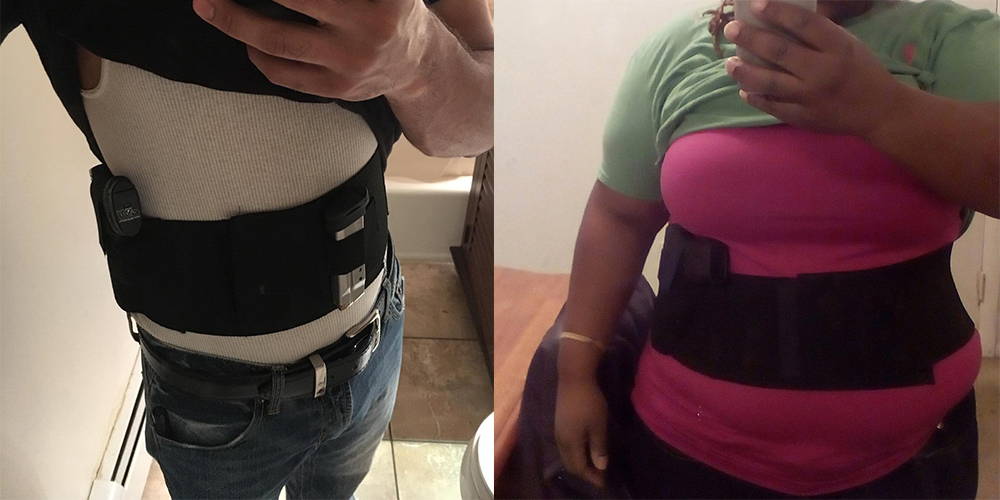 If you are LEFT-HANDED, you can leave it at "order note" in cart, or after purchasing, please email support@dinosaurized.com and we'll send you the left-handed holsters immediately.
If you want a larger size than 44", you can also leave your waistline at "order note" in cart, or email us, we'll send you the larger personally-customized size.
If you have any other requirements, you can leave them at "order note" at cart, or email support@dinosaurized.com
5% OFF code offer: "xmas", Merry Chrismas and Happy New Year! Just apply the code in checkout and claim your 5% OFF.
Shipping

(U.S customers only) Standard shipping time is 7-12 Calendar days to ship and arrive. (Shipped from U.S, by USPS)
All packages are seriously & strictly sterilized before being sent.
For Non-US customers, shipping time may vary from 10-20 Business days.

We'll immediately upload your tracking code to Paypal after the shipment, it may take 3-4 days to be activated.
Wash
You can hand wash your holster in warm soapy water by soaking it and working it with your hands. Then thoroughly rinse under cold water and hang to dry. Do not machine wash or dry. Remember: Do not machine wash or dry.
Refunds
If for whatever reason, you decide you are not satisfied, you can easily and quickly contact our helpful customer support (support@dinosaurized.com) to get an easy refund. We just ask that you send the product back to our warehouse!
Emails: If somehow you don't receive email reply in 48 hours (working days), please send us message right on: https://www.facebook.com/dinoarmy/, we'll answer all.
SATISFACTION GUARANTEED, EASY REFUNDS, AND 30 DAYS MONEY BACK GUARANTEE
- At Dinosaurized, we believe our products are truly innovative and have 100% confidence in it. We understand that buying things online can be scary with companies not staying true to their customers so we go the extend to keep you satisfied.
- If you bought it and feel that it is not for you, don't worry. Just shoot us a message at support@dinosaurized.com and we will make it right by offering you a replacement or refund. 100% Simple & Risk-Free process.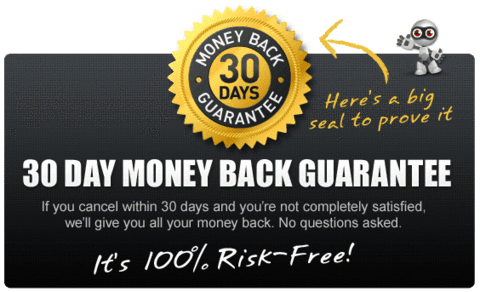 © Dinosaurized. All rights reserved.