Best Concealed Carry Holsters To Buy In 2021 For Sig Sauer P238
The Sig Sauer P238, a tiny Colt 1911 that's chambered in .380 ACP, is a serious joy to carry and shoot. Owning a P238 is reason enough to consider holster options since a gun is something you'll want to conceal most of the time.

When it comes to the holster market, the options are limitless. Sadly, many of them cannot conceal your P238 pistol perfectly. But no worries… we'll clear up what makes a good belly band holster, the types of carrying (ankle, shoulder, or IWB), and of course, our top 5 recommendations. From there, you should find yourself armed with enough knowledge to hunt down the best bellyband holster to fit your needs.
So, let's look at the best holster choices for concealing your Sig Sauer P238!
If you do not have time for the details, here are our top 5 picks for concealed carry holster for a Sig P238:
What Makes A Good Concealment Holster?
Regardless of the style you opt for, the holster should be capable of a few basic functions. Obviously, conceal ability is chief among the attributes;IWB (Inside the Waist Band) holsters are ideal if you are particular about hiding your firearm in a discreet position. Beyond conceal ability, there are many safety and other considerations you'll need to take into account. Let's go through them.
A holster should not only fit your gun but as well mold your curve and crevice.
Your handgun should 'stay put'. To test retention, stick the gun in the concealed holster, and turn it upside down. Now, check if it's slipping out or not.
This is very important. The key term here is A FULL COMBAT GRIP on the gun when it is drawn. Plus, you should be able to draw and fire, from any position, with both your strong and weak hands.
Opt for the concealed holsters that allow a clean and quick re-holster.
You'll sweat, so your holster must provide a moisture barrier. Also, remember some holsters may rub your skin or clothing the wrong way. Choosing the ones with plastic clips is your best bet!
Do not buy holsters with uncovered triggers or are covered by flimsy material. It's best to have holsters made of leather or Kydex.
Simply, if it is not comfortable, would you carry the belly band holster every day?
A Bit About Understanding The Holster Materials
Your belly band holster should be sturdy enough to not flex under the weight of a fully-loaded Sig Sauer p238, or even extra mags. Premium quality gun holsters are typically made of leather, Kydex, nylon, or synthetic. Nowadays, 'hybrids' are having their moment, especially the IWB hybrids.
The true classic material that's been used since the very first modern gun holster! Though leather is showing its age, it is still the preferred material for shoulder holsters. The plus of a leather holster is that it will adjust to fit the body and the handgun it encompasses, making it ideal for users who don't seem to ever fit into standard sizes. Also, it offers incredible longevity. The downfalls - leather holsters require a break-in period, may dry out and crack when left in sunlight or humid conditions for a longer time.
The most modern holster material that is commonly used by military and law enforcement. Kydex holsters fit in well with a myriad of outfits and can be customized to fit your style. Made of rugged and durable polymers, Kydex is water-, scratch-, and tear-proof. Because it doesn't hold or maintaining moisture, Kydex is the preferred material to make IWB holsters. No more worries about sweat damaging your Sig P238 IWB holster!
Nylon and similar materials make gun holsters pocket-friendly. If you are a civilian and carry your firearm seldom ly, nylon holsters are a viable option. On the plus side, nylon is soft for your handgun to slide in and out and is pretty silent. That being said, keep in mind that nylon is that awkward middle child that isn't as durable as Kydex or as adjustable and fitting as leather. Nylon frays and falls apart quite easily. If you don't mind buying a new nylon holster every so often, you can definitely consider it.
Hybrid holsters are most commonly used for IWB carry. They are a merger between two or more of the aforementioned materials; typically, with a Kydex-made gun shell and a leather or neoprene backpad. In hybrids, spring steel is used to construct the reinforcement layer. A Hybrid belly band holster offers superior protection and the best firearm retention. Remember, hybrids tend to be pricey.
TOP 5 SIG SAUER P238 CONCEALMENT HOLSTERS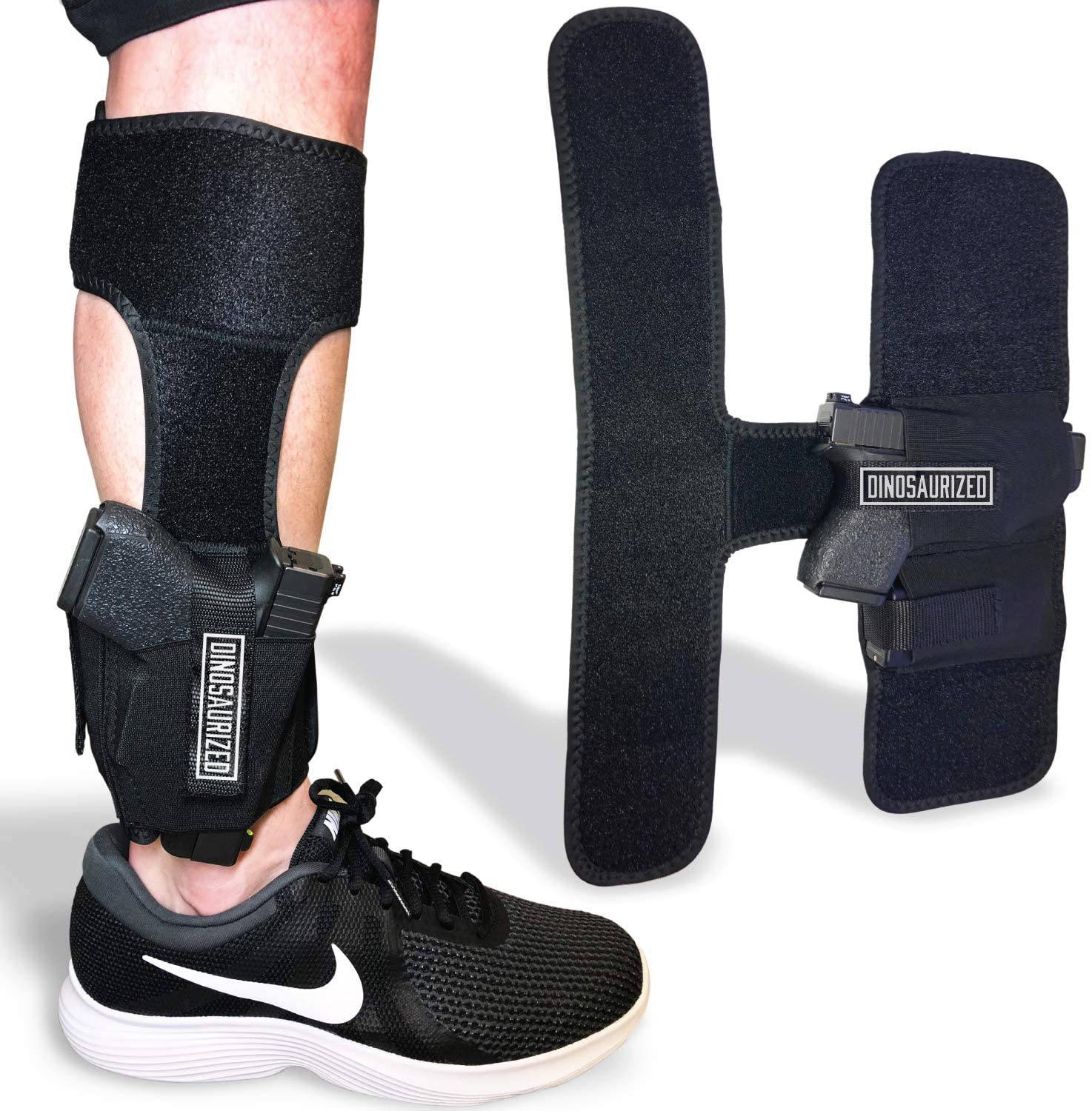 If you're planning to ankle carry your Sig P238, the first step is to choose the best ankle holster. Case in point: Dinosaurized Wardog AnkleHolster, the outright winner of this list of the best concealed carry holsters for Sig Sauer P238.
This is the holster that civilians and Law Enforcement folks prefer!
Sometimes an OWB or an IWB is not just feasible, especially when you need deep concealment… very deep! And that's exactly what this ankle holster promises. The comfort and fit of the Wardog holster are what many like most about this piece of gear. It is ambidextrous, ideal for both right or left-handed users. And to state the obvious, you can easily draw your gun from different positions - in the car or lying on the ground.
It's the perfect ankle holster for the Sig P238.
The sturdy holster can carry and conceal everything from M&P Shield, Walther PPS, Glock, S&W, and Ruger to the micro-compact Sig Sauer P238. All you have to do is: adjust its velcro.
Talking about the security and the retention it offers
Wardog will not disappoint. Thanks to the high-quality 600D nylon holster molded to securely fit your handgun attached to the neoprene velcro.The 2-layer anti-slip friction material ensures the gun doesn't slip and stays tight to the leg. The adjustable velcro fits most adult legs and ankles and helps eliminate any unwanted gun movement.

Provides deep cover
Extra magazine pouch
Fits most handguns
Breathable and skin-friendly neoprene
100% smell-resistant and washable
Affordable price tag
Sliding into number 2, we have ComfortTac belly band holster, a durable neoprene belly band that does not break your bank. If you prefer a 'carry it daily, forget wearing' kind of holster, this is it!
It's all about multiple sizes and fits.
Designed to fit hips up to 44 inches, the holster is stretchy so it can adapt to your curves. All thanks to the surgical-grade elastic used in its construction. Compared to other holsters, this one is so comfortable that you can wear it against your skin. The best part - ComfortTac gives you the option of wearing different sized revolvers or pistols including Smith and Wesson,Shield, Glock 19, 42, 43, P238, and Ruger LCP.
What about the performance?
Flexibility is ComfortTac belly band holster's middle name. You can wear it directly against your skin, outside the waistband, inside the waistband, across your appendix, at your back, or even so you can cross-draw. This bellyband uses a removable strap retention system so your handgun won't be jostled around. It comes in both left- and right-handed versions.
Another little perk of this holster is the spare pocket to store IDs, wallet, or even a multi-tool if you're so inclined.
One size fits most belly sizes
Fits sub-compact, compact, and even full-size guns
Breathable with a durable retention strap
Doesn't add much weight
Conceal completely under clothing
Handgun stays secure all the time
Lack of trigger guard beside the pocket
Inside tends to drift up
Next up is a belly band holster that fits like a glove! Designed to fit underneath athletic gear, BRAVOBELT Belly Band Holster is a great option for men and women who want to protect themselves while jogging, riding, or in combat training.
Popular among women.
BravoBelt molds to your body so well thanks to the Flex-Fit system.Similar to the ComfortTac belly band holster, this one can be adjusted up to a belly size of 44 inches. Constructed with CoolVent neoprene, it has anti-sweat technology. Unlike other models, BravoBelt offers Easy Snap retention, which lets you keep your P238 secure.
Excellent compatibility.
This holster is compatible with plenty of handguns, both large and small frames. It can also house a Sig Sauer, Beretta, or a Taurus.
It is versatile, too.
The BRAVOBELT Belly Band is an Ambidextrous holster, and it can be used with a right- or left-hand draw. It is so versatile that you can just rotate it360 degrees in any carrying position you'd like.
Did we forget to mention that BRAVOBELT offers a 100% money-back guarantee for this concealed Carry Holster?
CoolVent neoprene construction
Ambidextrous, versatile profile
Major brand compatible
Plenty of room for your valuables
Goes well with numerous styles of clothing
May show printing
Stitching can catch on
Re-holstering can be a pain
At number 4 we have Kaylle Belly Band Holster, which is an upgraded unisex option for both men and women alike.
This model is very discreet.
Just like its predecessors, this upgraded IWB is designed to conceal and carry your weapon. It's very unlikely that anyone will notice your Sig P238 due to the model only measuring 2.5mm in thickness.
What about the comfort level?
Made of strong and snug neoprene, Kaylle concealed carry holster is water-proof and has a million micro holes on the surface. Plus, it has anti-sweat technology as well as it lets your skin breathe. Meaning it won't make you uncomfortable and you can always count on Kaylle while going out in the summers. It is lighter than other IWB holsters and gives easy access to your Sig.
The magnetic strap.
The striking feature about this neoprene IWB is the magnetic snap in the retention strap; not a metal clip like the other holsters. The magnetic snap not only keeps your gun in place but also lets you extract the gun fast and smoothly.
Suitable for both genders
Soft, comfortable, breathable
Quick and quiet gun draw
Extra pocket to keep IDs and cards
Lightweight
The velcro wears out quite faster
Finishing off our review list is an IWB belly band holster by ConcealedCarrier, LLC. Strictly made for right-hand shooters, it can carry everything from revolvers, all the way down to subcompact guns and full-sized firearms.So, if you're the proud owner of a Sig Sauer P238, this holster will fit you right!
Flexible carry options.
You can wear this belly band holster however you wish with whatever clothes you want and still conceal your 40 auto, 45 ACP, 38 special, or SigP238 perfectly. You can wear it outside or inside the waistband, behind your hip, open carry, at your shoulder, or cross draw. The choice is yours to make.
Incredibly comfortable and soft
Made of surgical grade elastic it fits hips up to 44 inches. It allows a reasonable amount of airflow through the band so that you can wear it for hours without feeling icky.
Similar to the other IWBs, this is another IWB holster for sig p238 that comes with a magazine pouch where you can store things such as cash, credit cards, or phone.
Adjustable velcro closure
Comfortable and versatile fit
Barely prints and keeps gun close
Doesn't irritate the skin
Doesn't add much weight
Some say the magazine pocket is not tight enough
Snap' position on retention band
These are just five of the countless belly band holsters available to conceal your Sig P238. And it's just the start... because settling down with the "right" carry holster isn't easy. But that's normal, considering the fact that your preferences will change over time.
And once you zeroed in on "the one" you should be sure to drill with it so that you can improve competency and muscle memory that you need when you need it.
---
1 comment
---
---