Have Questions?
Email us
support@dinosaurized.com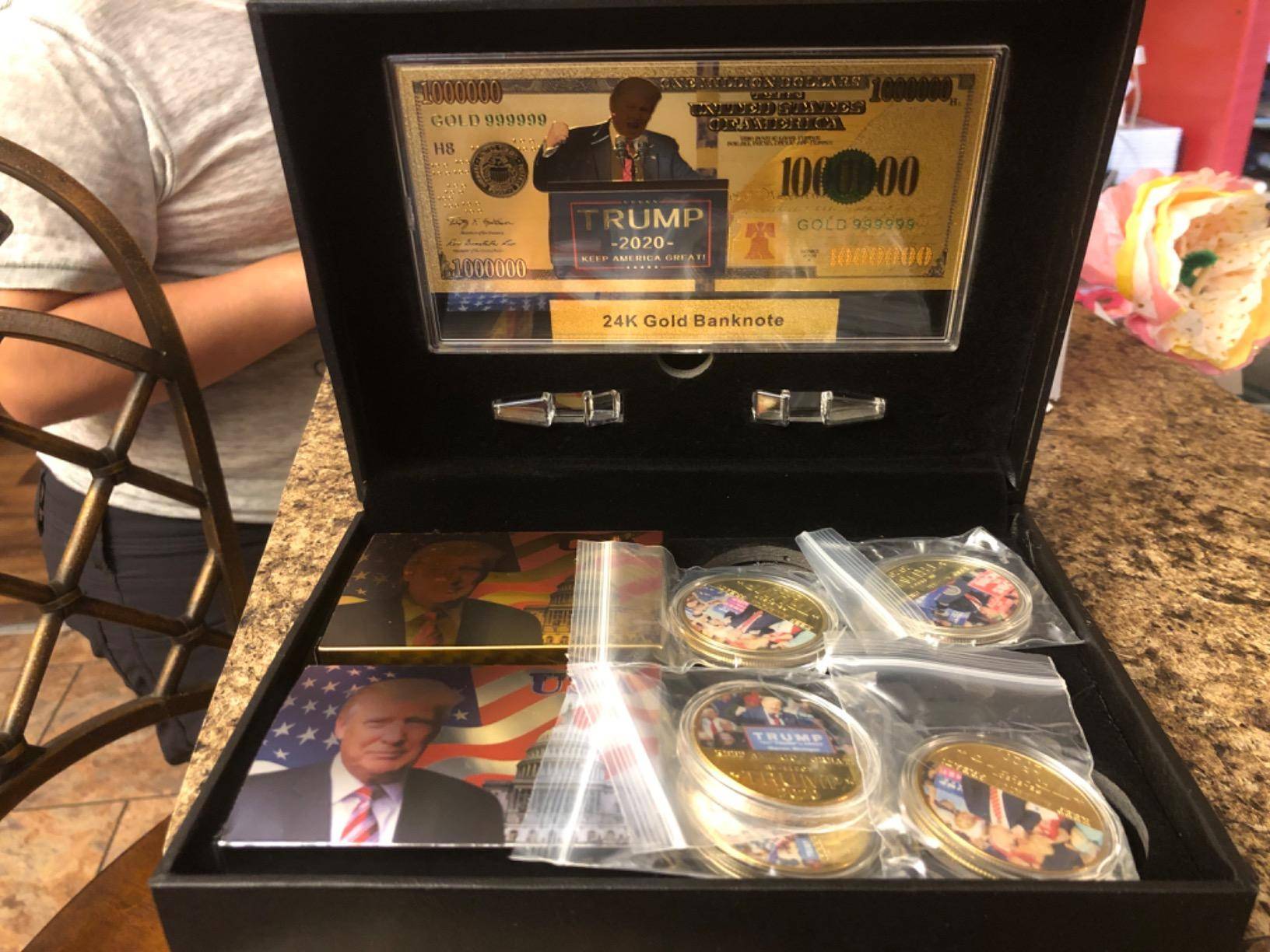 LOOKING FOR A PRO-TRUMP GIFT?
KEEP AMERICA GREAT– Put your money where your mouth is and show your unwavering support for our 45th president with this incredible Donald Trump gift set.

THE PERFECT GIFT – A real American and thoughtful gift for any of the MAGA/KAG campaign supporters of your friends and family. It's the perfect memorabilia/keepsake of this important upcoming election.
DESIGNED FOR AND BY TRUE TRUMP SUPPORTERS – A lot of thoughts are put into the design of the set. With the emblem of Trump in every single item.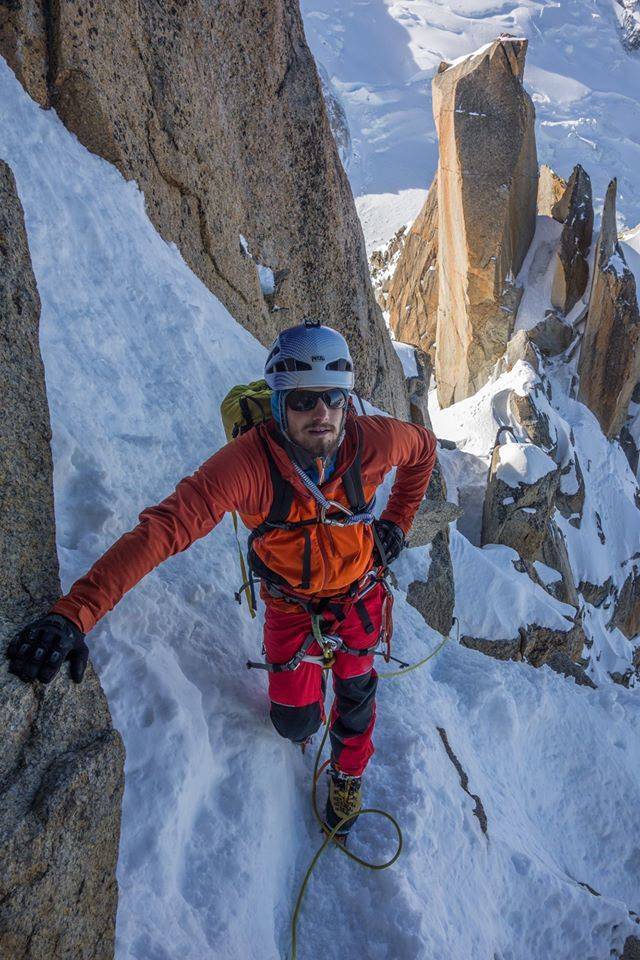 A BELT THAT SURVIVES HELL 👹
Many tactical brands claim that their belts are high-quality & durable. The truth is, many of these belts are made of low-quality stretch woven & nylon. They may work for a few hours, or minutes, but after that, they'll soon get strectched, sagging an hulking, which badly affects your movements and posture. Also, those third-rate belts can not serve folks who have to carry plenty of tools, gears and guns on their waistbands as parts of their daily use. Plus, your belly may get uncomfortably sweaty, coming with smell when wearing those belts for long time.
WARSONG BELT, once exclusively designed for military use, are now ready to serve you:
- "Die-Hard": Be able to carry 1700lbs and even more, WARSONG BELTS can easily meet any professions' weight capacity requirements, from a Texan plumber to a 8-year-experienced-DELTA-FORCE operator.
- Full mobility & flexibility: more adjustability, fexixibility & force while lifting or carrying heavy things.

- Full air flow: With highly breathable airmesh, you won't feel uncormfortable or wet in your waistline area when carrying heavy gears or firearms around your belly with WARSONG.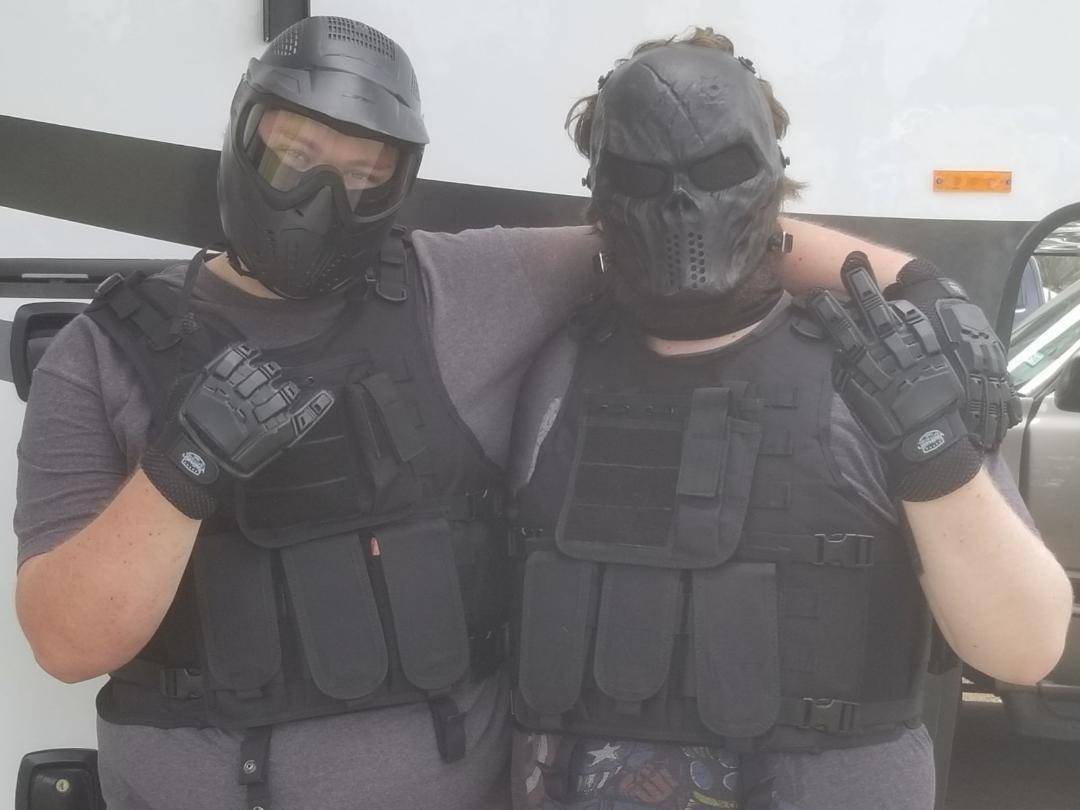 "My guys. One goes to MIT and One goes to Harvard, they ain't dummy's until it come to common sense. I went shopping and covered them from head to toe with protection equipment because they wanted to learn how to play airsoft. This from the family of peace, no war, and tree huggers. So here's how Dinosaurized dressed them. It was wonderful. The gloves, Dragonspines, are great. I used them to move stuff from the garage worked wonderful, manicure still in great shape. But seriously they wore them and for 2 days the teams of 14 borrowed each others gloves. All I got from the teams were "those are great gloves, where did you get them?" Dinosaurized! Thank you for a great product, those are expensive hands they protected. My future meal tickets.... just kidding. ."

- Joseph , Northbrook, Illinois.

IT'S NOT JUST A BELT, IT'S AN EXPERIENCE OF
PROTECTION & FREEDOM YOU'VE NEVER HAD BEFORE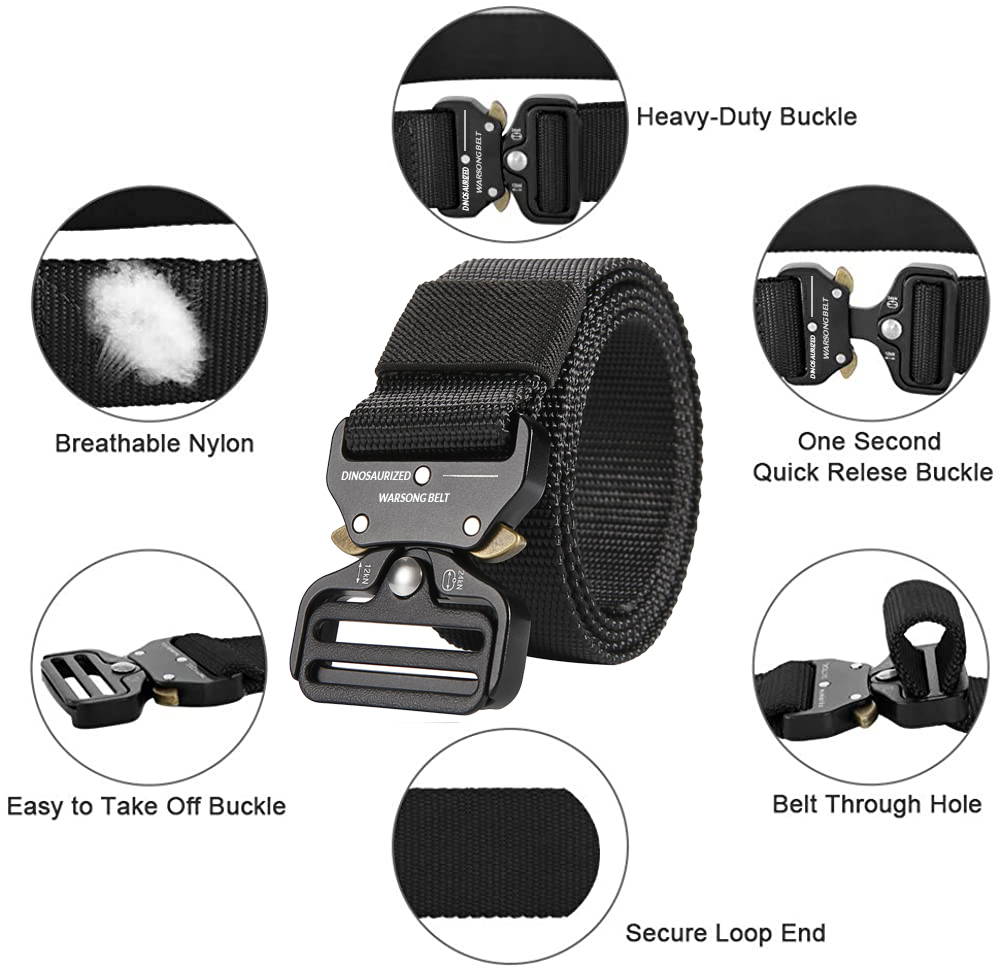 ⭐⭐⭐⭐⭐ 5-star reviews given by




TODAY ONLY: We're giving away 60% OFF discount + Freeshipping
for the first 100 customers:
Get yours now, first come first get
✔️ Test-for-the-best: All WARSONG BELTS, before being delivered to you, will be sent to local university lab for durability test.
✔️ Tough and rough: High strength, fast-dry eco-friendly 1000D nylon material makes WARSONGstiffer than any other belts you've ever tried.
✔️ Ventilated: WARSONG BELTS's breathable material offers cooling airflow, minimizes humidity, works nicely in both cool and hot weather.

✔️Easy to release/ hard to loose: Push on two tab at the same and WARSONG BELT will realease itself immediately, otherwise, it will hold itself tight to your belly along with all other attached gears.
✔️ Served +19000 happy American customers.

DRAGONSCALES ARE PERFECT FOR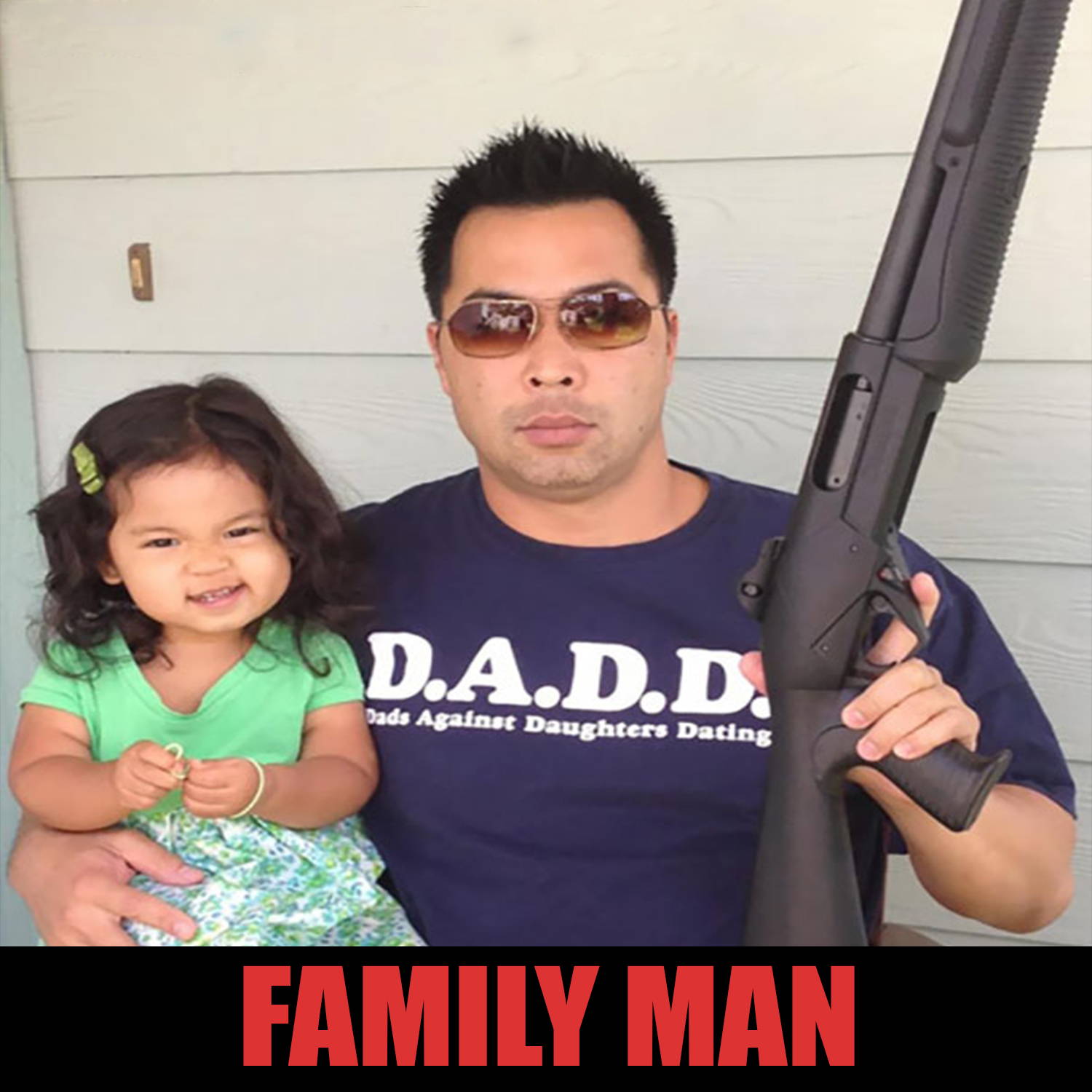 WARSONG BELTS
are,
not something
young boys would wear in the
year-end promp
, but kinda thing a father put on when he
build his daughter
a birthday-gift wooden dollhouse, when he
teaches his son
how to fix his bike, or, when he
ride a tractor
with this wife on the farm in the plowing season.
WARSONG BELTS helps a man stay tidy & ready even when he has to do multiple, messy things.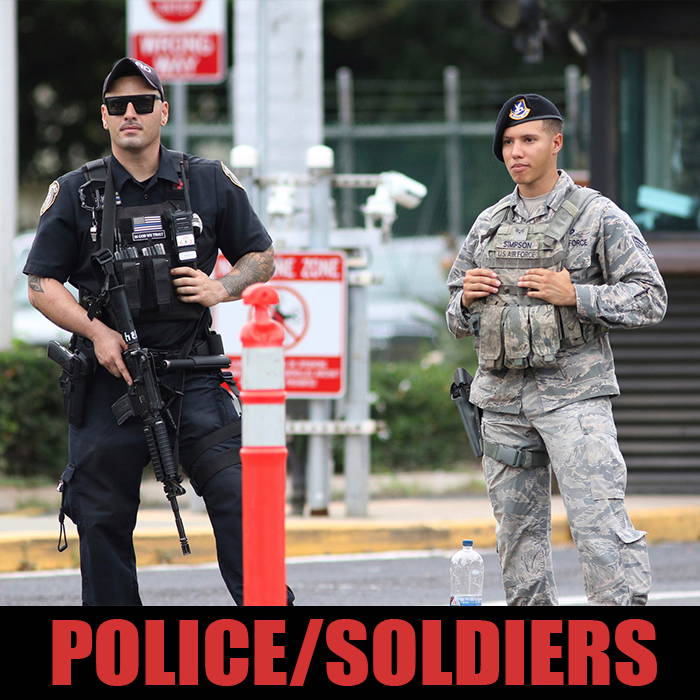 WARSONG's extraordinary grip makes sure your gun and other tactical gears stay tight to your body, even when you have to craw, run or jump. WARSONG's non-slippability also helps improve your draw time.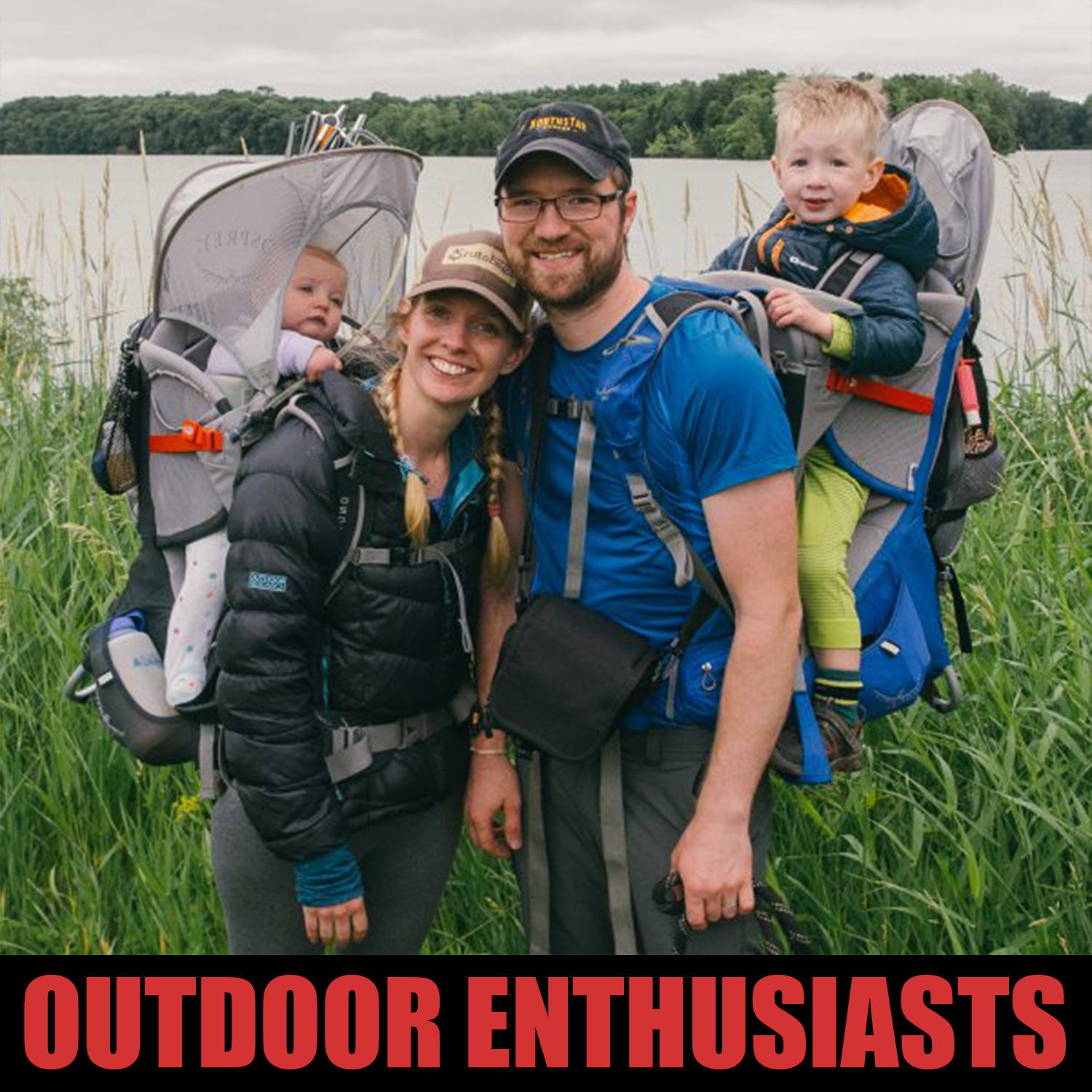 Carrying heavy is no more a hard job for outdoor people, WARSONG BELT can withstand up to 1700lbs. Also, you will never feel sweaty & smelly around your belt even after long hours climbing or wandering, WARSONG BELT's breathable material allows smell & humidity goes away as they're supposed to be.
WHAT OUR CUSTOMERS SAY?
⭐️⭐️⭐️⭐️⭐️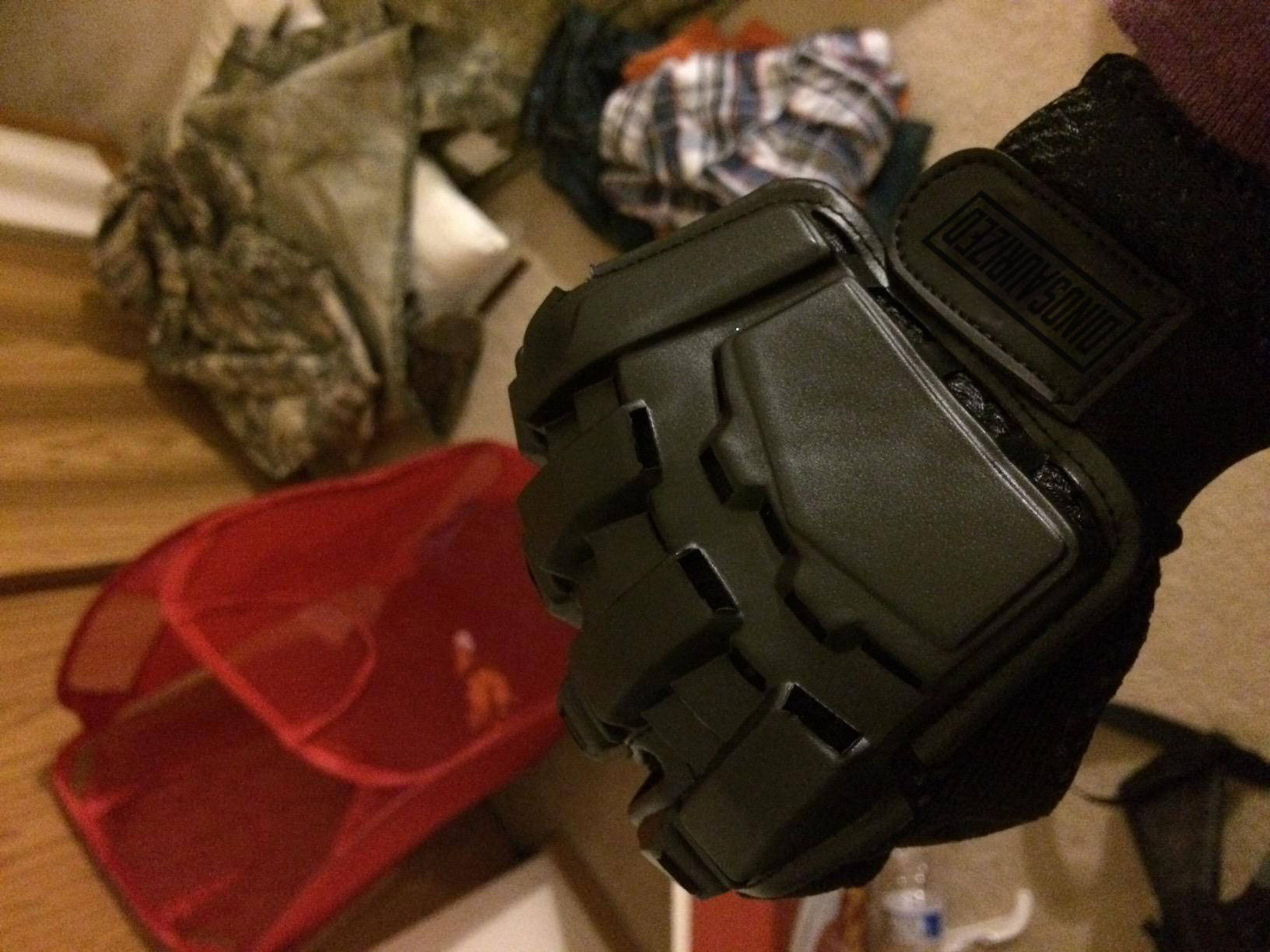 "Bought the xsmall/small Dragonspines for my 10 year old son and he really likes them. They fit pretty good for his small hands, maybe a tad too big, but he says he's satisfied with them. They do have adjustable straps around the wrists which is elastic and Velcro, so that helps keep them on and snug. Quality is much better than I was expecting and they seem to be well-made. Time will tell if they hold up, but for now, my son and myself are thoroughly pleased with these tactical gloves."
- Taylor D., El Toro, California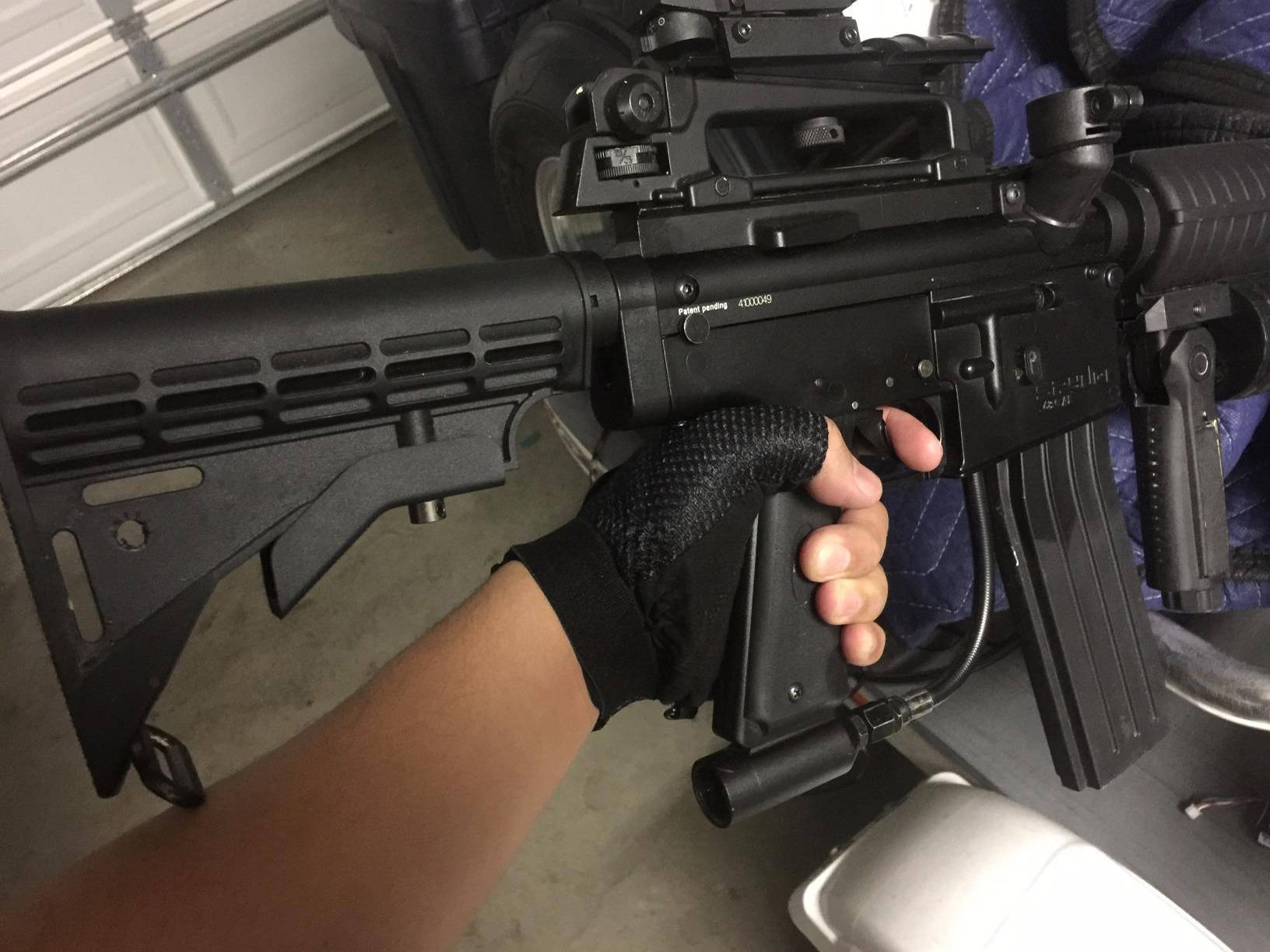 "Dragonspine might be cheap gloves, but point blank they work. These gloves are: 1. Functional...you still have use of your fingers while you have protection where it counts. 2. Protects...One too many times I have sustained hand shots, knuckle shots, etc. and I didn't even feel the hit and suffered no injuries. In comparison my brother doesn't wear gloves and got hit in the hand and it tore a tendon which now requires surgery. So, hand shots aren't anything to laugh about. My 10 year old nephew wears these same gloves too. In fact, several us do - men, women and kids. No injuries to report. No sizing issues. Overall, great value for the price."

- Kevin Henrichsen, Northampton, Pennsylvania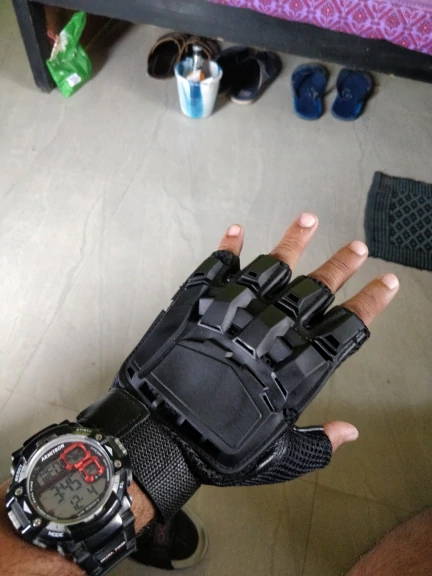 "These Dragonspine gloves look like early 90's-late 80's O Neal Ultra Lite Gloves for dirt bikes. They were and are the ultimate offroad glove. Nobody offers nearly as much protection, they are cool because the vents actually work when you are moving and the palms are super tough but thin with fantastic feel. These gloves may not be marketed for dirt bike gloves ,but they still are the best designed dirt bike glove ever produced".
James P Camp- Tulsa, Oklahoma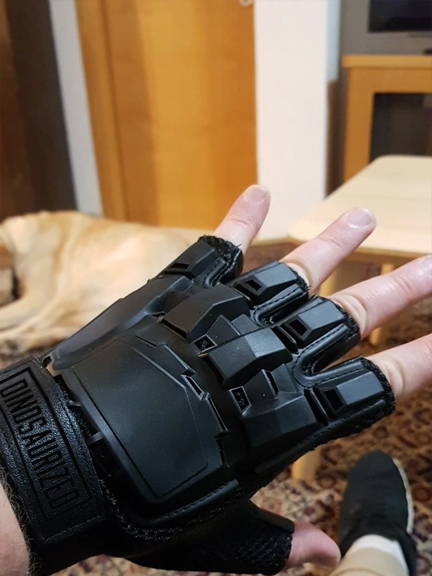 "I bought these gloves for airsoft, and they work very well at eliminating the pain of hand shots. I no longer feel a sting when shot in the hand, but merely a light tap (think a penny dropped 1 inch onto hand).
I expected this type of protection.What I didn't expect was the luxurious comfort. That's right, these gloves are actually extremely comfortable. They are defiantly the most comfortable gloves I've ever owned or tried out. (I've experimented with Mechanixwear, Carharrt, motorcycle gloves, Condor/UK arms airsoft gloves, Cutters, Under amor and Nike football gloves and Western Safety gloves. These trump them all.The comfort is shocking because with the somewhat bulky top-of-hand-protection, one would not expect a glove to be so soft and supple. The glove does not hinder dexterity in the least, and the inner material is soft against the hand, yet does not interfere too greatly with tactile sensation.These gloves are great for airsoft, and never fear, you can still have a fast trigger finger, and reload with precision while wearing these glove."
Joey P.- Bridgeview, Illinois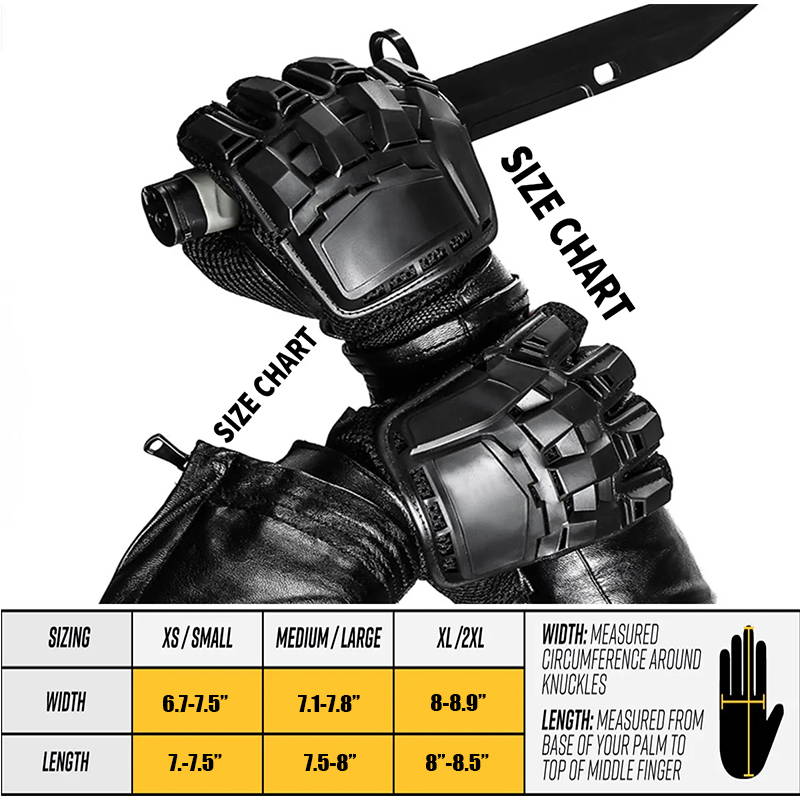 If you avail the promo of 2 or 3 pairs but want different sizes, just order the same sizes then simply leave us a message at the order note, or email us the sizes you want at support@dinosaurized.com and we will send them to you!
SATISFACTION GUARANTEED, EASY REFUNDS, AND 30 DAYS MONEY BACK GUARANTEE
- At Dinosaurized, we believe our products are truly innovative and have 100% confidence in it. We understand that buying things online can be scary with companies not saying the truth to their customers so we go beyond that to keep you satisfied.
- If you bought it and feel that it doesn't work for you, don't worry. Just shoot us a message at support@dinosaurized.com and we will make it right by offering you a replacement or refund. 100% Simple & Risk-Free process.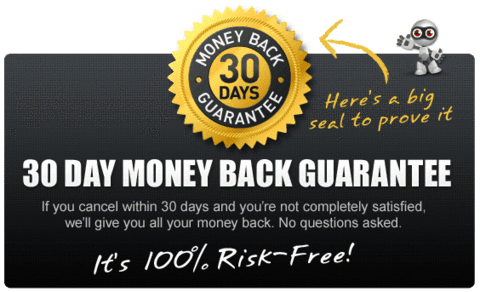 Shipping
(U.S only) Standard shipping time is 10-15 days to ship and arrive.
For Non-US, shipping time may varies from 10-30 business days.
We'll immediately upload your tracking code to Paypal after the shipment, it may take 3-4 days to be activated.
Refunds

If for whatever reason, you decide you are not satisfied, you can easily and quickly contact our helpful customer support (support@dinosaurized.com) to get an easy refund. We just ask that you send the product back to our warehouse!
© Dinosaurized. All rights reserved.