⭐⭐⭐⭐⭐
5-star reviews given by




You'll Get More
Than What You Pay For
✔️ Natural as its finest: Dreadnought allows you to easily draw your firearm as quickly as possible.
✔️ Non-slip: 3-layer Anti-slip friction strips design secures the holster in place from falls or movement.
Adjustable and Universal: Dreadnought works with most sizes of guns or other tactical gears like knives, mags, phones, or flashlights.
✔️ Less weight around the waist - less hip/back pain: Officers are expected to carry an incredible amount of weight on their duty belt. Over time, this weight can cause pain or injury to the officer's back and/or hips. Shifting the weight distribution to a leg will reduce the total weight around the waist.
✔️ Good for highly tactical activities: Dreadnought is well-designed for highly tactical activities. You can totally feel free to crawl, run, jump or climb freely without worrying about having your weapons dropped.
✔️ Time Saving: Dreadnought drop leg Holster saves you up to 2.2 seconds of time to draw your firearms, rather than awkwardly draw your firearm which may be stuck between your belly and belt, now you can get yours within a hand's reach.
✔️Premium Quality: With high-quality 600D nylon material, Dreadnought drop leg Holster ensures years of serving you and your family.
✔️More room for waistband carry.
Dreadnought drop leg holster fits most sizes of handguns, even flashlight-mounted ones.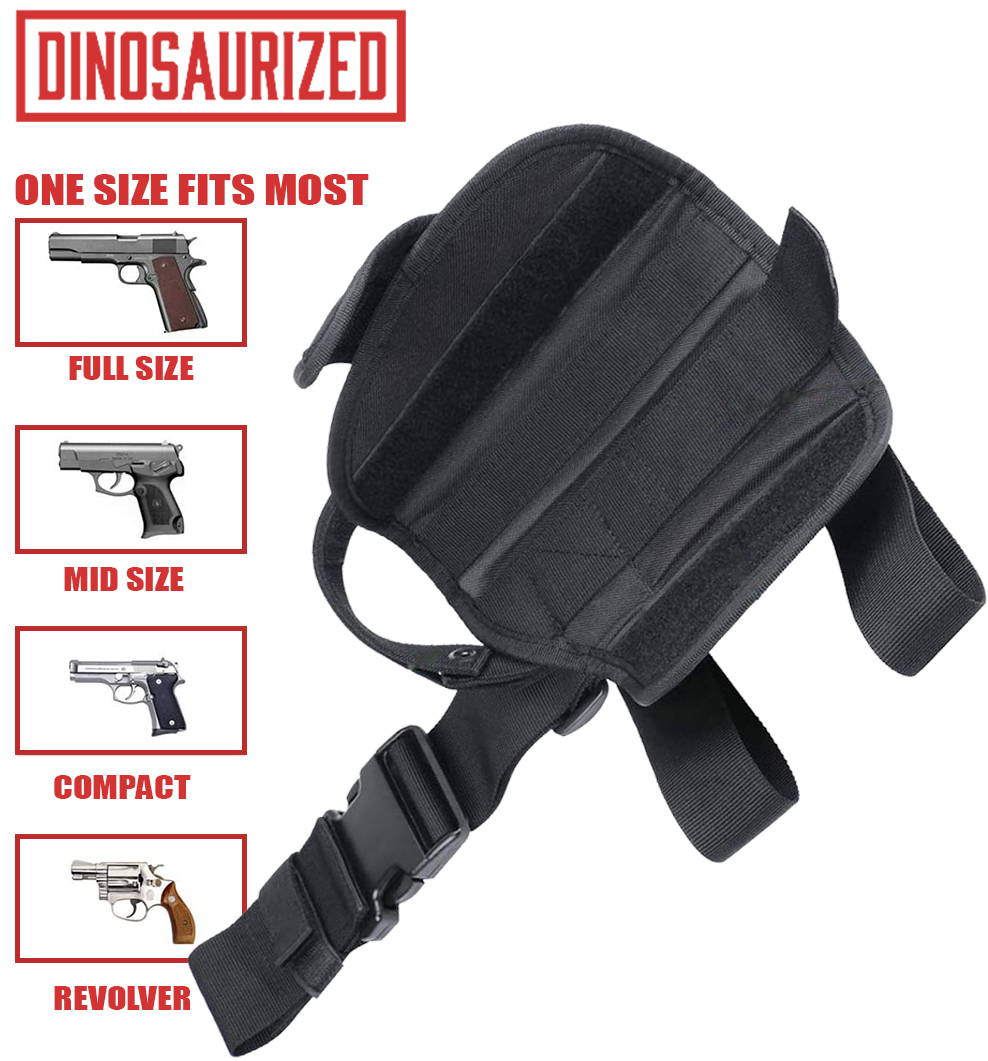 Exclusively designed for military & police officers, Dreadnought drop leg holster provides you 3 things: safety, quickness & durability.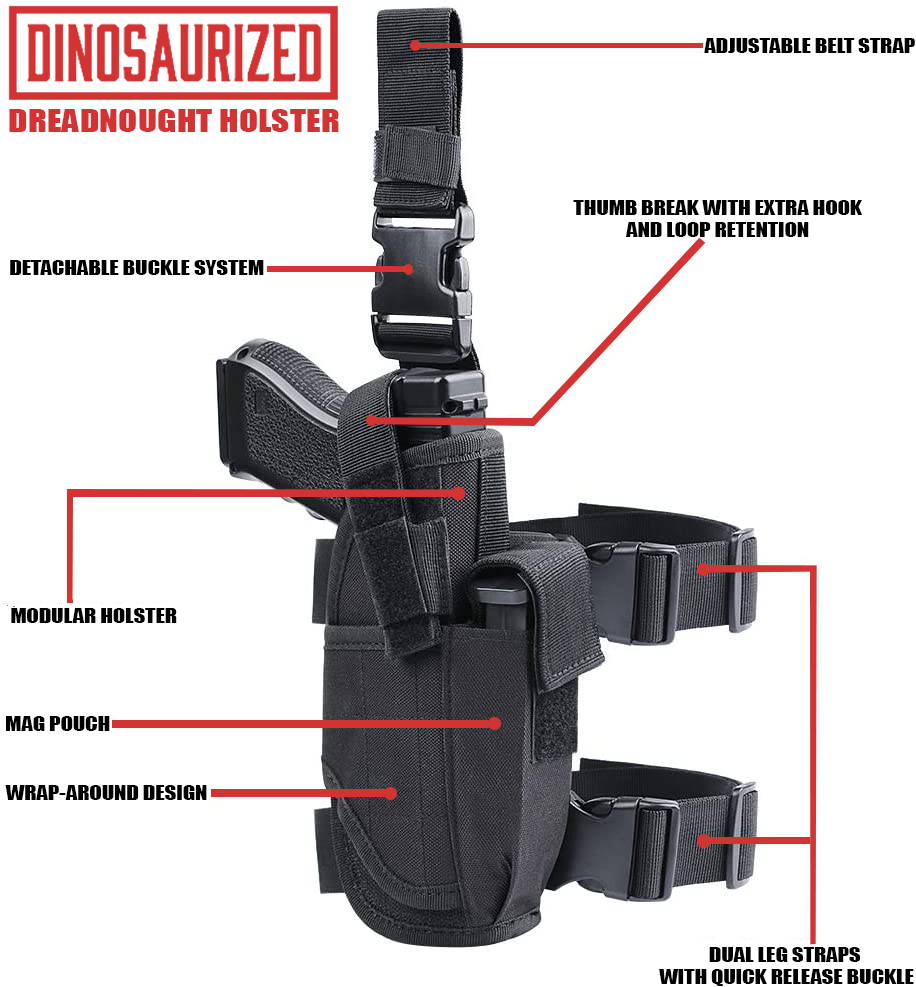 100% No-Risk Money Back Guarantee
⭐⭐⭐⭐⭐
100% No-Risk Money Back Guarantee
⭐⭐⭐⭐⭐
100% Conceal Carry, Sticky & Quick Gun Draw.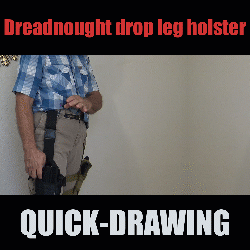 100% Sticky & Quick Draw.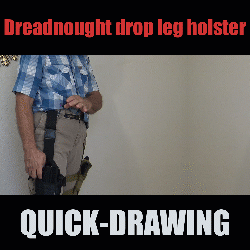 ✔️Security: Dreadnought drop leg Holster willkeep your gun 100% secured in place because we know that in dangerous, unexpected situations, you might want to run, jump, or hide.

✔️ Accessibility:
- Dreadnought drop leg Holster reduces up to 0.3 seconds compared to other holsters:
- Velcro strap, keep your gun secured.
- Adjustable: With 1 belt strap and 2 leg straps, you can adjust the holster to fit your hand length & leg size.
✔️ Durability:
- With very high-quality material, along with non-slip backing and quick-release buckles, Dreadnought can still serve you for years even when you're in the military or police forces.
100% No-Risk Money Back Guarantee
⭐⭐⭐⭐⭐
Dreadnought Drop leg Holsters Are Perfect For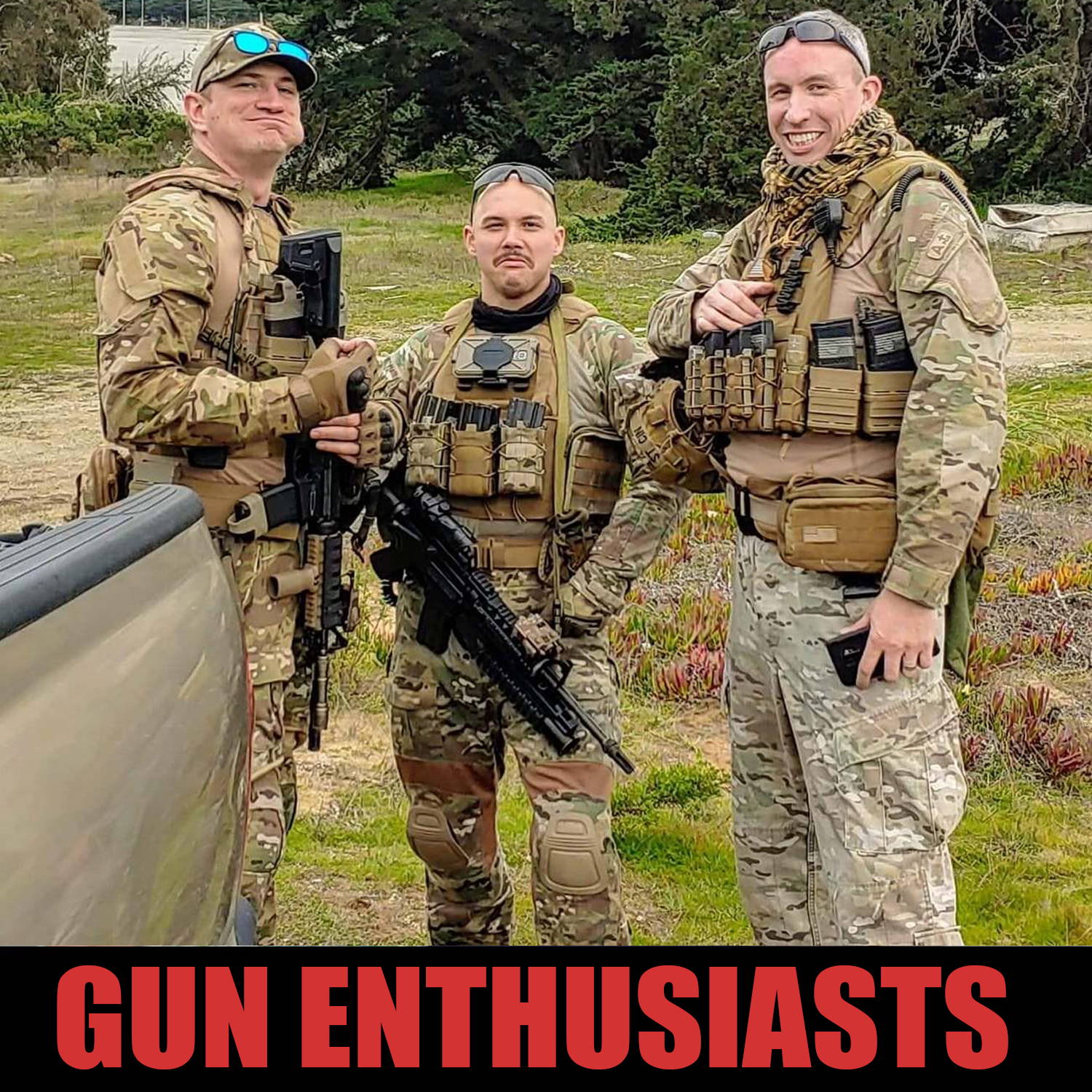 If you love guns and spend a lot of time working with guns or shooting as a sport, Dreadnought drop leg holster is an absolute choice. It provides you more room and weight for your belly so you can carry an extra mag, flashlight, or a knife, maybe.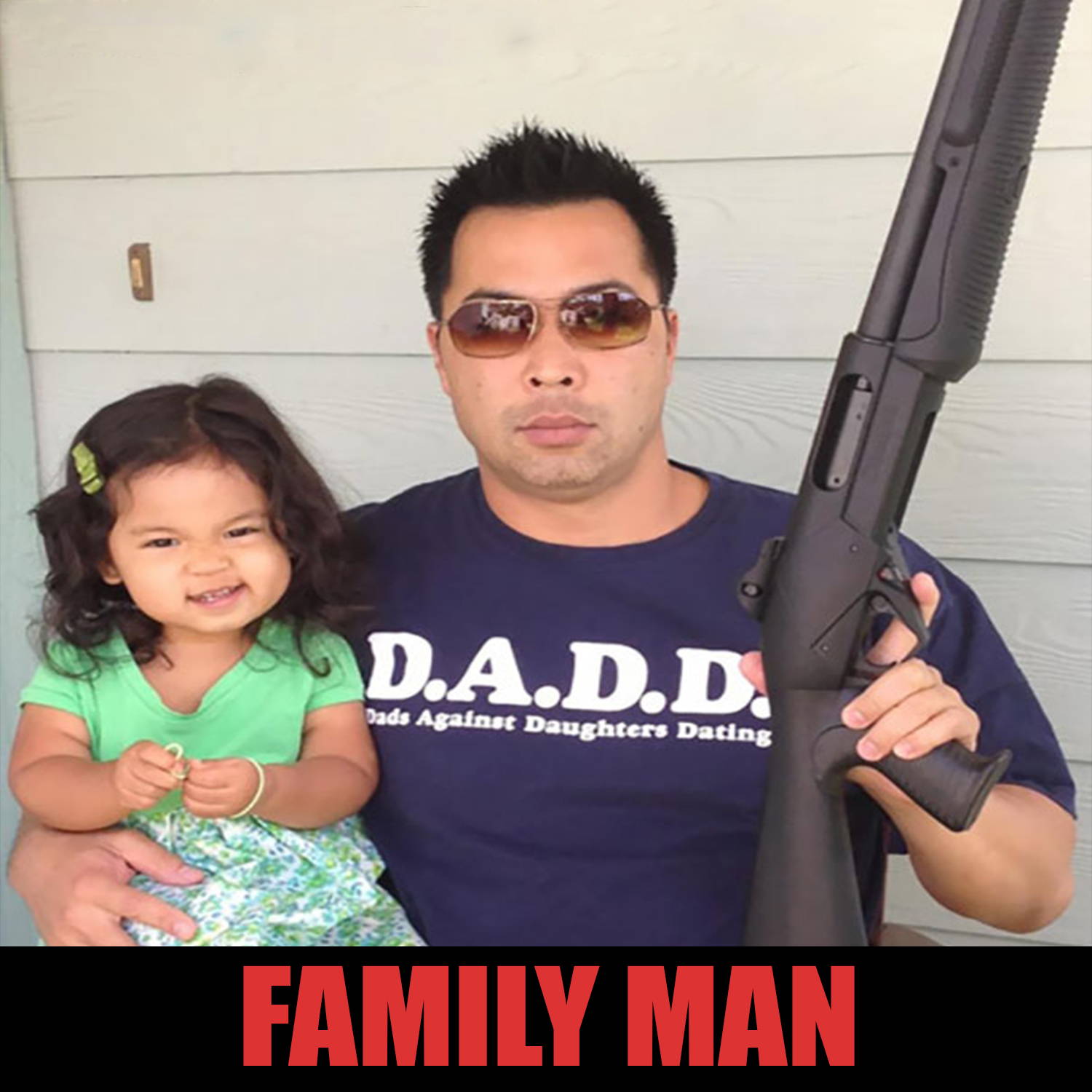 If you're a father/ a husband, of course you want to make sure your family is 100% protected & safe. Even if it's when you spend time outdoors with your family, or stay home fixing your car, wearing a big, open-carry holster like Dreadnought may "help" bad guys know you and your family are not people they can mess with.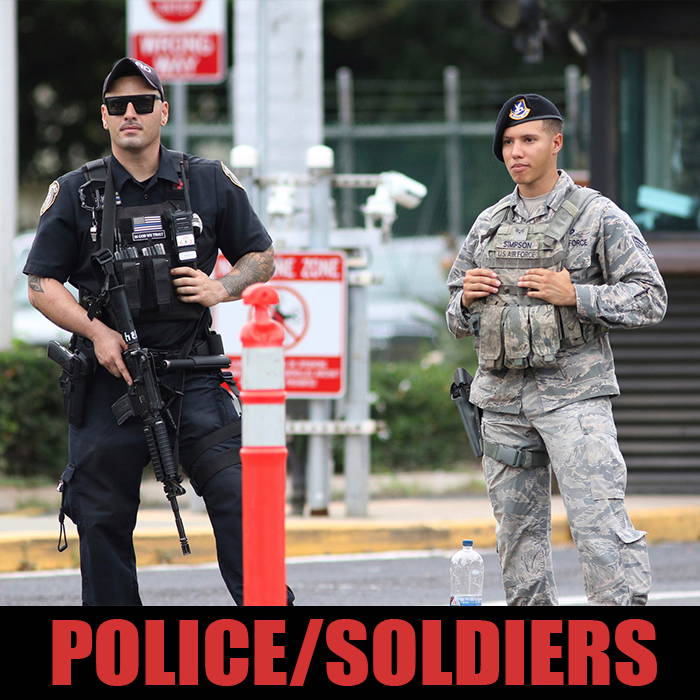 If you're a police officer or a soldier, you may have to carry a lot and different types of tactical gears. Dreadnought drop leg holster will free up some room for other equipment, relieving the heavyweight put on your waist.

Dreadnought holster can also serve you as a backup holster, in case you're out of ammo or your main gun gets jammed, it provides both you & your comrades more preparedness & protection - which are never enough for the armed forces.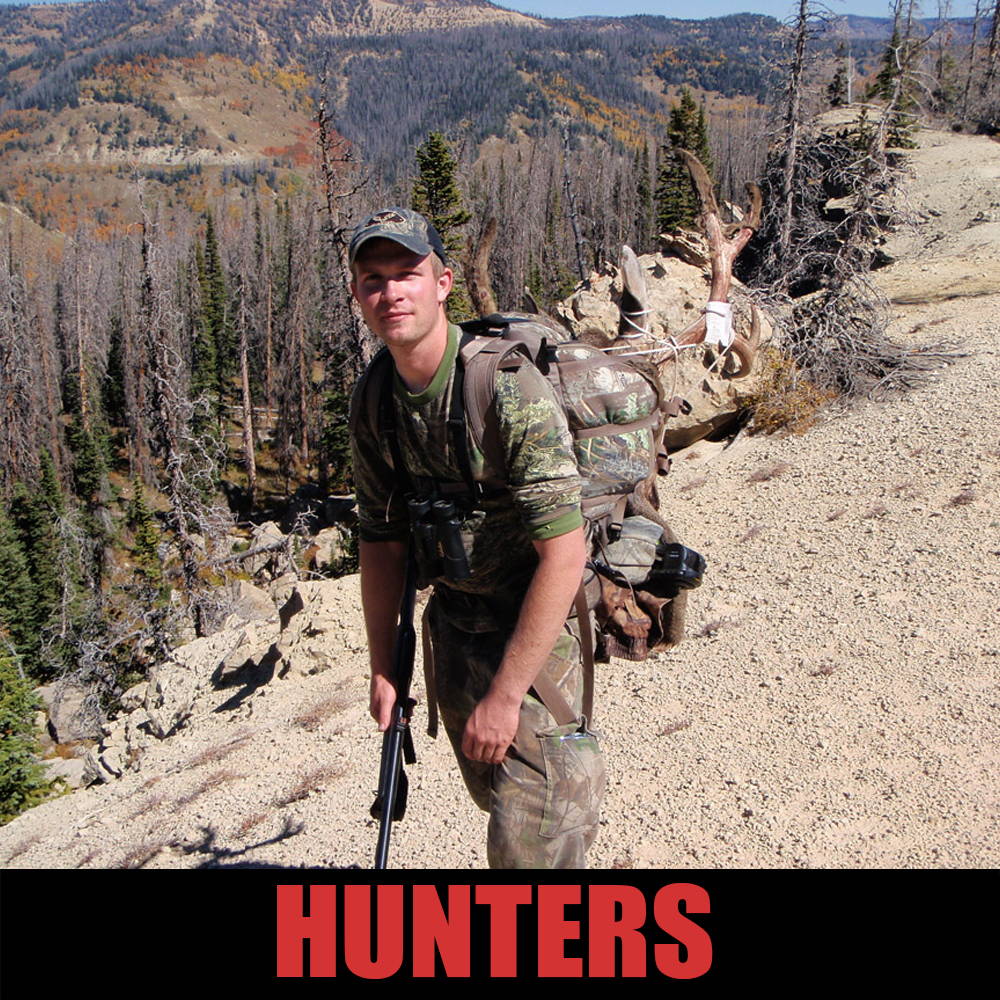 If you're a hunter, you may have to carry a lot of stuff on your back. Wearing Dreadnought drop leg holster helps you relieve the heavyweight on your hip & back. Dreadnought holster also shortens your draw time so you can defend yourself in case you are preyed upon by wild animals.
30 DAYS MONEY BACK GUARANTEE
- At Dinosaurized, we believe our products are truly innovative and have 100% confidence in it. We understand that buying things online can be scary with companies not staying true to their customers so we go the extend to keep you satisfied.
- If you bought it and feel that it is not for you, don't worry. Just shoot us a message at support@dinosaurized.com and we will make it right by offering you a replacement or refund. 100% Simple & Risk-Free process.
Which types of gun is this holster compatible with?
- Dreadnought Dropleg Holster is compatible with all sizes of gun, even guns that are mounted with a flashlight.
Will the Dreadnought Dropleg Holster fit my gun?
- Odds are good that it will fit your gun. The holster section is made of surgical grade elastic and will stretch to accommodate just about any concealed carry gun on the market.
- Some full size guns like 1911's and other full size pistols and revolvers may be more difficult to conceal and if the gun is very long you may experience a front sight snag as the barrel will stick past the end of the elastic holster.
- But if you are talking about a concealed carry size gun it should fit without issue.
If my gun as a laser will it fit?
I have a big leg, can it be adjusted?
Can I use it for my airsoft games?
- Yes you can. Dreadnought drop leg holster was made for marines & police officers so it's totally fine to wear it in tactical games.
- (U.S customers only) Standard shipping time is 7-12 Calendar days to ship and arrive. (Shipped from U.S, by USPS)
All packages are seriously & strictly sterilized before being sent.
- For Non-US customers, shipping time may vary from 10-20 Business days.
- We'll immediately upload your tracking code to Paypal after the shipment, it may take 3-4 days to be activated.
- If for whatever reason, you decide you are not satisfied, you can easily and quickly contact our helpful customer support (support@dinosaurized.com) to get an easy refund. We just ask that you send the product back to our warehouse!
- You can hand wash your holster in warm soapy water by soaking it and working it with your hands. Then thoroughly rinse under cold water and hang to dry. Do not machine wash or dry. Remember: Do not machine wash or dry.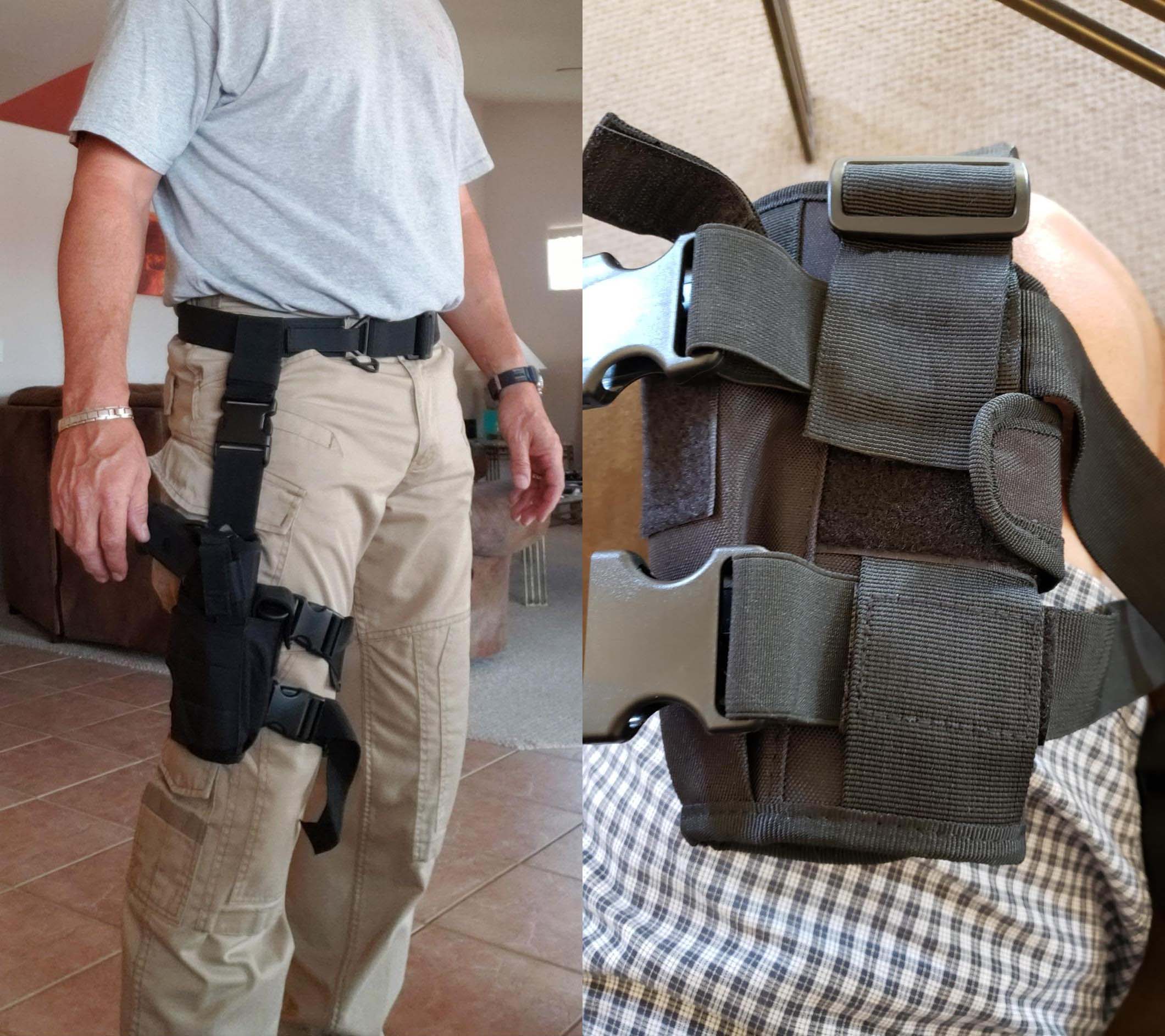 - Frank C., Nampa, Law enforcement officer, El Toro, California
⭐⭐⭐⭐⭐ If I get a year out of I will consider myself lucky, so I'm thinking of ordering a few!

"Fairly easy to adjust for your carry height and weapon size. Fits my FNH 40 very well, but I can tighten it up for my wife's compact Ruger as well. I added the photo of the back of the holster that helps show that adjustability of it and velcro style.!"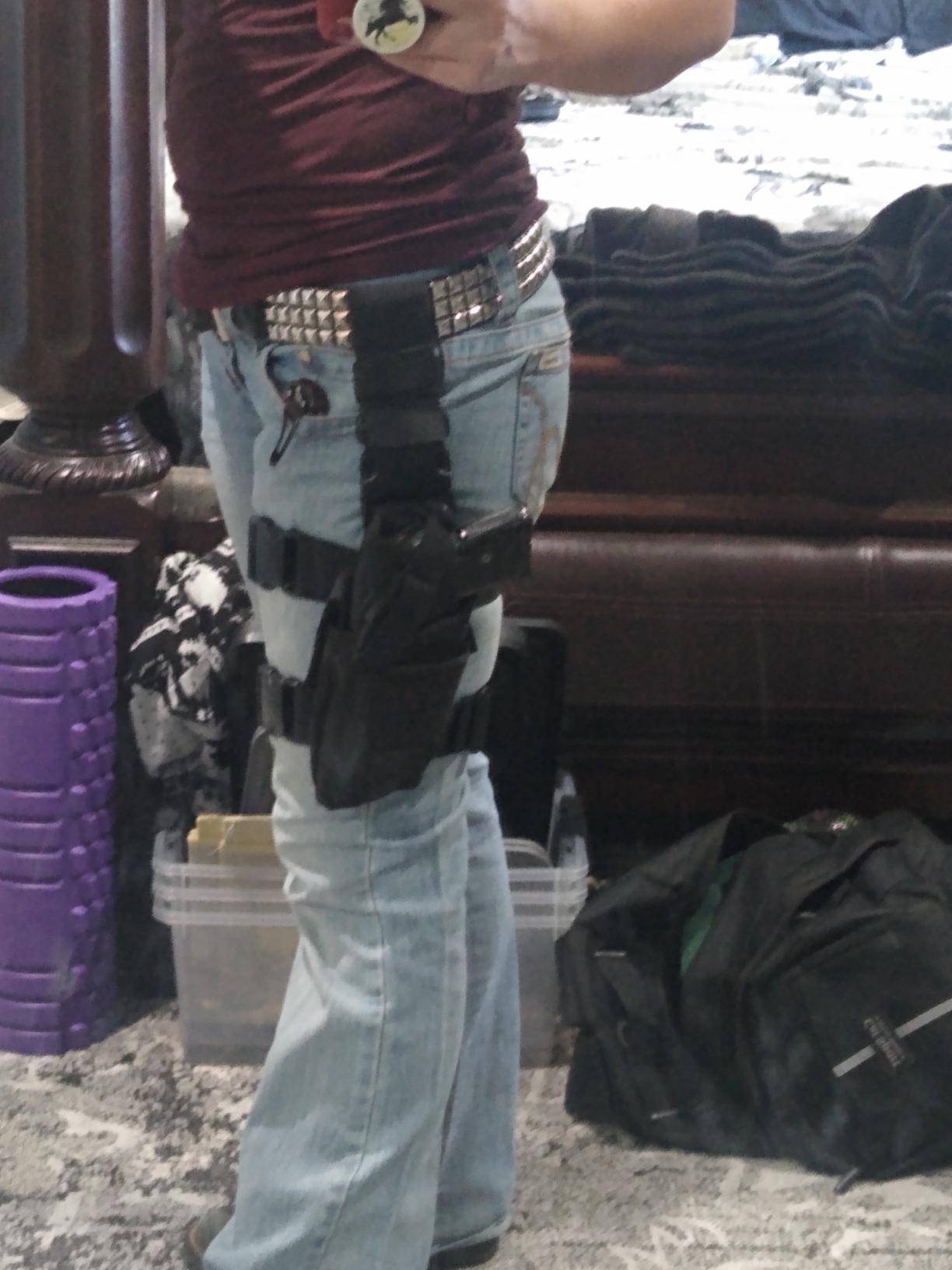 - Lily Hudson, Rockland, ME accountant, Northampton, Pennsylvania
⭐⭐⭐⭐⭐ It is very comfortable and I can wear it with everything
"I'm very happy with this gun holster. I like that it is versatile for different guns. It fits my 9 mm mokarov good. I can jump around and the gun stays where it's supposed to. Easily adjustable. Not very heavy feeling on the body. I had it tightened up as far as it can go on my belt and it is a perfect reach to my gun not too far down. I'm 4'11. Great item for the money. Quality material. Pocket for extra clip or knife."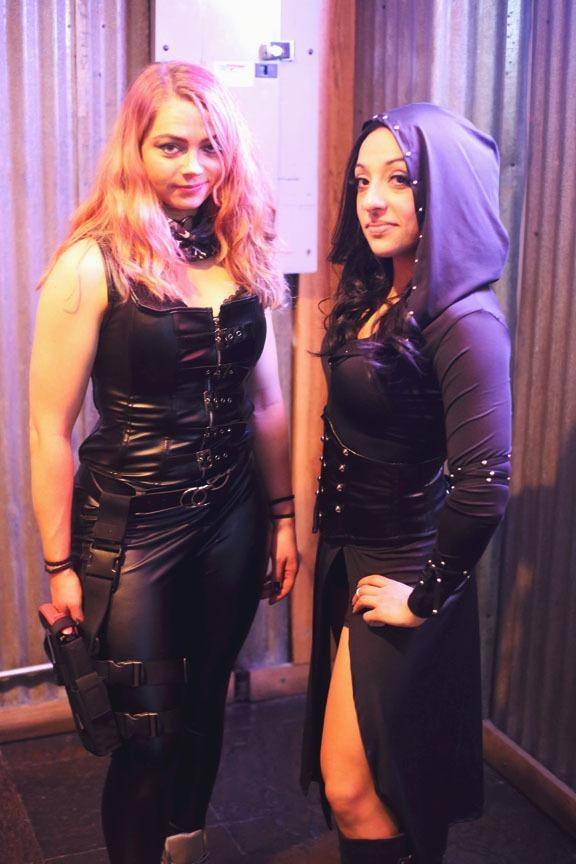 Black Widow, Student, Columbus, MS
⭐⭐⭐⭐⭐ you absolutely don't feel anything wearing it
"Very impressed with this, especially for the price! You can adjust the straps to fit your body. I used it for my halloween costume, but I know I'll use it when I go shooting too.."👌🏾👌🏾💯👍🏾 "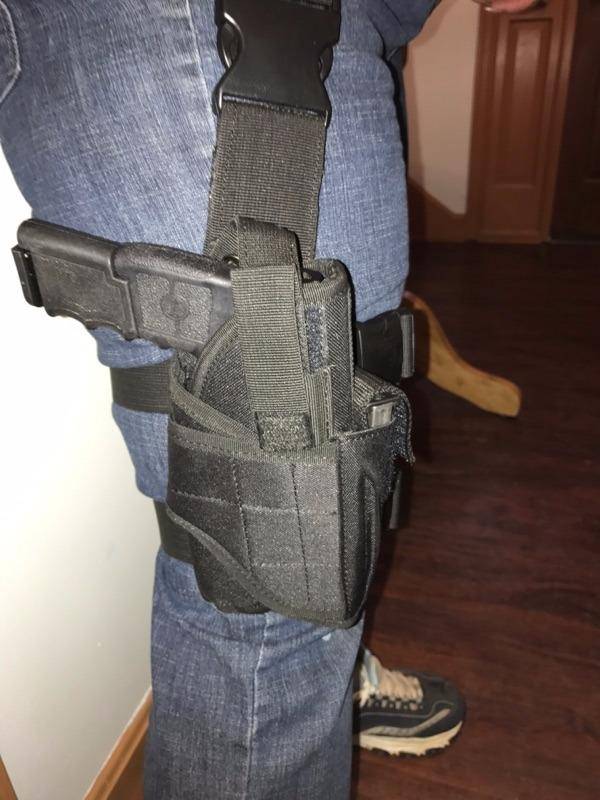 Yara, Stay-at-home mom - Tulsa, Oklahoma
⭐⭐⭐⭐⭐ It's so hard for a woman to find a holster and this is by far my favorite
"Long review summary: Great drop leg holster for the price that is wonderfully comfortable and adjustable to most people and pistols.
I don't give 5 star ratings unless I am "wowed", or at least very pleasantly surprised, by a product or service. I was in the market for a drop leg holster just to use out in the field while resetting targets or helping a fellow shooter. Since I had no plans to use the holster for hunting or open carry in public I figured "economical" was the way to go. After a bit of research I settled on this Nehostertfy rig. And I got the camo color to be even cheaper. And let me tell you, I was very pleasantly surprised when I got it.
First, I was pleased with the quality of the manufacture. Everything was sewn in the right place with no loose threads or blatantly awkward stitching.
Next I was very pleased with the adjustability. Just about every part of this holster is adjustable in some way. Whether it be by adjustable straps or Velcro, you can change almost everything at least a little.

Then I was pleased with the fit on me. I was quickly able to adjust it comfortably to my belt, leg, and draw reach. I really like the elastic parts of the leg straps. It helps snug the rig to my leg without being uncomfortable or inhibiting movement. As you can see from the pictures, I was able to get the holster right where I need it for ease of draw and re-holstering while maintaining comfort and flexibility when sitting, squatting, bending, and even jumping. Yes, I actually jumped around a little with the holster on with each gun I tried in it.

Which brings me to my final point of pleasant surprise, the fit for the guns. I borrowed three different guns to try different styles and sizes and each was well secured and retained in the holster even when subjected to the aforementioned jumping.!"
Hi, we're Johnny, Nguyen & Gal, we're vets, we love Coldplay and Frank Sinatra. We, of course, also love tactical things, so we sell them. We used to have a tactical store in Texas city, now we're trying to approach online customers.
Mostly tactical items. If you love outdoor activities, you will like them.
Please note that we need 3 to 5 working days on average to fulfill your order before dispatching it. Once your order is dispatched, depending on your country or region, estimated delivery time is between 7 to 14 business days. Please consider any holidays that might impact delivery time.