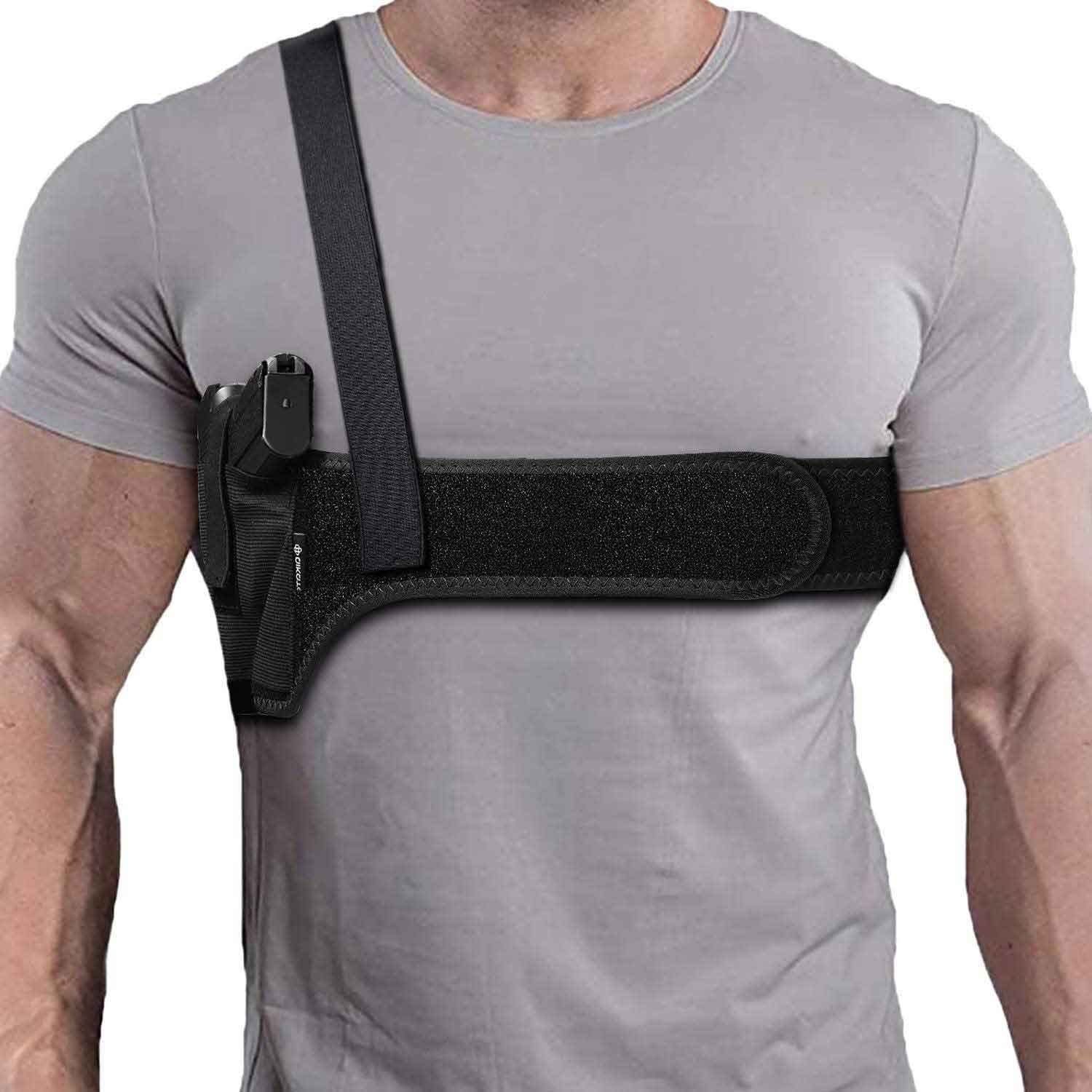 FINDING THE BEST HOLSTER FOR SEATED DRAW?
Praetorian Shoulder & Belly Holster is the only answer for you!
Best material: Zero-smell, breathable, very lightweight & skin-friendly material that lays softly against the body to ensure 100% comfort.
Easy Shoulder-to-Belly switch: You can carry Praetorian S&B Holster as a Shoulder holster or Belly holster simply by removing or reattach the shoulder strap.
A combination of protection and mobility: Praetorian S&B Holster is the answer for you!
Tactical & practical: 100% concealed, sticky and quick-drawing, Praetorian Shoulder and Belly Holster is made to solve the most common struggle that gun owners face: seated draw. Let's check it out.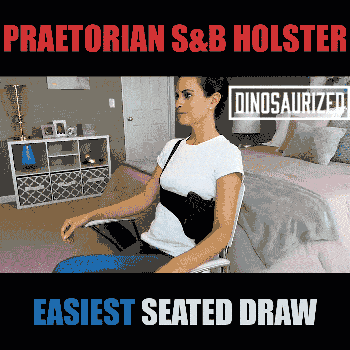 AMERICA'S EASIEST AND QUICKEST-TO-DRAW SEAT HOLSTER
Drawing your gun when sitting is much harder than when you stand, it's a fact. And there're thousands of situations when you need to stay prepared when seated: when you're an Uber driver who may serve hundreds of strangers a day, when you're waiting (in your car) for your girlfriend who lives in an unfriendly and unsafe neighborhood, or when you're having dinner with your family in the local restaurant and you started to hear the riot outside burst out.
In many cases, you need to be fully prepared and draw your gun as quickly as possible to protect not only yourself but your family and property while you're still seated. Many other holster brands nowadays don't care about those real-life situations, their holsters are just too slow for seated draw, especially for fat folks, when their guns are stuck between their belly and belt.
Praetorian S&B Holster is the most "natural" and fastest seated drawing holster. It's a strictly tightened plastic band covering your belly, hip or chest or wherever you want. Praetorian S & B's quick-drawing design helps prevent the "bad guys" from any reaction and provides you 3-5 "upper-hand" seconds for your self-defense.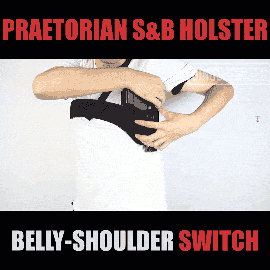 CONCEALED & STICKY PERFECTLY
Another problem that many of us gun owners face is the holster's stickiness & concealment. It only works when you stand still! When you run, jump or craw, your holsters just get sagged and sometimes even let your guns drop out. Praetorian Shoulder and Belly Holster's sticky high-quality neoprene keeps itself and your gun stick to your body, which also provides you 100% concealment.
Not like the "sweaty" leather holsters, which absorb all of our body scent, road or pets smell, Praetorian S&B Holster is also 100% smell-resistant, washable & breathable, allowing you to remove all dust & bacteria from your holster after hours of hard-working and sweating.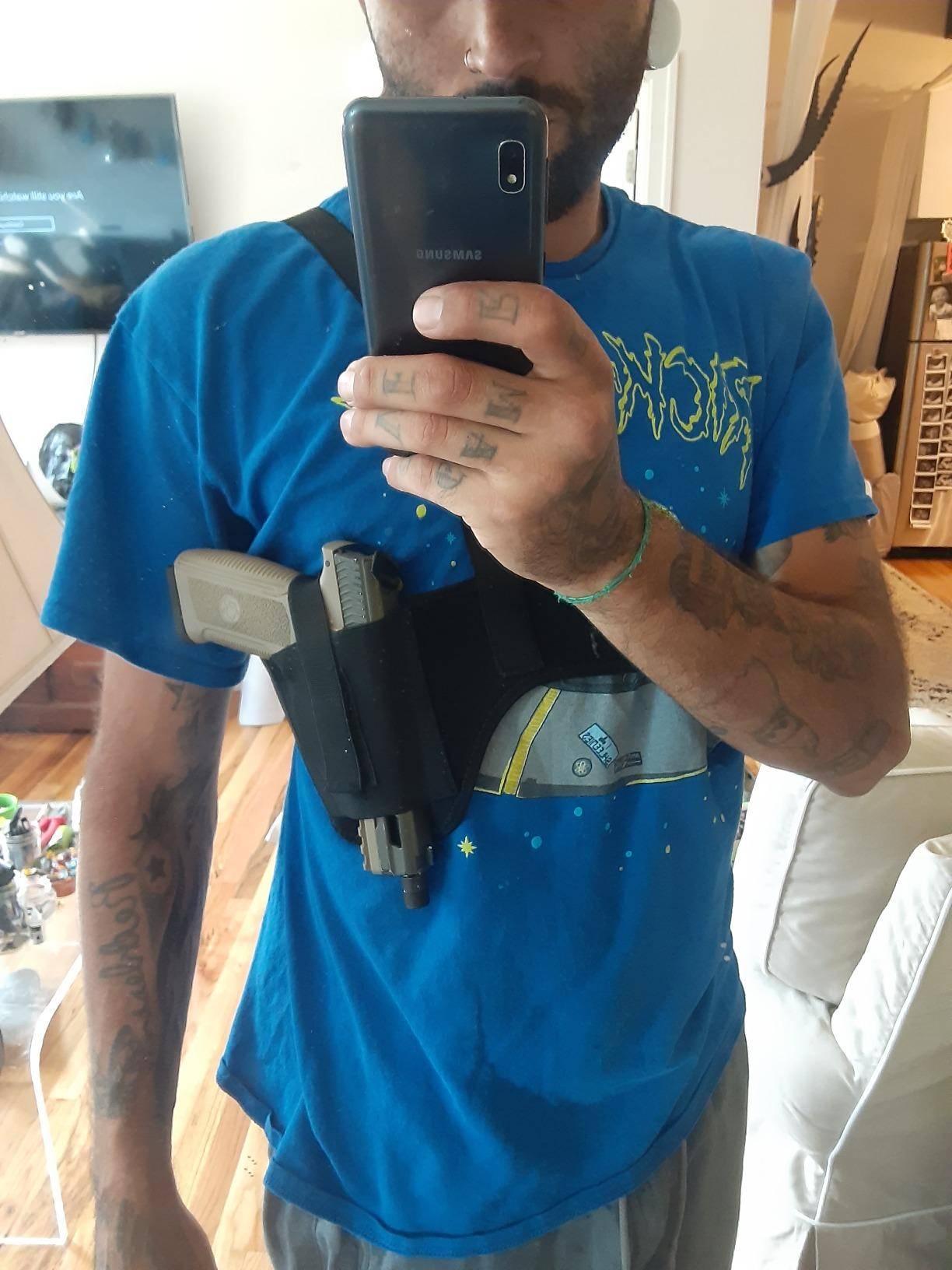 BIG, FAT & LONG-BARRELED GUNS' CHOICE
If you are the one who likes long-barreled or big, heavy handguns, the shoulder holster may be your only option for concealed carry.
Praetorian shoulder & belly holster was designed to make sure it saves every single millisecond a gun owner has when he/she draws his/her gun.
Retention Strap: This strap creates no noise, and you can remove it to shorten the draw time.
Removable Shoulder Strap: You can easily remove/attach the shoulder strap and turn it into a perfectly-working belly holster or vice versa.
Good for ladies: The Praetorian S&B Holster's spreading design helps ladies, especially the ones who carry it all day, feel less heavy (in the leg, or chest), give them more chances to pull the gun out faster.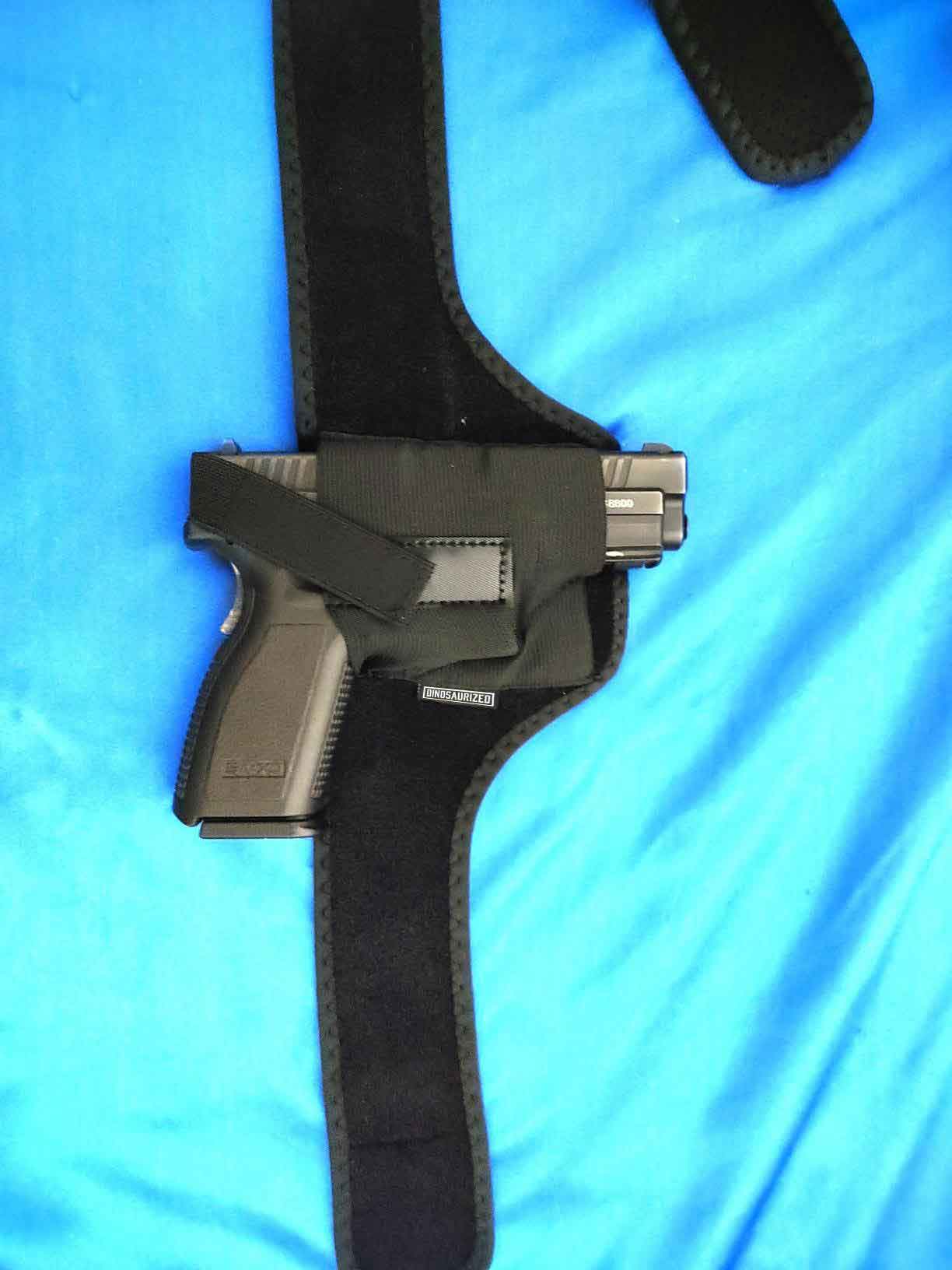 "So I just purchased a Springfield xd this past weekend (preparing for the apocalypse) and because I'm right handed this fit perfectly. The weight of the gun doesn't affect the amount of stress that's being put on my left shoulder so it doesn't really impact my posture. Great purchase overall. If you are looking for a left-handed or ambidextrous holster this won't be the one for you fyi."
- Clark the Motor Rider, MA, Massachusetts.

AMBIDEXTROUS DESIGN ALLOWS LEFT & RIGHT DRAWS BOTH FROM SHOULDER & WAIST.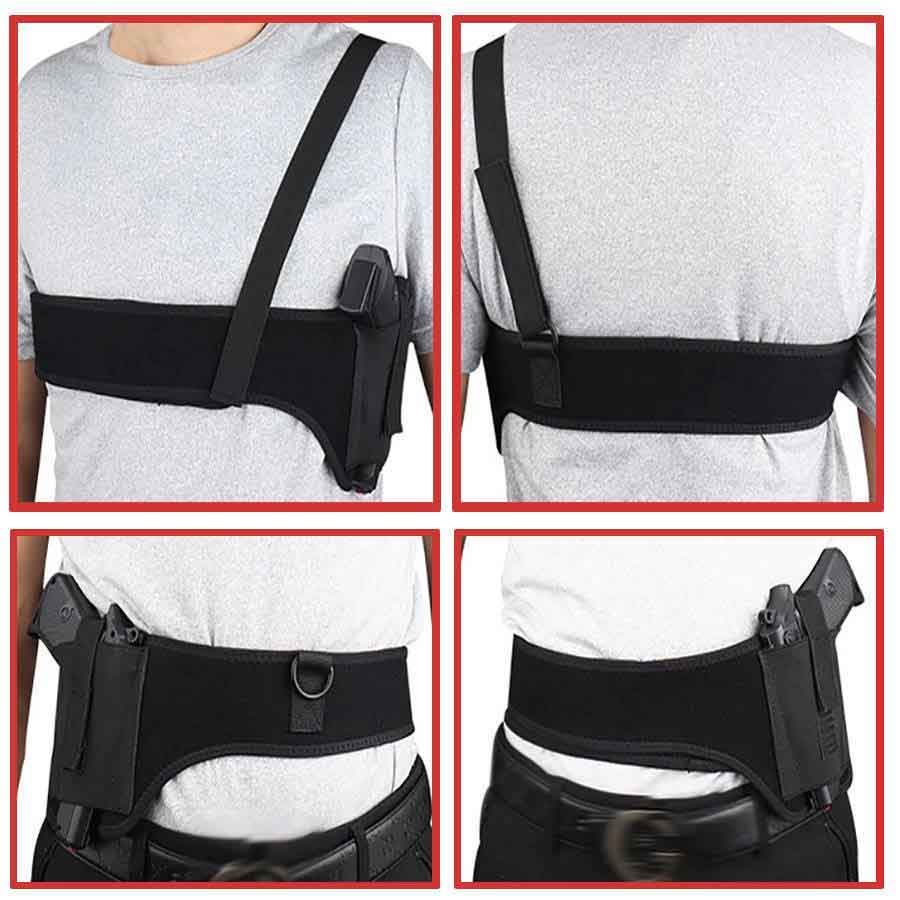 PRAETORIAN SHOULDER AND BELLY HOLSTER FITS ALL GUN SIZES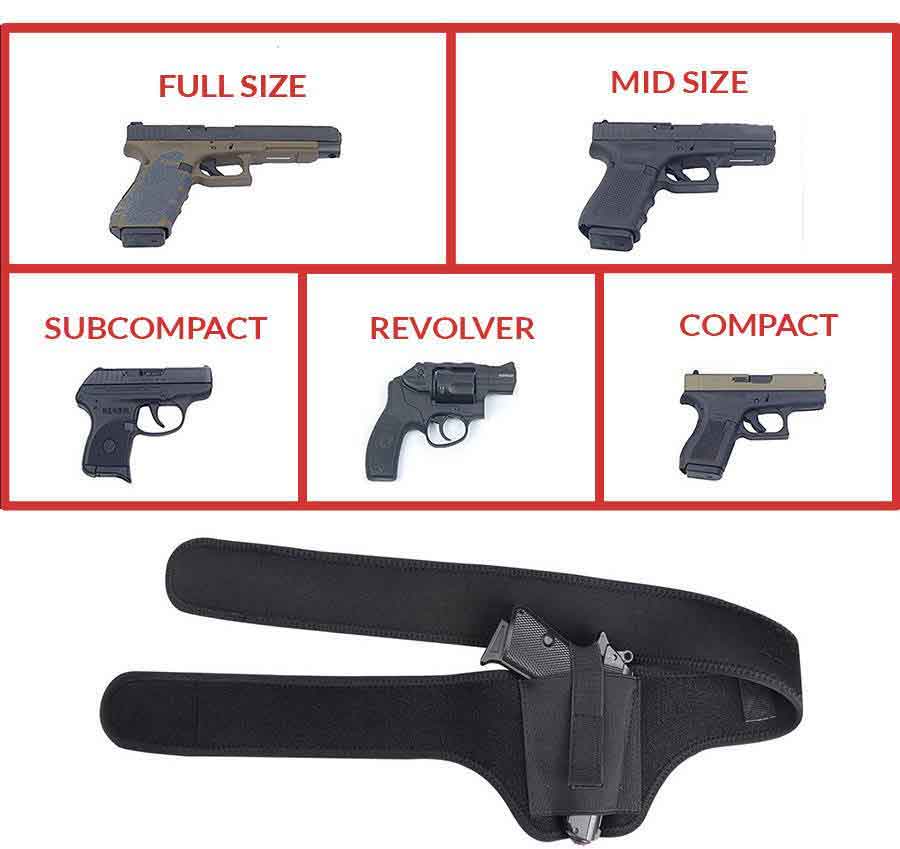 ⭐⭐⭐⭐⭐ 5-star reviews given by




TODAY ONLY: We're giving away 100 PRAETORIAN SHOULDER & BELLY HOLSTERS + FREESHIPPING
for the first 100 customers:
Get yours now, first come first get
Why buy Pretorian Shoulder & Belly Holster?
✔️ Sticky: 100% sticked to your body, 100% concealable.

✔️ Breathable: Give you comfort, especially for all-day gun carriers.

✔️ Unisex: Fits both women & man.
✔️ Neoprene not nylon: Praetorian Shoulder and Belly holster is made by neoprene, not nylon. So it's more comfortable and breathable for your skin.
✔️ All-clothing-friendly With Praetorian S&B holster, you can wear sweat pants, gym shorts, loose fit jeans, dresses, skirts, yoga pants, etc.

✔️ Works for Right & Left Draws.
✔️Universal Best holster for large/ long-barreled gun, Praetorian fits all guns from small subcompact, compact, and even full size pistols and revolvers. All 380, 9mm, 40 auto, 45 ACP, 38 special, 357, and 10mm etc.
✔️ No-smell: Doesn't absorb smell, and be washable.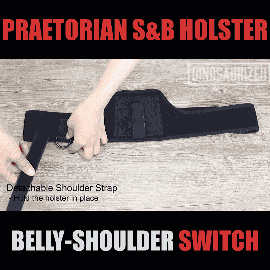 GOOD NEWS: belly & shoulder switch:
a 2-in-1 holster
Many gun owners have different holsters for different purposes. A farmer may carry a Shoulder Holster when he's in his tractor working all day but when he gets to the local Walmart, he may carry a Belly holster.

Now you only need to have one single Praetorian Shoulder & Belly Holster and easily switch from Belly to Shoulder mode or vice versa by removing or reattach the shoulder strap to the holster.
PRAETORIAN SHOULDER & BELLY HOLSTERS ARE PERFECT FOR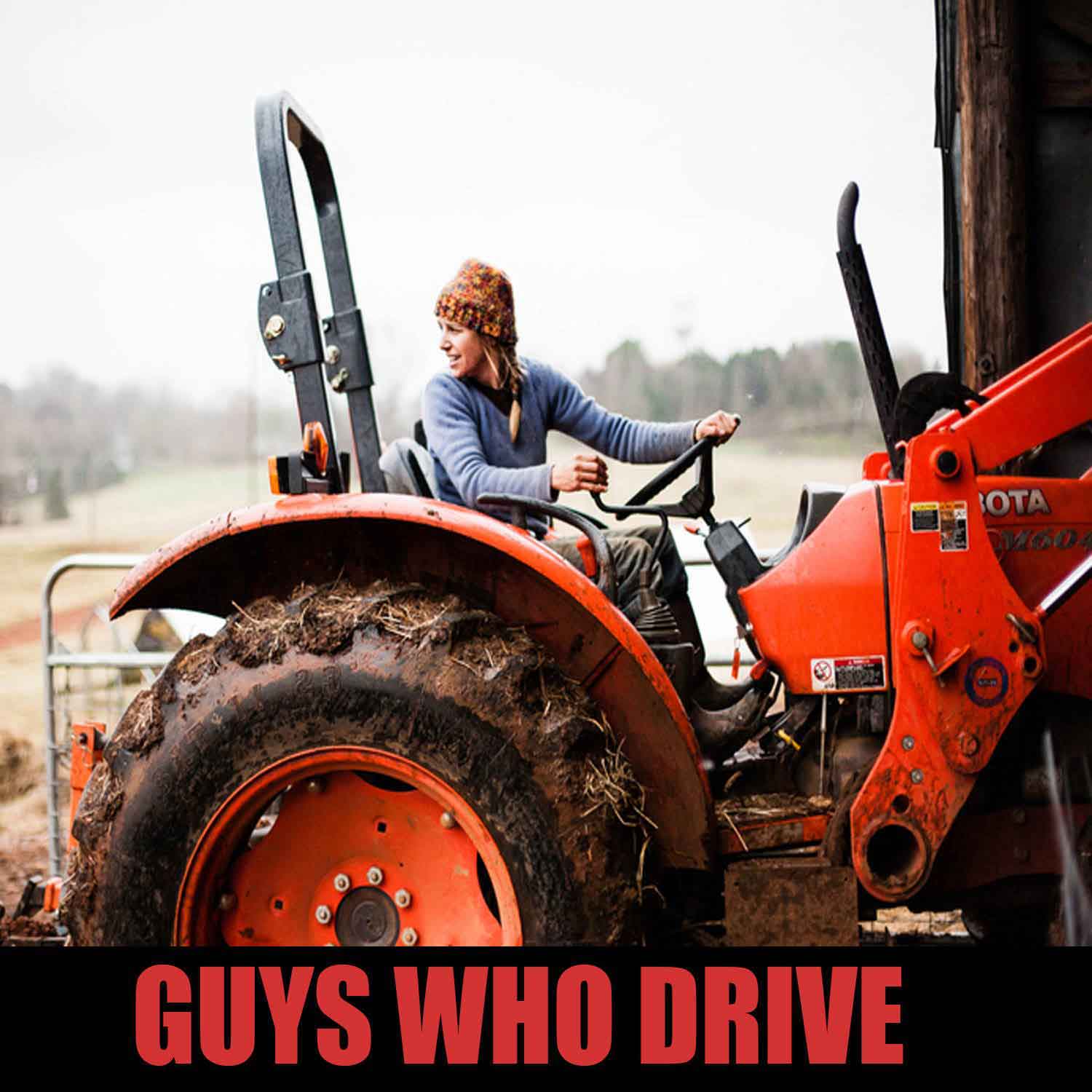 When you're a guy who's seated in a vehicle for hours as a part of your job: An Alabama farmer, A New York taxi driver or a Texan police patrol officer. In a day, you may meet a lot of strangers, some of them may be bad, some may want to rob your money, some may have mental illness, you don't know. So, for self-defense purpose, it's best that you carry an easy-to-use, quick-drawing shoulder holster from which you can draw your gun in half a second while you're still seated.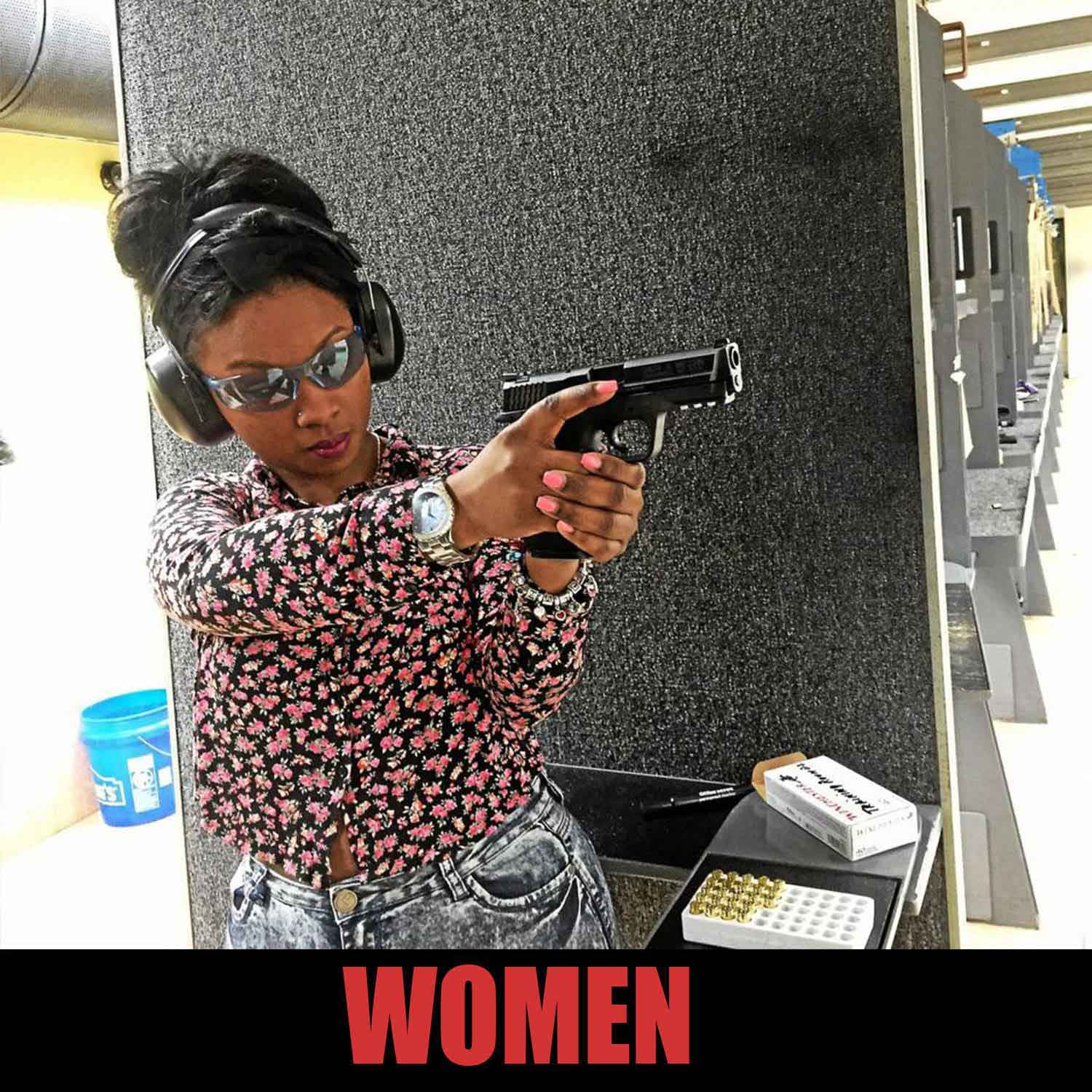 If you're a lady, you may need different holsters for different types of clothes, Praetorian Shoulder & Belly holster's switching ability allows you to change carry positions from your underarm to your belly. It also spread your gun's weight around your body so you will feel much less heavy.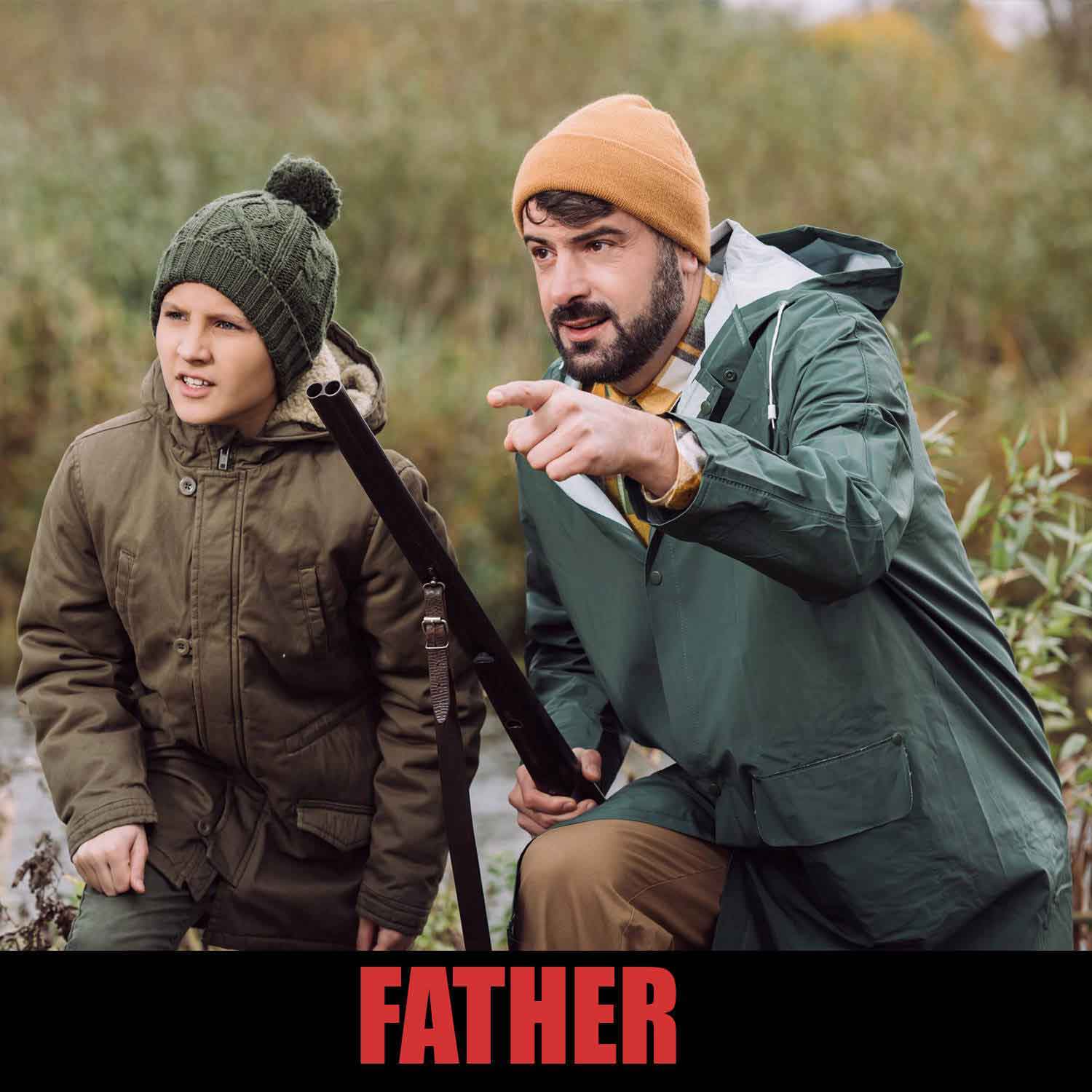 As a father, your top priority is your family's safety. Praetorian Shoulder & Belly holster's perfect stickiness and concealment allows you to stay 100% prepared & ready where you & your family are.
WHAT OUR CUSTOMERS SAY?
⭐️⭐️⭐️⭐️⭐️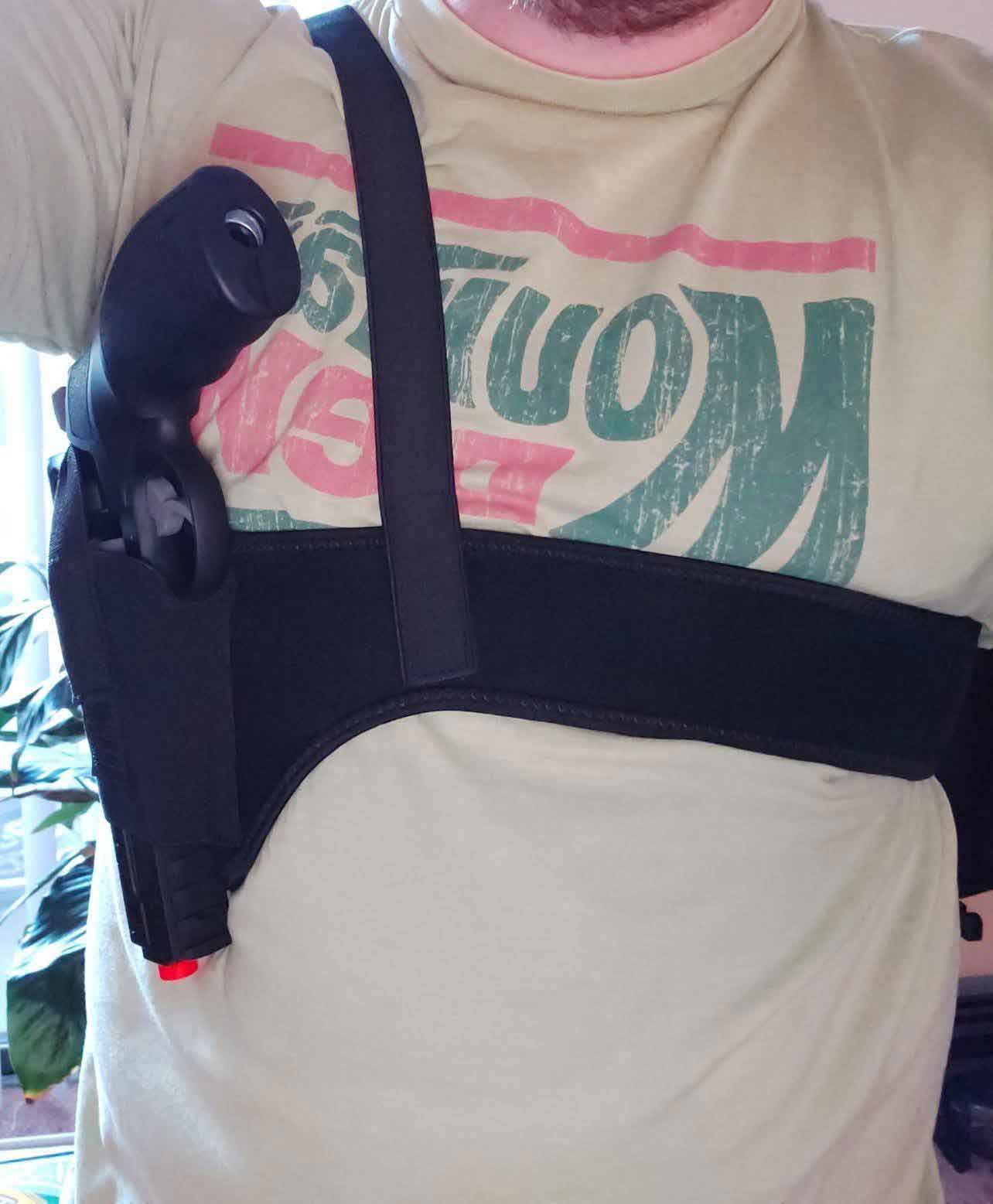 "Surprisingly holds my h8r airsoft revolver very securely. It's a heavy gun and I can wear this comfortably for hours and forget it's even on as I go about my day. The Velcro is high quality and holds securely. I have a roughly 44 inch chest and it still has room to go bigger or smaller."
- Ron Swanson, El Toro, California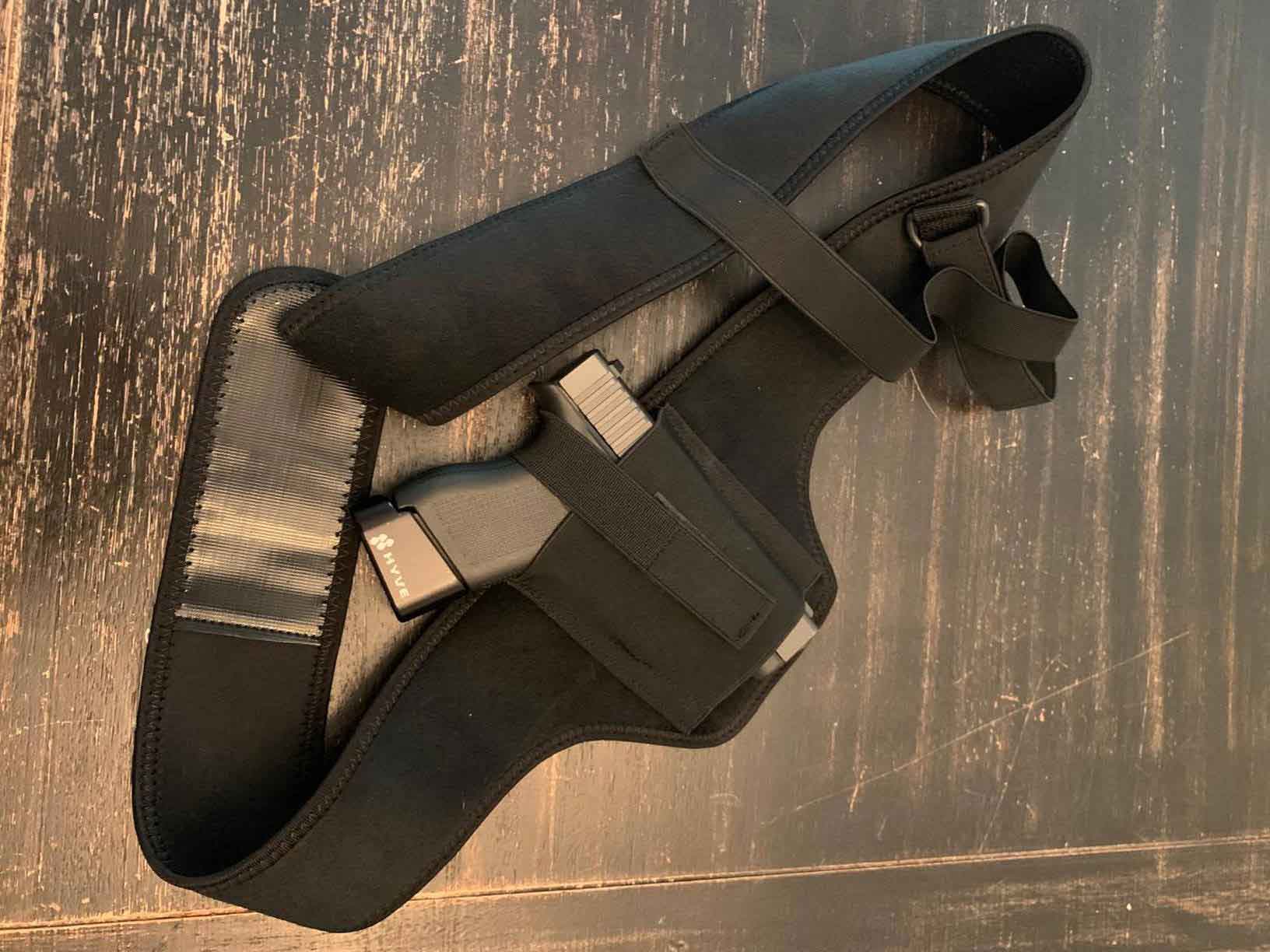 "Bought this holster to carry my Glock 43 while out on runs. Works great. Very comfortable and doesn't bounce around (as long as it's a smallish firearm). Super easy to throw on with a light zip up jacket on the way out the door. 10/10 would recommend if your looking for something to use while being active."

- Stephen Cross, Talladega, Alabama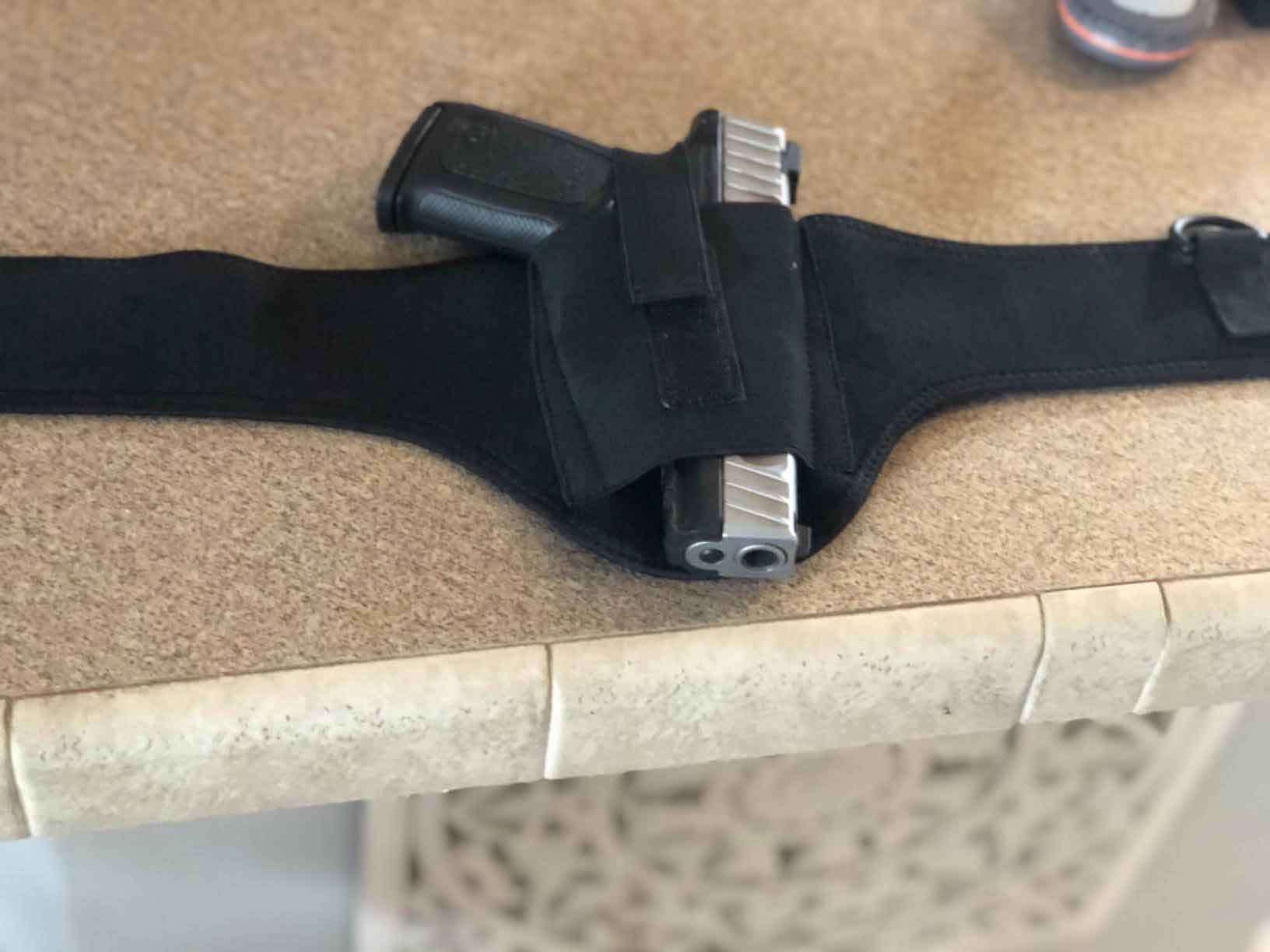 "I liked that it was comfortable and my .40 is very easy to access if needed. It works perfectly for a big guy like and I also like the fact that I can use it for multiple guns."
Alyssa Peters- Hartville, Missouri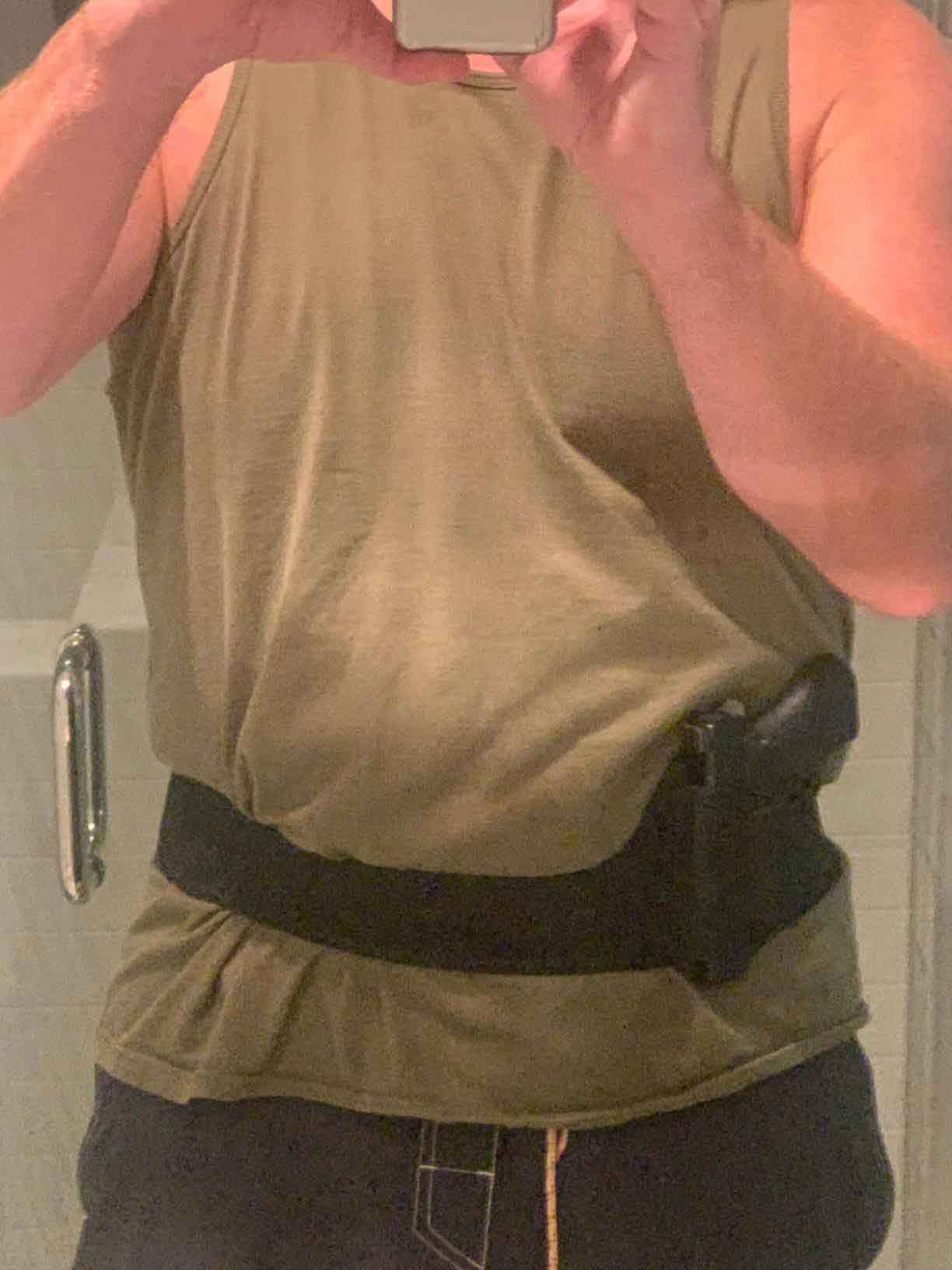 "I'm not a small guy but not that big and this holster fit very comfortably. I was able to easily adjust it so it would fit me just where it needs to be. This Praetorian holster also works fine as a belly band holster. If you are wearing a sweater, jacket or anything that is loose fitting or bulky, it cannot be seen. I use it for work, training and when at the shooting range. Whether I'm wearing it or just practicing, when it's on, it doesn't move too much around when I'm trying to reach for my gun. "
Howard - Spring Valley, Ohio
2 SIZES FIT MOST: Made from stretching & adjustable neoprene, the Praetorian Shoulder and Belly Holster fits from 30" up to 46" of chest circumference (Which is really really LARGE & ADJUSTABLE). However, if you have a larger chest size, please leave your chest line is more than 46" we'll customize it for you.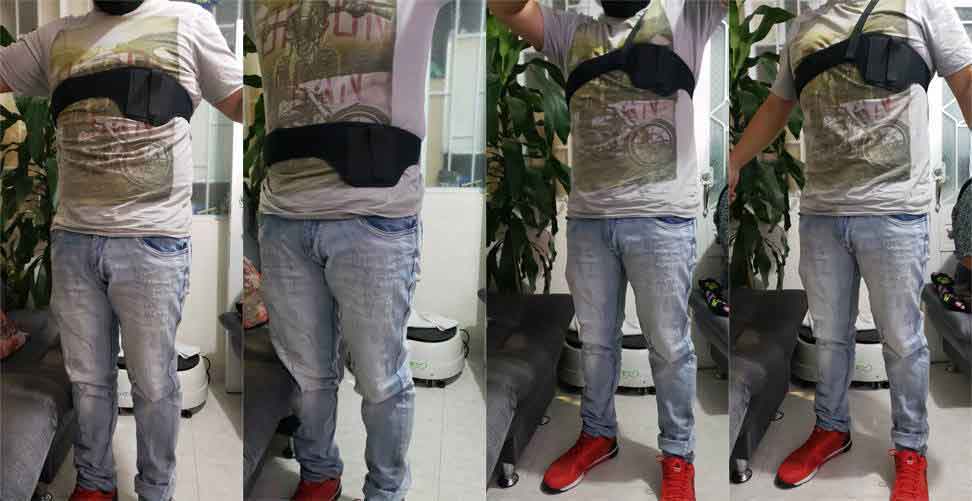 UNDERSTAND PRAETORIAN SHOULDER & BELLY HOLSTER A LITTLE MORE WITH SARAH'S & SPARTANZ'S INTRODDUCTION
If you have any other requirements, you can leave them at "order note" at cart, or email support@dinosaurized.com. The Praetorian shoulder and belly holster fits people with up-to-46 chest. However, if you have a larger chest, please leave your chestline at "order note" (at the cart drawler) after adding to cart. We'll easily customize it for you!

5% OFF code offer: "salem", Halloween is coming. We just want to wish you a fun Halloween filled with magical surprises! May you get lots of treats that are good to eat!
Shipping

(U.S customers only) Standard shipping time is 7-12 Calendar days to ship and arrive. (Shipped from U.S, by USPS)
All packages are seriously & strictly sterilized before being sent.
For Non-US customers, shipping time may vary from 10-20 Business days.

We'll immediately upload your tracking code to Paypal after the shipment, it may take 3-4 days to be activated.
Wash
You can hand wash your holster in warm soapy water by soaking it and working it with your hands. Then thoroughly rinse under cold water and hang to dry. Do not machine wash or dry. Remember: Do not machine wash or dry.
Refunds
If for whatever reason, you decide you are not satisfied, you can easily and quickly contact our helpful customer support (support@dinosaurized.com) to get an easy refund. We just ask that you send the product back to our warehouse!
Emails: If somehow you don't receive email reply in 48 hours (working days), please send us message right on: https://www.facebook.com/dinoarmy/, we'll answer all.
SATISFACTION GUARANTEED, EASY REFUNDS, AND 30 DAYS MONEY BACK GUARANTEE
- At Dinosaurized, we believe our products are truly innovative and have 100% confidence in it. We understand that buying things online can be scary with companies not staying true to their customers so we go the extend to keep you satisfied.
- If you bought it and feel that it is not for you, don't worry. Just shoot us a message at support@dinosaurized.com and we will make it right by offering you a replacement or refund. 100% Simple & Risk-Free process.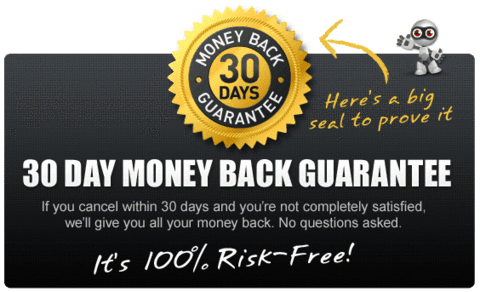 © Dinosaurized. All rights reserved.