Have Questions?
Email us
support@dinosaurized.com
ABC EASY HOLSTER- THE BELLY HOLSTER OF ANY GUN OWNERS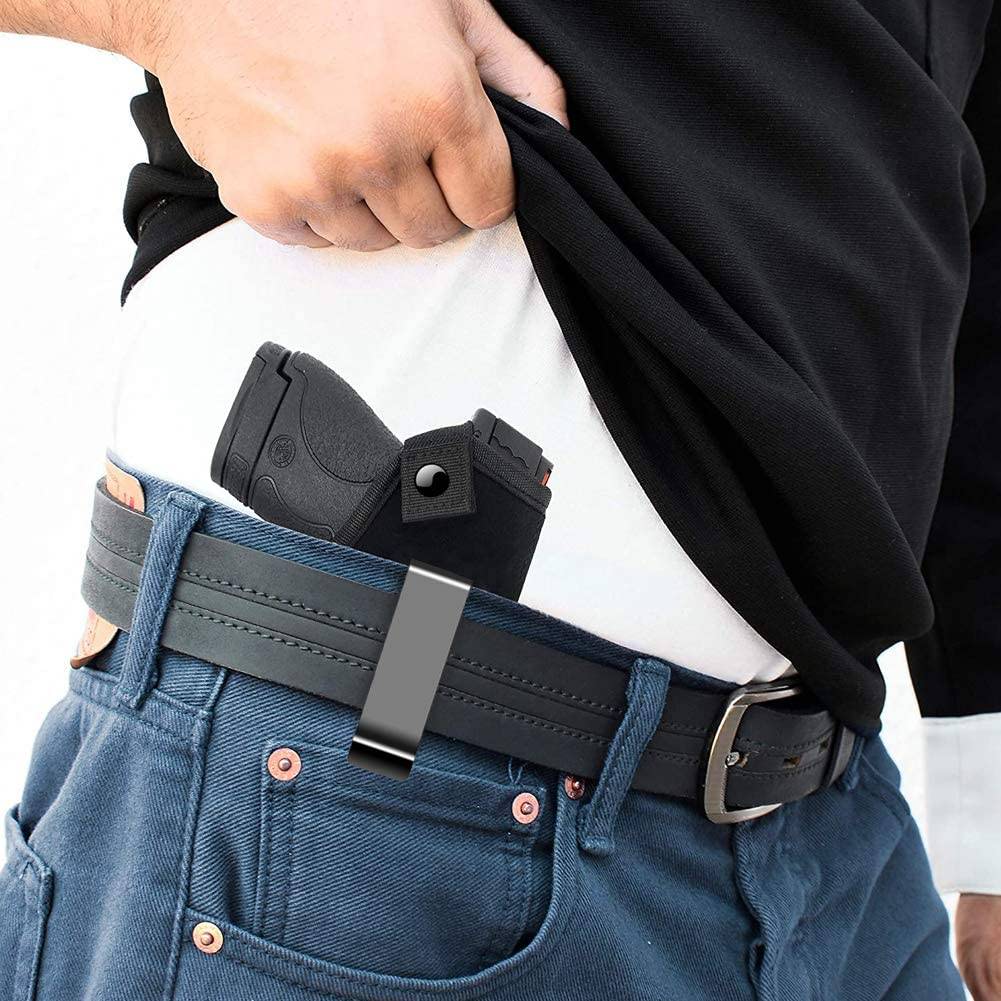 LOOKING FOR AN IDIOT-PROOF/
BEGINNER-FRIENDLY HOLSTER?

ABC easy holster is the perfect choice for you!
- Lightweight, comfy & easy to use: Made of padded and breathable surgical grade elastic neoprene, you won't feel a thing carrying ABC easy holster.

- No printing: ABC easy holster's sleek design makes sure that nobody knows you're carrying.
- Optimization & freedom to move : With ABC easy holster, you can quickly draw your gun and freely move your whole body especially under need-to-quickly-response situations.
- 100% Concealed & Sticky: ABC easy holster's
light weight, anti-slip design and high-quality neoprene sticky material ensures that your gun stays 100% sticky & unnoticed even when you run, jump or crawl.

- Versatile-good for newbie: With ABC easy holster, you can learn to carry your guns in different ways with different sizes. You can carry ABC easy holster on any positions around your belt. You can also use ABC easy holster not only as an IWB but an OWB holster. ABC easy holster fits all sizes of handguns, even ones that are mounted with a flashlight.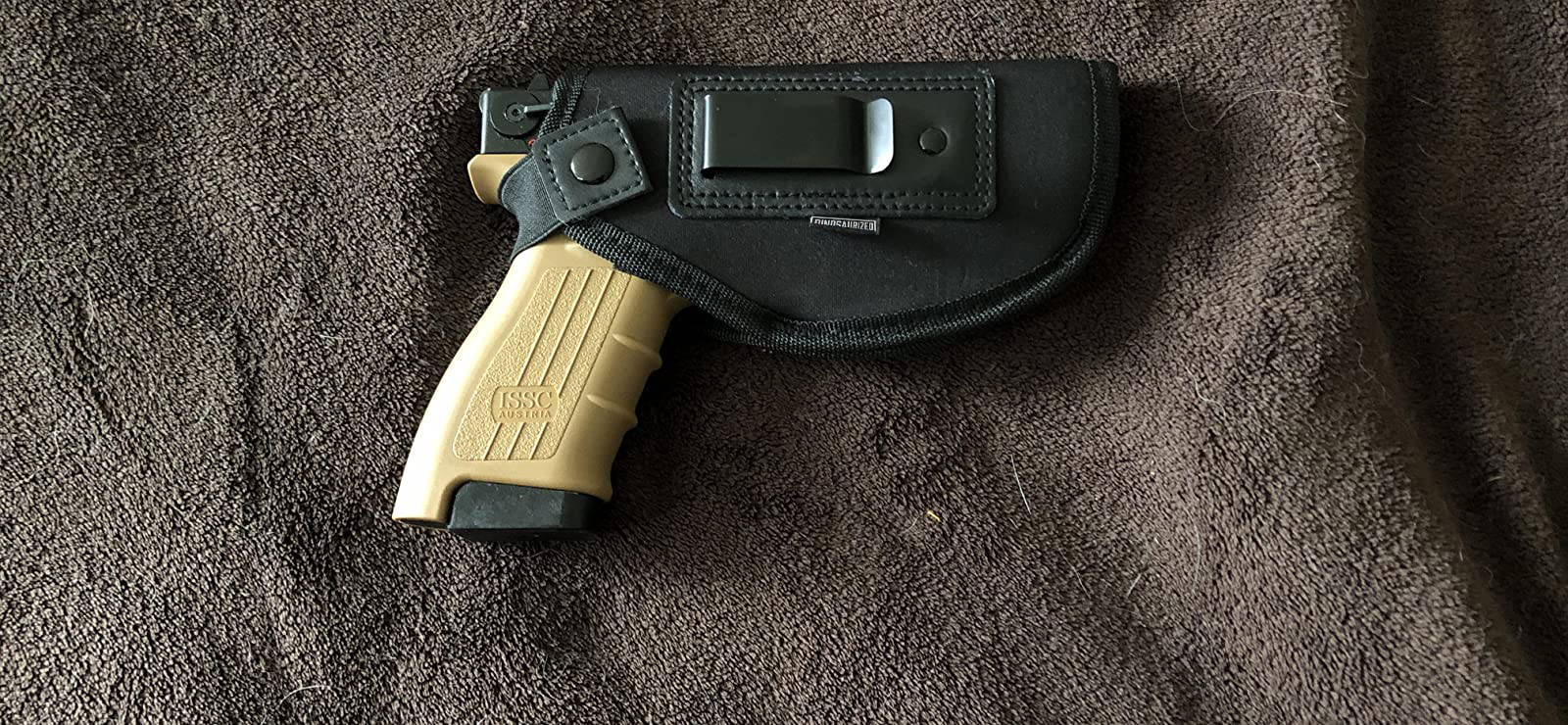 THE MOST BEGINNER-FRIENDLY HOLSTER
- ABC easy holster's amazingly versatile, adjustable and simplified design helps new gun owner who may join starters' firearm training courses don't have to buy different types of holsters for IWB, OWB or for different sizes of guns.

- The MOST common problem that many holster brands in America nowaday have is overcomplication. They add a lot of useless parts to their holsters to make it cooler, and sell them with much more higher price. The truth is, hulking, complicatedly-made holsters only brings you troubles, especially when you are a new gun owner. When you run, jump or crawl, those big holsters are gonna start to sag, impacting your speed. Also, carrying heavy holsters for a long time can damage your spine and posture.
- ABC easy holster, with zero unecessary parts (which are mostly added by other holster manufacturers just to make you pay more), makes sure you can carry and draw your gun safe and easily.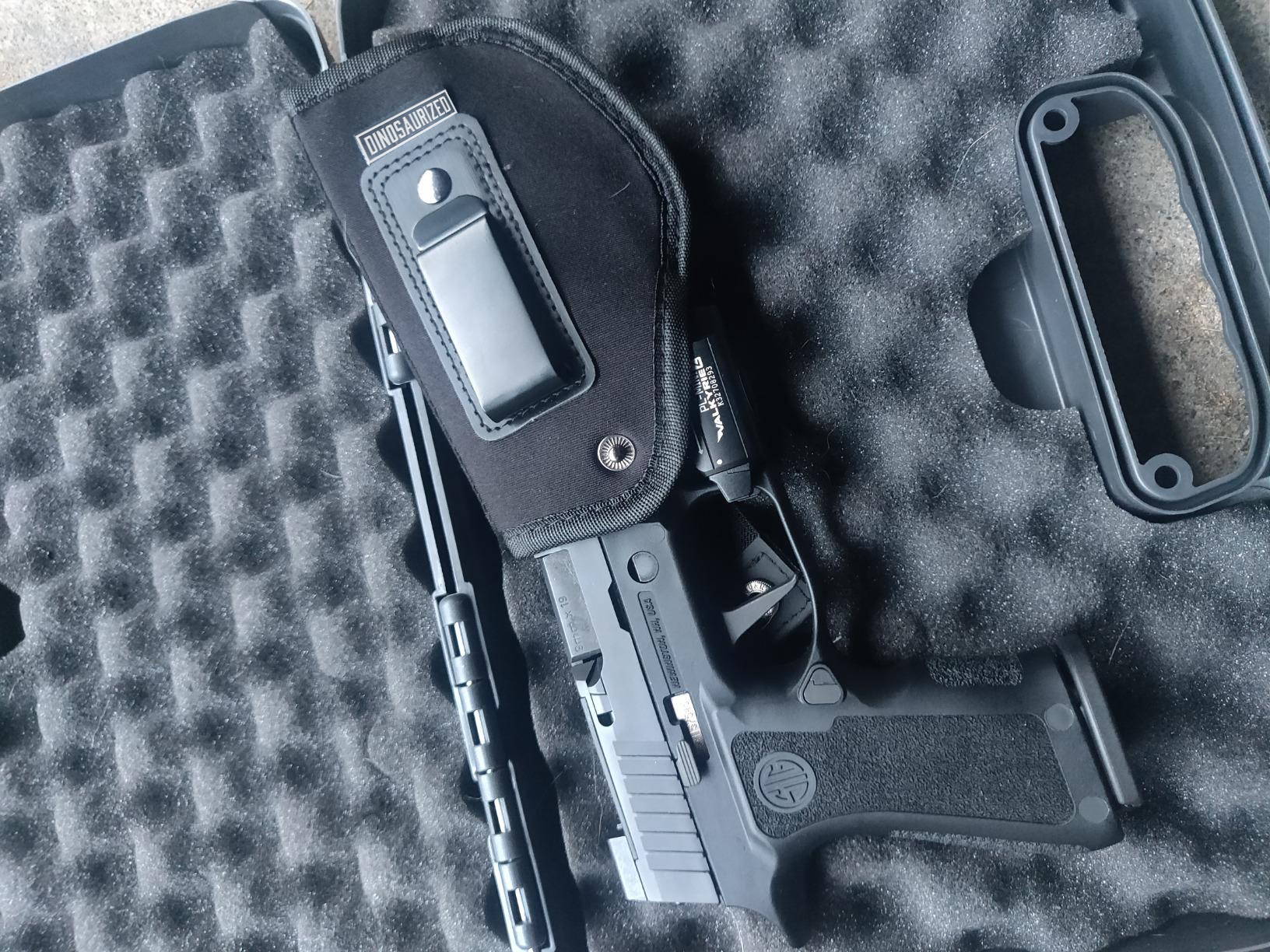 " This is a very nice holster. Especially considering the price. Has a quality feel to it even though it's a universal. Very comfortable. For storage or carry it's excellent. I have a crossbreed holster for my Glock 43x but sometimes I find myself using this one more. The mag carrier holds mags well and are also comfortable. I have a Glock 43x with a Streamlight TLR-6 laser/light, Glock19 Gen5 Mos and a Sig p320xc with an Olight PL-MINI 2 Valkyrie. (Note the light attachments will require you to cut some stitching as per the instructions included for proper fit). Lifetime warranty as well."
Oldmanrah- DC, Washington DC

ABC EASY HOLSTER HELPS YOU STAY 1000% PREPARED EVEN WHEN YOU'RE ON THE ROAD, WALKING YOUR DOG OR WATCHING TV. ABC EASY HOLSTER IS A PERFECT CHOICE FOR NEW GUN OWNERS: EASY TO USE, UNIVERSAL AND VERY LIGHTWEIGHT.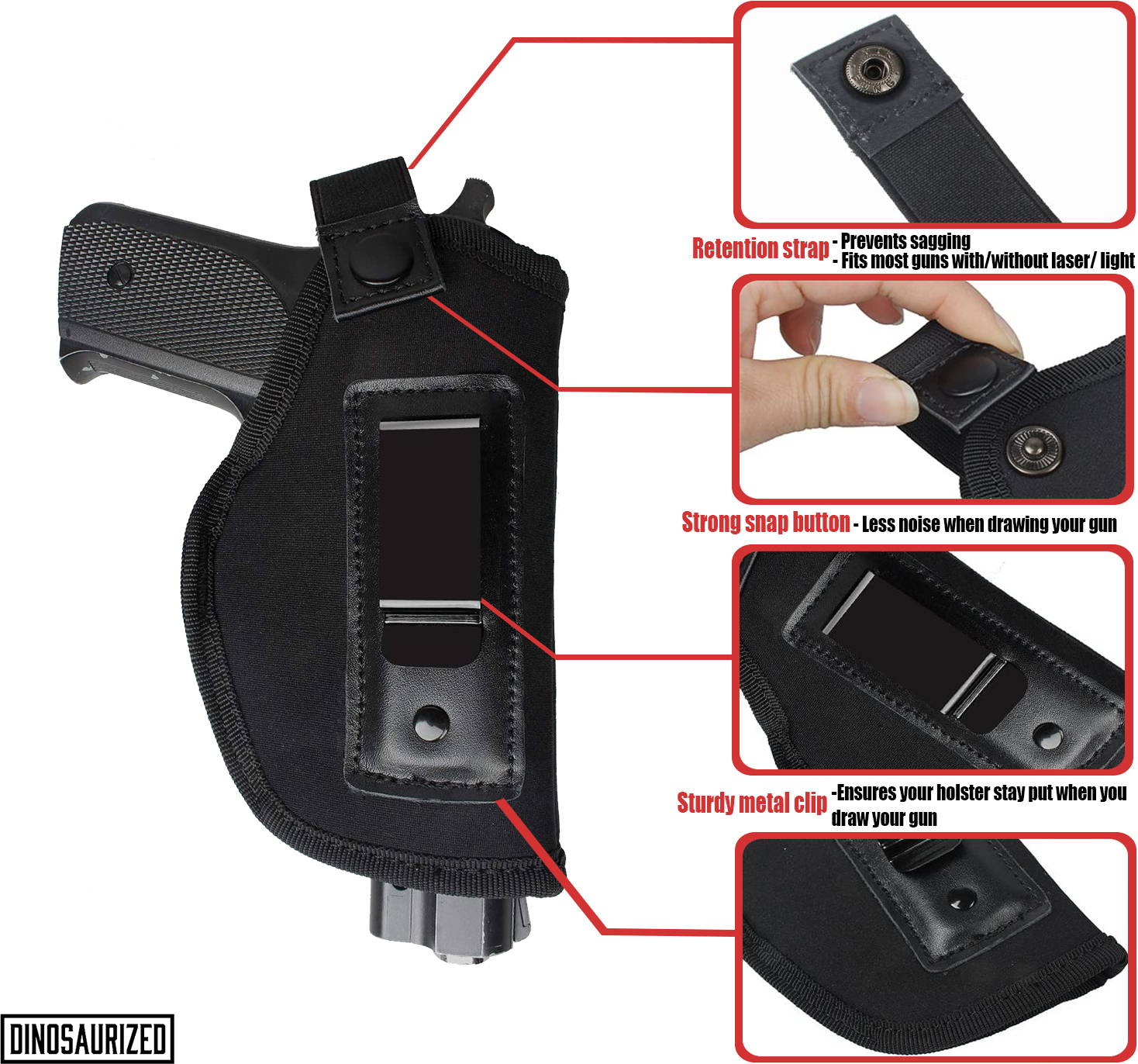 ⭐⭐⭐⭐⭐ 5-star reviews given by




TODAY ONLY: We're giving away 100 ABC easy holsters + FREESHIPPING for the first 100 customers:
Get yours now, first come first get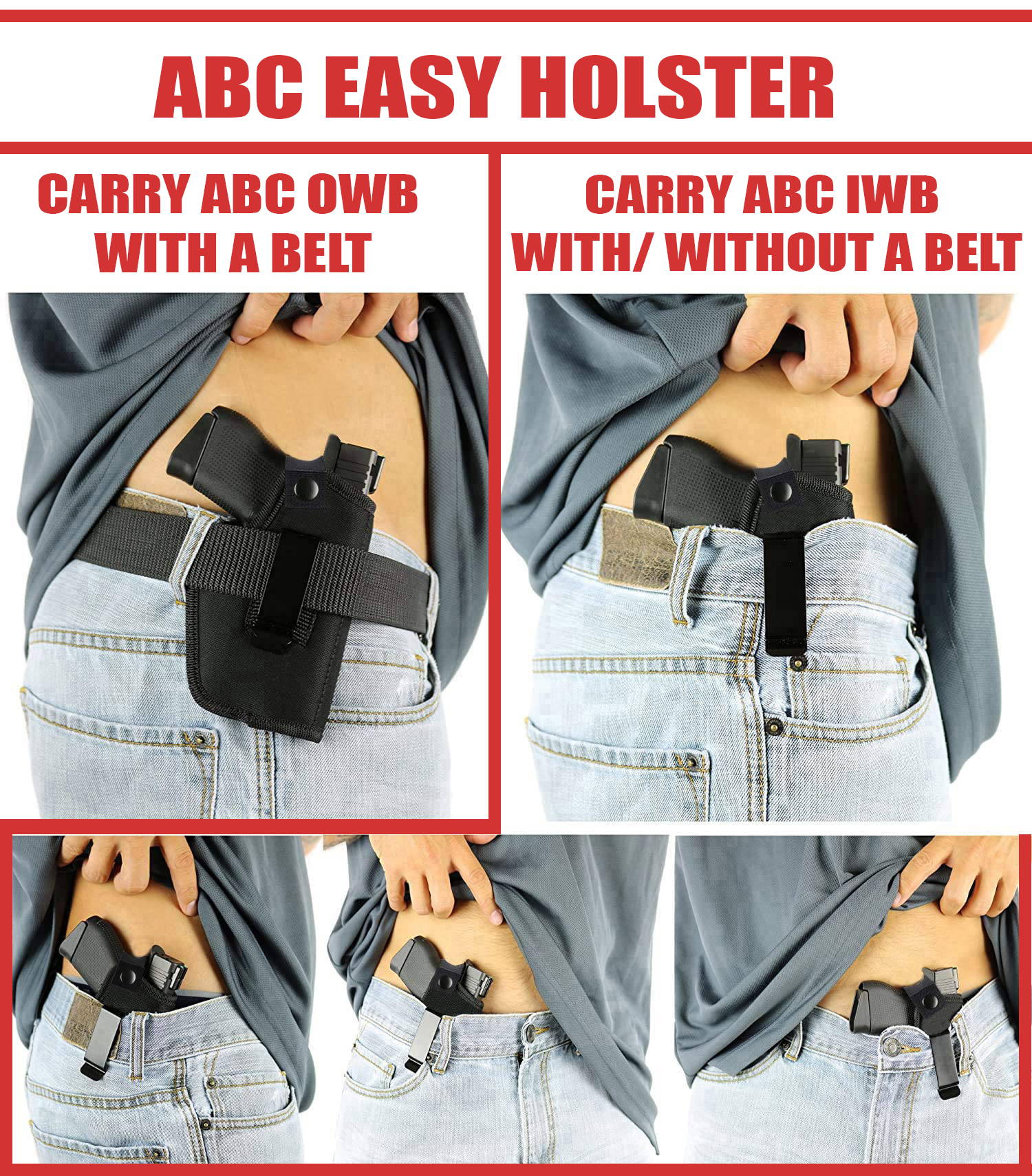 ✔️ Skin-friendly : Not like many other holsters, ABC easy holster's material is breathable so it won't make you sweat or come with bad smell.
✔️ Lightweight & basic design: You can carry your firearm you all day long without feeling bulky around your waist.
✔️ Sticky: Make sure you keep your gun secured even when your run or jump.
✔️ Removable Metal Clip: You can also remove the retention strap to remove the noise (when drawing your firearm), increase your draw speed or to fit the big-size guns.
✔️ One size fits all - works find even flashlight-mounted ones.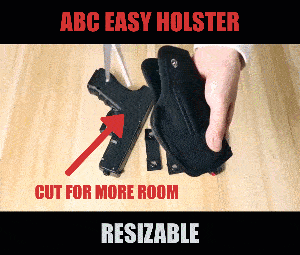 Fits all sizes of firearm? How?
ABC easy holster already perfectly fits most of firearm sizes, only a few SIG SAUER models may be considered exeptions that require a couple of stitches cut with a scissors to fit the trigger guard.
ABC EASY HOLSTERS ARE PERFECT FOR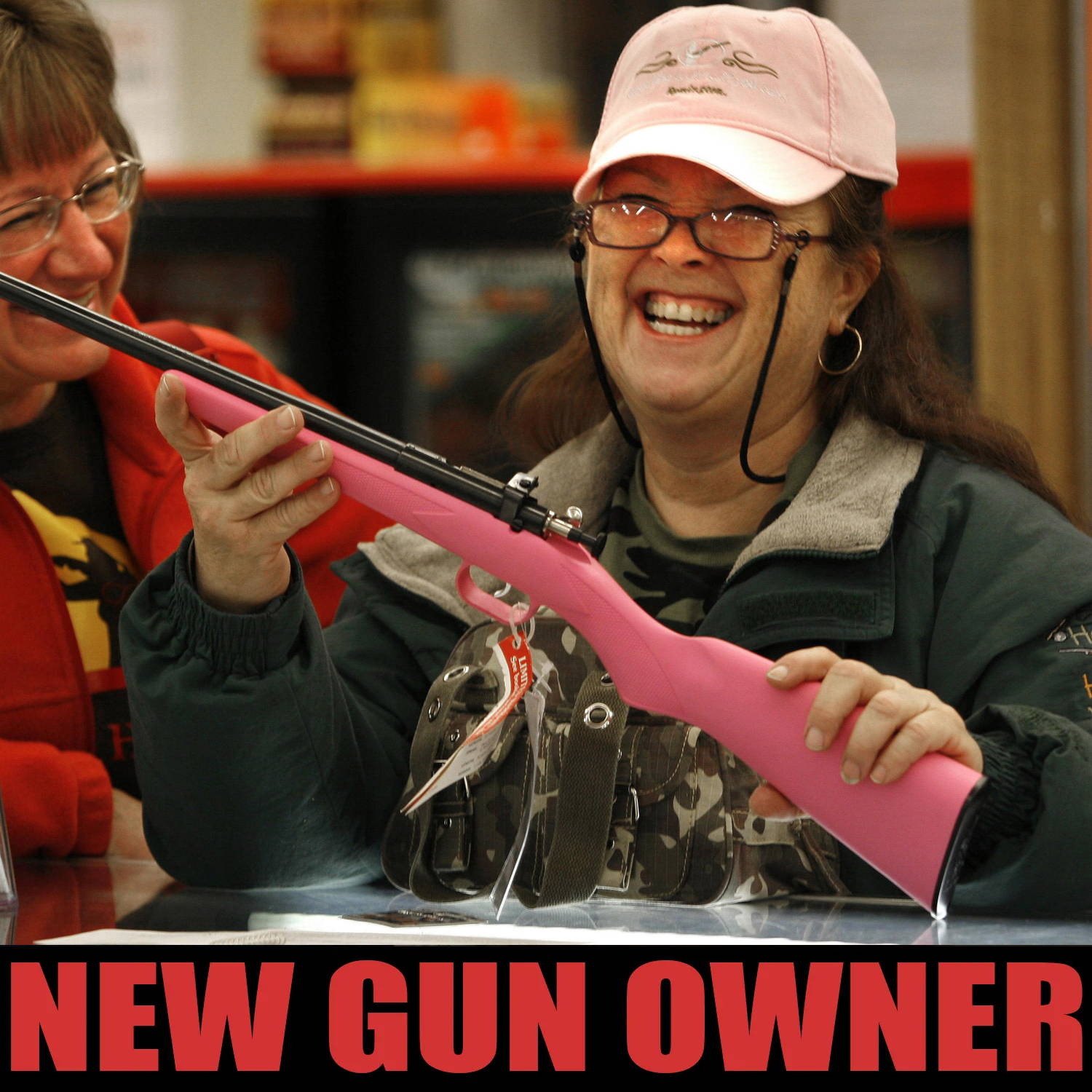 Before getting a $500-customized-holster for each of your gun it's best to start with an easy-to-use, lightweight, comfy and 1-size-fit-all holster like ABC EASY holster.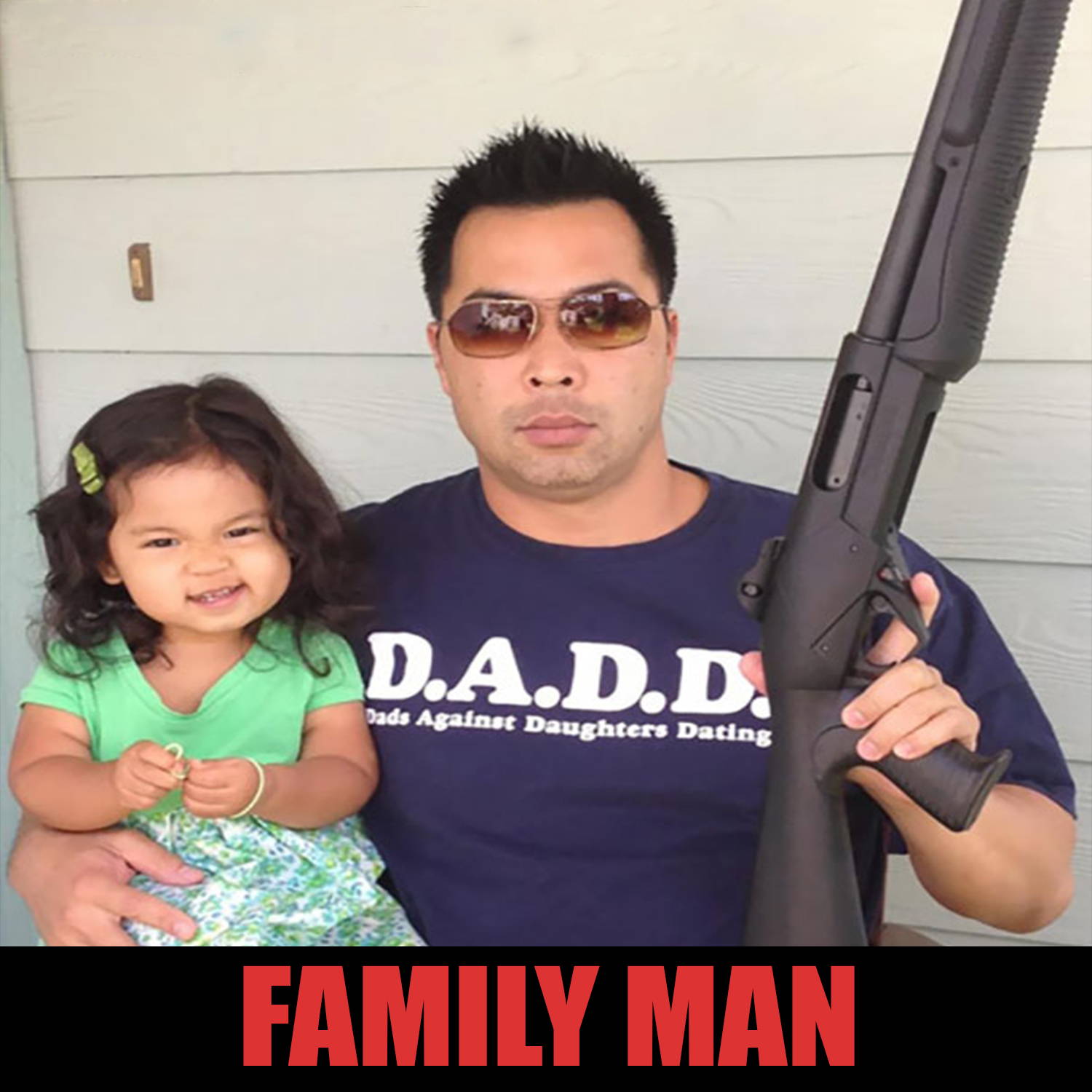 If you're a father/ a husband, of course you want to make sure your family be 100% protected & safe. You can comfortably carry ABC EASY holster all day without feeling anything. Even when you're home having dinner with your family or taking your kids to Granny's house. Being light weight and easy to draw, ABC EASY HOLSTER will provide you 100% comfort and 100% preparedness.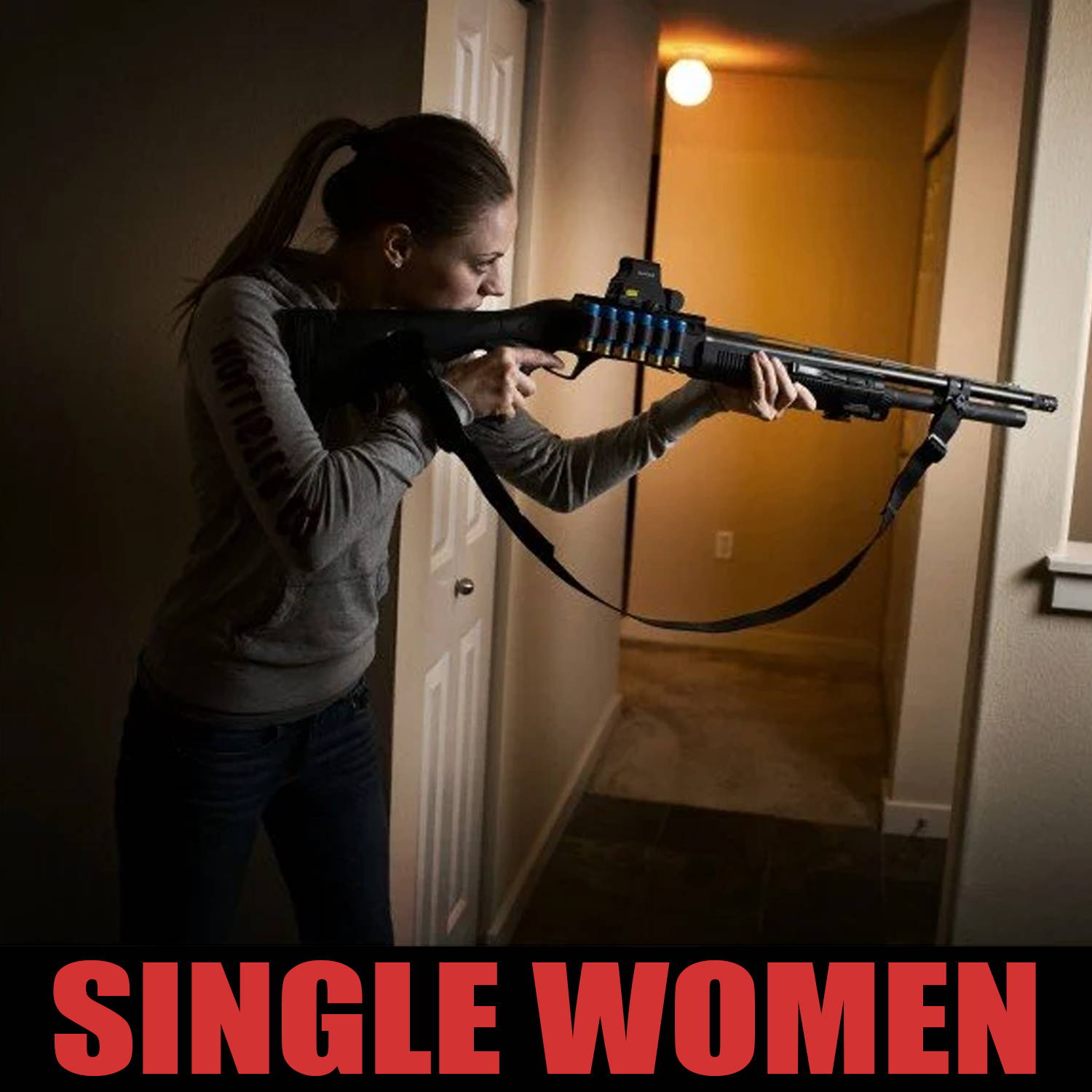 Staying prepared is never enough for single ladies, especially who live alone. ABC EASY
holster's light weight allows you to freely carry it all day even when you're walking home from a late night shift or waiting for friend in an unfriendly neighbourhood.
WHAT OUR CUSTOMERS SAY?
⭐️⭐️⭐️⭐️⭐️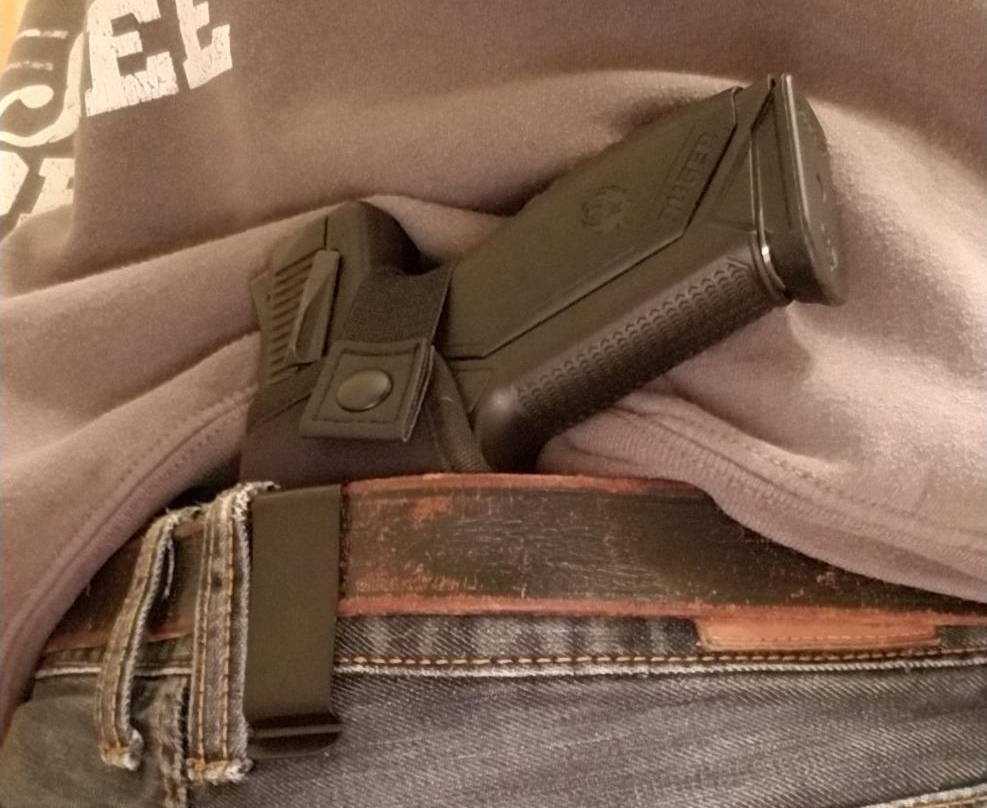 "I just want to take the time and write a review on this product. First and for most the I would like to say thank you for the expedited shipment. I did purchase both the right hand draw and the left hand draw because I like to wear either in my hip or the small of my back. I was a little nervous on fitment because I like to carry my ruger American 45 full-size and it has been really hard to find one that will fit. I'm currently wearing it on my back with no issues feels good and comfortable. Obviously I can't give a review on durability as of right now but I will write one in the near months. "
- Joseph , Mentor, Minnesota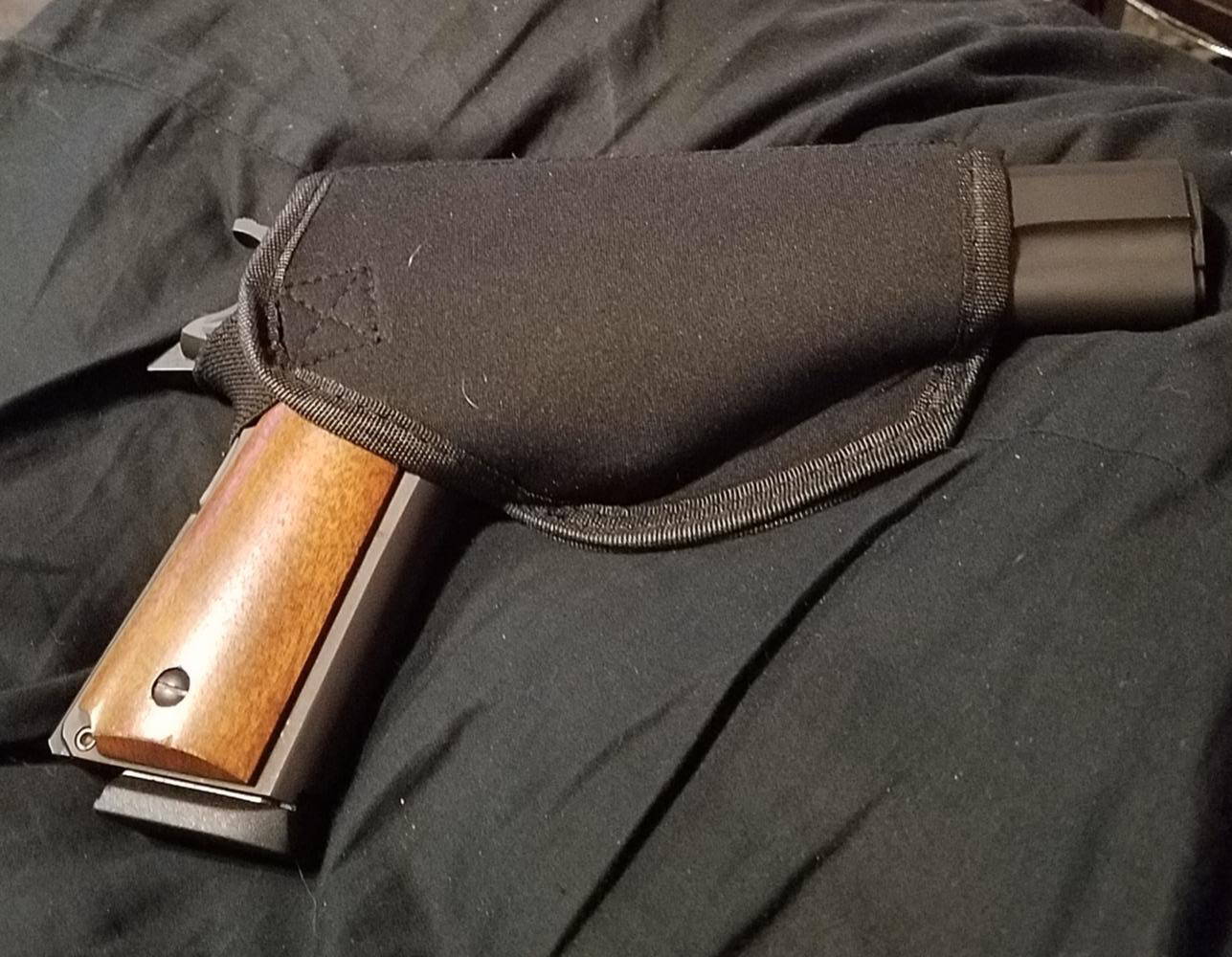 " The holster is fairly comfortable to wear it grips really well whether your wearing a belt or not on the waistband of pants the pictures I added my two handguns they both fit in it wonderfully ones for concealed carry the other is a full-size Rock Island 1911 the concealed carry is a Springfield XDS both are 45 APC the Springfield I have a small laser attached do the accessory rail which I have found it rather hard to find a holster that properly fits it with the laser attached it's really nice to have one that does I ordered two of these as I'm a fairly large man in a planned on carrying both guns at certain times I live in Alaska and I like to go for walks having a few extra rounds might not be a bad thing but would prefer to courage under to reduce some people from feeling uneasy thank you it seems like a wonderful product when the right-hand draw one comes in I might see what I can find someone to take picture of both of them in place being worn the way the 1911 rests really well. "

- Jim G., Malboro, MA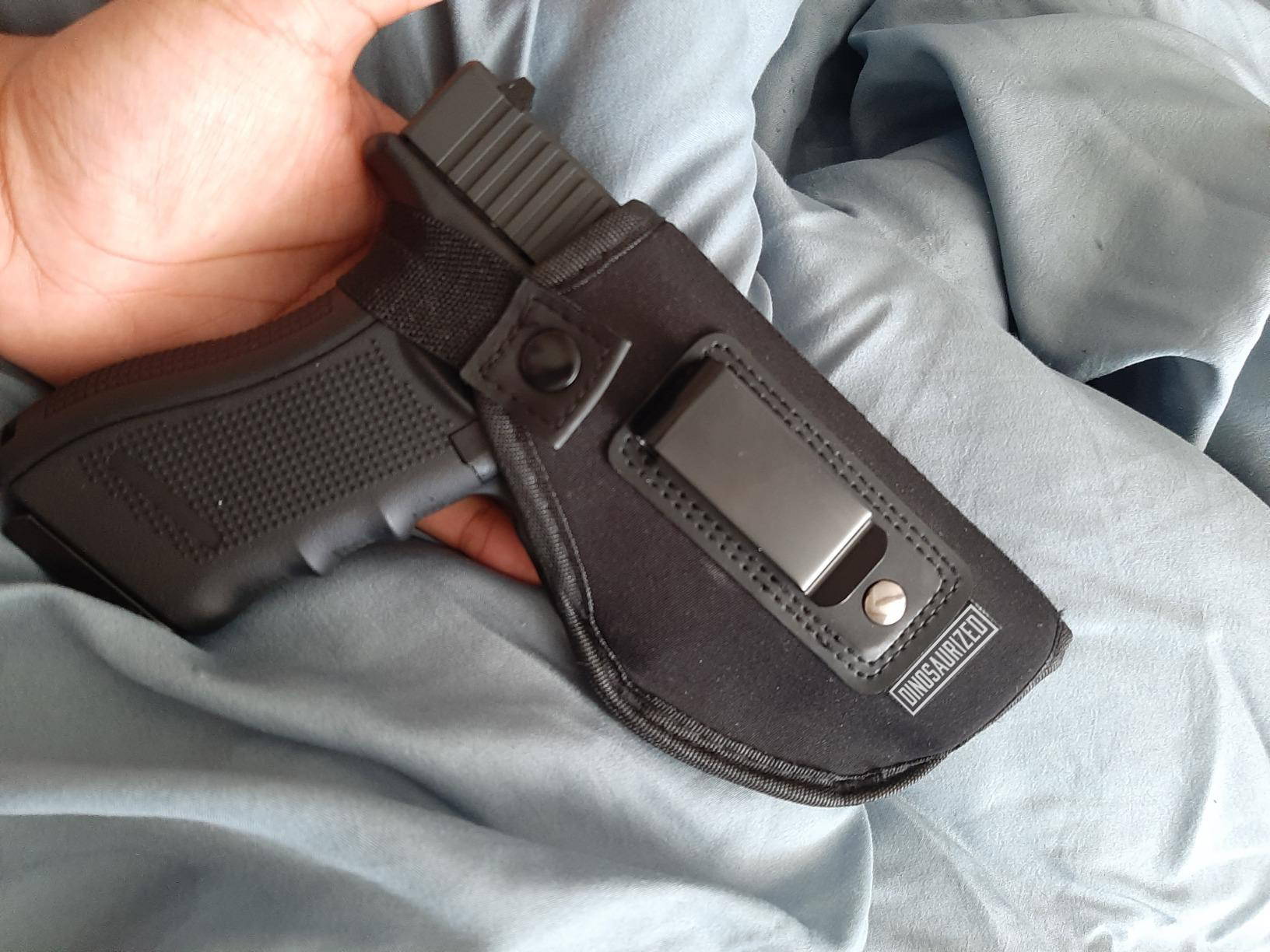 "It fits my G17 pretty well and the material is extremely comfortable. If you're used to carrying a holstered sidearm, you wont even notice its there. ."
Rashidi S.., Roanoke, Virginia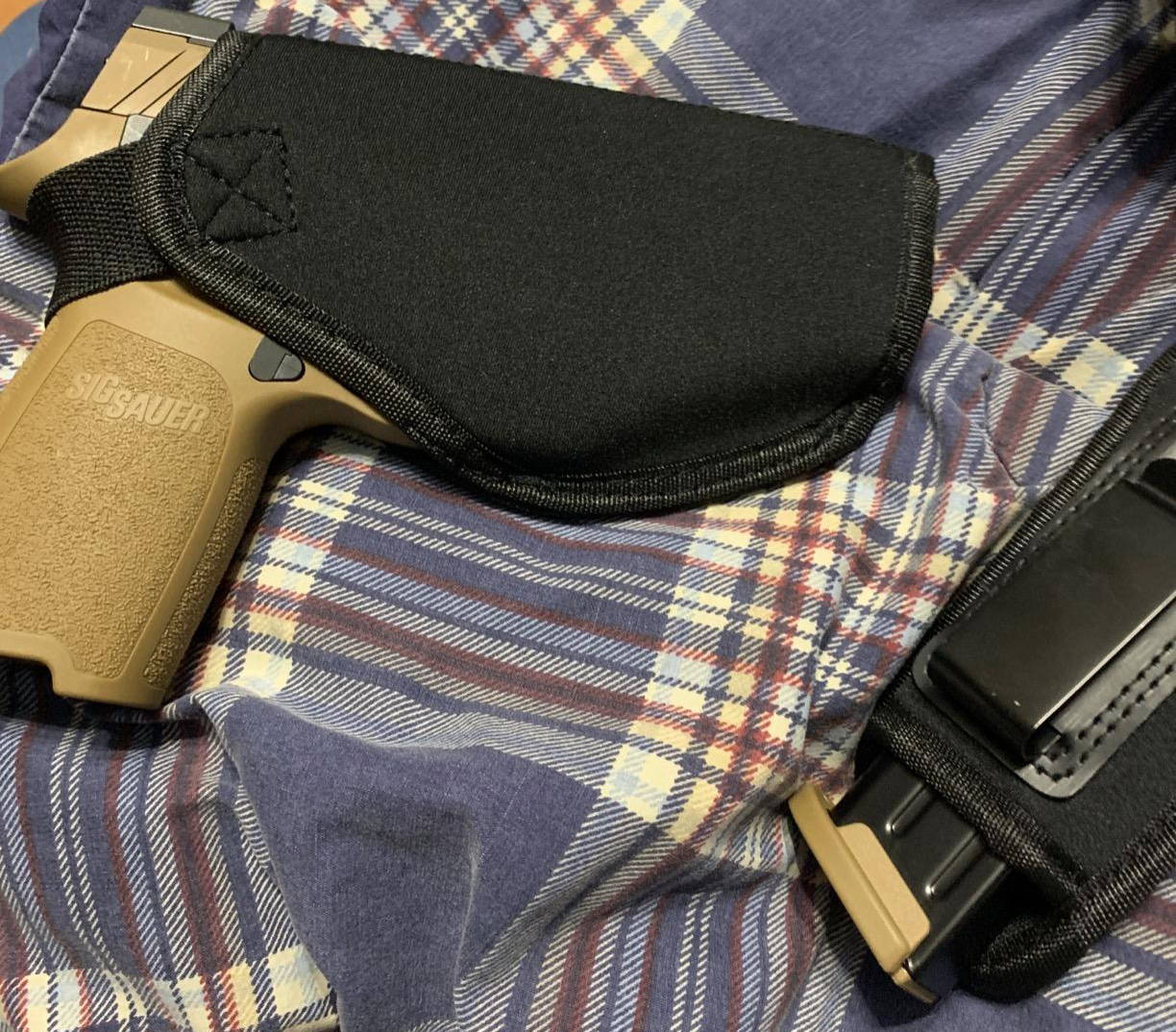 " Fits my sig P320 M18! Had to cut the recommended stitches for it to fit but other than that, really great product! "
Jude Rodriguez., Turnertown, TX

ONE-SIZE-FIT-ALL DESIGN: ABC EASY HOLSTER'S ADJUSTABILITY SIMPLY ALLOWS ITSELF TO WORK WITH ALL SIZES OF HANDGUNS.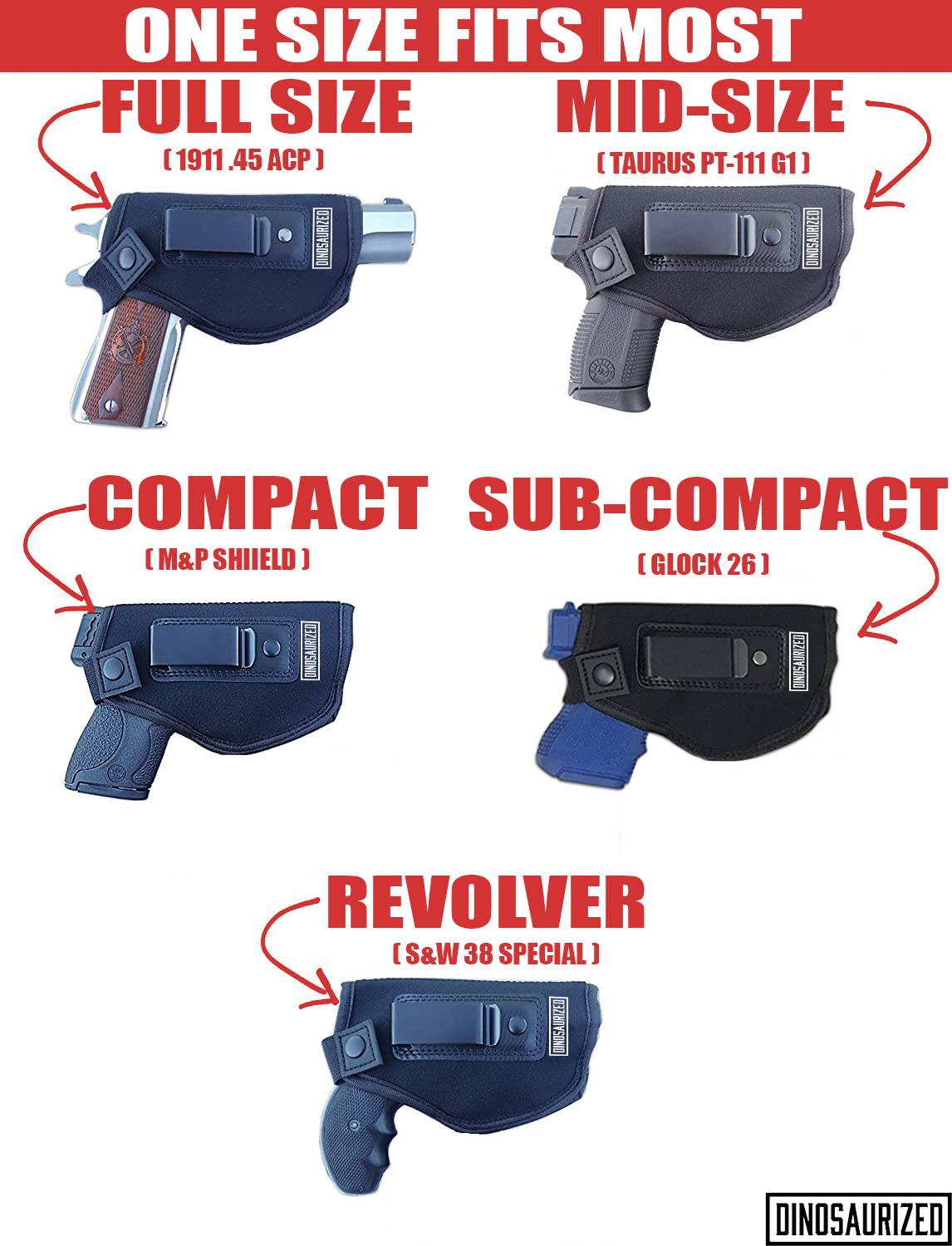 If you have any requirements, please email support@dinosaurized.com or send us message on https://www.facebook.com/dinosaurizedstore.

*The gun, mags & knives are not included, we only sell the holsters.
SATISFACTION GUARANTEED, EASY REFUNDS, AND 30 DAYS MONEY BACK GUARANTEE
- At Dinosaurized, we believe our products are truly innovative and have 100% confidence in it. We understand that buying things online can be scary with companies not staying true to their customers so we go the extend to keep you satisfied.
- If you bought it and feel that it is not for you, don't worry. Just shoot us a message at support@dinosaurized.com and we will make it right by offering you a replacement or refund. 100% Simple & Risk-Free process.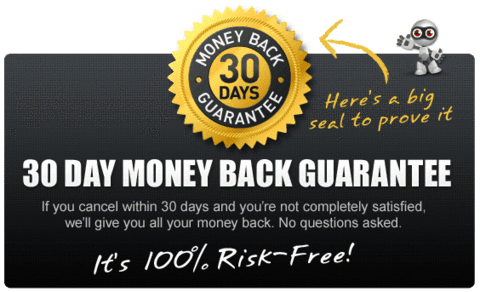 5% OFF code offer: "march29th", thank you all the men and women who served our country. We are grateful for your service. Just apply the code in checkout and claim your 5% OFF.
Shipping

(US customers only) Standard shipping time is 8-14 days to ship and arrive.
All packages are seriously & strictly sterilized before being sent.
For Non-US customers, shipping time may vary from 10-20 Business days.

We'll immediately upload your tracking code to Paypal after the shipment, it may take 3-4 days to be activated.
Wash
You can hand wash your holster in warm soapy water by soaking it and working it with your hands. Then thoroughly rinse under cold water and hang to dry. Do not machine wash or dry. Remember: Do not machine wash or dry.

Refunds
If for whatever reason, you are not satisfied with our products and want to return it/them , you can easily and quickly contact our helpful customer support (support@dinosaurized.com) to get an easy refund. Just make sure you send the product back to our warehouse!
© Dinosaurized. All rights reserved.