Have Questions?
Email us
support@dinosaurized.com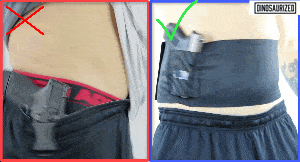 FINDING AN ULTIMATE UNIVERSAL HOLSTER?
A combination of protection and mobility: Dragon Belly Holster is the answer for you!
Tough & comfortable: Made from non-smell, lightweight, durable synthetic materials, these gloves fits your belly as another layer second skin.
Tactical & practical: 100% concealed, sticky and quick-drawing, Dragon Belly Holster is made to solve over 7 problems gun users usually have. Let's check it out.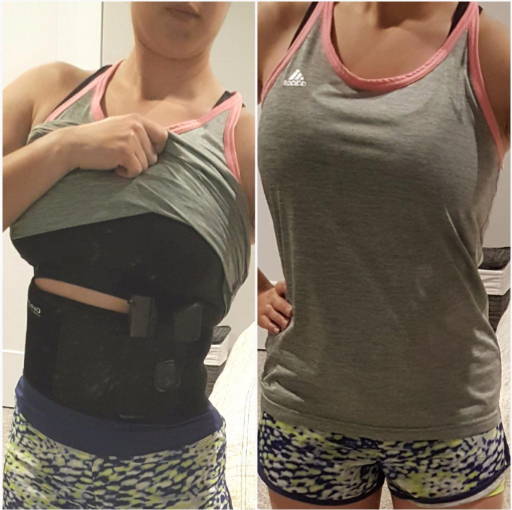 Many other holster brands claim that their holsters can be easily concealed. The truth is, they only work when you stand still.
If you move, those bulky holster will get saggy and start swinging, and you may get yourself into dangerous situations if criminals or robbers notice that you're armed.
So if you're going to be armed in public, make sure that your "stuffs" are 100% concealed & sticky. Because when situations take place, you may have to run, hide or jump.
Dragon Belly Holster is the most sticky and concealed holster, it's a strictly tightened plastic band covering your belly, hip or chest or wherever you want.
It spreads the guns' weight so ladies and gents can carry it without feeling heavy or uncormfortable.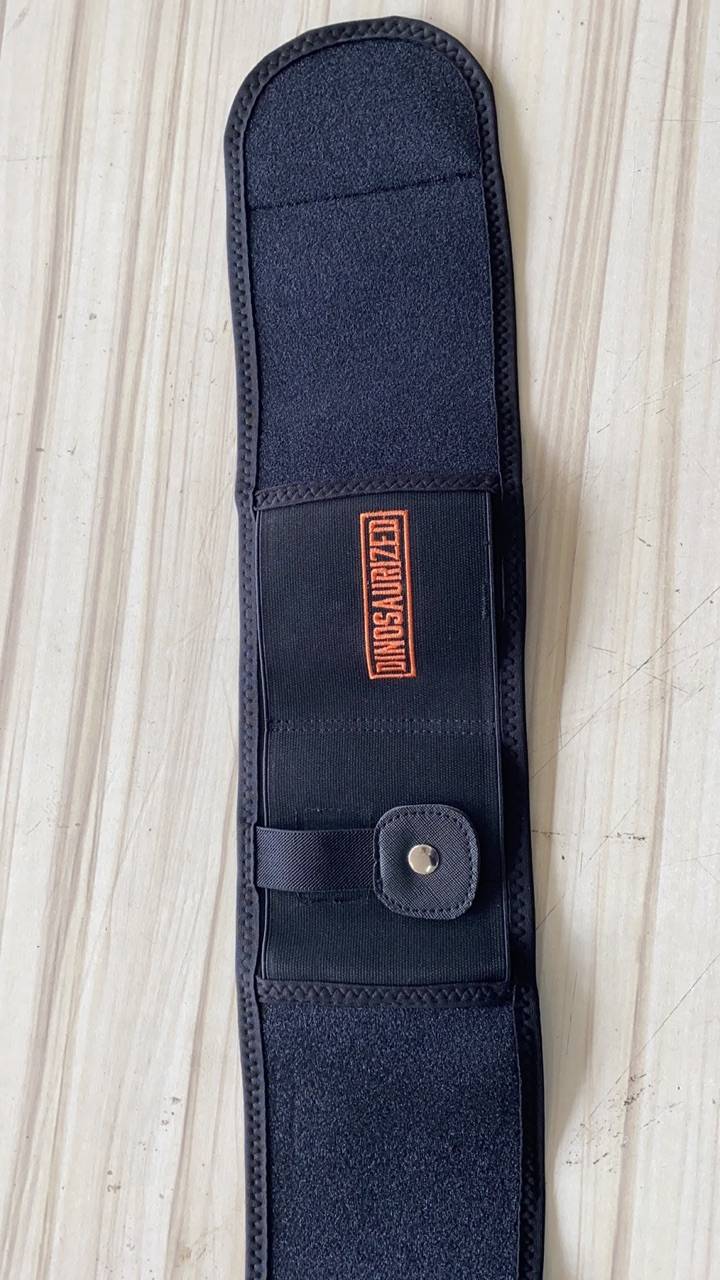 Many people love using leather holster simply because it "looks great". Yes, but it smells terrible, especially with folks who have to carry it all day. Leather fully absorbs all of our body scent, road smell, pets' "perfume", and there's no way you can remove them.
Neoprene- Dragon Belly Holster is made from 100% smell-resistant, washable & breathable materials, which also allow you to wash and remove all dust & bacteria from it.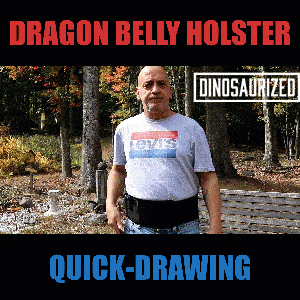 Dragon Belly Holster was designed to make sure it saves every single millisecond a gun user has when he/she draws his/her gun:
*New - Removable Retention Strap (detailed info below): This strap creats no noise, and you can remove it to shorten the draw time.
Flexible: You can place your holster/gun on any parts of your body from which you can draw your gun as fast as you can.
Soft and easy material: Neoprene allows your draw to be completely smooth.

Good for ladies: The Dragon Belly's spreading design helps ladies, especially ones who carry it all day, feel less heavy (in the leg, or chest), giving them more chance to pull the gun out faster.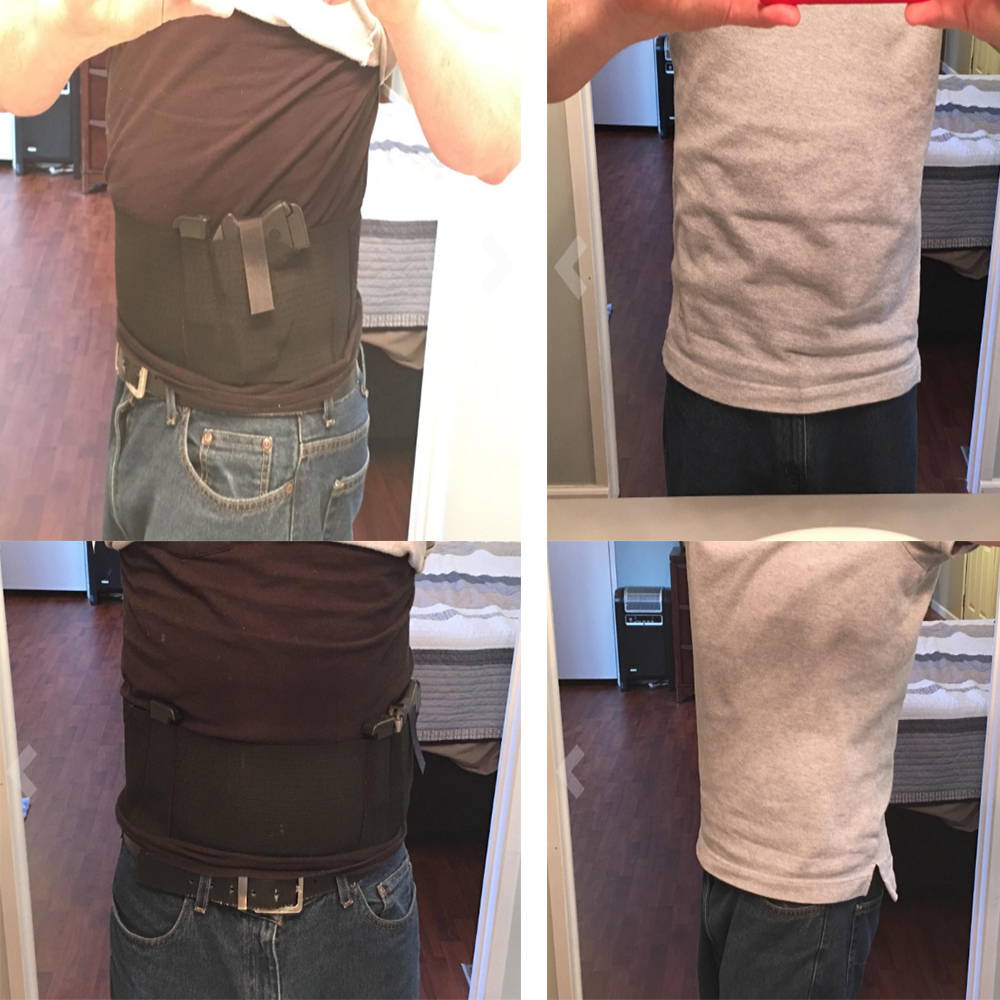 "I have tried 15 or more holsters and have never found one that was just right. I have carried for years in my front pocket because ankle holsters, inside your belt holsters, fake cell phone case,and all the others did not work well for me. The problem with caring in my pocket was no matter which case I used you could still see an outline of the gun. I saw this holster and was very skeptical that it would fit my needs especially for the price! I have to admit I was very wrong. The holster is very comfortable although it can be a little warm, it fits my Ruger LCP and S and W bodyguard very well along with extended magazines. The holster conceals super well (see my photos) I would say this is a definite buy! On top of me liking this holster tremendously the shipping was exceptionally fast and I received it within a couple of days. I don't normally write reviews on Dinosaurized but this holster was worth it! "

- Joseph , Northbrook, Illinois.

IT'S NOT JUST A HOLSTER, IT'S A UNIVERSAL 5-IN-1 ONE THAT
CAN CARRY DIFFERENT SIZES OF PISTOL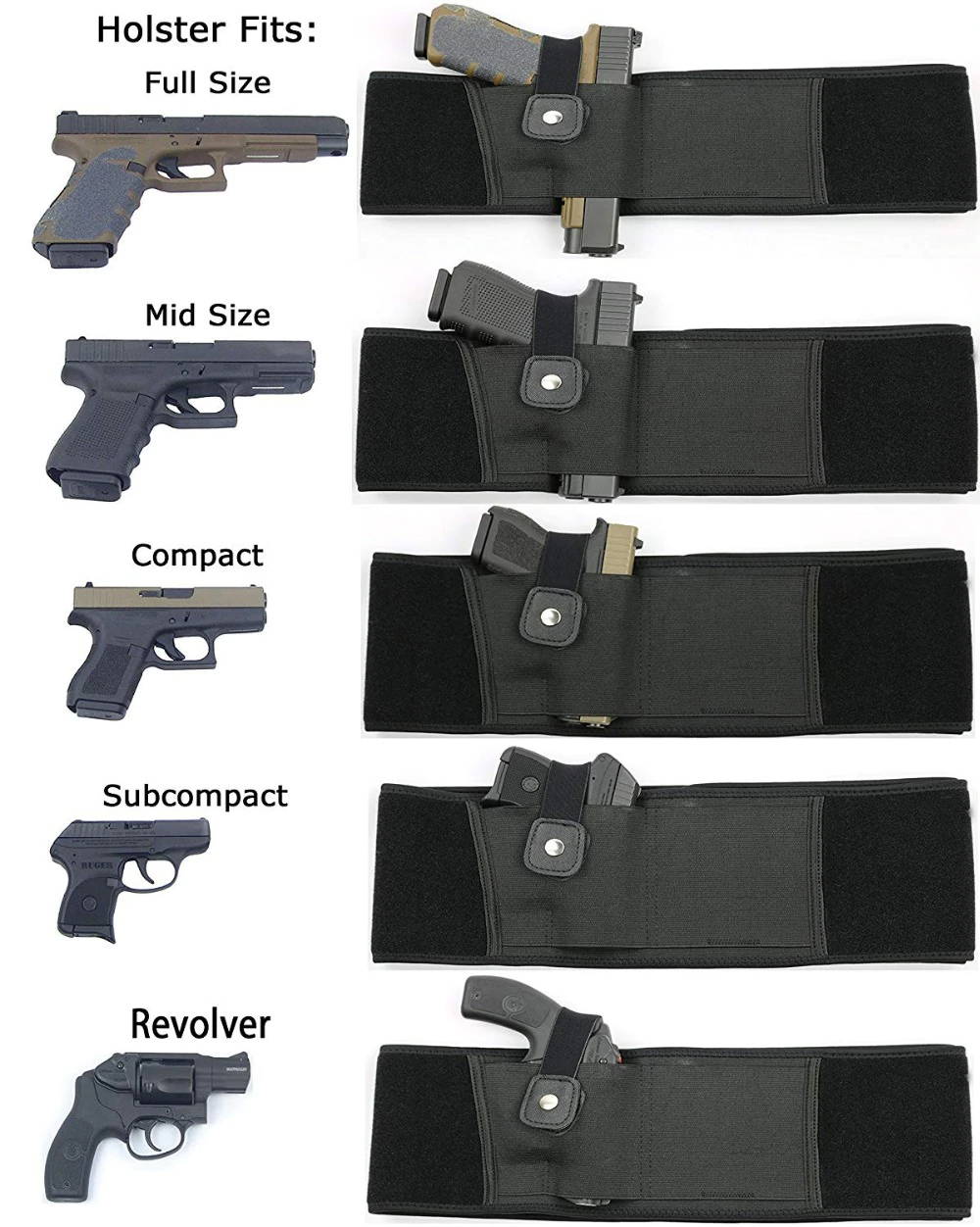 IT WAS ALSO DESIGNED TO HELP YOU CARRY WEAPONS ON DIFFERENT PARTS OF YOUR BODY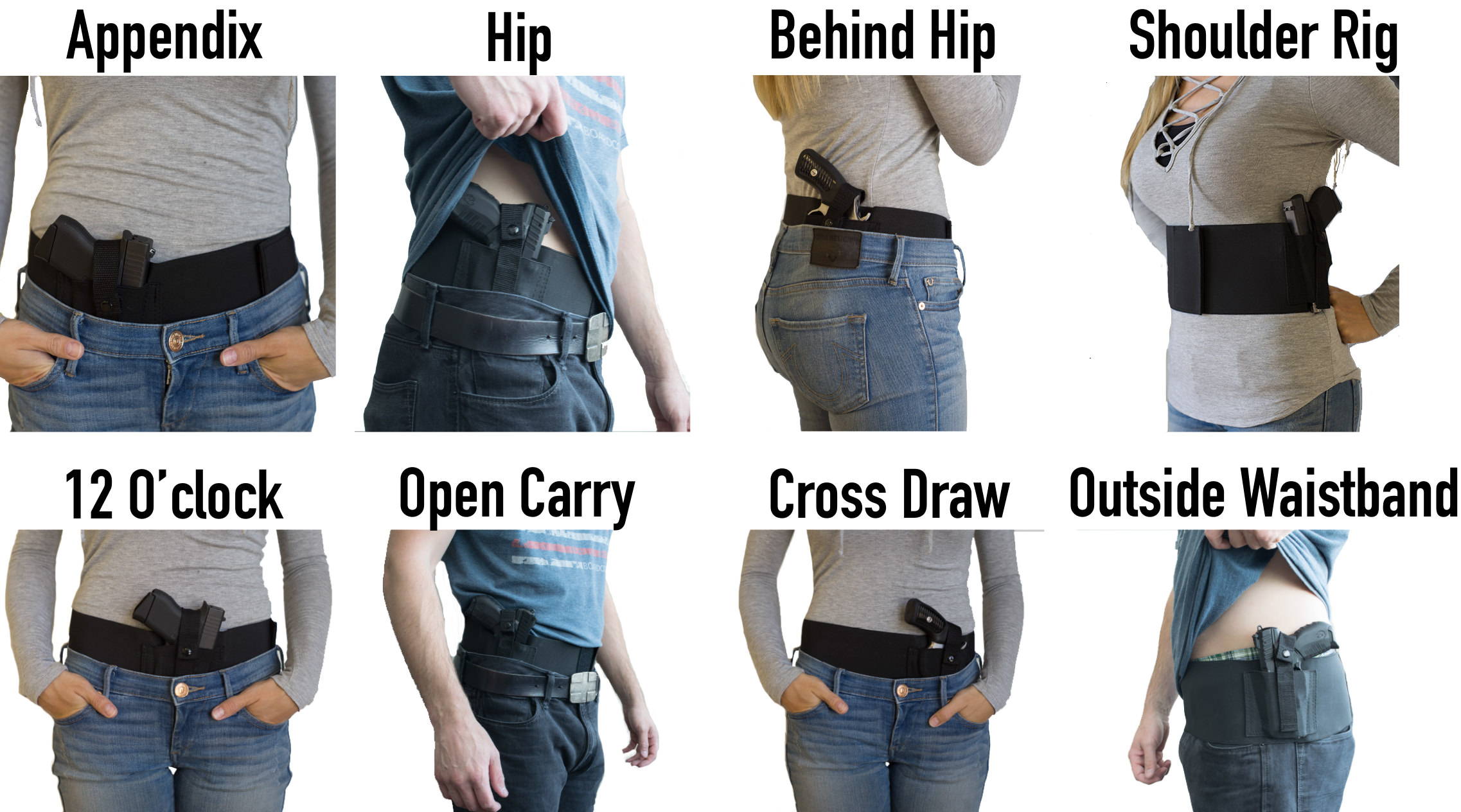 ⭐⭐⭐⭐⭐ 5-star reviews given by




TODAY ONLY: We're giving away 100 DRAGON BELLY HOLSTERS + FREESHIPPING
for the first 100 customers:
Get yours now, first come first get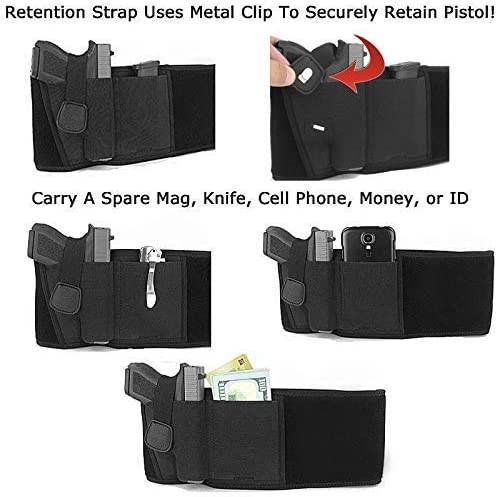 Why buy Dragon Belly Holster?
✔️ Sticky: 100% sticky to your body, 100% concealable.

✔️ Breathable: Give you comfort, especially for all-day gun carrier.

✔️ Unisex: Fits women & man.
✔️ All-clothing-friendly With the Dragon holster you can wear sweat pants, gym shorts, loose fit jeans, under a dress, skirt, yoga pants, etc.
✔️ Works for Right & Left Draws.
✔️Universal Surgical grade elastic holster fits small subcompact, compact, and even full size pistols and revolvers. All 380, 9mm, 40 auto, 45 ACP, 38 special, 357, and 10mm etc.
✔️ Flexible: Can be worn inside the waistband, outside the waistband, cross body, appendix position, 5 O'clock position (behind hip), small of back, and even high up like a shoulder holster.
✔️ No-smell: Doesn't absorb smell, and be washable.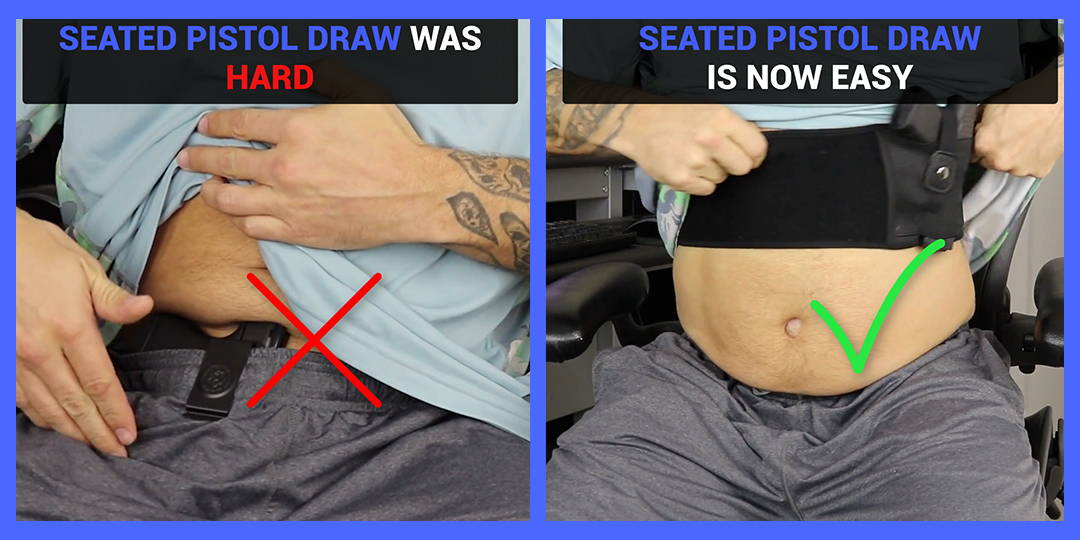 GOOD NEWS: SEATED GUN DRAW
Seated gun drawing (with other holsters) is pretty uncomfortable & awkward, gun owners once had to train a lot to "master" In-Vehicle/ seated draw skill.
Now you can easily draw your weapon with Dragon Holster, just wear it on your chest or your belly, and even when you're sitting in your office or in your car, you're still 100% prepared.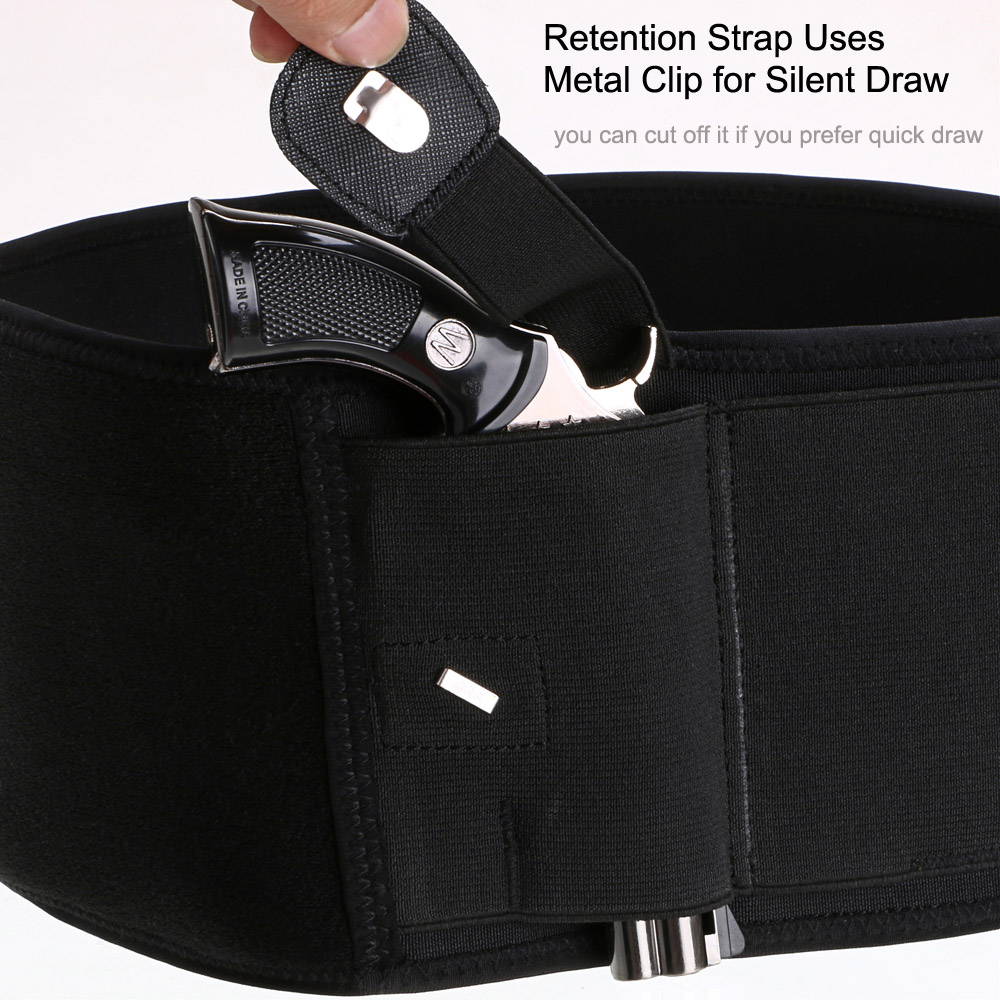 3/2/2020: NEW FEATURE : RETENTION STRAP - LESS
NOISE + MORE TIME
A brilliant idea given by customer Abe Beatty from Pretty Prairie, KS. Many other holster brands (including us, once) usually use metal button or velcro to keep the weapons secured. However, it creats noise when you draw the gun.
This new retention strap, as experimented by ourselves, can give you at least 3 seconds before anyone can notice that you've already drawn your gun. And in emergency, this amount of time is crucial.
You can also cut it off if you want a quicker draw.
DRAGON BELLY HOLSTERS ARE PERFECT FOR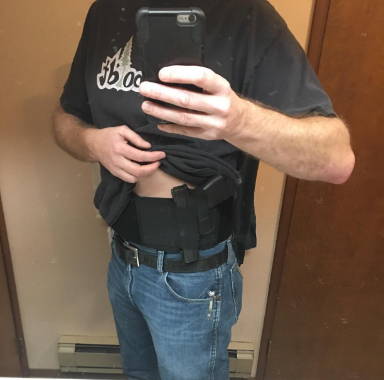 When you're a guy who may have kind of 20 pistols, and of course, you don't want to buy one holster for each of yours.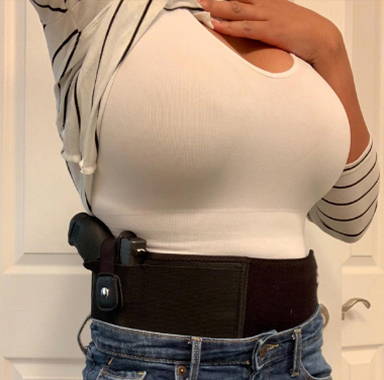 When you're a lady, you have a lot different types of clothes which are mostly not suitable for other holsters.
You want a comfortable & breathable-but-still-working holster.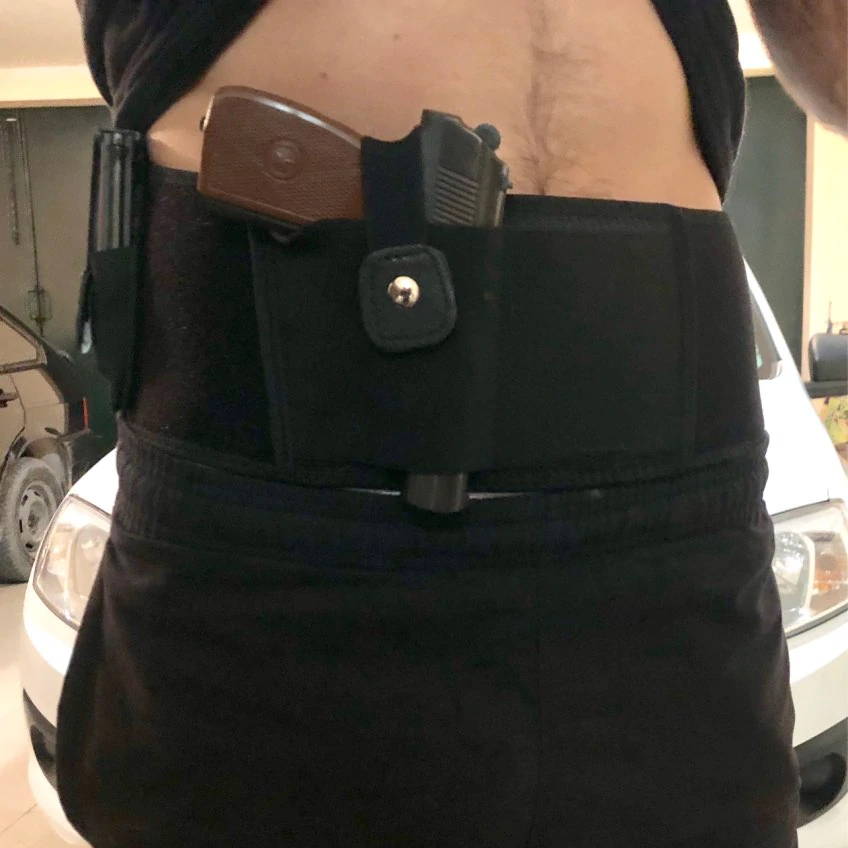 When you're a hard-working folk who's on the road all the time, and you want to stay prepared. At least, when things take place, you don't want to be noticed that you're already armed.
WHAT OUR CUSTOMERS SAY?
⭐️⭐️⭐️⭐️⭐️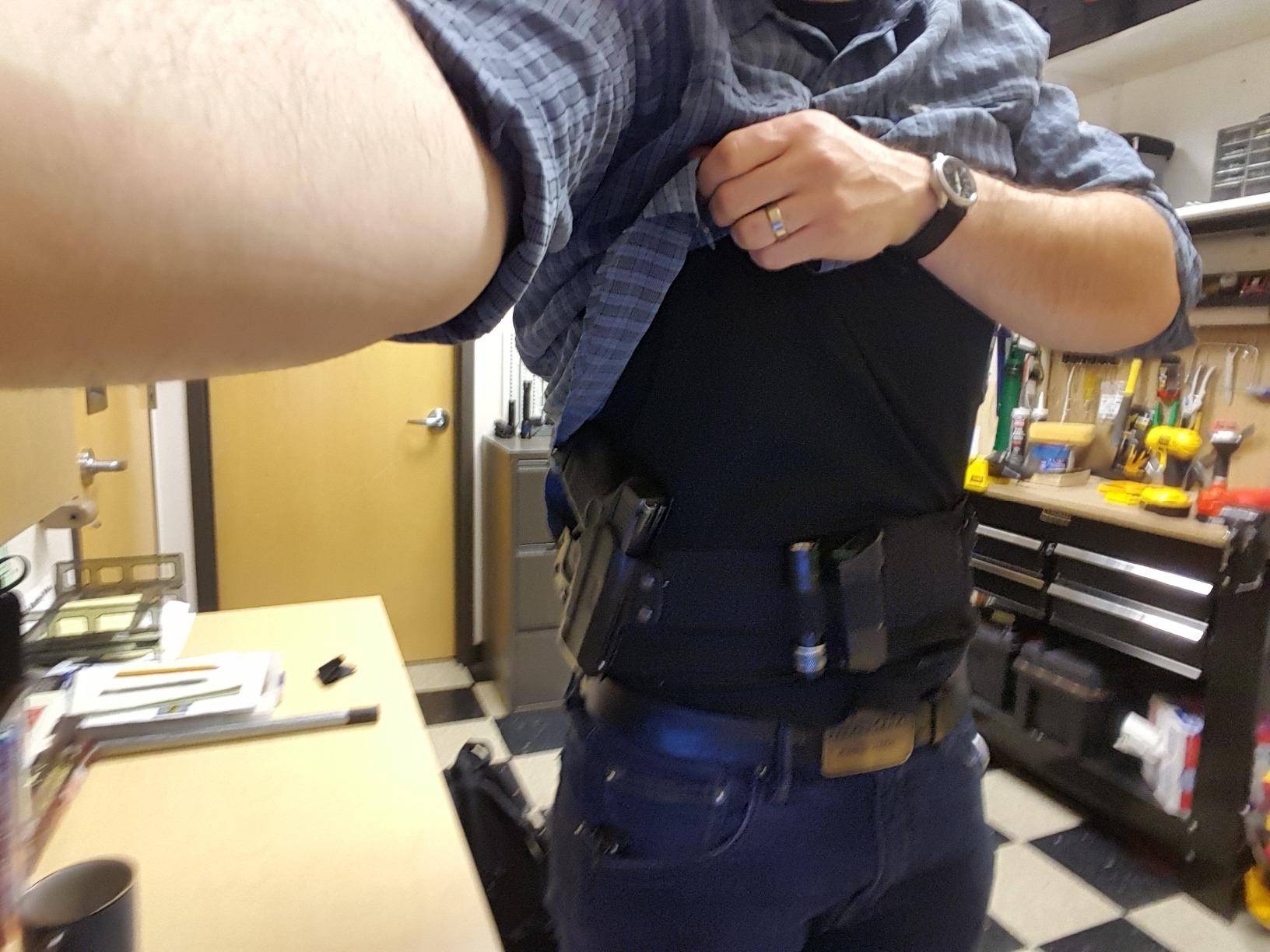 I ordered three deferent belly band holsters because I have to carry my Glock 26 concealed for work. So whatever holster I ended up with I would be wearing for about 12 hours a day 5 days a week. I have a gut and no butt so belt (inside or out) holsters aren't great for me. The most expressive band I got was from Falco for over $70. This Dragon belly band from Dinosaurized was by far the cheapest. It's also the only one I use. It's comfortable and pretty breathable. It does get hot but all belly bands do, to some degree. I just got used to it. I do maintenance and security work. Meaning I wear this thing while I do a good bit of construction and manual labor, and it does great. All that being said, the band looks nothing like it did when I first got it. It has been almost of year of constant use and I have customized it a lot. I carry cuffs in the extra holster and an extra mag and flashlight in the two loops. I have bolted a retention holster to it, but before I did that the regular cloth holster worked great. At this price you can afford to experiment. A guy I have worked with for over a year was shocked when I mentioned that I carried at work, so that tells you how well it conceals. I will include some pictures to show what I did. Honestly I love this thing. If I get a year out of I will consider myself lucky, so I'm thinking of ordering a few. I mean it's under $50 so yeah the sticking isn't amazing, but I believe any holster worn and used like I do wouldn't last that long. Anyway if you're even the littlest bit curious about the belly band idea, get this one!
- Ron Swanson, El Toro, California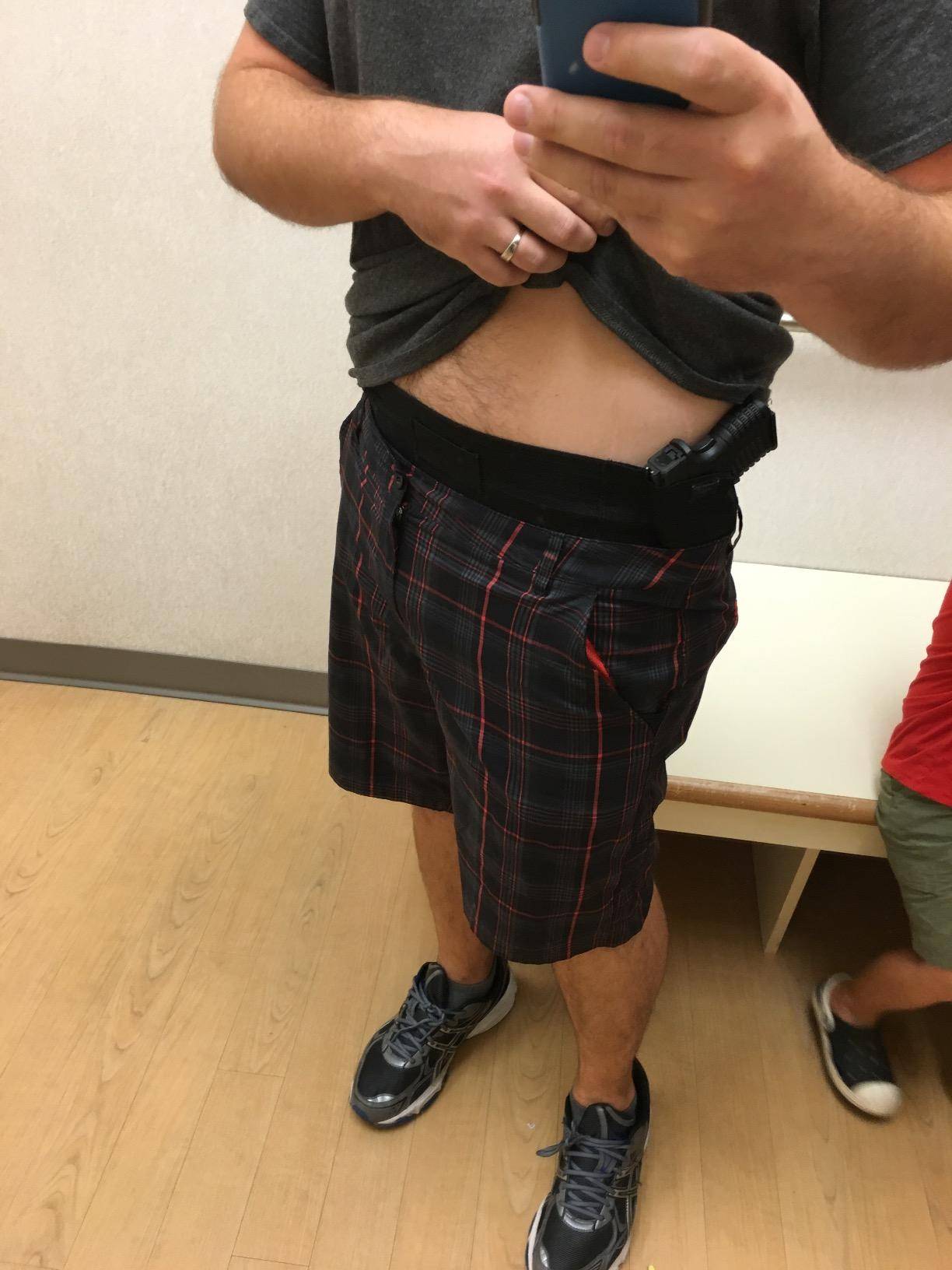 "I love this band. I use this to carry every day. It is very comfortable and I can wear it with everything: sport shorts, dress pants, scrubs, shorts, and pants. I wear it on the hip and usually deeper conceal my Springfield xds. The extra magazine holders are crap so don't count on them. I cut off the tabs on the holster that go around the gun for faster drawling and comfort.If you wear it lower it feels like an extension of my boxers and does not bother me.I have a leather IWB holster and also a pocket holster and this one is by far my favorite mainly because it does not pull on my pants at all, I don't even have to wear a belt."

- Kevin Henrichsen, Northampton, Pennsylvania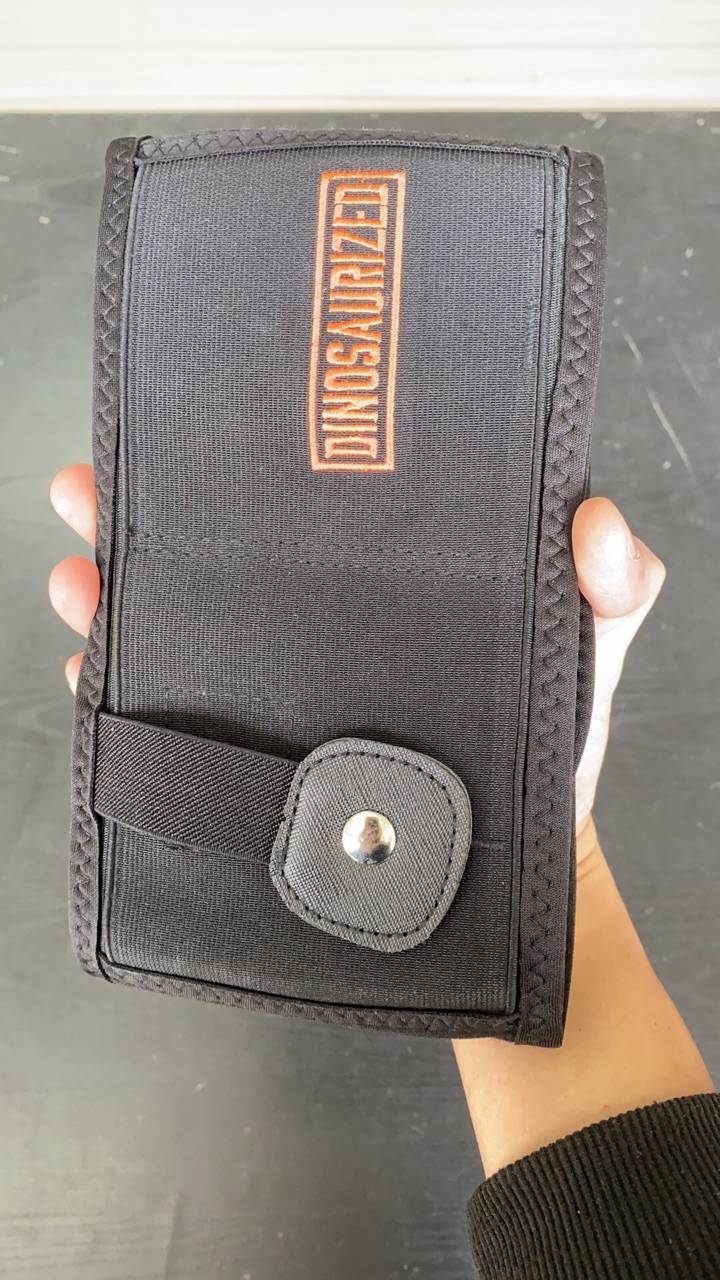 "This is my EDC holster. I LOVE it!It's so hard for a woman to find a holster and this is by far my favorite. Because it's the most versatile.I carry a Beretta Px4 Storm compact (no, not the sun-compact) And I LOVE my gun however it's not the easiest gun for a woman to conceal. (and I personally prefer not to open carry) With this holster though, I can conceal this gun in many outfits because I can position the gun in many places. Hip, back, chest, deep carry...I can do it all depending on what outfit I'm wearing.Bonus-I was able to conceal while pregnant! In maternity clothes! As in full belly panel maternity pants! I'm including a picture of me concealing while pregnant . "
Yara P Camp- Tulsa, Oklahoma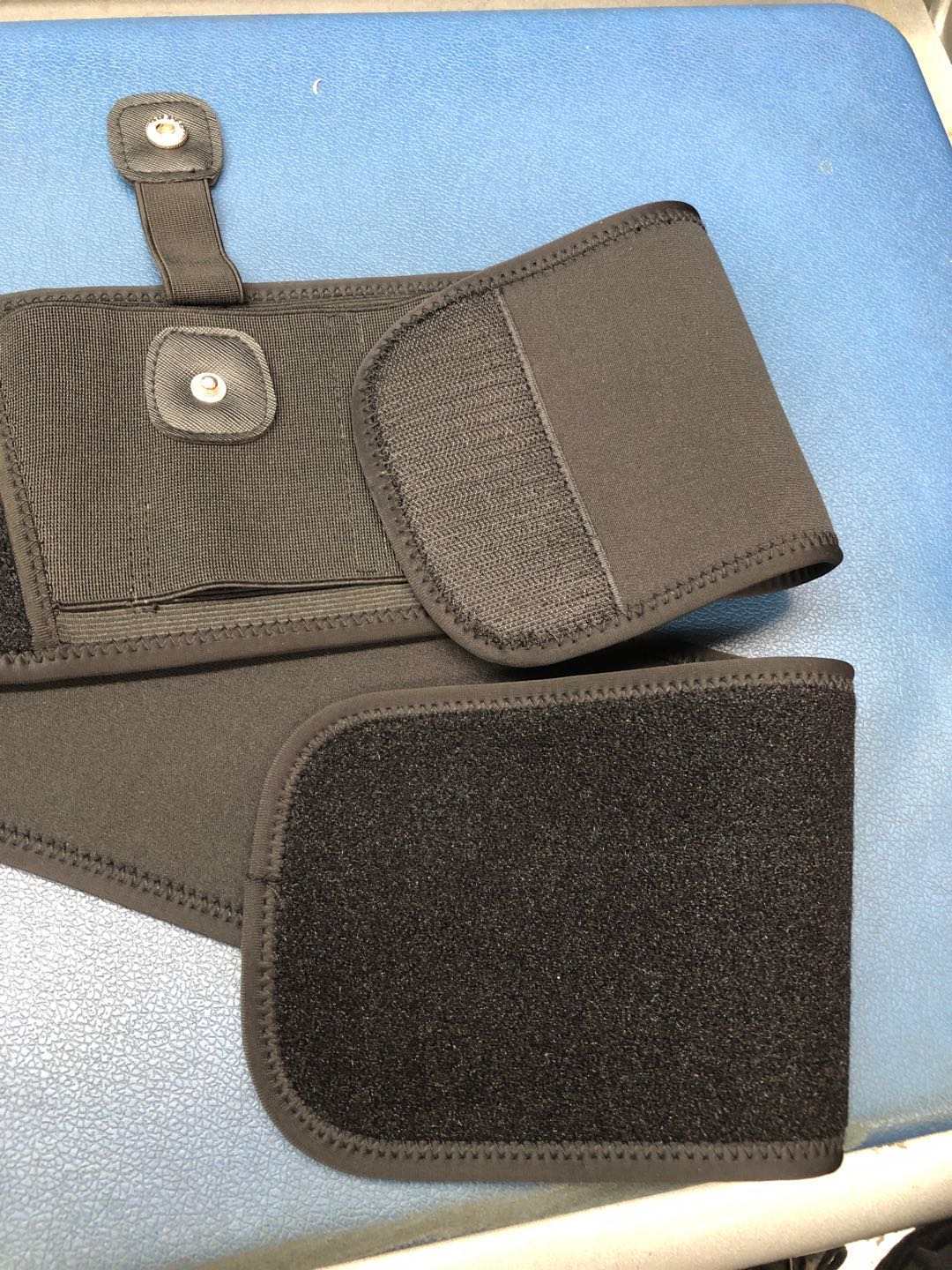 "It holds my Springfield 1911 45. and my MP Smith Western 45.Caliber very comfortably and you absolutely can't see anything when I have a shirt over it. Very discrete, I'm very pleased with it. 👌🏾👌🏾💯👍🏾 "
Dave P.- Bridgeview, Illinois
ONE SIZE FITS MOST: Made of stretching & adjustable neoprene, the Dragon Belly Holster fits up-to-44" circumference . If you want larger than 44", just order one and email us your waistline or leave it at the "order note" section in cart, we can easily customize it.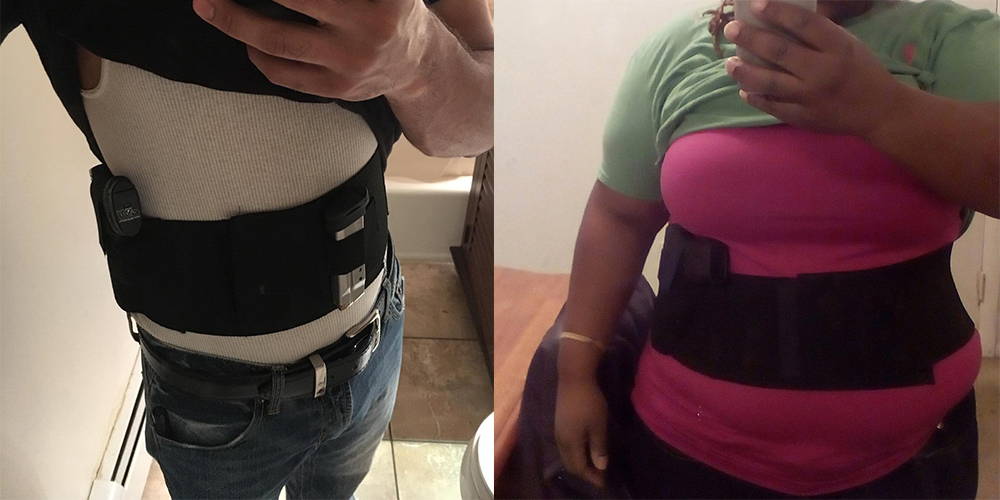 UNDERSTAND THE DRAGON BELLY HOLSTER A LITTLE MORE WITH SARAH'S INTRODUCTION VIDEO
If you are LEFT-HANDED, you can leave it at "order note" in cart, or after purchasing, please email support@dinosaurized.com and we'll send you the left-handed holsters immediately.
If you want a larger size than 44", you can also leave your waistline at "order note" in cart, or email us, we'll send you the larger personally-customized size.
If you have any other requirements, you can leave them at "order note" at cart, or email support@dinosaurized.com
5% OFF code offer: "xmas", Merry Chrismas and Happy New Year! Just apply the code in checkout and claim your 5% OFF.
Shipping

(U.S customers only) Standard shipping time is 7-12 Calendar days to ship and arrive. (Shipped from U.S, by USPS)
All packages are seriously & strictly sterilized before being sent.
For Non-US customers, shipping time may vary from 10-20 Business days.

We'll immediately upload your tracking code to Paypal after the shipment, it may take 3-4 days to be activated.
Wash
You can hand wash your holster in warm soapy water by soaking it and working it with your hands. Then thoroughly rinse under cold water and hang to dry. Do not machine wash or dry. Remember: Do not machine wash or dry.
Refunds
If for whatever reason, you decide you are not satisfied, you can easily and quickly contact our helpful customer support (support@dinosaurized.com) to get an easy refund. We just ask that you send the product back to our warehouse!
Emails: If somehow you don't receive email reply in 48 hours (working days), please send us message right on: https://www.facebook.com/dinoarmy/, we'll answer all.
SATISFACTION GUARANTEED, EASY REFUNDS, AND 30 DAYS MONEY BACK GUARANTEE
- At Dinosaurized, we believe our products are truly innovative and have 100% confidence in it. We understand that buying things online can be scary with companies not staying true to their customers so we go the extend to keep you satisfied.
- If you bought it and feel that it is not for you, don't worry. Just shoot us a message at support@dinosaurized.com and we will make it right by offering you a replacement or refund. 100% Simple & Risk-Free process.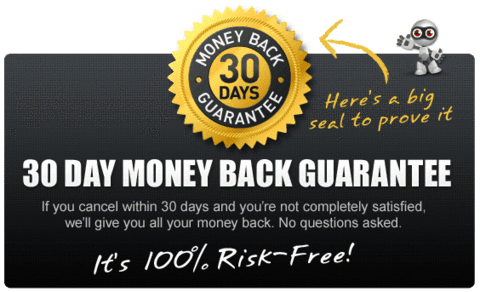 © Dinosaurized. All rights reserved.