Have Questions?
Email us
support@dinosaurized.com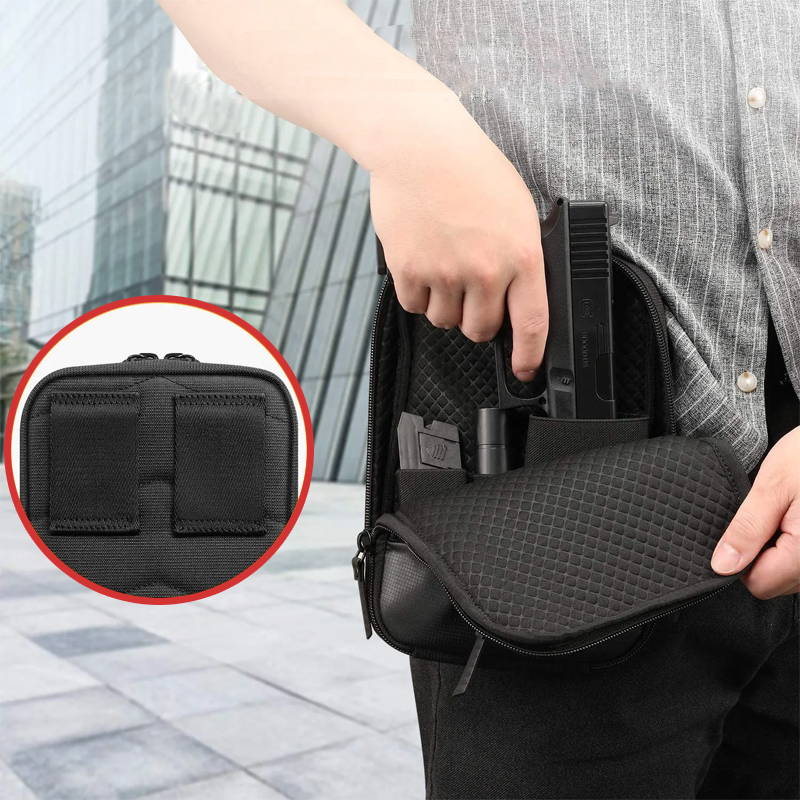 A Gun holster is already bulky & sagging enough, so where you're gonna put your other EDCs in?
RAMBO GUN BAG is the answer!
RAMBO
GUN BAG
is a tough, lightweight tactical bag that allows you to put all of your everyday carry in one single small tactical waist bag.
One of the biggest problems gun owners usually have is that when you carry a concealed weapon, our pants may get streched too much and and we don't have enough room for other things like phones or wallets. Also, It's very bulky and uncomfortable to have your pockets stuffed.
Lightweight and large:
RAMBO
GUN BAG
is very lightweight so you can carry it all day with ZERO problem but also provides you
enough space
for a gun, a mag and a flashlight. It also has a
front pocket
where you can place your other EDC like phones, conceal carry permit, driver license, wallet, knife or money.
Protect your gun & gears: Not like other gun bag,
RAMBO
GUN BAG
has not 1 but 2
foam pads: The inside pads provides a barrier between your body, and your gun, it's like a barrier to prevent your gun from oil & body sweat. The front pad protect your guns from anything in your front pocket. Many other gun bags/packs don't have these pads so their guns & mag usually get a lot of scratches caused by collisions with knives or pens.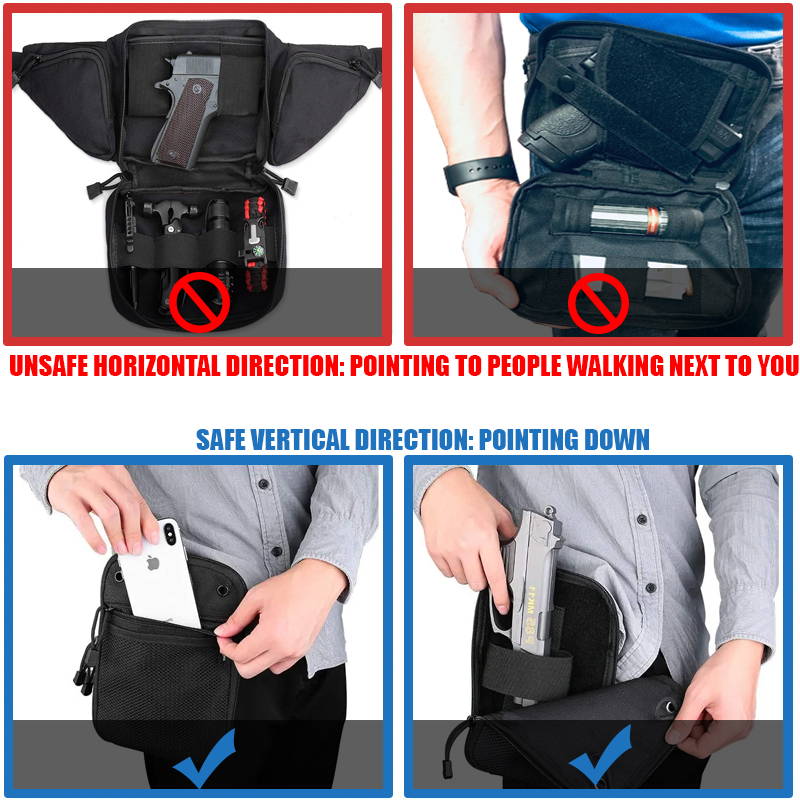 SOLVES OTHER TACTICAL FANNY PACK'S PROBLEMS
If you take a look at other gun packs, bags or fanny packs on market, you will find they all have one common Big, Fat flaw: The direction where gun point: horizontal. This means that when you walking next to your family members or friends, your gun will point directly at them. This doesn't mean any sense to us because we're taught from Day 1 that "always keep the muzzle pointed in a safe direction and never point your gun at anything you do not intend to destroy.". Beside the unsafe position of the gun, it also requires you to draw your gun in an completely different way from any other holsters you've ever known. So when you buy a Horizontally-drawing gun pack, you will have to spend a lot of time relearn how to draw your gun from this unnatural position.
RAMBO
GUN BAG
, otherwise, carries your gun in a vertical position. The beauty of this is that it's not only safe and smooth to draw from this position, it also allow us to add
2 more pouches
for a mag and and a flashlight: More preparedness.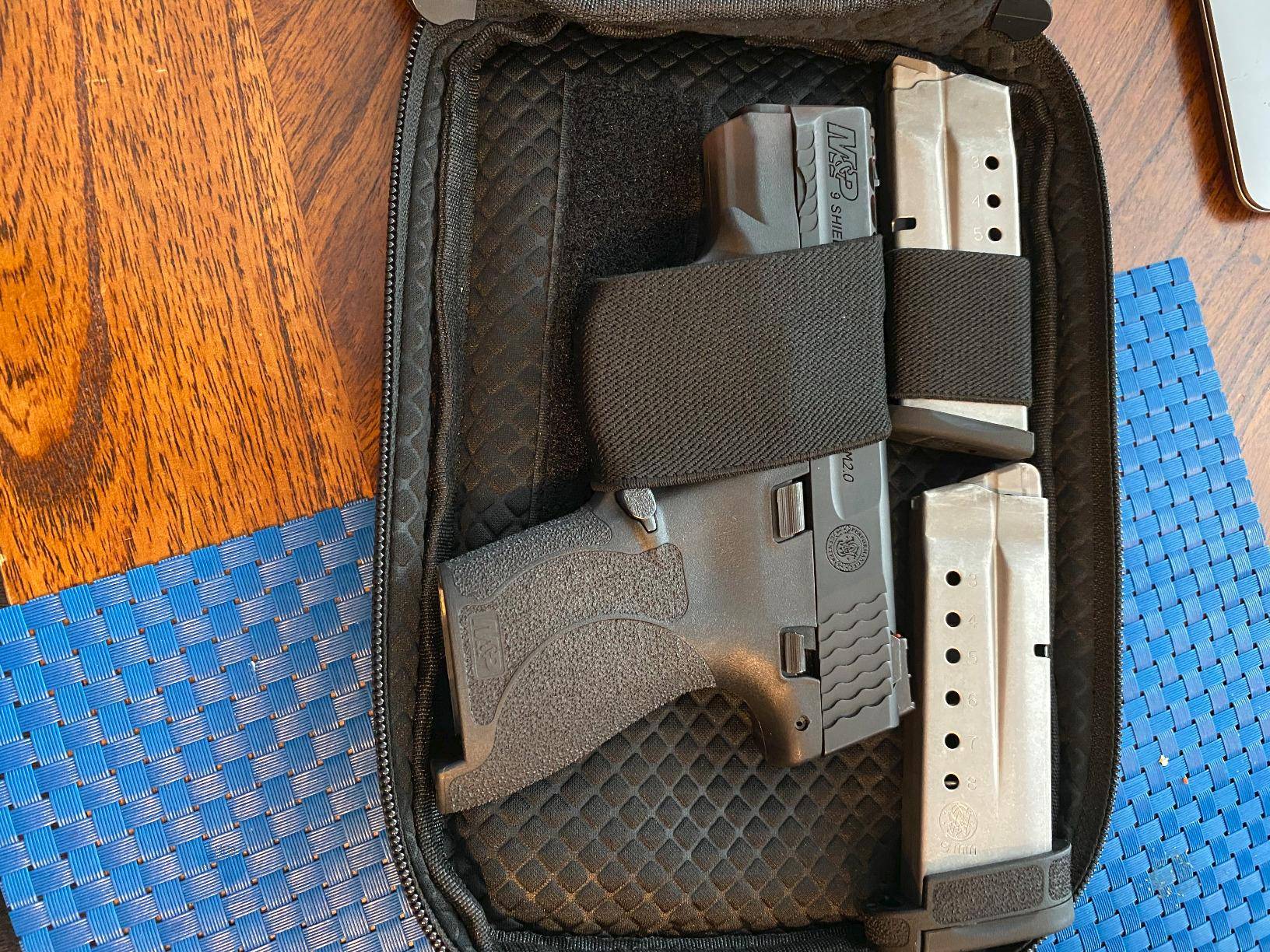 PRACTICAL LOOK, TACTICAL USE
Even if well-designed for gun owners /tactical enthusiasts,
RAMBO
GUN BAG
l
ooks more like a plumber's tool bag than a gun bag, so you can easily avoid any unwanted attention in public, especially from the bad guys.
However,
RAMBO
GUN BAG
has 100% military-quality material, providing full protection for your gun & gears both inside and outside.
Easy-to-open, durable zipper: So it's good for faster and smoother draw. Plus, if you want to stay more prepared, just leave the zipper opened, so the draw would be just as easy as any holsters' draw.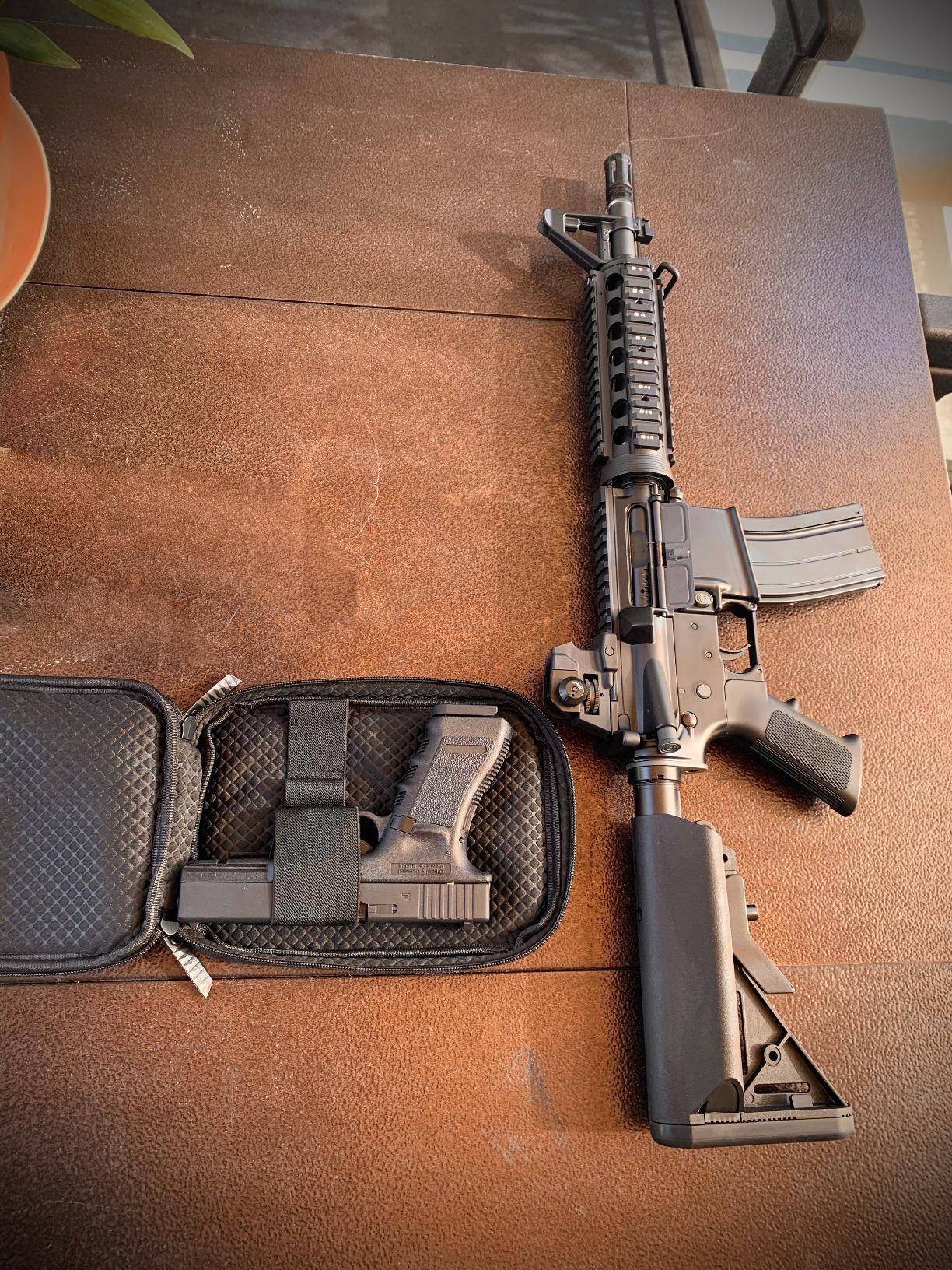 " This is a compact option for transporting or storing your firearm if you don't need all the space and contents of a range/pistol bag. While it has a belt loop option, the pouch is way too big, in my opinion, to be used for concealed carry. Not only would it be potentially obvious, but the drawing of the weapon would take a minute since you'd have to unzip the thing to retrieve and draw the firearm. I do like that I can fit 2 clips in with the pistol. The pockets were handy for holding identification, receipts from the range, contact information for your lawyer, etc. Zippers could be a bit higher quality but they may just need to be worn in or lubricated a bit. overall, nice size, padding is acceptable for the intended purpose. would not recommend for the purposes of concealed carry. Fits in the center console of my car or under the front seats of my car. Could probably shove between the center console and driver's seat, but that seemed unnecessary. I have used this when I have taken my firearm from my car into the house or hotel, or (both places I was legally allowed to possess it), without drawing attention to myself. It almost looks like a small planner or folio.
"
- David Taylor, Miami, Florida
RAMBO GUN BAG IS AN ONE-SIZE-FITS-ALL BAG.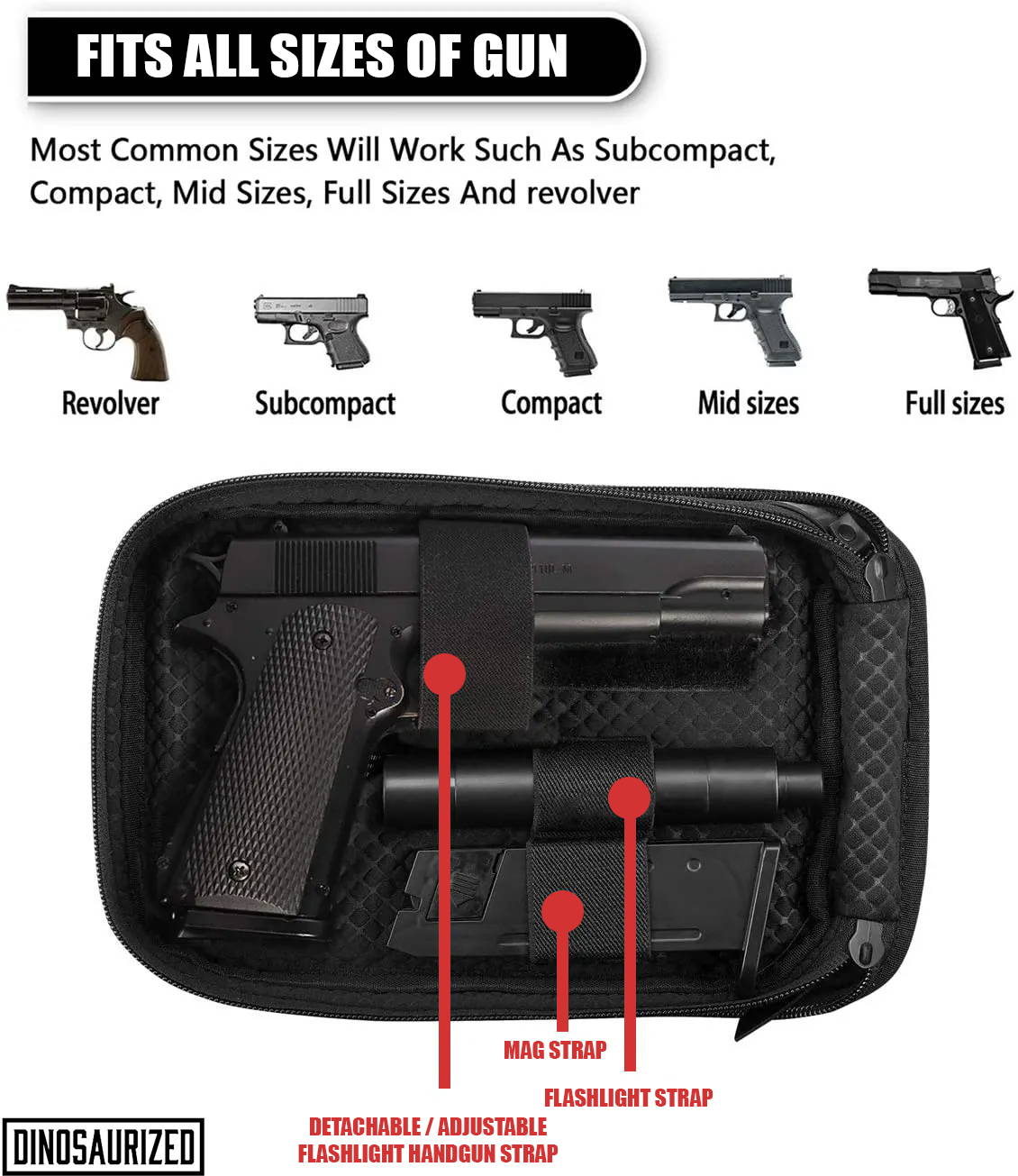 ⭐⭐⭐⭐⭐ 5-star reviews given by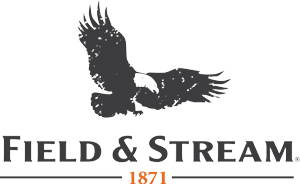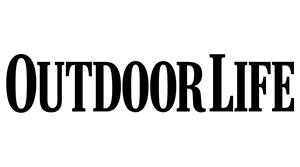 TODAY ONLY: We're giving away RAMBO GUN BAGS + FREE SHIPPING for the first 100 customers:
Get yours now, first come first get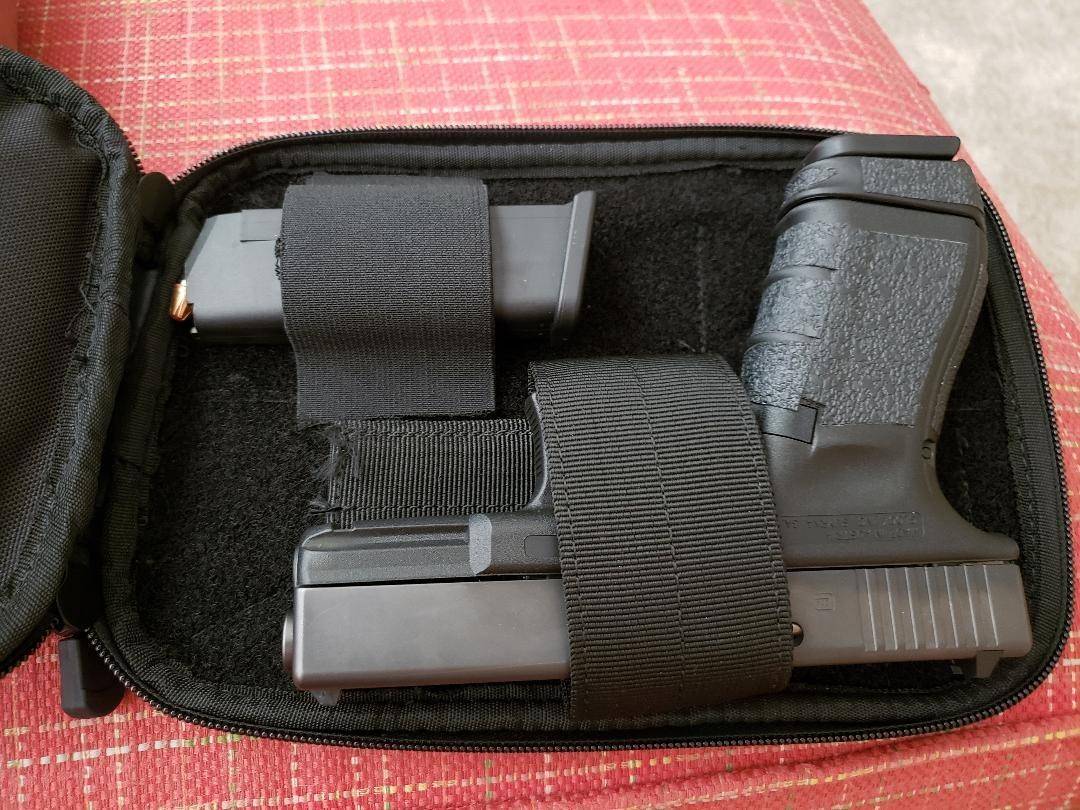 "Very well made bag. Nice quality, nice materials. Zippers are great, not sure why others commented on having problems. Definitely big enough on the inside for any size handgun, my Glock 17 fits fine. With that said, the larger, thick handgun takes up so much of the width of the bag, it's hard to put anything in the front pouches. With a G19, I can slide my badge case in the front, or my Galaxy S9, but not both at the same time. It's a very tight fit, nothing is going to slide out that's for sure. The bag is very nice for what it's designed for and that's carrying a weapon inside of it. It protects the weapon very nicely. The Velcro strap that holds in the gun is very nice too. It would be nice if it had a smaller Velcro strap for an extra mag. It shouldn't be too hard for me to rig something up with some Velcro straps I already have. Draco Bag has a larger gun case with a shoulder strap that is more like a European man purse. That one can handle a wallet, phone and the gun, but it is also pretty tight with a larger gun in there. This smaller Draco Bag really only fits the gun and one item no thicker than a cell phone, which is alright for me because that's what I wanted it for. It's very well made, should last a long time, and it protects the weapon very nicely. I carry it around much like a business person carrying a smaller Franklin Planner would. I've attached a picture of a piece of Velcro I fashioned to hold an extra mag, works great. That's a G19 with an X-grip on a 17 round magazine, and an extra 15 round magazine in the picture."
- Pablo Barron, FARRELL, Mississippi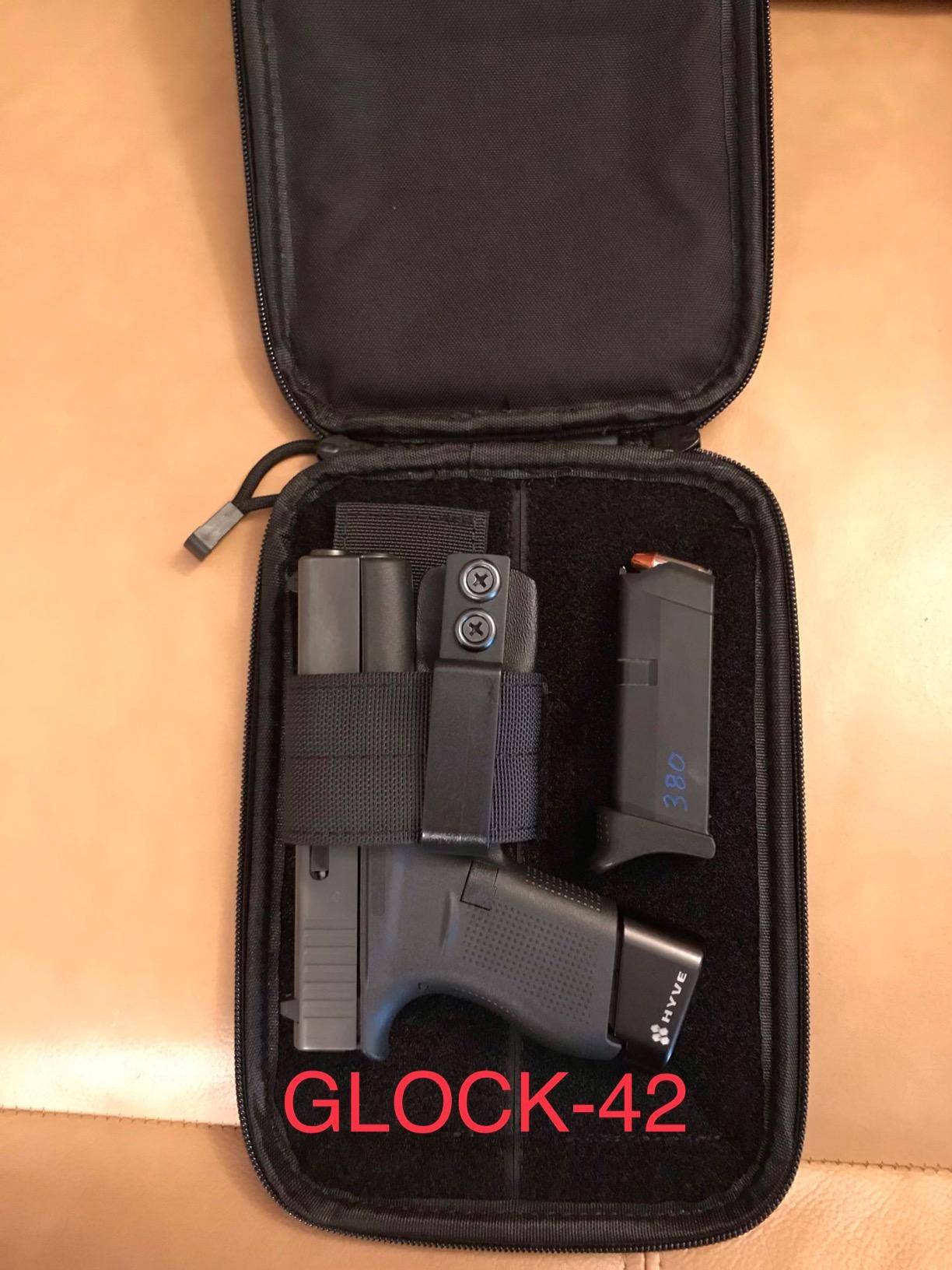 " A quality made and well-designed case, suitable for use for its stated purpose and/or for many other uses. It's ample size will undoubtedly please many, as it may likely hold objects of fairly stout size. That said, I recommend looking at the dimensions and pictures carefully. This "little" case can hold quite a lot and can expand to a respectable size, so you'll want to be sure this is what you want if your primary consideration is to attach it to a belt and wear it, which is easy enough to do seeing that it's well designed for sturdy attachment to a variety of belt widths. I find it to be a tad too large to use as a holster overall for wearing on a belt, but that only reflects my personal preference. I purchased it with that in mind, and although I will likely never use it on a belt to house a firearm, I could imagine using it with or without a belt to house hunting or fishing equipment, tools, electronics, a wallet, important papers, food and/or drinks, toiletries, and/or whatever else one may feel the need to have nearby.
"
- Jason M., Miami, Florida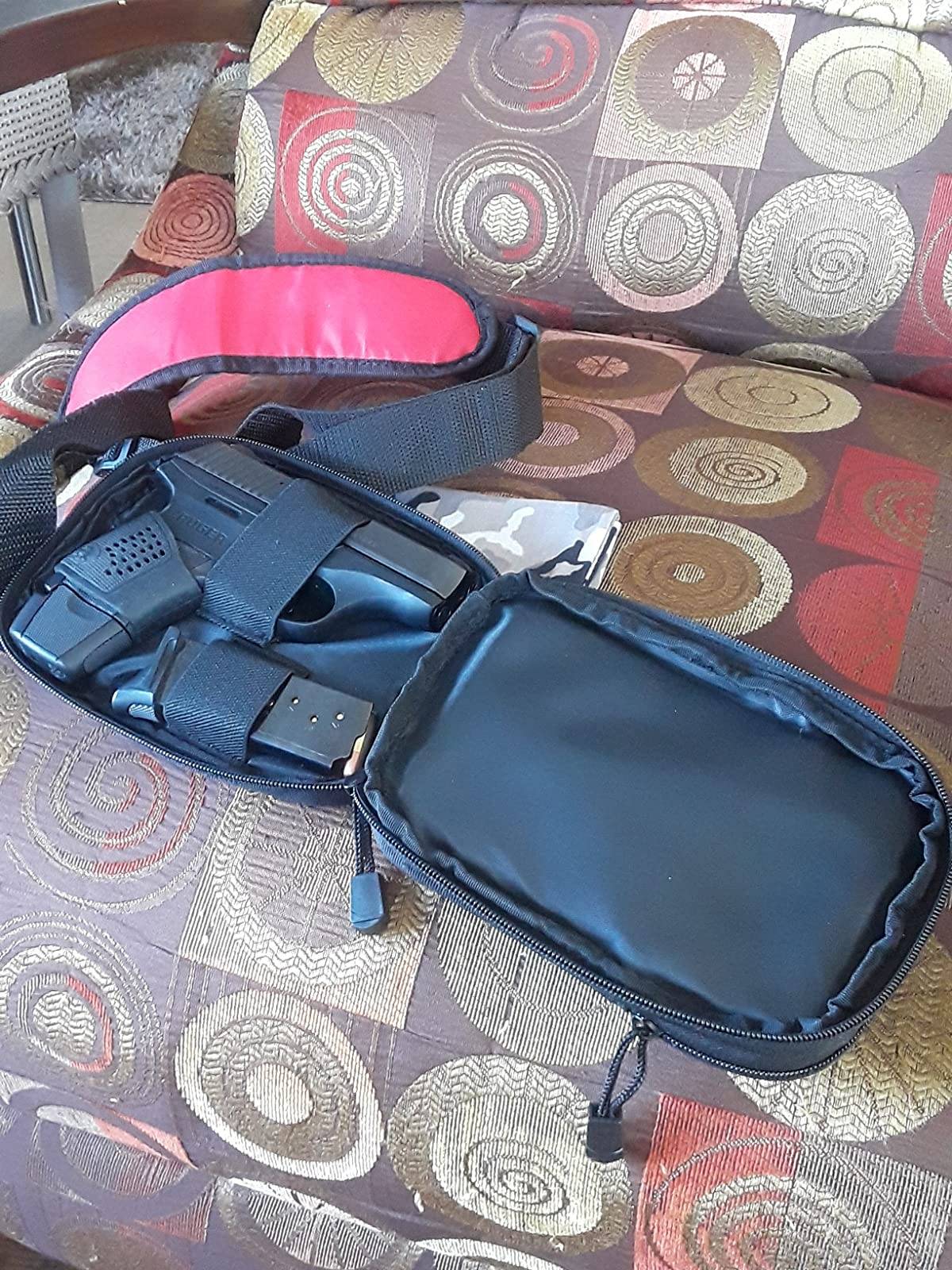 "I use a wheelchair and was looking for a bag that doesn't reveal what it has inside. I added my own carry strap, and wear it crossways in front of me. It fits my Ruger LC9S and extra mag perfectly. Room for checkbook or phone too! Love it!
- Donald G , FARRELL, Mississippi
RAMBO GUN BAGS ARE PERFECT FOR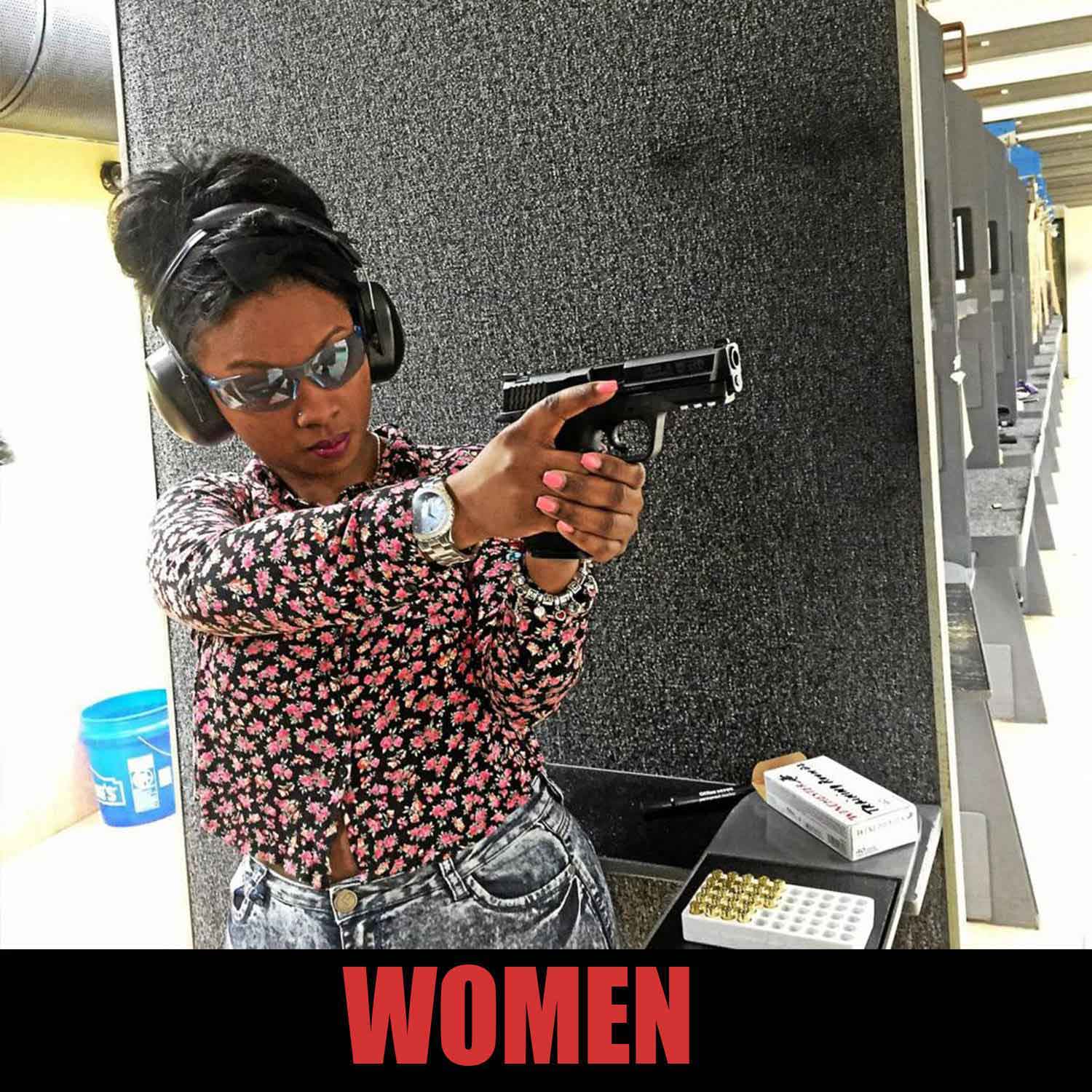 Women may struggle finding a suitable skinny jeans with which the can 100% conceal the firearm (usually they dont'). Now you can simply wear a RAMBO GUN BAG, on any positions 12,3,9, or 6 o' clock (on your back) and still be prepared and beautifully dressed.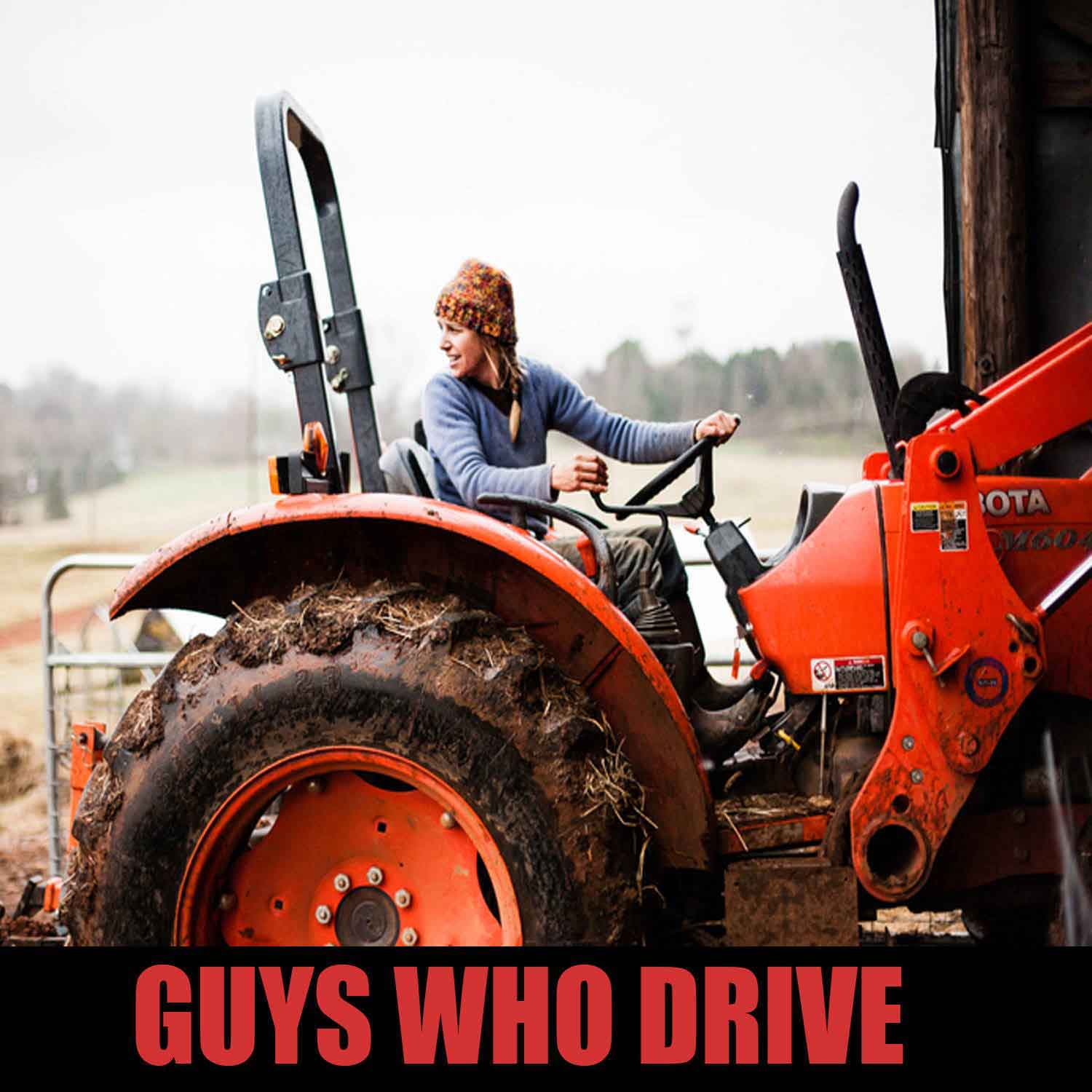 If you have to drive all day you wouldn't want carry a concealed weapon tucked between your pants and your belly. It's, obviously, hot and sweaty. It's time to get a RAMBO RAMBOGUN BAG for an all-day comfortable gun conceal carrying experience.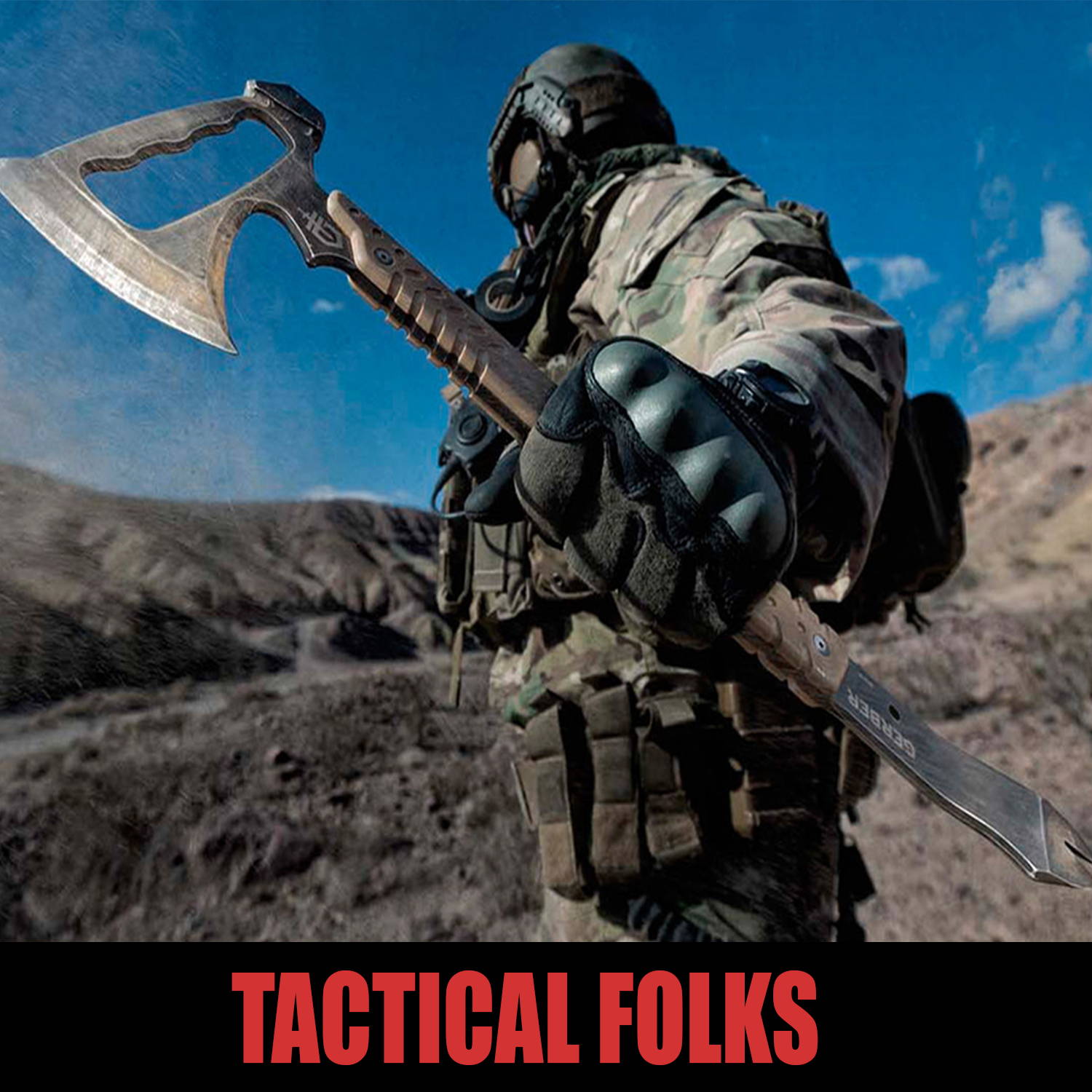 If you love guns and tactical gears, RAMBO GUN BAG is a perfect addition for your tactical collection.
For 2 or 3 pairs promo if you want to break it down to different colors, or if you have any other requirements, please leave the colors you want at "order note" section in cart, or email support@dinosaurized.com or send us message on https://www.facebook.com/dinosaurizedstore.
SATISFACTION GUARANTEED, EASY REFUNDS, AND 30 DAYS MONEY BACK GUARANTEE
- At Dinosaurized, we believe our products are truly innovative and have 100% confidence in it. We understand that buying things online can be scary with companies not staying true to their customers so we go the extend to keep you satisfied.
- If you bought it and feel that it is not for you, don't worry. Just shoot us a message at support@dinosaurized.com and we will make it right by offering you a replacement or refund. 100% Simple & Risk-Free process.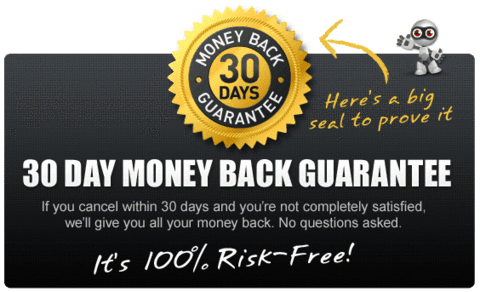 5% OFF code offer: "dad5", Father's Day is coming, To the best Dad in the world, happy Mother's Day! Hope you have the happiest of days. Just apply the code in checkout and claim your 5% OFF.
Shipping

(US customers only) Standard shipping time is 8-14 days to ship and arrive.
All packages are seriously & strictly sterilized before being sent.
For Non-US customers, shipping time may vary from 10-20 Business days.

We'll immediately upload your tracking code to Paypal after the shipment, it may take 3-4 days to be activated.
Wash
You can hand wash your RAMBO GUN BAG in warm soapy water by soaking it and working it with your hands. Then thoroughly rinse under cold water and hang to dry. Do not machine wash or dry. Remember: Do not machine wash or dry.

Refunds
If for whatever reason, you are not satisfied with our products and want to return it/them , you can easily and quickly contact our helpful customer support (support@dinosaurized.com) to get an easy refund. Just make sure you send the product back to our warehouse!
© Dinosaurized. All rights reserved.