Top 5 Glock 43 Concealed Carry Holsters - 2021 Review
Are you looking for the best Glock 43 concealed carry holster? Let this article help you find the right holster suitable for your single stack 9mm gun.
Just like with Glock 19, Glock 43 is quite the popular handgun despite its tiny size. It's not too surprising why this particular firearm is popular when it's easy to conceal and highly accurate. Glock 43 is fun to shoot, making it popularly used as a primary or backup weapon. Glock 43 is one of the best choices for a sidearm if you don't like its larger counterparts.
Because it is pretty popular, there's not a lack of holsters in the market. The problem is because there are many options available, how do you know which is the best Glock 43 concealed carry holster? It's a task to find the best holster for your Glock 43, but we've done the leg work for you. Check out our guide and list of the top Glock 43 concealed carry holsters below.
But before that, you can check this comparison table for a quick glimpse of our top reviewed Glock 43 holsters.
BEST Glock 43 Concealed Carry Holster COMPARISON
THINGS TO CONSIDER WHEN BUYING A HOLSTER FOR GLOCK 43
Not everyone carries their Glock 43 pistol the same way. You may prefer to have it on your waist or shoulder. Or, you may want an open carry or a more concealed one. Seeing there is a wide array of Glock 43 holster options, this article comes with a guide to help you choose. Check out the factors/features to look for when buying a holster for your handgun below.
Which do you prefer to pull your gun from – ankle, shoulder, hip, chest, leg, or waist? There various types of holsters based on how you want to carry your weapon, the most familiar are IWB and OWB. Both these holster types are great for concealed carry, like Glock 43 and regular handguns. Your holster choice depends on where you want to carry your gun and how hidden you want it to be.
Holsters are made from a variety of materials, the most common of which is leather and Kydex. There are also those made of nylon or a hybrid or mix of two materials. Leather is a traditional material, which is generally more comfortable and softer. All materials used for holsters have pros and cons unique to their each other. It is best to learn more about them to understand which material would suit your needs best.
Of course, you want to pick a Glock 43 concealed carry holster that's comfortable. Your choice when it comes to comfort will rely on the material used and the type of holster. Some materials are more comfortable, such as leather. On the other hand, some types of holsters are awkward, heavy, and unwieldy. For these reasons, you should carefully examine the holster you think of buying.
This feature is whether you want to carry your pistol discreetly or not. Some holsters offer excellent concealment, while others not so much. For instance, most OWB holsters are visible, although you will find more concealed ones like the pancake holster. If you want to have the element of surprise or to look inconspicuous, a Glock 43 IWB holster or similar holsters are great choices.
IWB holsters often have passive retention with the molded polymer holding the gun in place. There is usually a noticeable 'click' when you holster your pistol with this type. With other holster types, the retention is adjustable. When looking for the best Glock 43 concealed carry holster, it's best to look for one with adjustable retention to make sure it fits your handgun well.
Every year, many people tragically lose their lives due to gun accidents often because of negligent discharge. Preventing this involves the safe use of a gun, along with using a quality holster with a trigger guard. It is best to look for a Glock 43 concealed carry holster that protects the trigger when you carry, draw, and re-holster your pistol.
The handedness of the holster is also a matter of preference, or it depends on which one is your dominant hand. If you are right-handed, then you want a holster in right-hand orientation, of course. On the other hand, you want a left-handed oriented holster if your left hand is your dominant hand. If you are ambidextrous, then you can choose a holster that works for both hand orientation or get a shoulder holster instead.
One of the biggest features that gun users look for in a holster is the draw speed, or how the holster makes it easier and quicker to draw the gun. It has to do with the holster's design, whether its overall features make it so that you can holster and re-holster your handgun in a matter of seconds or minutes. A concealment holster for Glock 43 that can improve your draw speed is undoubtedly one of the best.
As mentioned, there are many different types of holsters, so you have many options for your Glock 43 handgun. Each type is different from the other, with pros and cons that set them apart. We recommend finding out more about each type of holster to figure out which one fits you best. To give you an idea, below is a brief description of general holster types.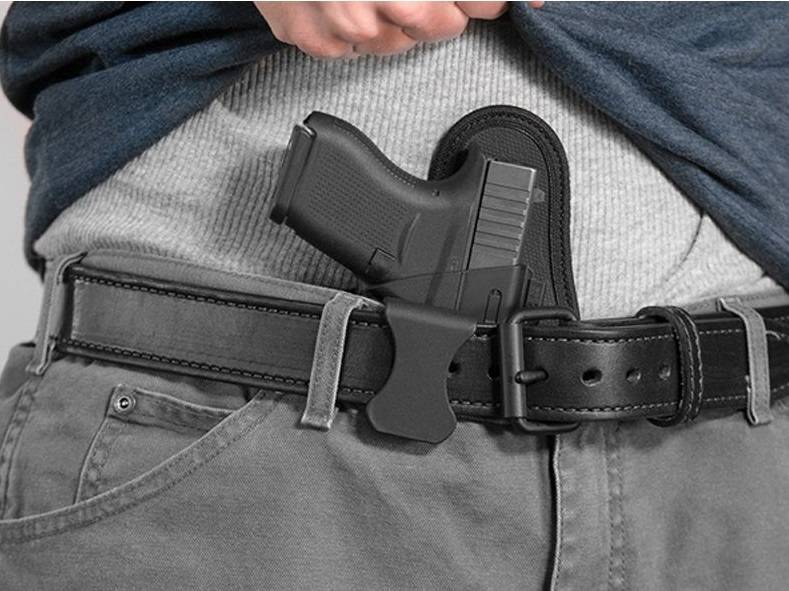 IWB stands for 'inside the waistband,' meaning the holster is inside the pants or the waistband, to be specific. Because of the position, this type of holster offers high concealability. Thus, it's perfect if you want to carry your Glock 43 more discreetly. Its biggest disadvantage, however, is the discomfort. You often have to wear more oversized pants to accommodate this holster.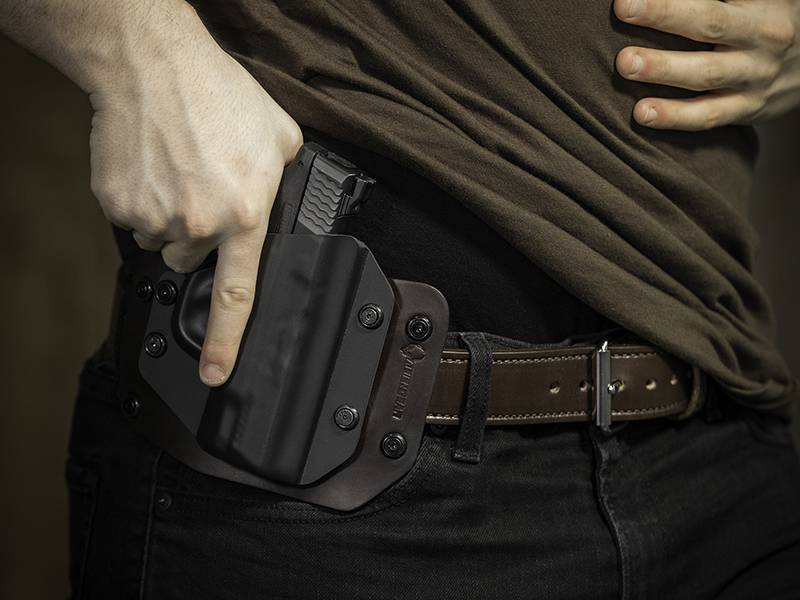 OWB refers to 'outside the waistband,' the opposite of IWB. Unlike IWB, you wear this holster type outside of your waistband or pants by attaching it to the belt. It does not offer the same concealability as IWB, but some subtypes of OWB holster conceal better, like the pancake holster. It is a lot more comfortable and accessible to use than other holsters.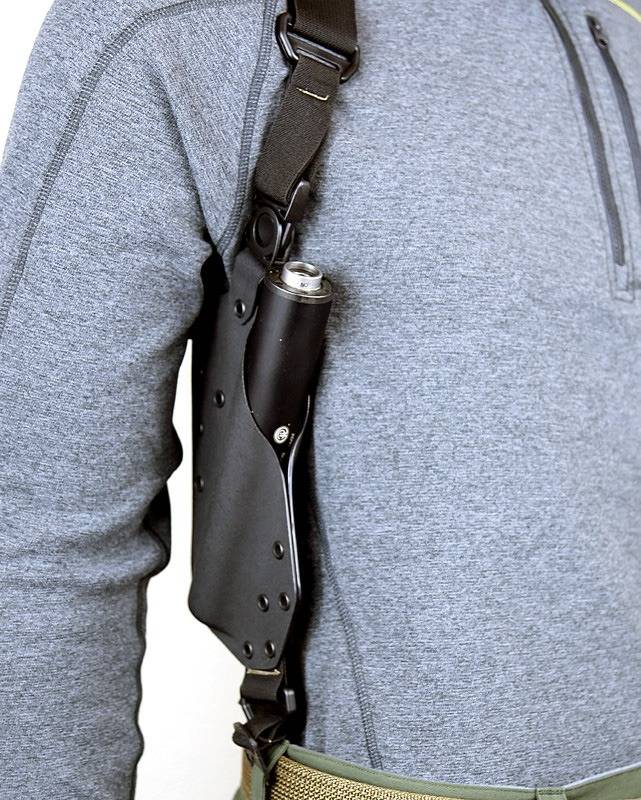 If you often watch spy movies, you've probably seen a shoulder holster before. It's the badass looking holster worn over a shirt and then under your jacket. As long as you are wearing your jacket, a shoulder holster conceals well. The concealability is a significant advantage but can also be a disadvantage in terms of accessibility and draw speed. You will often find it challenging to get your weapon as fast as possible when your holster is tucked inside.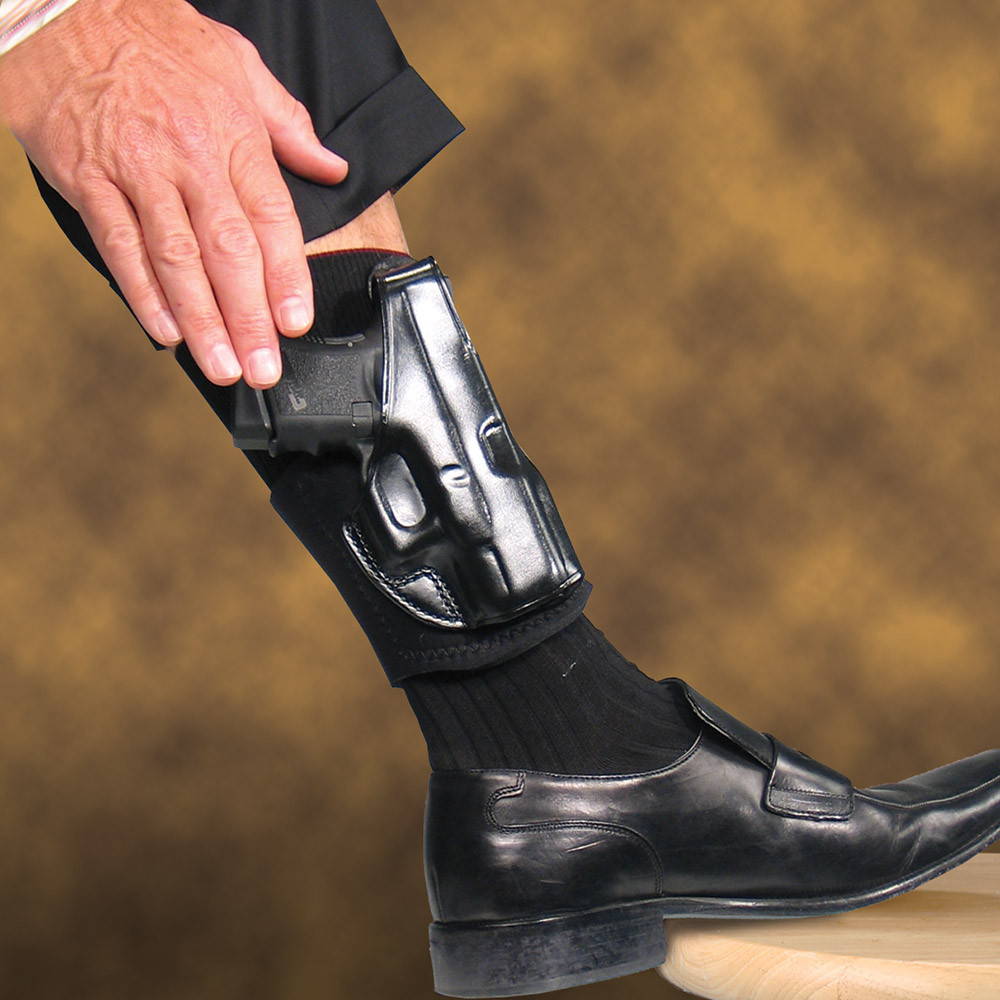 It's obvious where you wear the ankle holster – on your ankle. It is also one of the most common places where you can wear your holster, ideally for your backup handguns. The ankle is an excellent place for wearing a holster, but it has its disadvantages. For one, it's not easily accessible. Another reason is it is not easily concealed. However, a Glock 43 concealed carry ankle holster makes it hard to steal your weapon.
Leg holsters are usually positioned on the inner thigh, a highly accessible location that allows quick draw from different positions. However, it is difficult to hide your gun when you use a leg holster. It is pretty visible, which some Glock 43 users might not like. But if you are using your pistol as a backup, a leg holster is an excellent choice.
Top 5 Specific Holsters for Glock 43
Now that you know the factors and traits to look for in the best Glock 43 concealed carry holster, time to find the one for you. This might be a bit of a tedious task for you since there are many options in the market. If you don't have time, though, you can start your search with our reviews. Below you will find our list of the top 5 concealed carry holsters for Glock 43.
Dinosaurized Baldman Shoulder Holster
At top 1 is Baldman Shoulder Holster by Dinosaurized. As its name indicates, this is a shoulder holster made from nylon. It boasts of using a really comfortable material that does not irritate the skin and smell foul. Since the material is lightweight and breathable, it is said to keep your weapon out of the way without any discomfort. Dinosaurized boasts that this holster is comfortable to use even when you have a bigger body build or constantly sitting.
Baldman Shoulder Holster has many excellent features, from being ambidextrous and unisex to being the perfect holster for long barrel or big guns. Its most important benefit is perhaps its ability to distribute the weapons' weight evenly, making it great for your posture. Although a little expensive, Dinosaurized Baldman Shoulder Holster is ideal if you want absolute comfort while carrying your handgun.
2. Alien Gear ShapeShift Core Carry Pack
Like with Baldman Shoulder Holster, we have an immense love for Alien Gear ShapeShift Core Carry Pack for its ability to accommodate anyone's holster needs. It is an excellent concealed carry holster for Glock 43 and other subcompact handguns, as well as full-size pistols. The best thing about this holster pack is its versatility – providing four different types of holsters.
The pack includes an IWB holster, a paddle holster and a paddle holster. It also consists of a belt slide OWB holster, along with a holster you can use for appendix carry. This Core Carry Pack also includes an extra holster mount for easy access to your handgun. It is comfortable and versatile, but the execution for each style of holster might be a bit lacking.
3. Concealment Express IWB Holster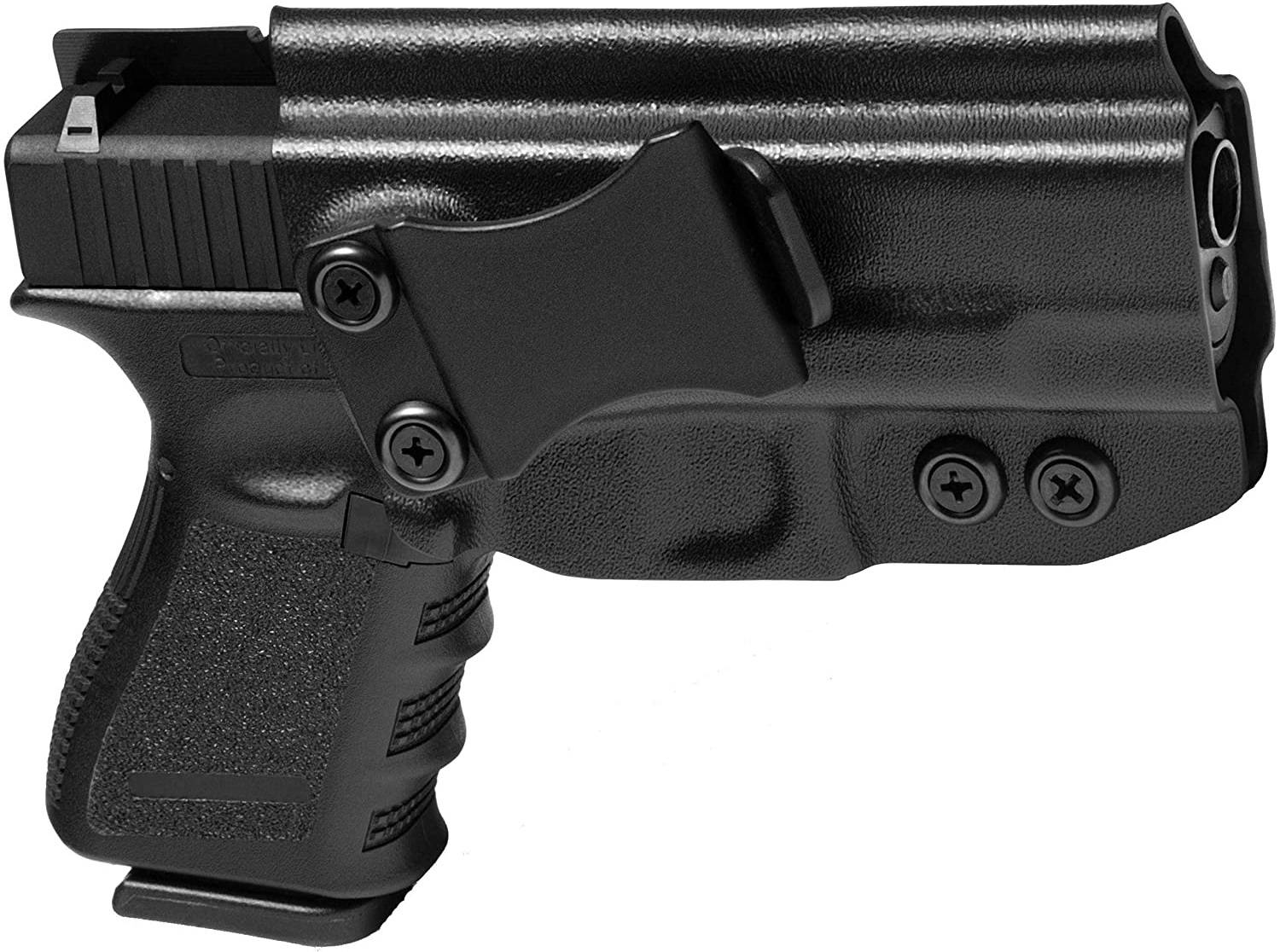 Glock 43 users have a lot to like about Concealment Express IWB Holster, starting from its simple design. It is super low-profile, perfect for when you want to be discreet. The material used is Kydex, which is lightweight and durable. Being an IWB holster, it makes an excellent holster for concealing your handgun. One feature that you will like about this holster is the full-length SweatGuard that ensures it does not feel icky at all.
Other notable features are adjustable retention and cant. These two are great because then you can easily modify the Glock 43 IWB holster to suit your preferences. You may also like the optional Claw kit that helps to eliminate printing and make your gun disappear in your belt line. Concealment Express IWB Holster fits, draws, and conceals perfectly, but it has excess material that you need to trim.
4. Sticky Holsters MD-1 for Small 9MM's
Sticky Holsters MD-1 is primarily an IWB holster, but it is a modular system that makes it highly versatile. You can carry it inside your waistband, on your ankle, inside your pocket, and in other ways. It is made of non-slip material, which is said to stick to just about anything. It features a fantastic sticky design, which means no loops or clips used to attach it that can cause discomfort. You just stick to your waistband, undergarments or skin.
It is super comfortable with a slim design and can accommodate a wide array of gun sizes. It works not only for Glock 43 but also for other tiny 9mm pistols and medium to small autos. The ambidextrous hand-orientation means both right-handed and left-handed shooters can use the holster. Sticky Holsters MD-1 is an excellent holster when you want a holster that can be used in various ways.
5. CYA Supply Co. Barrel IWB Holster
CYA Supply Co. Barrel IWB Holster is a holster rich in features such as the adjustable cant and retention, audible retention lock, and precision molds made of Boltaron material. The main body of the holster is made of stainless steel, while the rest is Kydex. Designed for easy and quick draw, you should be able to draw or holster your gun with ease using this holster. It may be a bit heavy because of the material used to make it.
The edges of the holster are all polished, so no need to worry about sharp edges. As it is made to minimize bulk, it should not be uncomfortable to use. Besides the features mentioned before, this also includes a 1.5-inch belt clip while the hardware is all made of black powder-coated stainless steel. A few things might be an issue for you, such as the fact it only has a right-hand draw, doesn't have laser or light attachments, and may be prone to rust.
Now you have a guide and a list of reviews to help your search for the best Glock 43 concealed carry holster in the market. It is challenging to decide which Glock 43 concealedcarry holster to buy, but the trick is to know what you want. Find out what you feel is the most comfortable way to carry your weapon, and consult the guide above to get the best Glock 43 IWB holster worth your money.
---